Trade shows are a major source of leads for companies and organizations around the world. For companies like Intelerad, they can bring in nearly half of their sales pipeline for the entire year.
We spoke with Mary Judge, Director of Demand Generation at Intelerad about how trade show lead generation can fill your sales pipeline and drive overall demand. Here are the eight top tips that emerged from our conversation.
Use the links below to skim through the article:
1. Understand Your Leads Pipeline
Optimizing the impact of your trade show schedule is all about understanding your leads:
What factors go into a qualified lead for your company?

Where are your current leads within the sales pipeline?

Where are most common drop-off points in your sales funnel?
Having a strong understanding of your audience and overall sales process is key to collecting leads at trade shows.
Next you'll want to take a look at your current lead pipeline(s). For most companies, there are two major pipelines to consider when it comes to trade show lead generation:
Marketing-Influenced Pipeline

– These are attendees who are already aware of your organization and are in your lead pipeline from previous marketing or outreach efforts.

Originated Pipeline

– These are attendees who are first meeting with you on the trade show floor.
2. Define Your Sales & Lead Goals
Now that you've defined what a good lead might look like, it's time to set goals and other metrics for success. At Intelerad, the main two metrics for trade show success are pre-scheduled appointments and on-site meetings. These two metrics keep both the marketing-influenced and originated pipelines moving along. Setting bold but achievable goals will keep your team focused and energized.
Insights from Intelerad
Intelerad closes nearly 40% of their marketing-influenced pipeline at trade shows each year. Don't be afraid to set aggressive goals – just be ready to put in the work to achieve them!
3. Align Your Entire Team Behind Your Goal
Like with any challenging goal, you'll need to divide and conquer to drive demand at trade shows. Mary is not the only one responsible for driving meetings – the marketing, sales, customer success, and even executive teams all play their own roles when it comes to trade show lead generation. Everyone uses their own skill sets and networks to fill the meeting calendar and maximize the impact of their show attendance.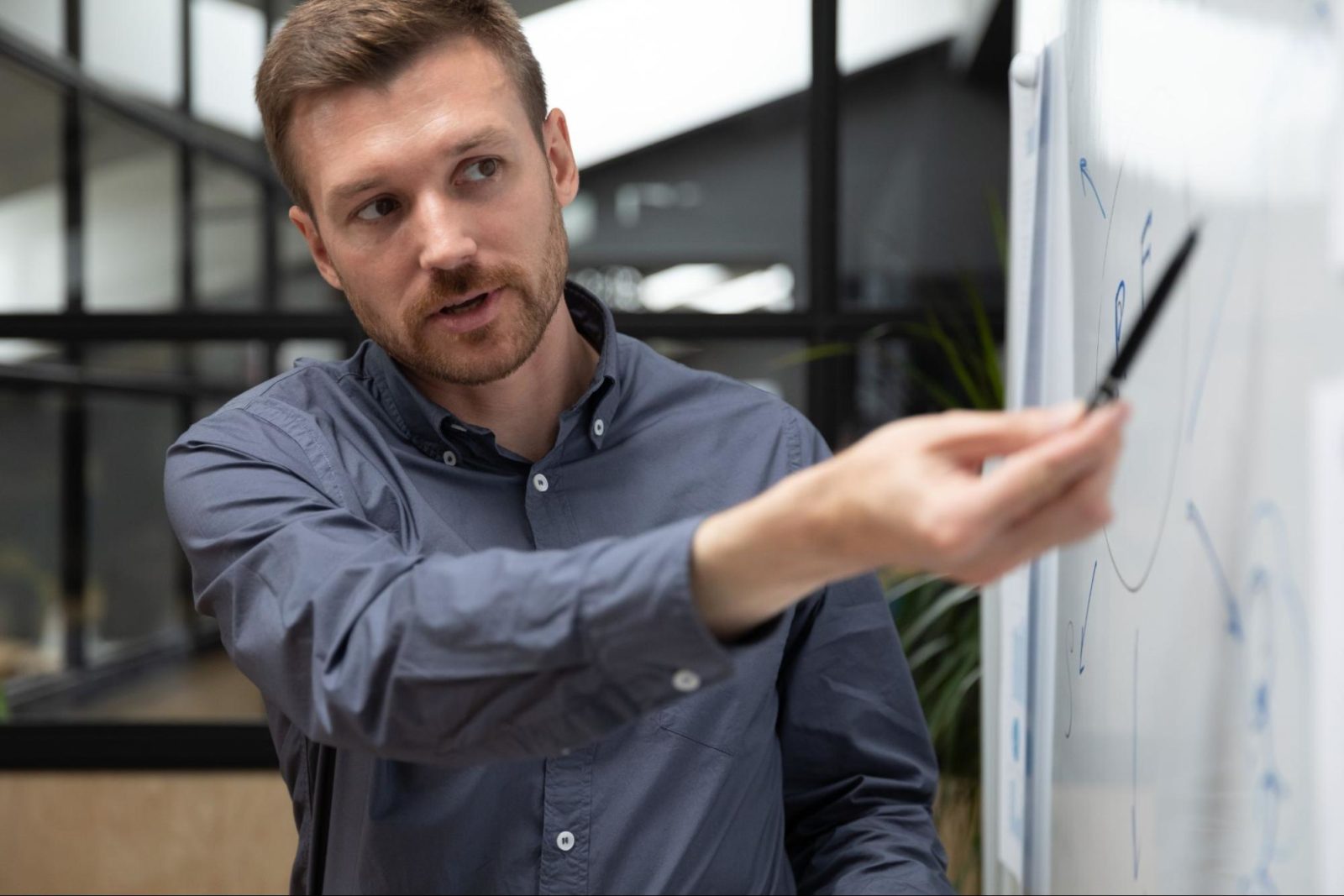 Once you have your entire organization rallying behind shared goals, you'll need to provide status updates to keep the energy going. At Intelerad, that means daily updates on the projected pipeline so that everyone is on the same page about the progress that's been made and the work still left to do.
4. Plan Ahead
When it comes to pre-scheduling meetings, it's all about finding the sweet spot amidst all of your other trade show prep. Schedule too early, and attendees will be less likely to honor their commitment come show-time. Schedule too late, and you'll miss out on potential meetings. You should also be prepared to advertise and retarget your leads from their first point of contact until the show – more on that later.
Insights from Intelerad
At Intelerad, the team starts scheduling meetings between six and ten weeks out, depending on the size of the show and the number of projected attendees. Still, up to 40% of their total meetings at shows are walk-ups! If you have a goal for how you'd like prescheduled/walk-up meetings to breakdown, now is the time to set it.
5. Be Aggressive, But Appropriate
If there's one thing you can be sure of, it's that your competitors have trade show lead generation goals of their own. And unfortunately, many will be going after the same leads as you. So how can you possibly compete?
Be personable.

Boring small talk may be a waste of time, but building common ground and personal connections is priceless.

Be direct.

If you've gotten the chance to speak with a top-tier lead, don't be afraid to let them know they're important to you.

Be available.

When the phone rings, be there to listen and help however possible – even when it isn't convenient.

Find the right frequency.

There's a fine line between staying top-of-mind and being annoying. Work with your marketing and sales teams to strike the right balance.
6. Unify Your Advertising Tactics
Pairing traditional sales outreach with digital marketing during the lead-up to an event is a powerful tactic for collecting leads at trade shows. Every piece of the lead experience should work together to present your offering and pique curiosity.
Some of the marketing tools you may want to explore as part of your integrated campaign include:
Google display and search ads

Event-based advertisements

Geotargeting at the trade show location

Ads on partner and industry networks

Webinars on hot industry topics

Retargeting ads for website visitors and webinar attendees

Email marketing campaigns
These tools can help you improve your brand recognition and start scheduling meetings or appointments long before the trade show. These early touchpoints can also soften your direct outreach and help you reach your trade show lead generation goals.
And, don't forget to stay focused and follow up after the event even if your lead hasn't signed. If you only have a few prospects to reach, a personal note or email to the decisionmaker can go a long way. If you have a large number of prospects, try a post-event email campaign or retargeting ads.
Insights from Intelerad
Finding a great meeting tool puts leads in the driver's seat and makes scheduling hassle-free. Intelerad lets clients pick their own meeting time and date using

Jifflenow

.
7. Don't Be Afraid to Do Your Own Thing
On any trade show floor, you'll be bombarded by incentives from free food to door prizes. But depending on the show, too many gimmicks can attract the wrong crowd and dilute your messaging. Inevitably, you will speak with attendees or even hold meetings with potential customers who are only there for the incentive being offered.
At the end of the day, whether or not to utilize incentives depends heavily on your company and the overall vibe of the show. At a more laid back show, novelties like raffles provide an approachable way to meet and mingle with attendees. But at more serious industry shows, freebies can fall flat.
Insights from Intelerad
Intelerad skips incentives in the name of lead quality. While competitors have constant streams of freebie-seekers in and out of their booths, Intelerad holds meaningful conversations with high-converting, quality leads.
8. Provide Options Within Your Exhibit
The goal at any trade show is to make attendees feel like they are getting a personalized experience catered toward their needs and goals. However, that can be difficult with a large volume of attendees trying to make their way through the show floor.
To solve this problem, Intelerad offers several solutions within their exhibit to reach their trade show lead generation goals. Within their exhibit, you'll find:
Demo pods for the sales and engineering teams to

illustrate how products work

Private conference rooms for individual and small group meetings

Lounge spaces with couches and blankets for relaxed, but meaningful conversations

A theater to move larger groups through and provide approachability for originated leads
Meeting potential customers where they are in the sales funnel is an effective way to keep your sales pipeline moving without rushing leads or making them uncomfortable.
Insights from Intelerad
Your brand experience can continue well outside your booth at a trade show. While Intelerad has pressed pause on in-booth speakers and sessions due to COVID and social distancing, they've found ways to get involved elsewhere.





From lunch and learns to participating in conference panels, look for ways to stay engaged with customers and provide thought leadership that will drive people back to your booth.
Looking for a fresh approach to
trade show lead generation
? EDE can help, with next-level exhibit designs that turn heads and create lasting impacts.
Contact us to get started
.
Special thanks to Mary Judge, Director of Demand Generation at Intelerad, for her expertise and contributions to this blog!