At EDE, we offer owned exhibits, exhibits rentals, and custom rentals to fit the schedules, design needs, and budgets of our clients. But which one makes the most sense for your company? Today we're taking a look at the advantages and disadvantages of each option to help you make the right decision for your business.
Owned vs. Rental. vs. Custom Rental: At a Glance
Before we get into the nitty gritty, let's take a look at the big picture. Here's how the three options we'll look at today stack up against each other.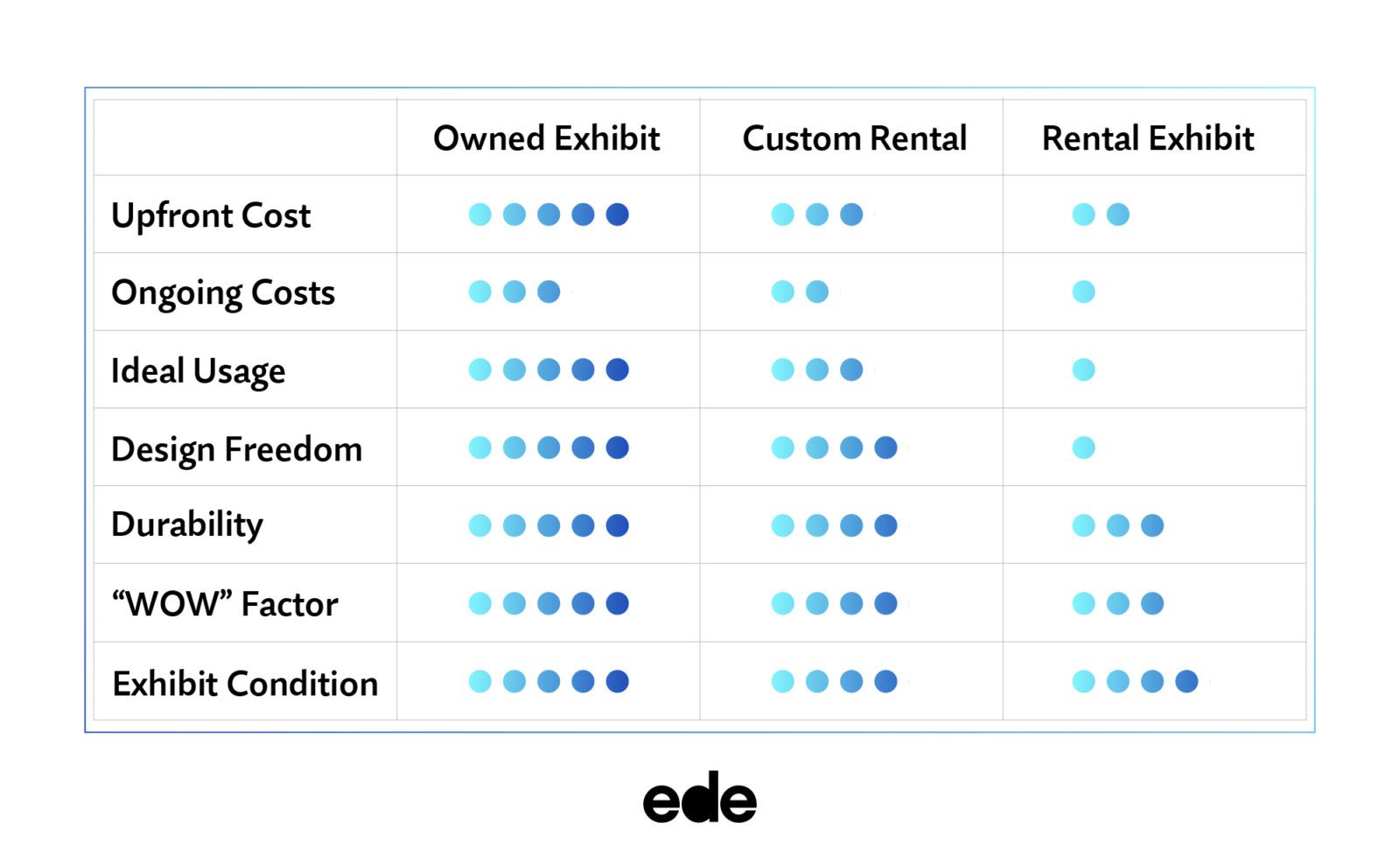 Owned Exhibits
Purchasing an exhibit outright is the most popular option among our clients. While it's typically the most expensive option, it provides a number of other advantages that outweigh the cost. 
Advantages of Owning Your Exhibit
Design Freedom
When it comes to exhibit design, there are no limits with an owned exhibit. We can craft a personalized space that is recognizable from across the floor. Even without your graphics or finishing touches – your custom, owned exhibit will be distinctly yours.
Durability
Your exhibit will be used only by you, which means it can last 5+ years with minor repairs. Typically a rebrand or a desire to change up the design is what drives customers to purchase a new exhibit, rather than wear and tear.
Comprehensive Exhibit Prep
All EDE clients who own their exhibits get thorough inspection and preparation from our team. About a month before each show, we pull the exhibit out of storage, clean it, inventory it, and test all electric and functional components. Exhibit rentals, on the other hand, only get a quick inventory and functionality check.
Disadvantages of Owning Your Exhibit
Upfront Cost
You get what you pay for with a custom, owned exhibit. While owning your exhibit offers limitless design freedom, it is the most expensive option. While we see numbers anywhere from $75-400/sq. ft., an average custom exhibit will cost you $200-250/sq. Ft.
The cost of your booth will depend not only on its size, but also the density of AV equipment, technology, and other special features with which you fill it.
Ongoing Costs
Unlike with exhibit rentals, there are a number of ongoing costs between shows to consider, including:
Graphics

– Many customers opt to replace graphics throughout the year for a fresh look each show.

Storage

– Expect to pay 30-40 cents per cubic foot of storage crate.

Preparation

– While our preparation services are top-notch (and prevent all sorts of show day problems), they do add to the ongoing cost of an owned exhibit.
Owned Exhibits Are Best For…
It typically makes sense to purchase your exhibit if you plan to use it at least three times. Owning your exhibit may also be your best option if you want complete design freedom to build a booth that represents your brand in every detail.
If the perks sound great but purchasing a booth just isn't in your budget, a custom exhibit might work for you.

Custom Rentals
After purchased exhibits, custom exhibit rentals account for the next largest piece of our business. Their "best of both worlds" appeal provides freedom and flexibility at a lower price than owned exhibits.
Advantages of Custom Rentals
Great Value
While custom rentals aren't the cheapest option, they offer plenty of customization options at a lower price than an owned exhibit. Most of our custom rentals end up costing $75-125/sq. ft., with some highly-customized options stretching closer to $200/sq. ft..
Flexibility
Another huge advantage to going with a custom exhibit rental is that you can decide how custom you want to go. Typically, your exhibit's wall system will be rented, but when it comes to the features and elements you add on top, the sky's the limit.
Custom rentals are especially useful if you need a larger booth for a single event. You can utilize the elements you already own and rent additional components as needed.
Minimal Ongoing Costs
While you will pay for preparation before the show, you'll pay less in storage and maintenance fees by opting for a custom rental. With the money you save, you can opt to change up your graphics or other booth elements more often.
Disadvantages of Custom Rentals
The Missing "WOW" Factor
Custom rentals offer a strong presence on the trade show floor. But, most of the jaw-dropping exhibits you see at shows are fully custom. If you're looking to build an out-of-this-world trade show experience, you might be better off purchasing your exhibit.
Sharing Rentals
Our team works hard to design and build some of the highest quality rental elements on the market. But, at the end of the day, using a rental means sharing exhibit equipment with other companies throughout the year. On the other hand, owning your entire exhibit can provide peace of mind that everything will look just the way you like, every time.
Custom Rentals Are Best For…
Custom rentals are best for growing companies who want a custom design to represent their company but aren't ready to purchase a full exhibit just yet. 
They can also make a huge impact with a slightly smaller budget. If you're in an industry where every competitor's rental booth looks the same, a custom rental can help you stand out from the rest.

Exhibit Rentals
True exhibit rentals are the least popular option among our clients. While they aren't a great fit for everyone, they do work well for some companies. Here are the pros and cons to consider when it comes to pure exhibit rentals.
Advantages of Exhibit Rentals
Cost
Renting a trade show exhibit is the most affordable option, with builds typically coming in between $50-100/sq. ft.. If you're working on a tight budget or are just starting out exhibiting at trade shows, rentals may be the best fit for you. However, it's important to note that this cost can vary dramatically depending on your desired features and the size of your exhibit.
Lower Maintenance Charges
A big perk of renting your exhibit is that you won't have to pay any maintenance, storage, or prep fees like with an owned exhibit. And, your handling fees are typically lower as well.
Disadvantages of Exhibit Rentals
Blending In
Pure exhibit rentals rely on a simple, generic structure. That means that no matter how much AV and tech you squeeze into your booth, you'll still struggle to stand out on the floor. The best exhibits would be recognizable even without their graphics – but this is virtually impossible to achieve with a pure rental.
Wear & Tear
Since rentals can be used by multiple companies throughout the year, there's a good chance there will be evidence of wear and tear on your exhibit. While our team works hard to keep our rentals in good condition, you're unlikely to get the same flawless experience you get with a custom-designed exhibit.
Install Time
Some companies consider going with an exhibit rental because they believe it will cut down on their install time and therefore cost. The truth is that rentals aren't necessarily faster or cheaper to install or dismantle – it all depends on the design.
Exhibit Rentals
Are Best For…
For the most part, we only recommend an exhibit rental for those who do one show a year. They can also be a good option if your company is attending its very first trade show and you want to see how things go before making an investment. However, keep in mind that your exhibit experience can greatly impact your performance on the floor – you don't want your rental exhibit to hold you back.
Owned vs. Rental vs. Custom Exhibit Rentals: Which Is Right For You?
At EDE, we've been providing clients with expert guidance and exceptional exhibits since 1979. If you're looking to test the limits of what's possible – or just want to make a splash with a new, custom exhibit, we'd love to chat. We're happy to answer any questions you have and help you explore your options, whether you opt to buy or rent your exhibit. Let's get started!
Special thanks to EDE's own Estimator, Michael Rosinski, for his expertise and contributions to this blog!