No one likes to talk about money, but the bottom line is that the cost to produce a trade show booth is a major factor for most businesses. Many potential customers want to know the average trade show booth cost as well as additional costs to consider when exhibiting at trade shows.
Unfortunately, pricing is far more complicated than a single number. But, we're jumping in and trying to demystify trade show exhibit pricing with insights from our very own Estimator, Mike Rosinski.
Please note: the estimated price ranges detailed in this blog are based on costs in Chicago, IL. You may need to adjust for your area to get a better ballpark figure.
Use the links below to skim the article:
The Short Answer: How Much Does It Cost to Produce a Trade Show Booth?
Every trade show exhibit is different, and price will depend on the complexity of your exhibit and the materials and expertise your design requires. That being said, here are general ballpark numbers on what standard size booths will cost you for design and fabrication:
For booths smaller than 20' x 20', expect to pay around or over $300 per square foot all-in or $120,000 or less.

For booths 20' x 20' and larger, you'll likely pay between $200-300 per square foot all-in or between $100,000 and up.

If your exhibit requires in-depth audiovisual/technology, expect to pay at the top end of the relevant range, if not over.

For example, if you have a 2000 (40×50) square exhibit with lots of tech, expect to pay in the $600,000 range and potentially more.
Note: These price per square foot estimates are for the entire budget including design/build and show services (shipping, installation & dismantle, material handling, electrical, rigging, etc.)
The bottom line is that every company and every exhibit is different. We've developed sharp-looking exhibits on all sorts of budgets and are all about making the most of your investment.
The Long Answer: The True Cost to Build a Trade Show Booth
Creating custom experiences means that there is no one perfect cost to produce a trade show booth. However, understanding the major factors that affect price can help you craft your budget.
Creativity & Experiential Design
The creativity and experiential design that goes into a trade show booth is what truly sets it apart, making it the major intangible cost for exhibit design. The amount of time, effort, and brainpower required to create a one-of-a-kind, show-stopping exhibit for your business is hard to put a price on. And, investing up front in a great idea and a solid plan for execution will make the rest of the process as cost-effective as possible.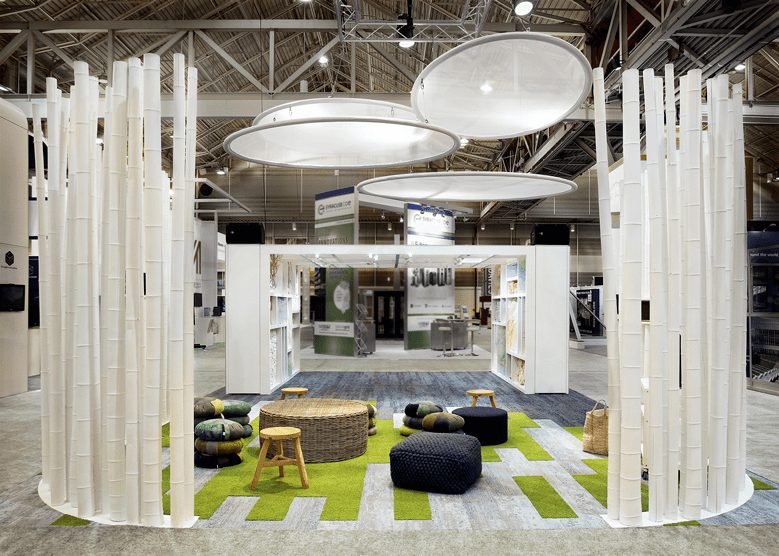 Mike Rosinski has been an Estimator at EDE since 2018. He says it's often small details, like curved corners, that affect pricing most. "As soon as you add curves to your structure, you need to bring in the CNC machine which means more people, more time, and more money. Curved corners can easily add 40-50% to your exhibit fabrication cost." At EDE, we work with each client to find the perfect balance between cost and the details you're dreaming of.
Materials
The raw materials needed for fabrication are the next major factor in the cost to produce a trade show booth. Wood, metal, glass, lighting, textiles, electric, and custom signage are all subject to market price fluctuation and shortages.
At EDE, we strive to keep innovating and making the most of our clients' budgets, like with our Limitless tube system. "In the past, the industry relied on boxframe panels made of pure wood that cost approximately $1800 a panel. When we created our proprietary tube system, it simplified everything. The tube takes less time to construct and has a built-in graphic track to easily apply fabric graphics."
Mike also says that much like with design, small changes in materials (like choosing custom laminate instead of stock laminate) can make a huge impact on your budget. And, unsurprisingly, one of the biggest price factors for any exhibit is the complexity of the AV/technology needed.
Fabrication
Depending on the design of your exhibit, fabrication can be a smaller percentage of your budget or a major cost. As Mike shared earlier, what may be a small detail to you (like curved corners) can result in hours of complicated work.
Our team of award-winning builders and carpenters works hand-in-hand with our design team to ensure maximum visual impact at your price point. Their high-quality fabrication will ensure your exhibit is well-built and will last for years to come.
AV & Technology
It's no surprise that AV and technology can account for a huge part of your trade show exhibit budget. Not only can the technology itself get expensive, but the labor required to install it, get it working, and carefully dismantle it can add up too. After all is said and done, a spitballed $4000 video wall can easily cost 3x that estimate.
The good news is that renting your exhibit tech can save you money and eliminate concerns about upgrades, maintenance, and repairs. We've compiled the rental and labor costs for some of the most popular tech we see on the floor below.
Monitors
Monitors are essential to nearly every exhibit we build. From demo stations to reception desks, their applications are endless. These rental estimates include monitor, mount, and service fees.
iPads
iPads help your team communicate, take notes, and direct presentations. They can also provide interactive touch points around your booth. Luckily, iPads are one of the more affordable tech items, with typical rentals around $200 (including mount).
LED Tiles & Video Walls
LED tiles and video walls can make for a dynamic and engaging booth. A standard LED tile (roughly 18" x 18") comes in around $350. That means a 12-tile video wall will cost you around $4200. 
You'll also need adequate power to run them. A 20 amp 24 hour outlet will run you roughly $940. For the video wall described above, you'd need 4 outlets, coming in at $2900 total.
Labor
It's easy to forget how much labor is involved in installing, troubleshooting, and dismantling your tech. For something like the 12-tile video wall above, you'd likely need a team of two, with roughly a day for install and a day and a half for dismantle. We'd estimate the labor cost around $3600, assuming a $150/hr rate.
If you have a particularly complex setup (typically including 10+ monitors or a video wall), you may also need to pay for a technician to help the install crew get everything just right.
Extras
Finally, don't forget to account for extras like mounts, stands, and surge protectors. Be as detailed as possible with your rental requests so you understand what is included and what isn't.
Lighting
Too often, lighting is often overlooked on the trade show floor. Budgeting accurately will ensure that your booth (and your product) stand out.
A simple lighting setup might consist of 3-4 PAR can lights focused on your product and hanging signage. With labor and electric, you're looking at roughly $3000-5000 for lighting.
Going beyond a simple lighting setup means adding trusses for support, which increases cost significantly. But, a more complex lighting setup will also allow you to create a more dynamic environment through movement and color. With labor, electric, power supply, trusses, drayage, and service fees, you can expect a 40-light setup (appropriate for a 40×40 booth) to run you roughly $100,000-150,000.
As you can see, lighting costs can be a significant portion of your trade show exhibit budget. However, lighting can also be the difference between a boring booth people walk right past and a showstopper.
Program Management
Program management is one of the major differences between a trade show booth builder and a true exhibit partner. It can also be a significant factor in the cost to produce a trade show booth. Good communication and project management are worth their weight in gold when you run into an issue and your exhibit partner handles it seamlessly.
Your trade show partner can also help you manage your exhibit assets. "Some industries build new exhibits more often than others. If you expect to use your exhibit less than 3x per year, you should strongly consider renting." Mike says. 
Mike and the EDE team raise points like these often to help clients make better use of their money. "A new route lots of clients are taking is custom rentals which is the best of both worlds." Custom rentals offer the flexibility to borrow additional components to fit different show spaces or even rent a whole booth if you don't exhibit at trade shows often.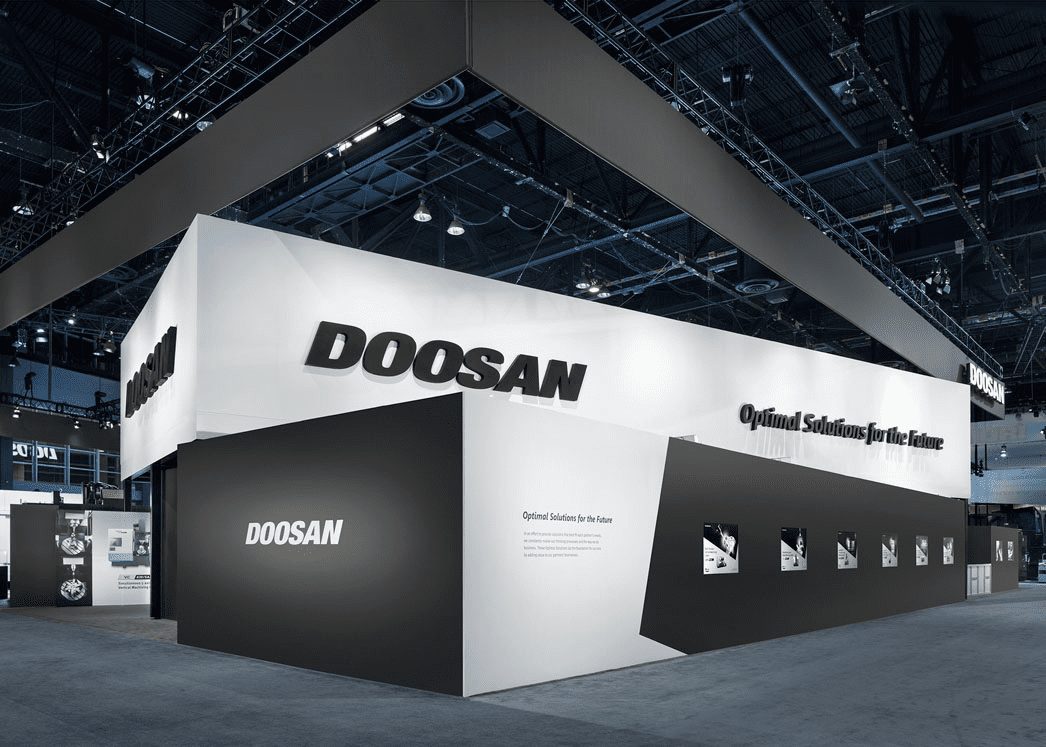 Shipping, Material Handling, and Show Services
Once you have your exhibit built, you'll need a place to store it, shipping to get it from storage to your trade shows, and material handling at each show to get it from the loading dock to your booth space.
Shipping and material handling are far more complex than they sound, and it takes insight and experience to find ways to save. For example, stacked shipments may seem more efficient because they save space, but they can incur major material handling fees. Special handling for oddly-shaped items or items that aren't on a pallet can drive up the price even more.
Our Estimator, Mike, says "In addition to boxframe panels being more costly to construct, they are also approximately 2.5x heavier than the same sized tube system." Since material handling is calculated based on CWT (1 CWT = 100 lbs), reducing the weight of your exhibit can result in significant cost savings.
No matter the size, shape, or complexity of your exhibit, our experts can determine how and when to get it moving for the most cost-effective and timely arrival.
Additional Costs to Consider When Exhibiting at Trade Shows
While we are focusing on how much it costs to produce a trade show booth, there are other costs you may want to consider when it comes to your overall trade show marketing budget. 
These expenses may include:
Staffing and employee training

Travel costs, mileage reimbursement, and per diems/catering

Long-term storage costs for your exhibit between shows

Cleaning, repair, and maintenance for your exhibit over time

Electrical and internet costs
Trade Show Exhibit Pricing Models
Now that you understand the major factors for exhibit pricing, let's take a look at the cost to produce a trade show booth in the real world.
Every company uses different pricing and service models, which can make it difficult to compare your options and know how to best utilize your budget. Always read quotes and proposals carefully to ensure you understand exactly what you're getting for your money, and don't be afraid to ask questions.
At EDE, we have a 30% service fee. The fee covers a number of costs, but mostly it supports the cost of our team's comprehensive service without raising our overall rates. For that 30%, we handle all things trade show marketing and greatly reduce your workload. We handle ordering, material handling, installation, and dismantle – as well as things you might not think of like electrical, internet, cleaning, catering, and more.
Other companies may have little or no service fee, but their labor and team rates may be significantly higher. At the end of the day, our pricing structure has been honed over the years in our clients' best interests – to help you make the most of your budget while getting the all-inclusive service you need.