Hanging signs are staples on trade show floors.  Most exhibitors use them to maximize the display's height and make the company name visible from a distance.  Obviously this is all fundamentally vital, but truly successful exhibits incorporate hanging signs that do even more.  Don't contribute to hanging signs becoming the superficial backwards cap of events by just plopping them on top of your exhibit as simple identifiers.  Make them a part of your visitors' experience to ramp up the effectiveness.
How can you make your hanging sign an actual part of the booth experience?
Use layers and height to create impact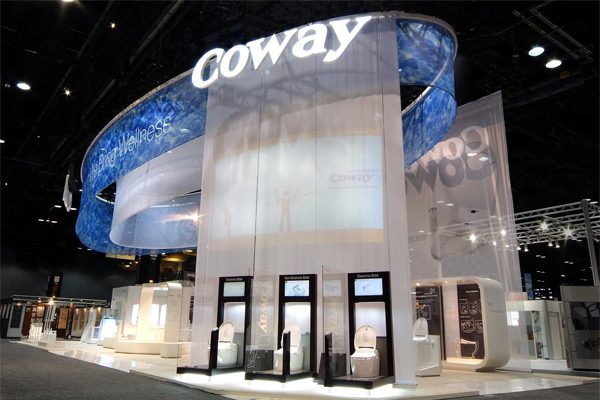 Coway's exhibit structures were below 10' in height but with the addition of a hanging sign and its four sections, the booth's overall height became impactful.  Large pillars in the front of the exhibit were also used for rear projection to create an enormous display.  By thinking about the overall picture, the hanging signs helped evolve the space into one with more substance and statement.
Use structure to capture- and keep- attention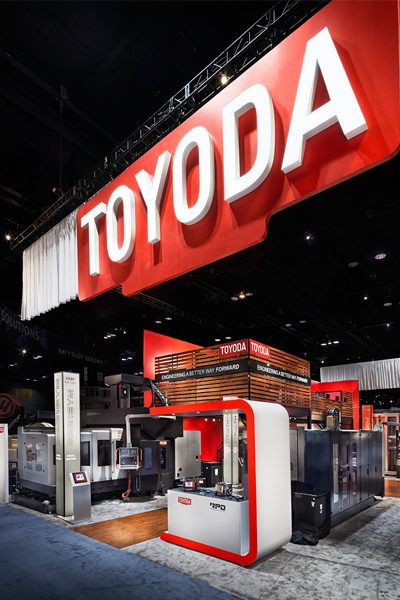 Two 30' wide x 10' tall structures with backlit lettering showed the entire show floor where Toyoda was within the hall, but the truly special aspect was the 8' drape behind.  The fringe-like look encompassed the space with a softer feeling and created an informal barrier to keep attendees' attention within the space rather than outside of it, especially on the second level of its double deck structure.
Direct leads right to your staff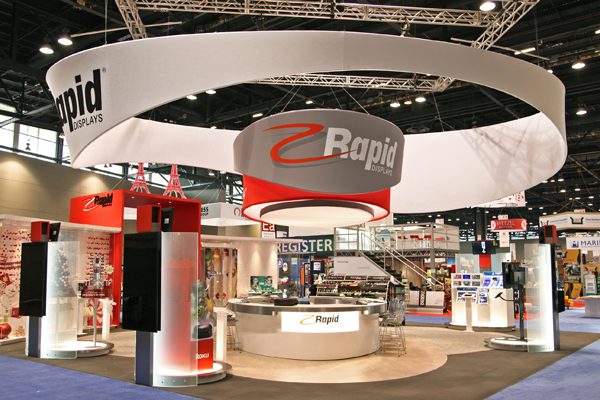 While the basic outline of Rapid Display's signs starts generic, the use of layers, size and placement was thoughtfully planned.  The inner-most sign's placement over a principal meeting desk of mirroring size and shape subliminally directed visitors right to booth staff.  To further develop this function, the signs' centralized lighting was carefully planned to draw in visitors like moths to a flame.
The right design can make vertical space an integral part of your exhibit. Properly used hanging signs can give height or add intimacy and they can control attendees' eyes and attention. But a circular or one-dimensional sign disjointedly hanging above an exhibit isn't the way to do that. Talk to your exhibit designers and explore options that work for your brand.