Old World Industries (OWI) needed to find a better way to communicate their product offerings, how they support distributors, and create a more effective messaging platform for their program.
Traffic to their exhibit wasn't revving their engine. They had top of the line products so they couldn't figure out the problem. That's when they raced over the finish line!
Compilation of Old World Industries at AAPEX Expo. Items include showcase of the John Force Drag car, (2) Oversized LED walls, with an interactive LED Touchscreen. The exhibit is 2,000 sq. ft. in size and showcases 6 product displays, large graphics and several areas for attendee meetings.
There wasn't enough booth space dedicated to showing why distributors wanted their products or the ROI their products would bring them.
Our solution for OWI's 50×40 trade show booth was to build metrics into their messaging, presentations, and place it around their AAPEX trade show booth in engaging ways. Now, when distributors came to their trade show booth, they knew OWI's products were category leaders.
Everything in OWI's AAPEX trade show booth was designed to prove the ROI of their products, and rather than a hard sell, we came up with ways for attendees to interact whether they wanted to take the journey on their own or with an OWI booth staffer.
We had a MASSIVE touchscreen wall to draw attendees into the space. Most attendees think of OWI and the Peak Antifreeze brand, but they do so much more! This touchscreen wall was the answer to showing attendees the full line of products without cluttering the space. This allowed trade show attendees the opportunity to explore the trade show experience on their own and make the connection in a low-pressure atmosphere.
Ask us how to drive results to your AAPEX trade show booth!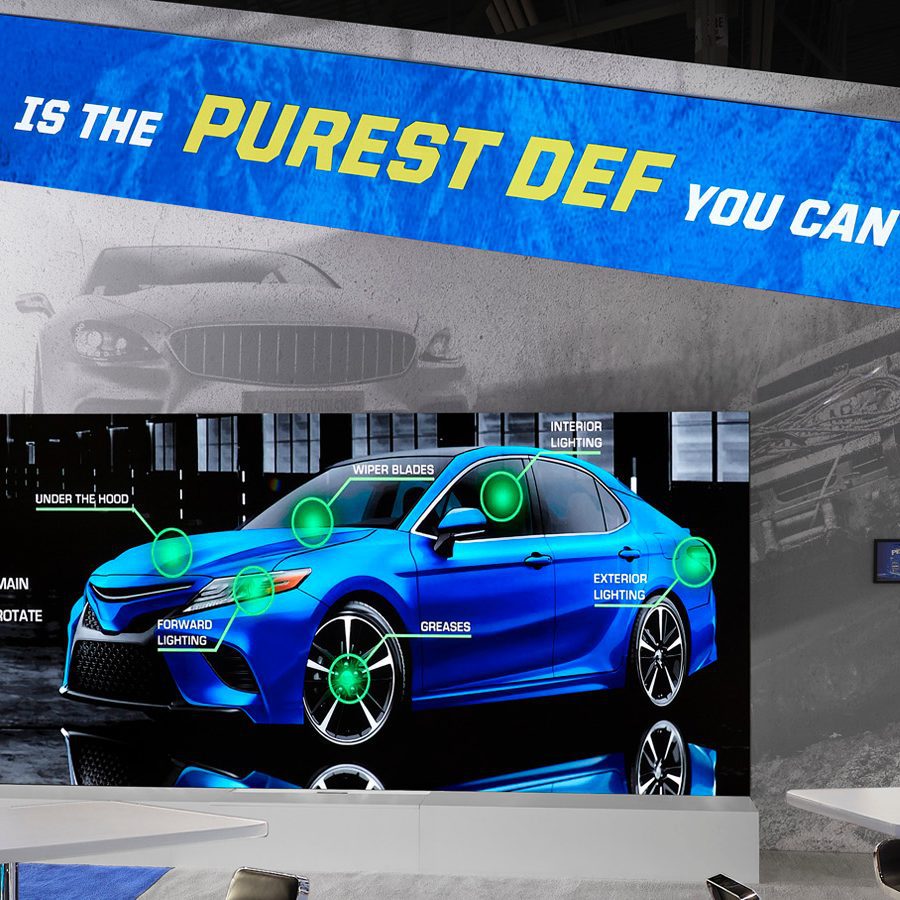 Seeing is Believing
We designed their product kiosks to be 4' wide to mirror a retail store end cap. Everyone knows that's where products sell the most and typically have the highest margin. We replicated the exact look OWI's products take in stores. Helping distributors make the direct correlation to their stores!
Extending all the way up to the top of their exhibit was a beautiful 10 meter long LED wall. It was a great way to showcase the OWI brand across the trade show floor. It went up 16' high and was as impressive as it was beautiful.
End-to-End Exhibit Services From Ideation to Installation — Our Scope
Sponsorship Design + Installation