Edmund Optics came to us in a bind. They were looking for a new exhibit that brought a fresh, clean, modern look with an Apple Store vibe including the pops of color drawing attendees to your trade show booth.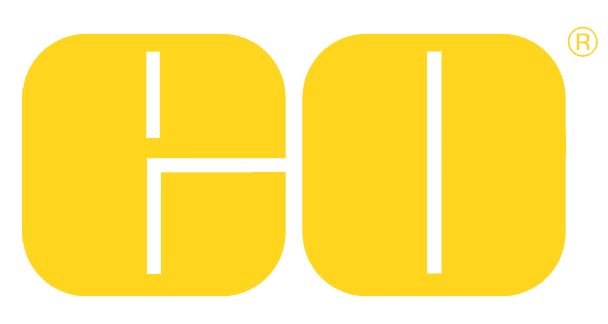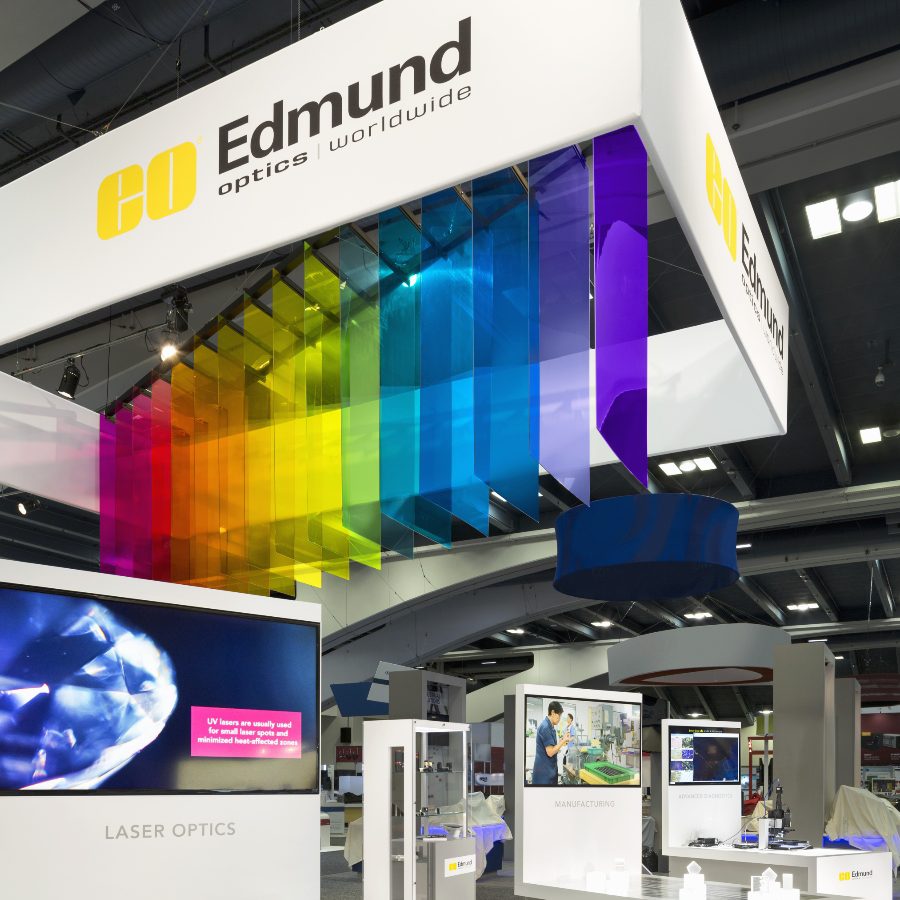 Did you know that laser prisms are used to redirect laser beams in a number of beam steering applications? Neither did we!
That is until we learned that Edmund Optics' biggest differentiator is that their lasers are more efficient and have less scatter. We used this insight as our inspiration for the most iconic piece of their trade show exhibit. Hanging signs are a key element in drawing attendees to your trade show booth and this one was a sight to see from everywhere.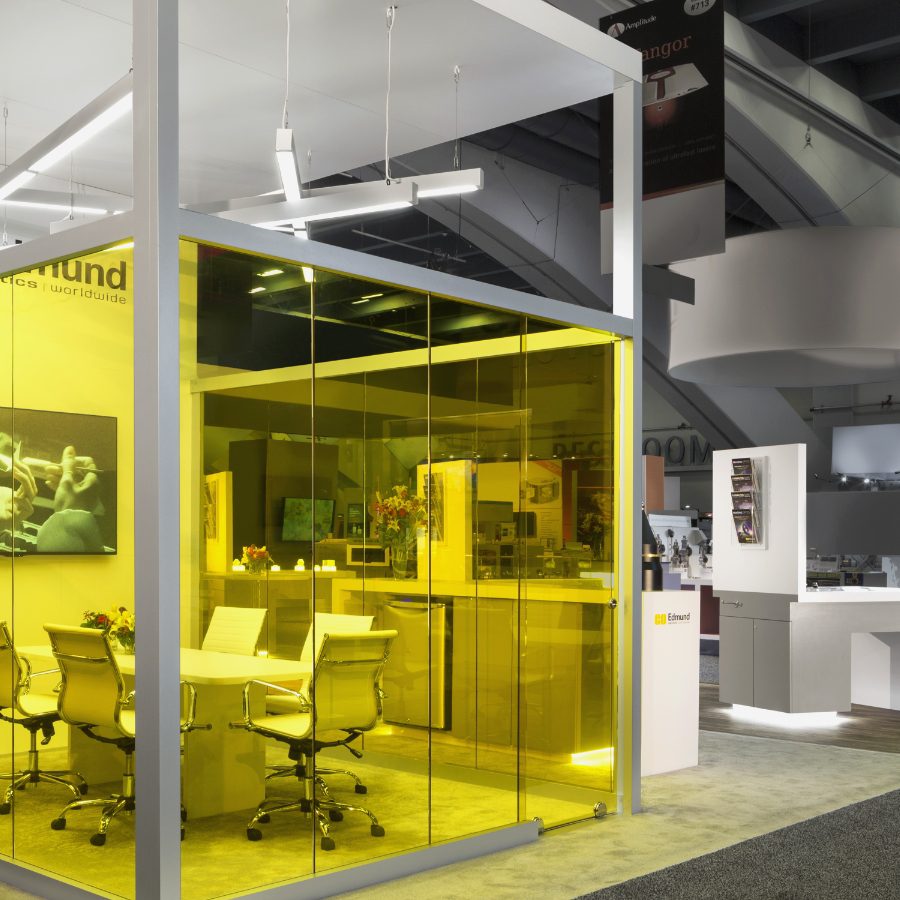 Each demo area within their trade show booth focuses on a different sector for Edmunds and each of them had a unique interactive demo specially designed for SPIE Photonics West.
As you enter Edmund Optics' 40' x 40' trade show booth at SPIE Photonics West you were offered an array of information. Ranging from new products, innovations, expanded partnerships, and so much more. To Edmund their relationships in the industry are key to their success.
On the West side of the trade show booth, you'll find the Laser Optics demo. It featured an interactive map to show how their laser crystals are made. Kind of like seeing the sausage get made, but with lasers! The demo brings customers through the interactive map while sprinkling in quiz questions to reinforce what they are learning at the show.
Related Project
Interested in drawing attendees to your trade show booth with personalized experiences? Check out our work with MHS, an award winning experiential exhibit!
As you go deeper into their trade show booth you'll come across the Precision Optics demo.
This demo focused on Edmund Optic's safety glass that goes around lasers. They showed the difference between a laser with the safety glass and one without. It was a real life simulation of how the Edmund Optics glass prevents the scatter and gives a more direct laser pointing to a real-life example of the efficiency of their products.
The last demo was all focused on Imaging. They had a camera setup pointing at a skyscraper built out of legos . Using projection they showed off the accuracy of their cameras and lenses.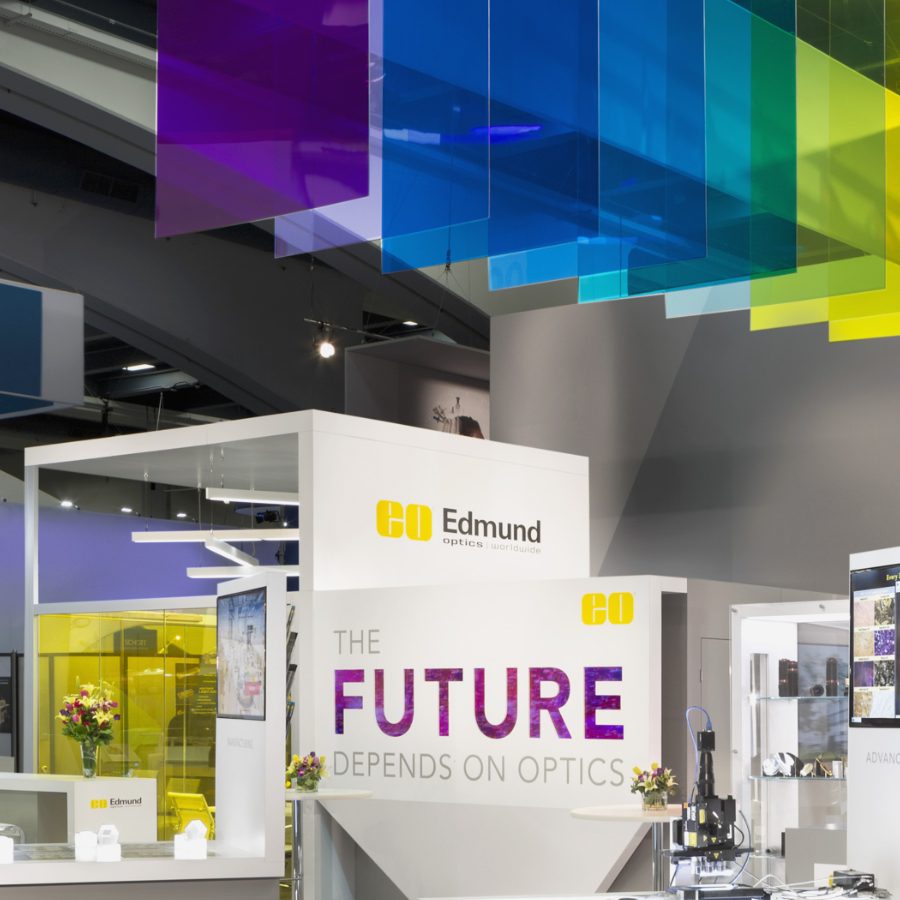 End-to-End Exhibit Services From Ideation to Installation — Our Scope
Sponsorship Design + Installation