In-booth furniture, whether rented or purchased, is a part of exhibit design that should never be overlooked. The devil is in the details, as they say.
One of the immediately obvious requirements is comfort, not just for attendees but also for exhibit staff. Studies have proven that discomfort affects attention—something you do not want to lose at time sensitive events like trade shows. When deciding on chairs and tables, keep in mind the purpose of each piece of furniture. A chair that is considered comfortable for one task may not work as efficiently in other areas.
Mood's exhibit objectives relied on informal meetings in only semi-private areas to converse with leads. That means their furniture couldn't take up too much space and could be designed for shorter and interrupted usage. They opted for sleek tables and chairs that were tall and had short but supportive backs instead of extra padding.
Toyoda's exhibit had two distinct areas on its second floor: a lounge area and private conference rooms. While both featured long tables that encouraged discussion and collaboration, different kinds of chairs were used. The conference rooms' chairs were comfortable enough to keep leads relaxed but still feel like they were in a professional setting.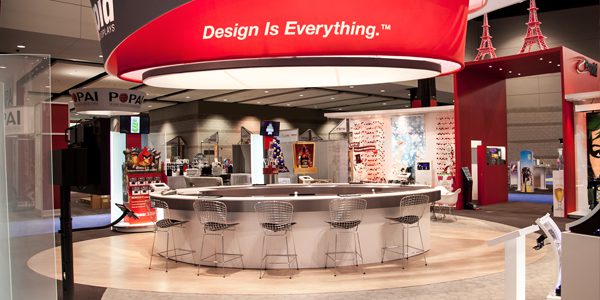 Rapid Display's exhibit was open and funneled attendees into the center of the space to a reception desk with waiting staff. The desk, then, had a circular design that gives access to staff from all angles.
Exhibitors that host panels or discussions should keep in mind the idea of keeping relaxation to a non-distracting level. Chairs that encourage longer use but keep visitors facing forward and focused can make a difference in their participation and learning.
Finding furniture that not only fulfills basic function and comfort requirements but also captures a company's brand and personality adds another dimension to an exhibit or showroom. It is not all about colors and patterns. Materials, shape, embellishments and style all bring things together no matter the prominence of the furniture within a space. Furniture can affect mood, reinforce a mission statement, impress and more.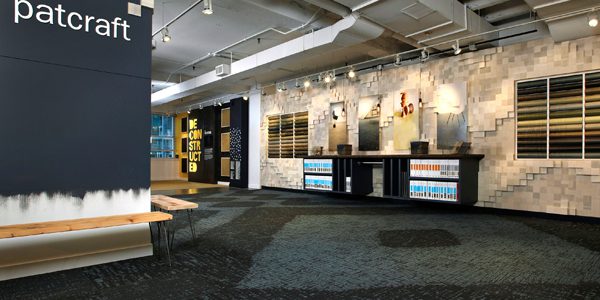 Patcraft's showroom had an aesthetic that mixed materials like reclaimed wood and metal for a strong and gritty feel. The space had sparse furniture to encourage movement, so benches in the middle of the room were subtle and minimalist. However, the materials matched those of the rest of the showroom without fading into the background.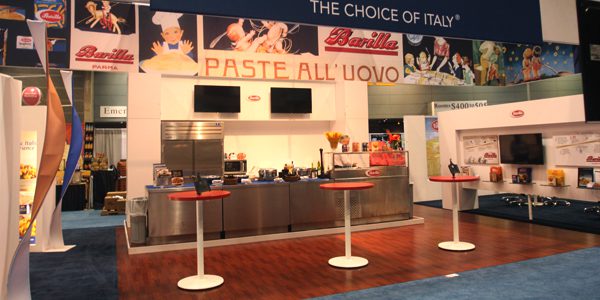 Barilla's exhibit gave attendees an escape from the trade show and actually incorporated a fully functional kitchen into the space. To save room and keep visitors moving, furniture included small, restaurant-quality tables but no chairs.
Bentley Prince Street's exhibit was all about environment and envelopment. Their samples were placed on a tall table for standing to encourage interaction with the product. Away from the samples, attendees could sit in casual lounges so they could soak in the environment.
With plenty of manufacturers and vendors at your trade show exhibit house's disposal, you can be confident in finding furniture that is attractive, functional and cohesive with your brand. Make sure objectives are discussed in design meetings so that your exhibit comes seamlessly together.