At the start of 2014, there was a BizBash article about trends in trade shows you'll see this year.  Below, our designers picked some of their favorite exhibit trends and expanded on why they can work for you.

Lightwoods

Patcraft used saturated woods to create texture and pattern which mimicked their carpet designs without distracting from the graphics and carpet samples.
Gone are the days of woods with yellow, orange or dark tones, instead desaturated lightwoods with texture rule the roost.  Lightwoods have become a simple way to give another dimension to a space without overpowering, essentially making it a more interesting neutral shade.  This results in an exhibit with a bolder foundation that still allows logo colors, graphics and multimedia to jump away from the surface.
Straight Lines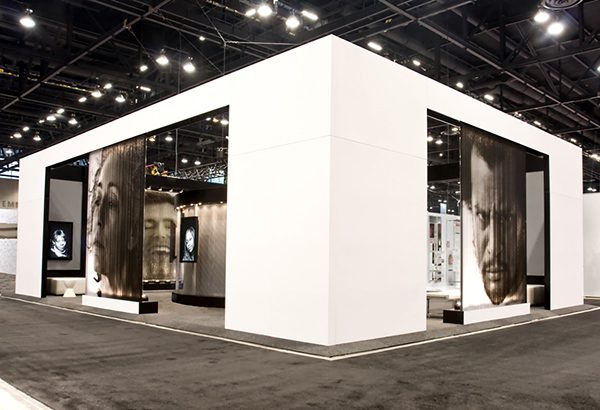 Muzak has used the idea of big, bold walls in many of their exhibits. From large graphics and monolithic corner units to ball chains or slats, they control the experience within the exhibit.
The reign of crazy curved fabrics has been replaced by the return of big, bold straight lines.  This kind of exhibit architecture is not only easier and more cost-efficient to install, but can also control the eyes of attendees.  Simplicity in shape with bold lines directs attention to an obvious focus: your products and branding.  Using different materials with textures or colors on these design elements helps give the space added character.  Translucent and opaque fabric walls in particular have really allowed simple lightweight installations, making straight line designs once again dominate show floors.
Digital Engagement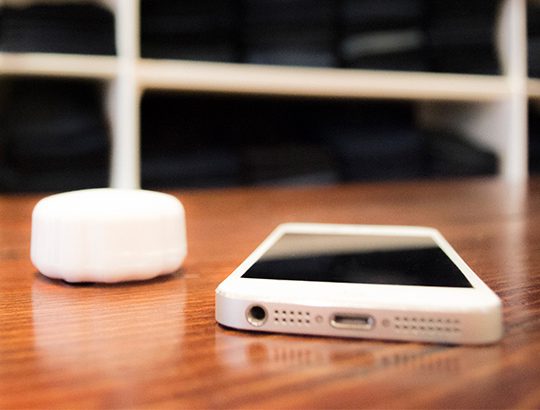 iBeacon options like the one shown by Swirl will become an integral feature in exhibits in the near future.
Millennials have become accustomed to using tech for everything and many shrewd exhibitors have taken notice.  NFC and RFID technology are becoming standards to help investigate flow and attendance in larger exhibits, but with the advent of iBeacon in IOS7 there is a completely new way to not only measure traffic, but to communicate with attendees in a different way.  Imagine walking by a new product and receiving a text about the unique features or opening an app to guide you through the features of the product.  All of a sudden graphics and branding costs for the exhibitor decrease while the attendees' experience resonates individually and even extends post-show.  With iBeacon, these things have become a possibility.  Being on the forefront of new technology like this and incorporating it into your exhibit with purpose will surely be an important part of exhibiting in 2014.
Maximizing the Event

Imagine heavy traffic areas like Chicago's Hyatt lobby with a snippet of your exhibit experience and the impact that could make.
Trade shows are seas of competition with hundreds of exhibits and possibly 20 times the salespeople all clamoring for the same audience's attention.  Use opportunities beyond the show floor to extend your brand's reach in places with less competition to give you that much more of an advantage.  Whether it's unique branding at an airport or creating an experience in the lobby of an affiliated hotel, spread your presence where your target attendees will be.  These unexpected messages should complement and connect with your exhibit branding to really resonate with attendees.
You'll see design strategies like these implemented on the trade show floor more and more.  Early adopters have noted the benefits of lightwood finishes, straight line design, using new technologies and expanding off the show floor, and they can work for you, too.  Don't worry about blending in—each of these trends can be done in a customized way for each brand to ensure individuality.  Talk to your staff about what they've been seeing around the show floor to inspire you.  Contact us to find the best ways to incorporate these trends into your new exhibit.