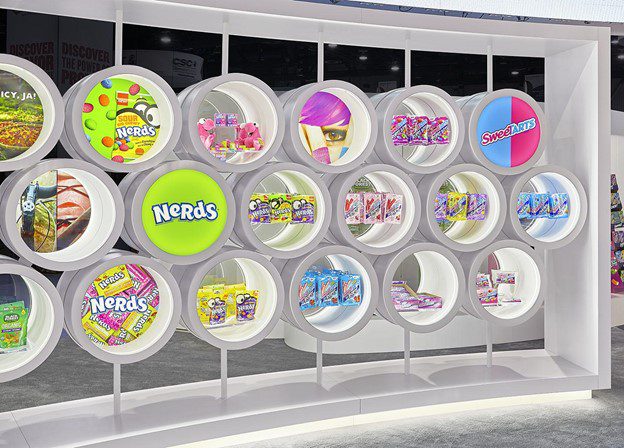 Eat, Drink, and Be Merry: Making Mouths Water at Food and Beverage Trade Shows
No matter what corner of the industry you're in, exhibiting at food and beverage trade shows is a personal and interactive way to network and showcase your products. It's also about proving to potential clients that carrying and selling your products can increase their revenue.
"At most shows, seeing the products and learning about the solutions are typically where it ends." Shannon Dunne, EDE's Director of Account Management is a seasoned pro when it comes to the food and beverage industry trade show circuit.
"With food and beverage shows it goes much deeper. We need to show attendees how they can merchandise the products and how they will bring future success to their stores. They need to understand how it tastes, smells, what the product packaging looks like and how much shelf space it will take up, as well as how our company will use our marketing efforts to drive buyers to the product."
The floor of a food and beverage trade show can be particularly overwhelming, with all sorts of flavors, bright colors, and aromas. Here are our top tips for creating an unforgettable food or beverage exhibit experience that stands out and shows your potential clients what you're all about.
Find Your Focus
The first step to a successful event is to create a goal for your entire food and beverage industry trade show schedule. Maybe you're launching a tasty new product, showing off a delicious innovation, or even testing out a unique new flavor.
Whatever your purpose may be, don't lose sight of it at any cost. Your goal should be reflected in your exhibit layout, graphics, messaging, samples, giveaways, and more. Create a truly cohesive experience that tells a story attendees won't soon forget.
Boost Your Brand
A lack of branding is one of the biggest reasons many trade show booths fall short. If your branding begins and ends with packaging and a color scheme, you may need to rethink your approach.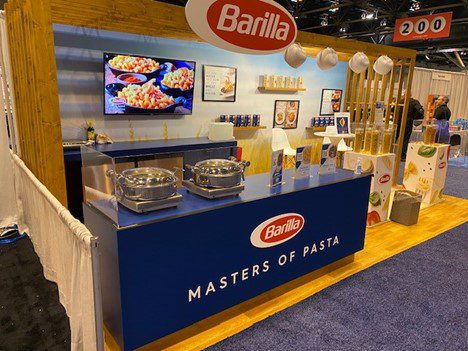 Your brand is far more than the colors you choose or what your packaging looks like. It's the feeling that your customers get from the moment they see your exhibit. Your exhibit layout, the materials you choose, the textures you utilize – everything should coordinate with and amplify your product offering.
Solve a Problem
Standing out at a food and beverage trade show is definitely about flash – but it's also about substance. Don't get so caught up in showmanship that you forget to highlight the pain point or problem your product solves. In a retail setting, the problem most representatives are focused on is finding products with a strong return that will drive sales for their company.
In our work with Ferrara, we built a 70' curved LED screen that highlighted their strong ROI loud and clear. We didn't leave any questions on the table – we made sure attendees knew exactly how to sell the products and why they should be interested in the first place.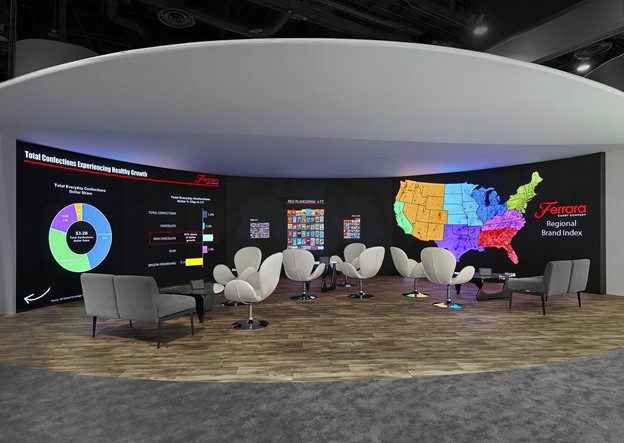 Fran Ansell, Senior Industry Relations Manager at Ferrara, understands the value that innovations like these can bring to the table. "EDE has provided cutting-edge technology and top-to-bottom support for all exhibits built for Ferrara. The team has exceeded every expectation bringing concepts to life and keeping Ferrara's exhibits innovative."
Focus on how you can clearly and quickly communicate your position in the industry and the benefits you bring. Are you the cost leader? Are you the innovator, with consumers actively seeking out your new products? Do you have the strongest marketing program to drive sales? No matter what your angle is, shout it from the rooftops. Shelf space is limited in every store – it's up to you to prove you deserve to be there.
Create an Unforgettable Experience
Just like at a restaurant, experience is everything at food and beverage trade shows. Samples are a given – but don't just let people taste your product. Allow them to touch it, smell it, and crave it. Create games, experiences, and interactions around your product that will leave a lasting impression.
What can you offer attendees to take away from your exhibit? Here are a few of our favorite ideas:
Build a fun backdrop into your exhibit for photo ops with a mascot or oversized product.


Sell a low-cost piece of branded merchandise. If a brand ambassador sees a visitor on the show floor with it, they can win cash instantly or are entered into a drawing.


Incorporate technology through interactive touch screens or customization opportunities. Food and beverage trade show exhibits are typically low-tech, so if you want to be seen as an innovator in your industry, show off how you can innovate on all levels of your business.


Focus on data and analytics. Reinforce numbers and statistics that will stick in visitors' heads. Use color, visual and interactive data, and real-life examples to make it memorable.
In addition to ensuring your exhibit is on point, staff your exhibit with passionate staff members who embody your brand and can extend the customer experience. Provide them with the training and tools they need to successfully showcase your product, answer questions, and make genuine connections.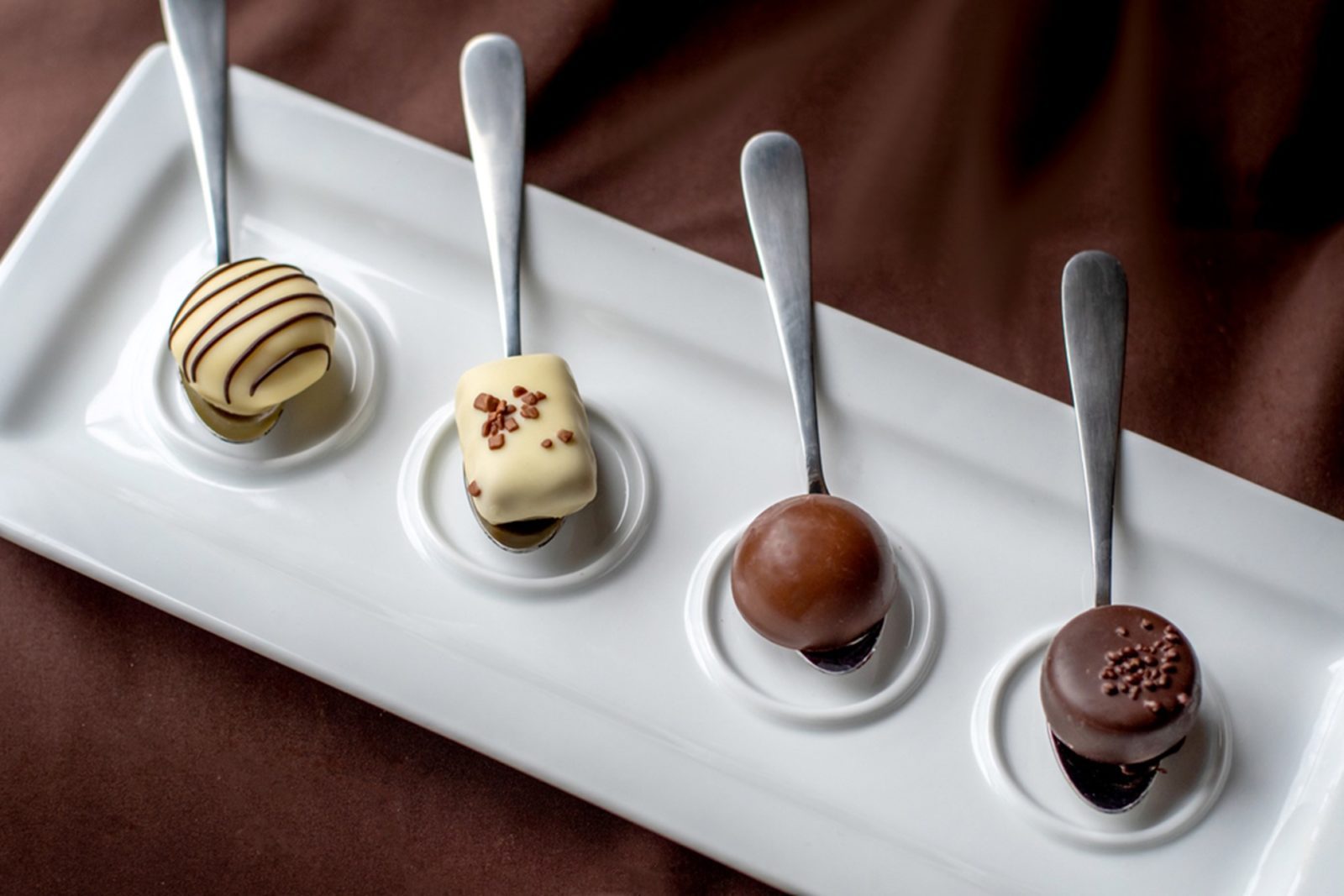 Take Health & Wellness Seriously
Food and beverage trade shows are full of delicious samples – but if not handled correctly, they can be at best a turn-off, and at worst a safety hazard. And, with COVID-19 still a major concern in many areas, making sure customers feel safe and comfortable is paramount. Here are a few tips for tackling health and wellness within your food or beverage exhibit:
Offer hand sanitizer near any sampling areas.
Have appropriate signage for allergy information.
Keep sample areas clean and free of trash.
Opt for pre-packaged or portioned items.
Refresh samples frequently to ensure freshness.
Ensure proper refrigeration/freezing/heating.
Above all else, check with trade show guidelines when it comes to food and beverage samples before you start planning your exhibit. Some food industry trade shows don't allow them at all (especially during COVID spikes), while others may have specific rules you must follow.
Not sure where to start with developing a trade show exhibit for the food and beverage industry? EDE can help. Contact us to get started.