See Our Before & After Installation Video of Fortna at ProMat 2023
Preparing for a trade show requires a lot of work. From finding a partner and collaborating on an exhibit design to prepping your team, it feels like you have to be in the home stretch. But, there's one more obstacle between you and a successful trade show – installation. We've asked our team of experts what exhibitors need to know about trade show booth installation to make the process go smoothly. Here are the tips they've learned from 42 years on the trade show floor.
Before Trade Show Booth Installation
The more effort you put in up front, the more likely your trade show booth installation will go smoothly. Check out these tips on what to tackle before installation.
Request or Create an Install Schedule
The first step to ensure a smooth exhibit installation is to to create a detailed schedule. Request or create an installation schedule and plan that helps you coordinate all of the different types of labor your booth requires, including:
Carpenters

Electricians

Riggers

A/V contractors

Product/demo team members
Creating this schedule will give you a good idea of how long installation will take as well as the key team members you'll need to make it happen. And, it will help you keep an eye on if you're on time, ahead, or behind on key milestones at a glance.
Looking for installation schedule inspiration? Check out a sample schedule from the team here at EDE.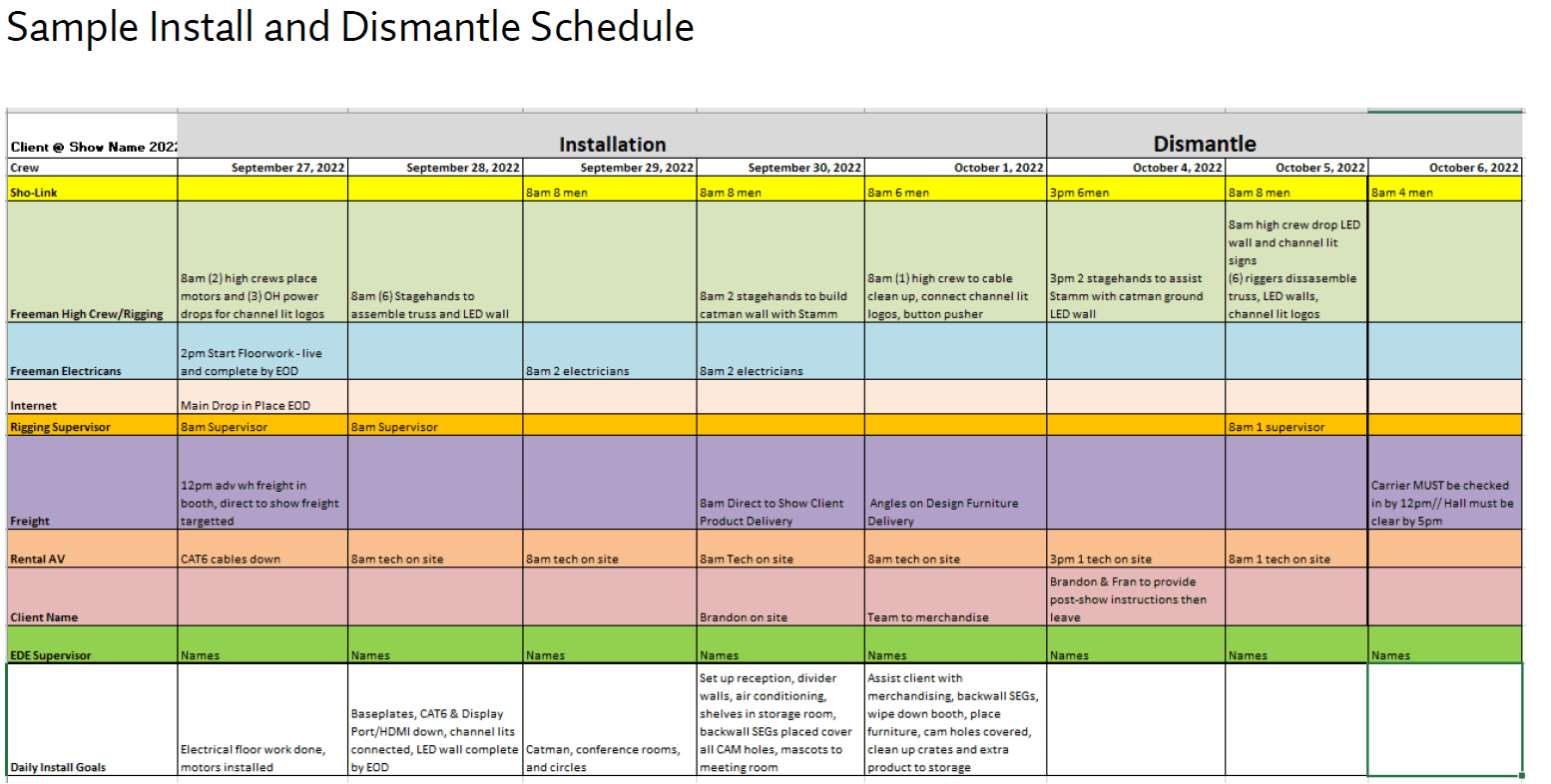 Inventory and Clean Your Booth
As your trade show approaches, your exhibit company should be in touch with action items to prepare for the show. At EDE, we set up each exhibit before the show, inventory the pieces, clean it, and pack it safely for installation. This way, you can be sure when you arrive at the show that your booth is in good shape and is ready to be installed with no hiccups.
This step alleviates stress, prevents last-minute issues on the floor, and is one of the major perks of utilizing an exhibit partner. 
Send Items Ahead
Shipping packages to your venue can get expensive fast. If you are able to plan ahead and want to save a few bucks, ship small items to a local rep or your hotel room. 
Looking to save even more? Check out our blog on how we estimate, manage, and help our clients save on trade show services.
Request to Set Up Early
Installation is one of the most hectic times on the trade show floor. If you have the flexibility to do so, ask if you can set up early. Setting up a day early can help you minimize overtime pay and eliminate stress by knowing you have extra time if something goes wrong. The show staff may tell you no – but it never hurts to ask!
During Trade Show Booth Installation
Trade show booth installation doesn't have to be stressful and disorganized. Here's how to take control and keep things running smoothly.
Maximize Labor Efficiency
As we mentioned early, be strategic about scheduling your installation team. Double up on tasks that can take place at the same time to keep your team moving as efficiently as possible. Make sure your team is clear on hard deadlines that must be met. And, have a back-up plan for everything. With how quickly things can change on the trade show floor, Plan A rarely comes to fruition.
The good news? If you work with an exhibit partner like EDE, you won't have to worry about managing or maximizing labor efficiency. We send a supervisor from our team to lead and guide your installers. All you have to do is show up and exhibit!
Set Yourself Up for Future Success
In the frenzy of installation and setup days, it can be easy to leave a mess behind to deal with later. Instead, think about how you can make dismantling and shipping your booth easier by setting yourself up for success during installation.
Here are a few steps to consider as you prepare for your trade show:
Prepare packing lists for each crate. Place them inside of each crate and provide a copy to your install/dismantle supervisor.

Take photos of each packed crate and create diagrams to show how everything should be re-packed.

Request the same team for dismantle as installation, so they are extra familiar with your exhibit.

Request and pay for priority labels if available, so you can begin dismantle as soon as the show is over.

Organize and store packaging materials neatly. Prepare extra boxes or packaging materials to replace items used during the show (like samples and literature).
Stay Out of the Way
You may only attend a few trade shows a year, but exhibit installation teams do what they do year round. Sometimes, that means the best thing you can do is give them space to do their jobs.
While you can be present during your trade show booth installation, you shouldn't have to be. Your involvement will depend on the complexity of your booth and how integrated your products or services are within the booth. However, most exhibitors can arrive a day or two before the show opens and don't need to be present for the entire install.
Getting installation right is so important to us that we actually became a part-owner of Sho-Link, an exhibit installation company, to make sure our clients get the best service possible. Your installation experience makes a huge difference in the final result of your booth, so you need to trust your team to do great work.
Double-Check the Details
Finally, review your installed exhibit to make sure everything looks just right. Double-check the layout, test the AV and technology in your booth, and don't forget the details. Nothing ruins the vibe of an amazing booth like wrinkled fabric or a crooked TV mount!
After the Show
Once the show is over, it's time to get everything dismantled and shipped out. Here's what you need to know to make the process as painless as possible.
Think Ahead
In many cases, your whole exhibit will get packed up and shipped back to your exhibit partner for storage. However, there are a few cases where items may need to be left out or separated, like if you:
Have a smaller booth space at your next show

Use part of your exhibit year-round for demonstrations or events

Store any of your exhibit at your headquarters or with a third party
Thinking ahead can help you get your exhibit dismantled quickly and accurately. Be sure to provide your team with the packing lists, inventories, and documentation they need to get the job done correctly and on time.
Be Thorough
Once you know what needs to be packed up, it's time to get to work taking down your exhibit. Confirm and double-check everything with your team, including:
Packing lists

Packing materials

Inventories for exhibit elements, crates, and skids
Things can get messy during the dismantle process, but it's important to approach this step with the same care and attention as installation. 
As a general rule of thumb, dismantle will take half as much time as install. If you're able, waiting an extra day to dismantle your exhibit can prevent the need for overtime and save you a little extra money.
Repurpose Your Booth After the Show
Finally, remember that your exhibit doesn't have to sit in a warehouse the rest of the year. Many trade show elements can be repurposed in lobbies, showrooms, and office headquarters to get you more bang for your buck.
Overwhelmed by the preparation around trade show booth installation? An exhibit partner like EDE can help you manage the process without the headaches.