During RSNA's 2022 Radiological Conference and Annual Meeting held in Chicago, EDE worked closely with Aidoc to create an immersive and productive booth space that could accommodate their packed meeting schedule.
We recently sat down with Renee Stacey, AVP Field Marketing for Aidoc to share her experience in pre-show marketing and how communicating with your ideal audience is vital to a successful trade show experience.
We'll be diving into where you can find your audience, engage with them, and drive them to meet with you during your big show.
Section Links:
IDENTIFYING YOUR AUDIENCE
When you are marketing to everyone, you are marketing to no one. Identifying and attracting your Ideal Customer Profile (ICP) will bring the highest quality audience to your space. Pre-show lead generation is key to building momentum around your exhibit! Marketing to those who may be most interested in your solutions help move along your Audience Acquisition Strategy.
Renee expressed that between the marketing, sales development, and customer success teams, they united under a single plan with multiple strategies. Working together toward a common goal allowed for an even distribution of tasks- especially when it came to the sales team who found leads at a variety of places within the sales funnel. By doing research into who's planning on attending and finding the ideal audience for your business is not only helpful, but impactful. 
At 6 weeks out, sending save-the-date emails is a great first step in awareness about your company's presence at an upcoming trade show. When preparing for a major trade show, a landing page should be established. This page should include all relevant information about your booth, available demos and presentations, and a link to pre-schedule a meeting during the show. 
This is a super-efficient way to provide all necessary information to your audience in one place. We've found that being specific about your offerings at a show helps you to stand out amongst all the other exhibitors that are telling them to stop by their booth with no actual information about why. 
You need to entice, engage, and educate at every step of the process and a landing page is a great way to do it all in one place!
LINKEDIN AS A TOOL FOR ENGAGEMENT
Social media marketing is instrumental in getting the word out to the right people. Aidoc used Linkedin frequently throughout their pre-show marketing efforts. Since RSNA (and most shows) do not share the attendee list prior to the show, utilizing Events within the platform became a strategic way to confirm which attendees would be at the show. Users can share if they'll be attending a specific event making it easy to connect to one another prior to the show. That confirmation made it easy for Aidoc's sales team to reach out directly through LinkedIn Inmail and direct attendees to their custom landing page.
Linkedin can be an immense resource, especially in finding professional's credentials, titles, and associated career information. This makes it easy to personalize touchpoints and stand out from the competition. Using this marketing channel can create more engaged users who are aware of your presence at an upcoming show, which in turn drives thoughtful consideration.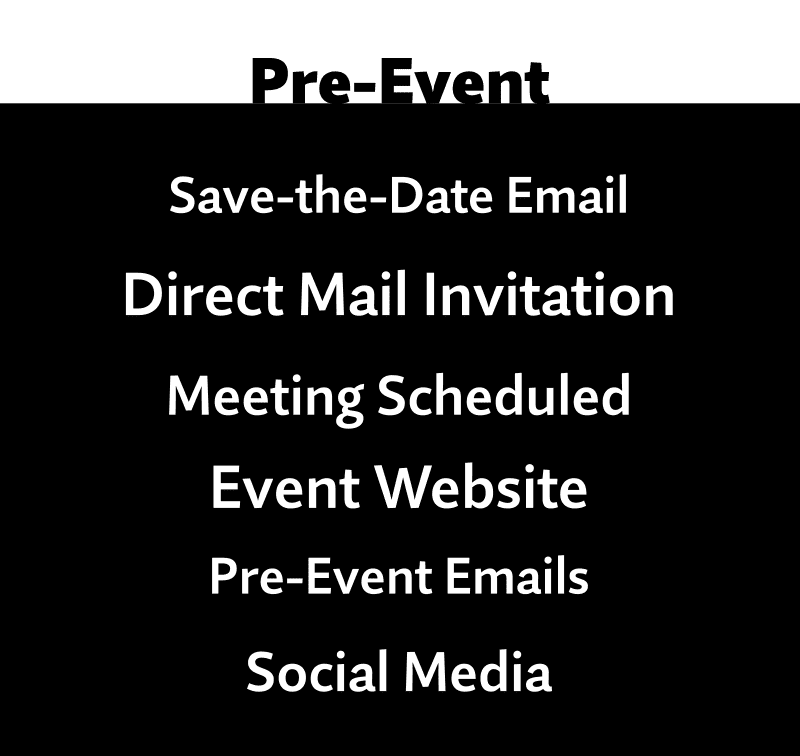 CONTINUING TO BUILD MOMENTUM LEADING UP TO & DURING THE SHOW
Don't let up as you get closer to your trade show! The last few weeks are crucial- so keep calling, emailing, blogging, and posting about your upcoming event.  
Posting twice per week on social media can further push your message to your audience. Making sure your company is top of mind and driving engagement leads to consideration, action, and future sales. 
This is a great chance to dive deeper into your offerings and share what will set you apart on the show floor! This can include networking opportunities, interesting booth content, and off-site events. 
How do we know this works? While continuing to promote attendance in the weeks before the show, Aidoc wanted to drive audience consideration into scheduled meetings during RSNA. Their original goal was lofty for individual meetings, and due to their ongoing outreach, they surpassed their goal of meetings booked and held during the 4-day event by 145%! 
You shouldn't let the momentum fizzle out once the show starts- continuing to share on social media throughout the event to highlight your booth presentation, ongoing events, and exciting updates will continue to drive people to your space!
Using these strategies can be incredibly rewarding.
Above is a sample communication calendar to give an idea of how pre-show marketing can be laid out over a 6-week period. 
The most important part? Knowing exactly what marketing channels are most effective for your audience. There is no hack- but if you put together a smart plan, you will increase awareness of your upcoming trade show presence and drive the powerful engagement your team's been striving for! 
We'd like to thank Renee Stacey from Aidoc for sitting down and allowing us to pick her brain following their successes at RSNA 2022! 
Interested in learning more? Our Knowledge Hub has tips, how-to's, ideas, and more to satisfy your trade show thirst and drive your passion for connecting with people out on the show floor!