Exhibiting at a trade show is one of the best strategies to market your products and services to a large, specified group of potential customers. Trade show exhibits give you a unique sales opportunity that can help you generate new leads, check out the competition, get publicity, and do some networking. We've covered that subject in our "How to Justify Your Trade Show Program" blog entry 6 months ago. The following are our thoughts on how to maximize the impact of your trade show program on important attendees. As with anything marketable, the key is maximizing the time and money you spend on targeted attendees. But before you accomplish anything, you must plan carefully and promote your presence even before the show.
To gain more insight on the best practices, EDE spoke with a number of our clients, as well as broached the topic on Twitter, where we received numerous tips. One tweet that rang out to us was from the E2MA Association:

Getting your staff ready to go is crucial to success, and here are some elements to help them and you maximize your trade show presence:
The Sales Department
The first step in maximizing your efforts is to make sure you have all the information you need. If not available for free from show management, pay the cost for the attendee list up front. This list will give you the same information as the badge scanners from the show. Although it may come at a bit of a higher price tag, it provides you with pertinent information before the show that will help set objectives and maximize marketing. Cross-reference important accounts in your CRM system with the show list and highlight the top-level attendees. Rank leads by level of importance and interest, and then set clear objectives. In order to get the most out of your money, time, and energy, it is vital that you set measurable goals and stick to them.
Once the list is cross-referenced, work with your sales staff to make sure that these attendees are invited into your space. Even better, create a theme or challenge to get them to come into your space to accomplish an objective. Gimmicks and giveaways engage  visitors, drive people to your brand, and provide a much longer sequence of opportunities for your sales team to impress them. The goal is to get more face time with these attendees, and in turn more opportunities.
Social Media
Once the key attendees have been identified and a plan has been put in place, it's time to turn your efforts to the general show attendees. Learn the proper "hashtags" for the event and use them to call out promotions or exciting new elements of your exhibit. People do subscribe to these feeds, and being in their peripheral helps drive attendance.  Another way to create an atmosphere within your space is to generate a way for people who interact socially to get a unique experience. Things like giveaways, private parties and other incentives will help drive people to follow your brand.
The other side of the "hashtag" coin is to follow those key attendees in hopes they will follow you back. This is yet another way of reaching out and involving key prospects who are at the show. If you could get them into your exhibit twice for separate events, it doubles your face time.
The Media
Media sources are often overlooked as opportunities. Even the best trade show planning will fail if nobody knows you're there. If you have new products, refinements or anything that could be promoted, it's worth a call to a few media sources to see if they will be at the show. If there is a revolutionary product, it might be worth a call to hype the launch before the event as well, giving them a snippet of what you are introducing. Both avenues drive exposure, which helps drive an audience to your company. A simple call could generate hundreds of thousands of views, which is measurable.
Microsites
Microsites are also a great tool. They can be used to schedule meetings, introduce the exhibit and highlight key areas, as well as give lots of pre-show information. For large shows, or shows that occur only annually, micro-sites are a great way to spread new information before the show. One of our clients, Intelerad, created a great microsite for RSNA 2013 that introduced their new exhibit, allowed attendees to schedule demonstrations, informed about their new products, and educated attendees about Chicago.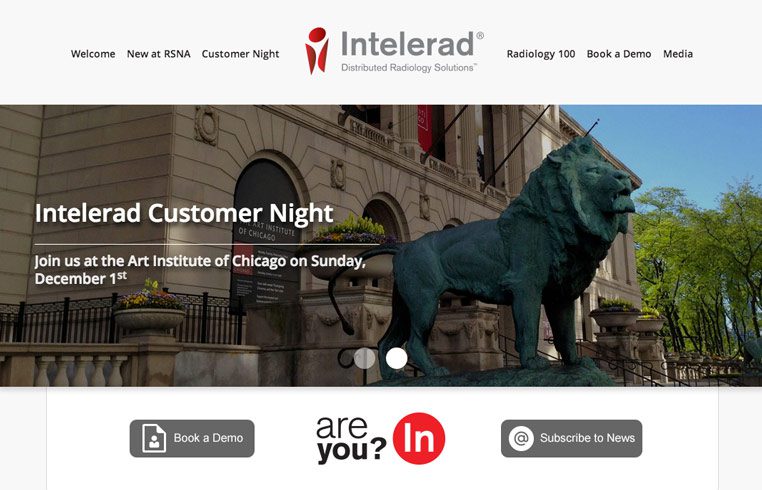 Another way to promote your exhibit would also be to use Google Adwords to promote your micro-site. We noticed quite a few large machinery brands using Adwords to get to the top of the results page when attendees would search for IMTS 2014, a clever way to announce their brand for IMTS 2014.
These five suggestions, in addition to an effective exhibit, are areas where exhibit marketing professionals can achieve great amounts of success to help their company. Adding one or more of these to your pre-show routine will yield results.
In the next Success is More than the Exhibit, we will be speaking about the post-show routine and how to qualify, measure and follow up on the leads acquired through the trade show.