Back in June, we attended RSA Conference 2022 in San Francisco, CA to see the latest and greatest in information security. When we arrived, we set out across the floor in search of the best exhibits and experiences. Check out the trends we saw and the exhibits that made our list of favorites.
Trade Show Exhibit Trends at
RSA 2022
Across the trade show floor at RSA 2022, we saw a few elements that were repeated across multiple exhibits:
Slotted Walls

– Just like at

KBIS 2022

, we saw several exhibits with slotted walls at RSA. However, many of them opted for more modern finishes than the traditional wood we saw previously.

Channel-Lit Signage

– We saw tons of channel-lit signs at

RSA 2022

. They're a sleek, modern way to highlight your logo and catch attendees' attention on the floor. And, they're a perfect fit for a show like RSA since they mimic the bright LED strips often associated with technology.

Gimmicks

– We've shared our thoughts on trade show gimmicks before (

see #7 here

), but this show is a perfect example of how effective they can be in the right environment. Freebies, characters, and flashy exhibit elements all thrived at

RSA 2022

.
EDE's Favorite Exhibits
As we walked the floor, we kept track of our favorite exhibits in four categories:
Best Entrances & High Signage

Best Form & Function

The "Wow" Factor

Best Experiences
Here are our favorite exhibits, elements, and experiences from RSA this year.
Best Entrances & High Signage
Visibility and first impressions are everything on a floor as exciting as this one. These exhibits featured entrances or signage that made their presence known from a mile away.

Arctic Wolf
We loved this branded entrance to the Arctic Wolf exhibit. Its eye-catching design drew attendees in and helped separate the space from the rest of the floor.
Abnormal
Abnormal was one of many exhibits to feature a channel-lit logo sign. While it's a popular trend, we really love the way they tied it in seamlessly and intentionally with the lit edge of their back wall, kicker lighting, and the matching logo on their reception counter.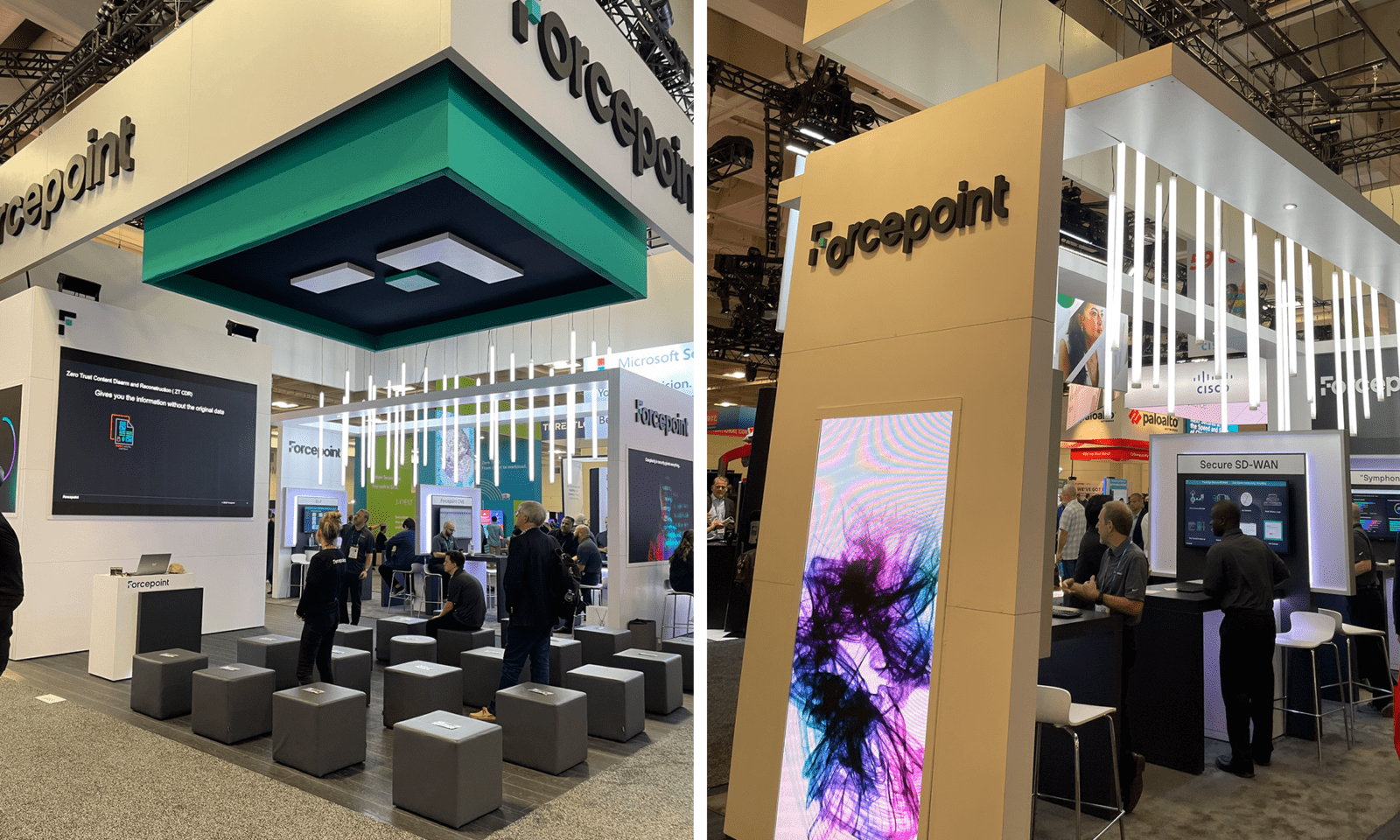 Forcepoint
We really loved the design of the Forcepoint booth at RSA 2022. From the huge letter sign to the hanging lights over their demo station, it drew us in.
While the exhibit is familiar from years past, it has held up as a strong and recognizable brand. Even without the graphics, this exhibit is distinctly Forcepoint just by its architecture – that's great design at work.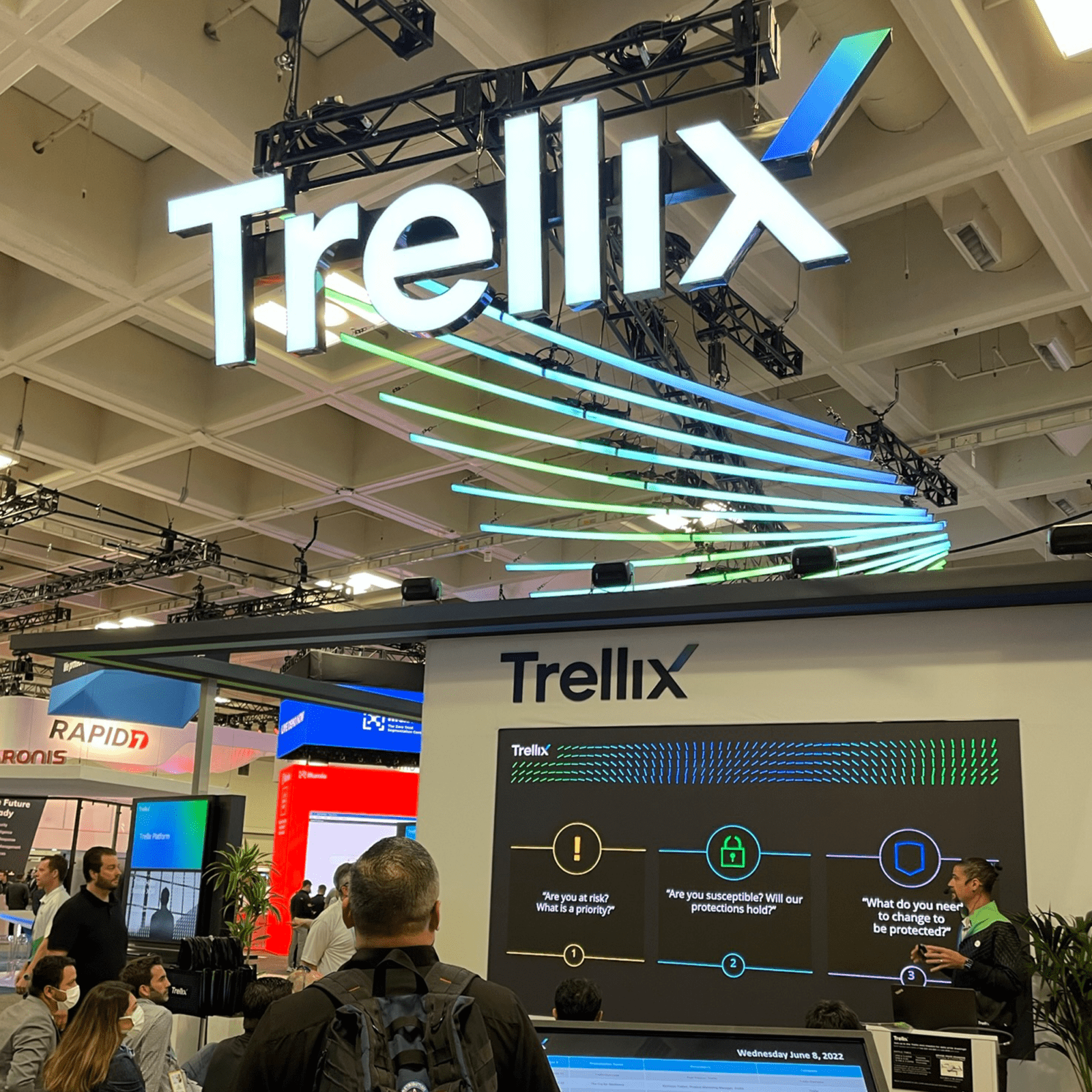 Trellix
Trellix had an awesome booth, but what stood out above the rest was their signage. Like many others, they opted for a channel-lit logo. But, they made it their own with a rainbow of tube lights that were part of a motif carried through the rest of their exhibit. And, their sign was hung perfectly so that it stood out among the dozens of other signs around it.
Code42
Code42 didn't have a great floor location at RSA 2022 – but they didn't let that stop them. Their channel-lit logo, bright screen, and glowing kicker all drew us in and made us feel compelled to talk to them and see what they're all about.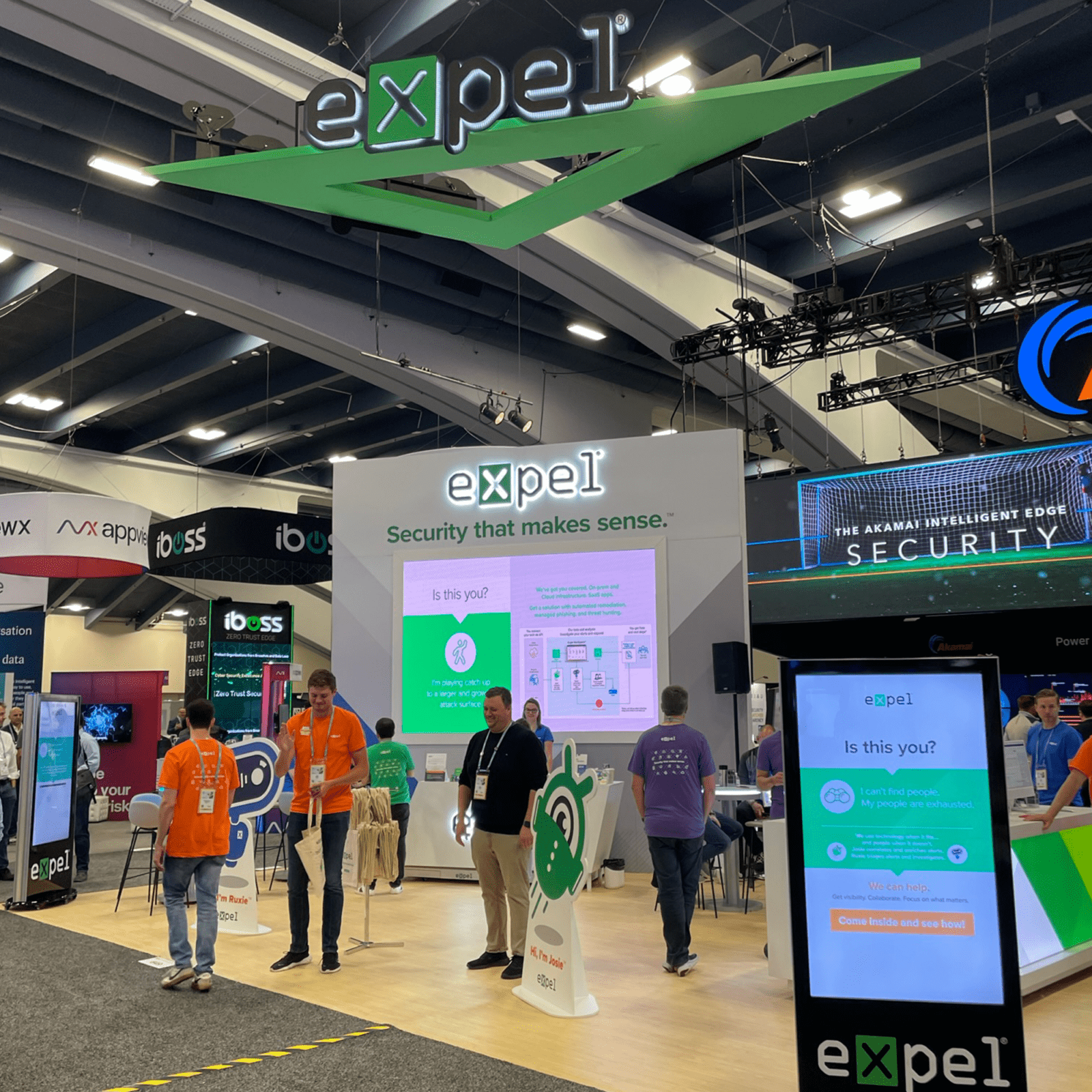 Expel
Expel put a refreshing twist on the channel-lit signs we saw all around the show. The bright green color and accenting lights made the exhibit stand out from across the floor.
Best Form & Function
The best trade show exhibits balance form and function to create a space that is both visually unique and practical. We only have one exhibit in this category that was head and shoulders above the rest.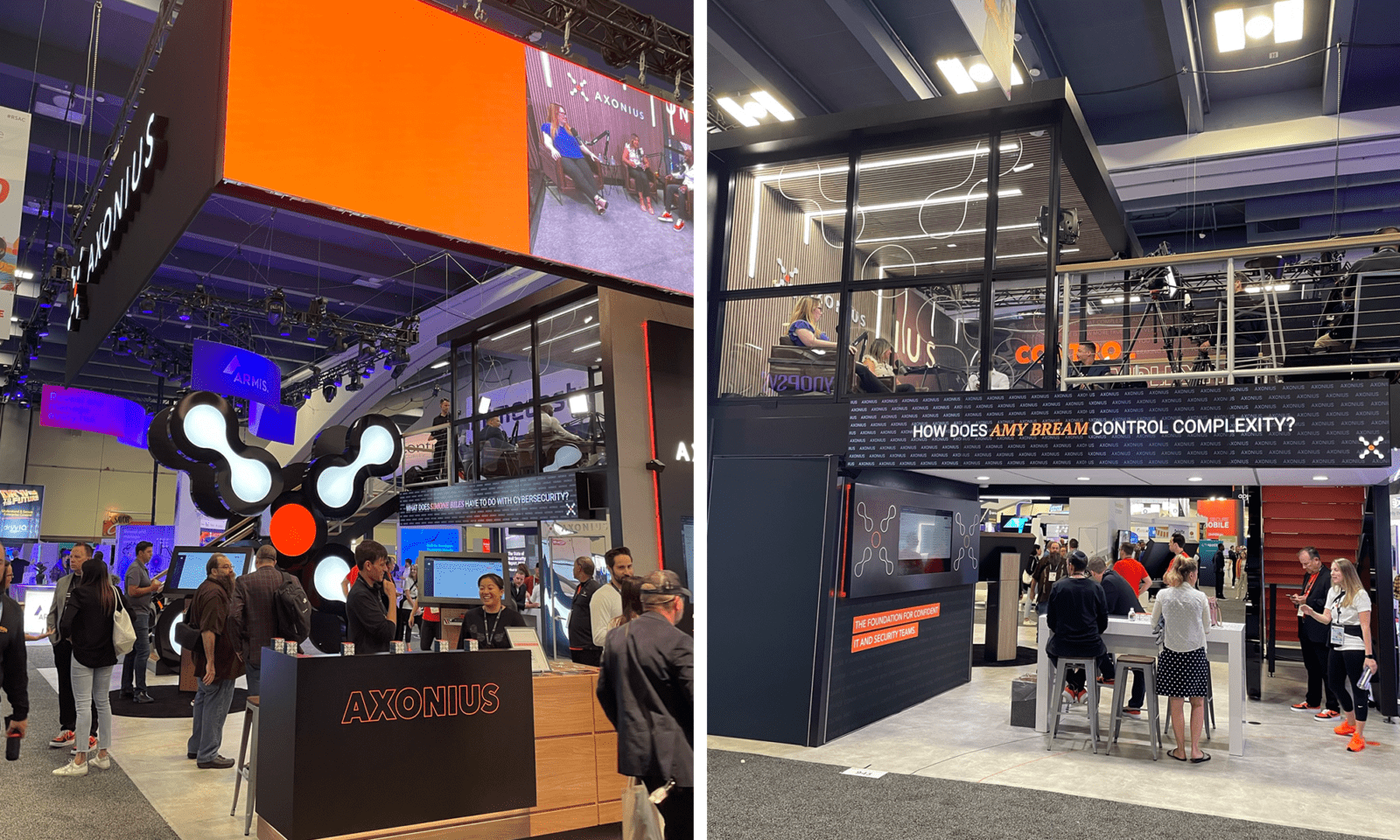 Axonius
Axonius' exhibit wasn't nearly as flashy as some of the other booths on the floor, but we loved the way they made the most of their space. The second level of their exhibit featured a podcast studio that perfectly balanced style and function. Axonius perfectly demonstrated how to make the most of your trade show schedule by using it to create long-form content that will live on long after the show.
We also feel the need to shout out Axonius' experiences – an absinthe tasting and an in-person appearance from Simone Biles! Sadly, we missed both this time around, but we can't wait to see what they surprise us with next year!
The "Wow" Factor
At a flashy show like RSA, it's all about standing out and outdoing the exhibits around you. These exhibits had unique elements that stopped us in our tracks.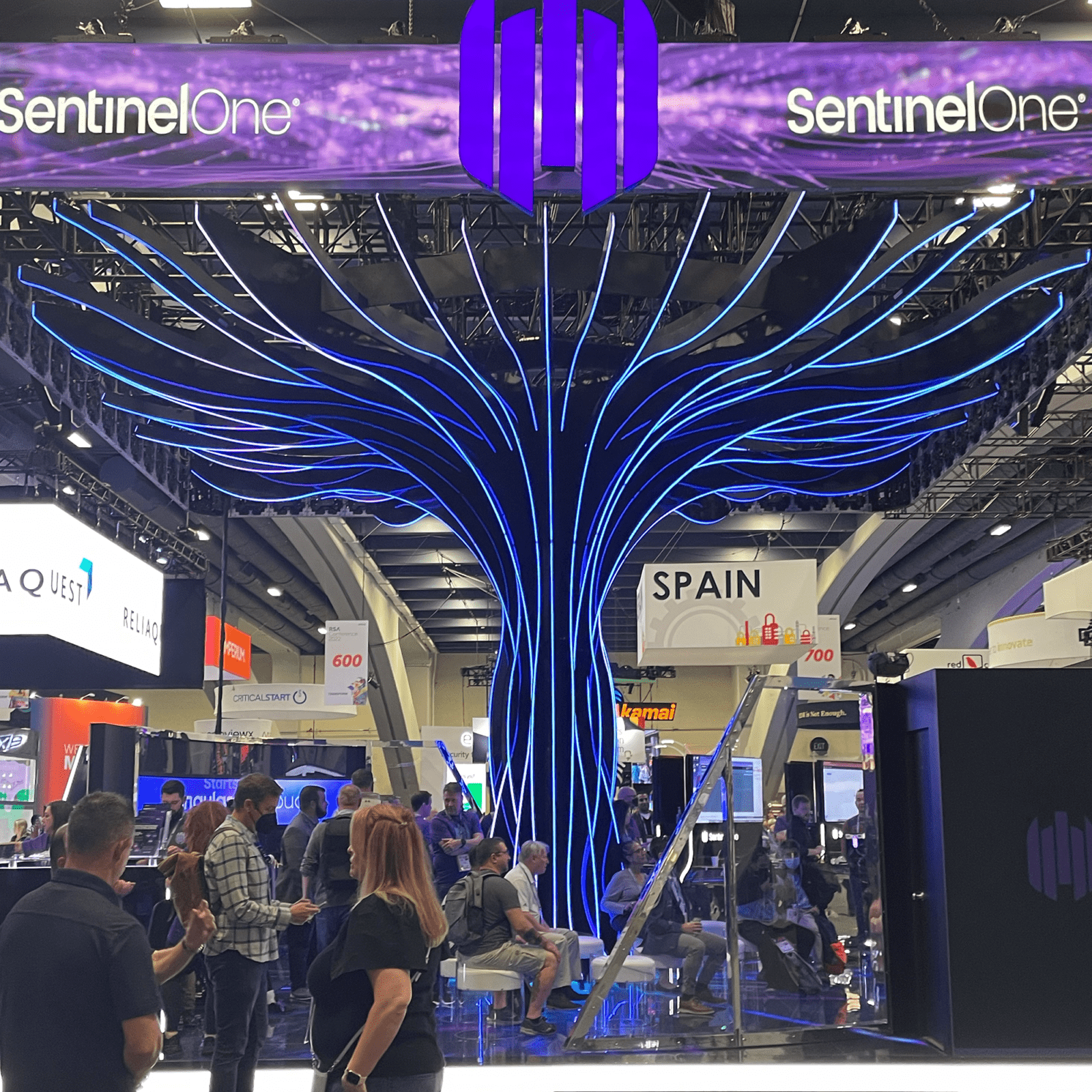 SentinelOne
SentinelOne's LED tree was visually stunning. The entire exhibit was covered in LED details, from the floor tiles to the tree branches that spread across the ceiling. While it wasn't the most practical move given the space, it drew us in and practically begged to be photographed.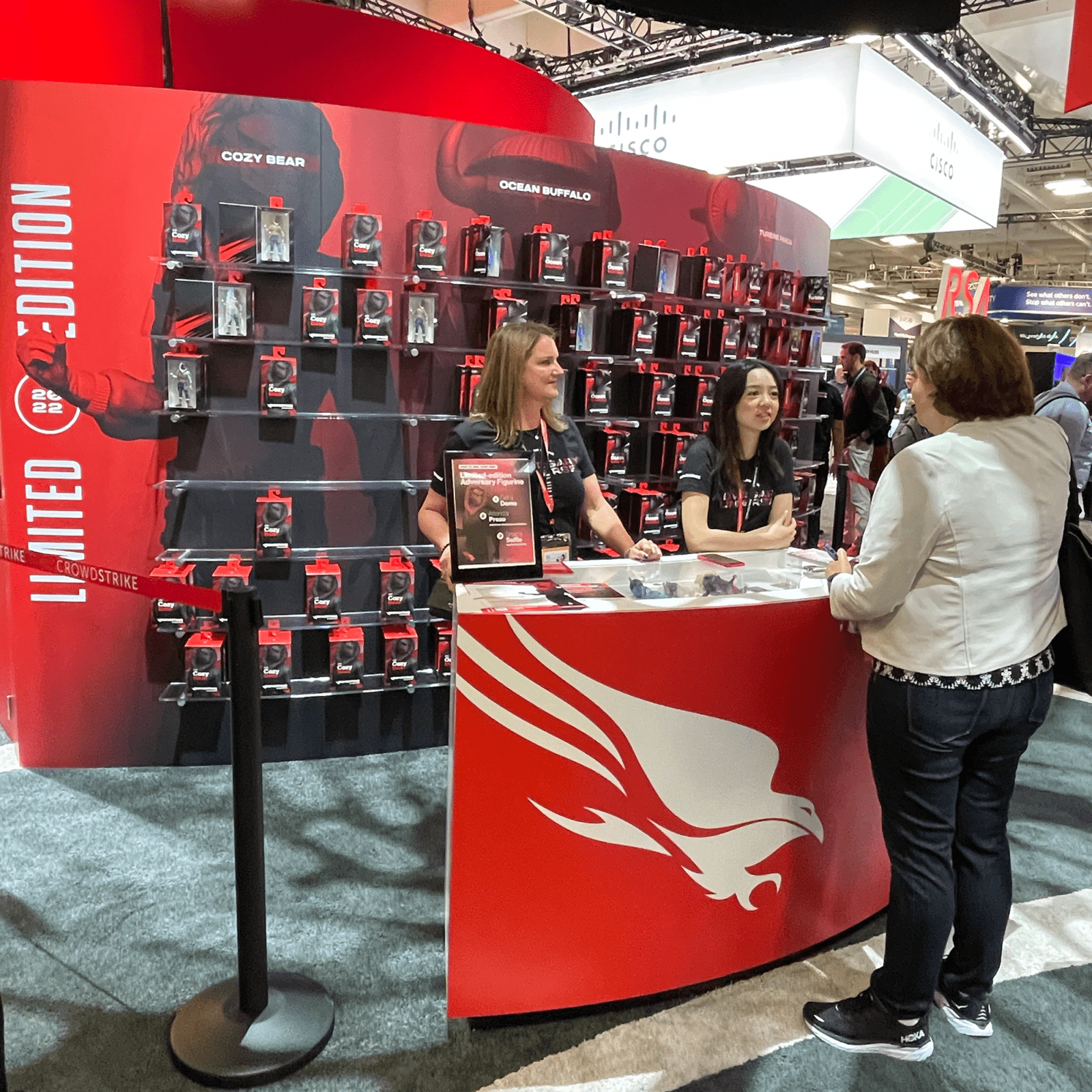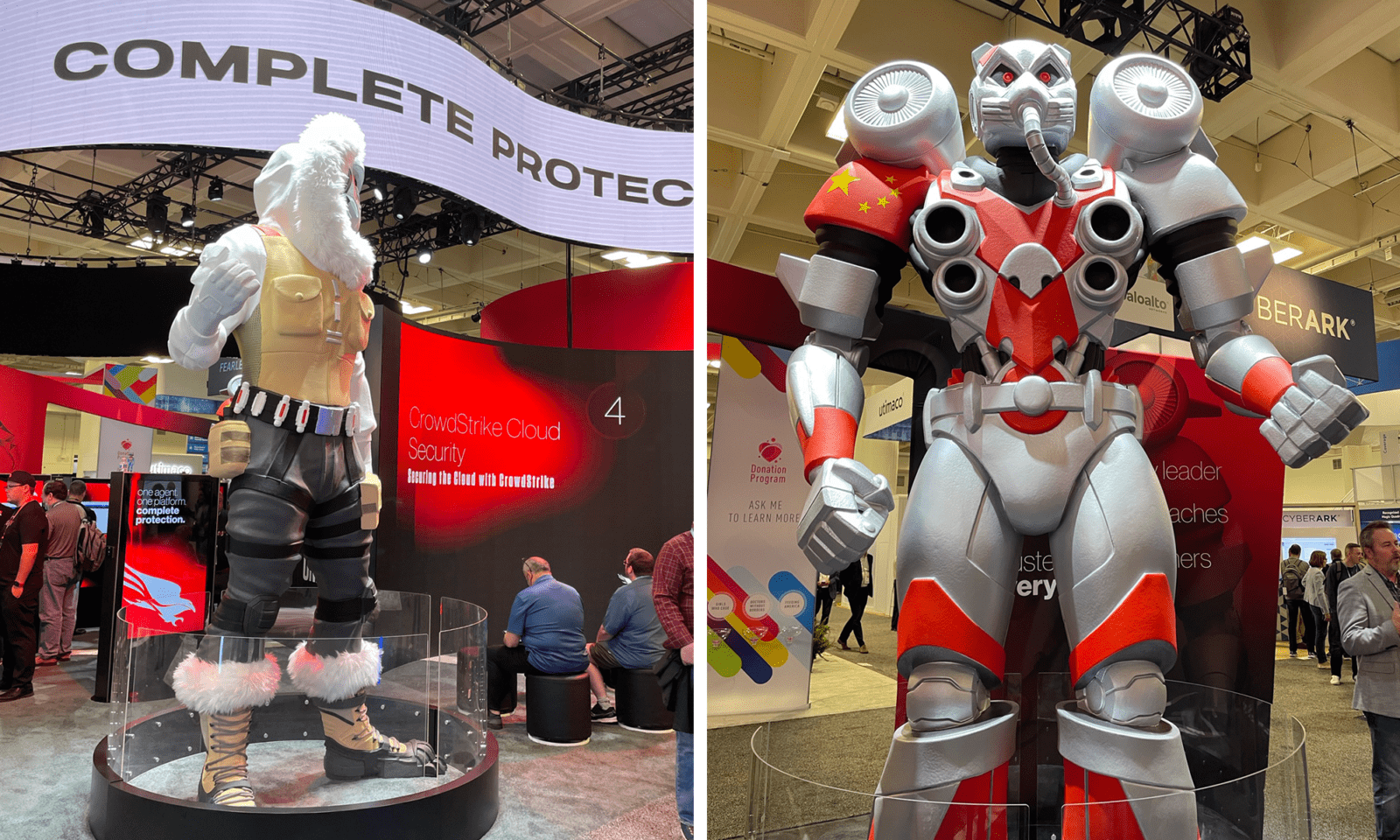 CrowdStrike
CrowdStrike's booth felt like it would have been right at home at ComicCon. Giant characters throughout the exhibit told the story of how their Falcon platform shines the light on the adversaries of the cybersecurity world to defeat them.
The theater and the demos were jam-packed the entire show. From the visual elements to the storyline to the action figure giveaways (which required demo participation) the exhibit was a masterclass in an integrated approach to trade show exhibits.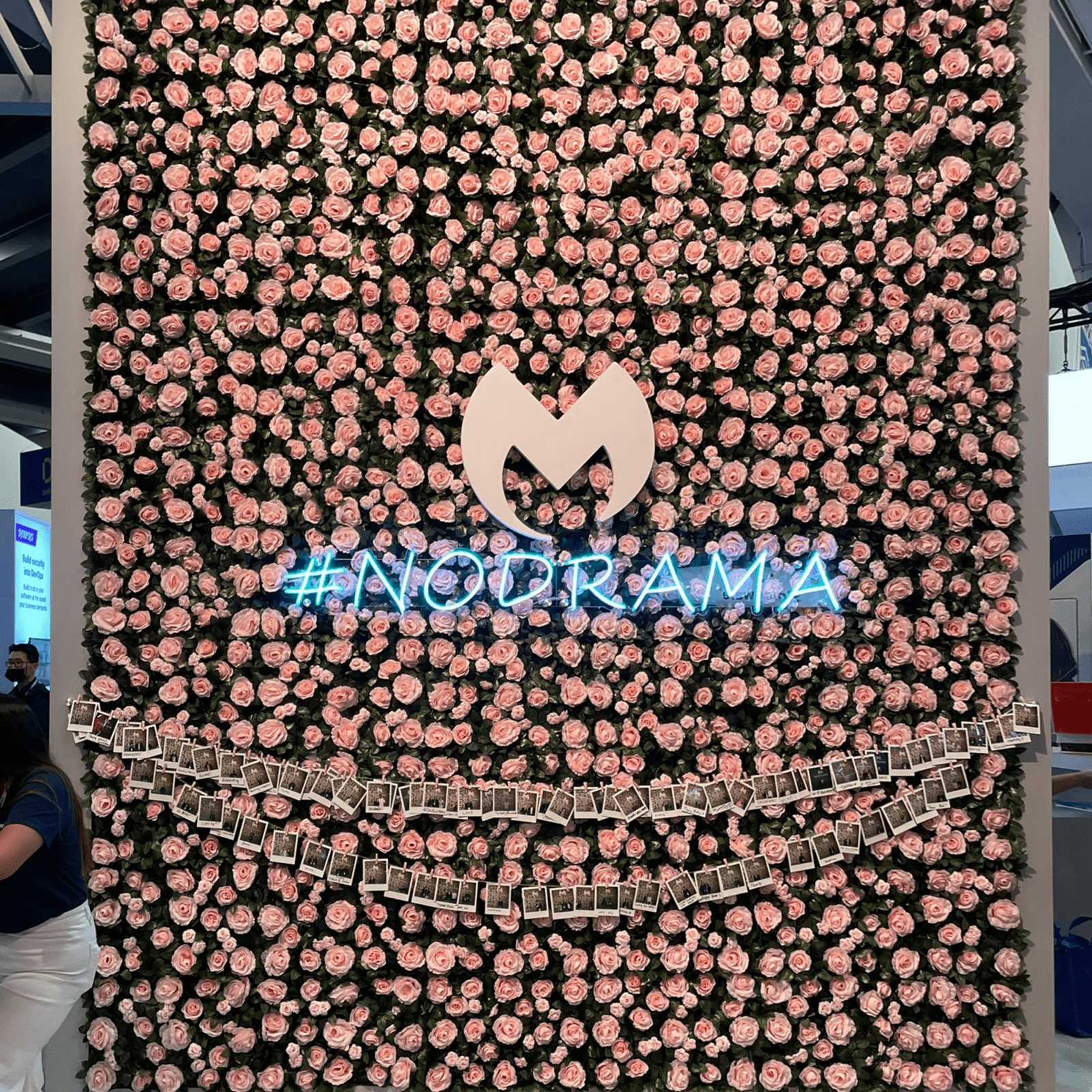 Malwarebytes
Malwarebytes' floral rose wall stood out amidst a floor of angular exhibits and bright LEDs. The flowers may have been fake, but the hoards of people lining up to take pictures with them were as real as it gets.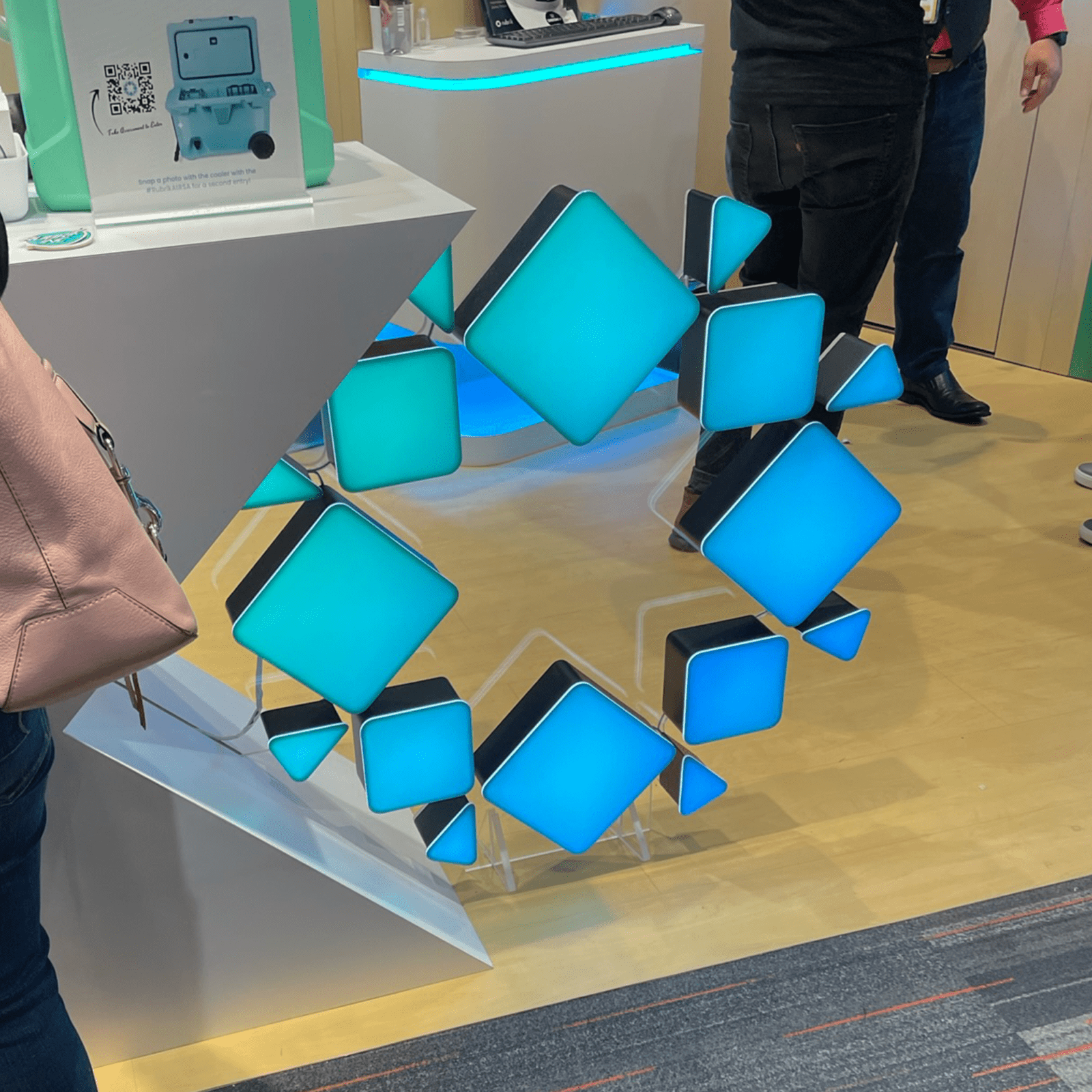 Rubrik
Rubrik's exhibit proved that just because your reception counter can be boring, doesn't mean it should be.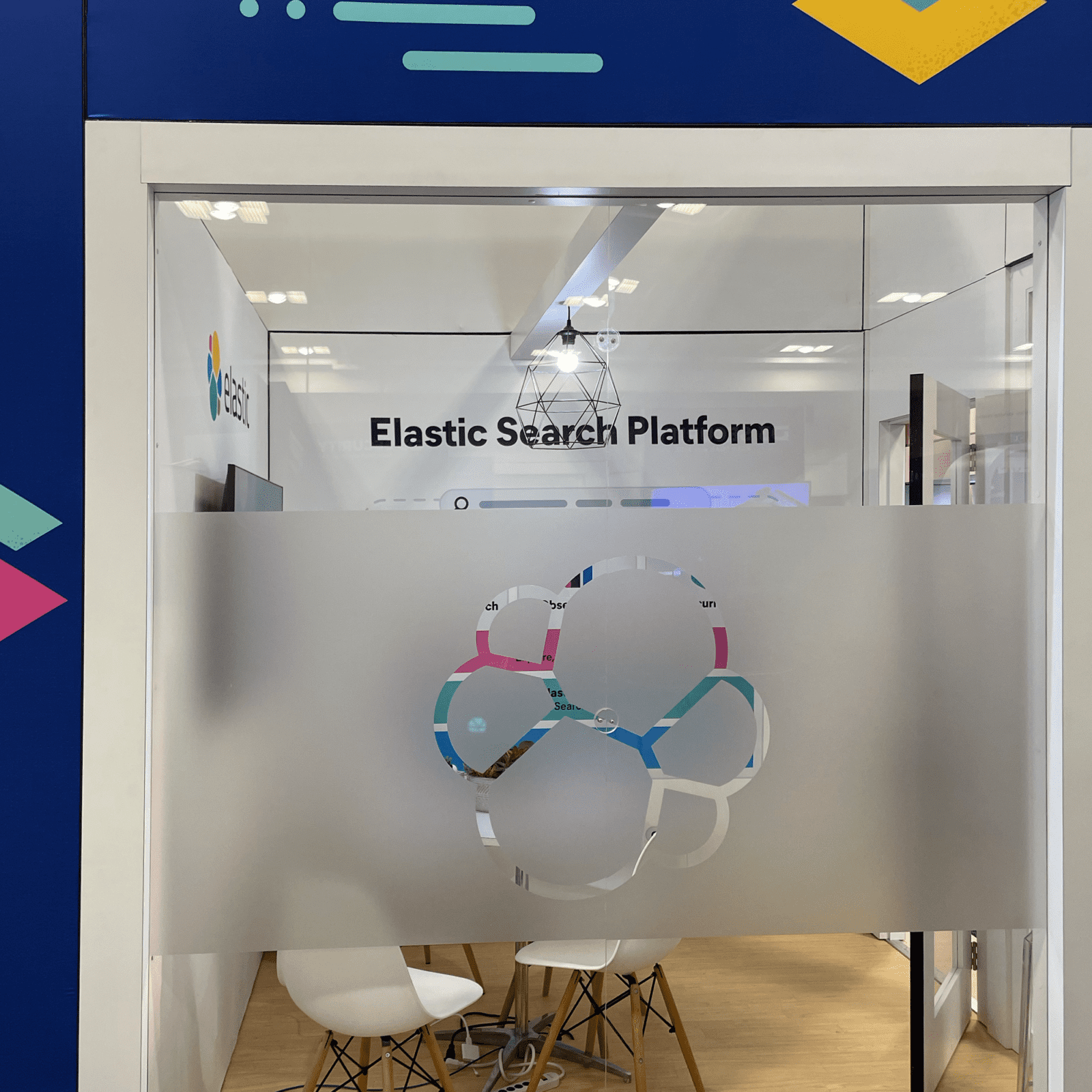 Elastic
We really liked the texture and design of this window in Elastic's exhibit. It allowed for the comfort and style of an open space while still providing privacy.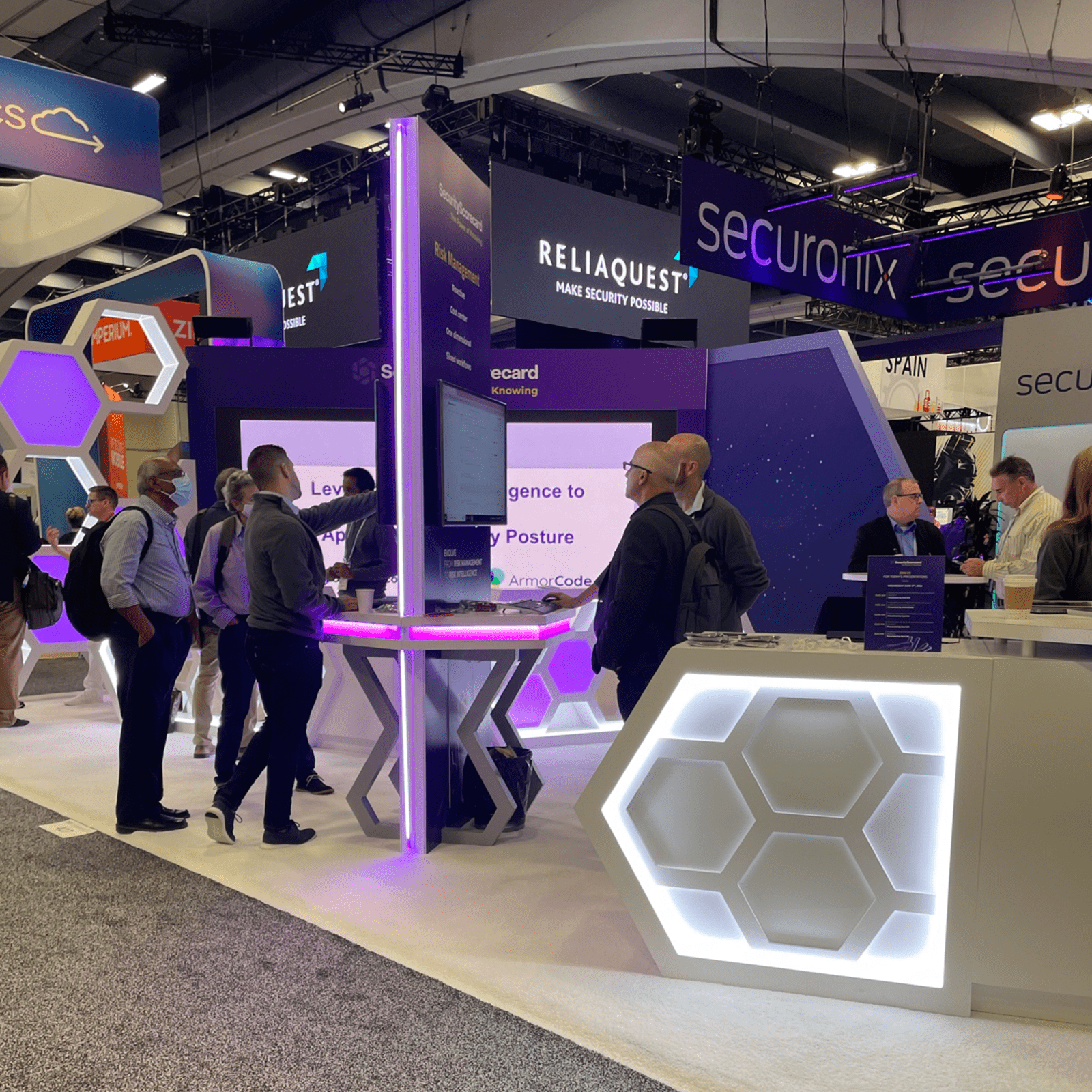 SecurityScorecard
SecurityScorecard continued the lighting themes we saw across the floor, but we liked their application in particular. The edge lighting in brand colors lured us right into the demo station.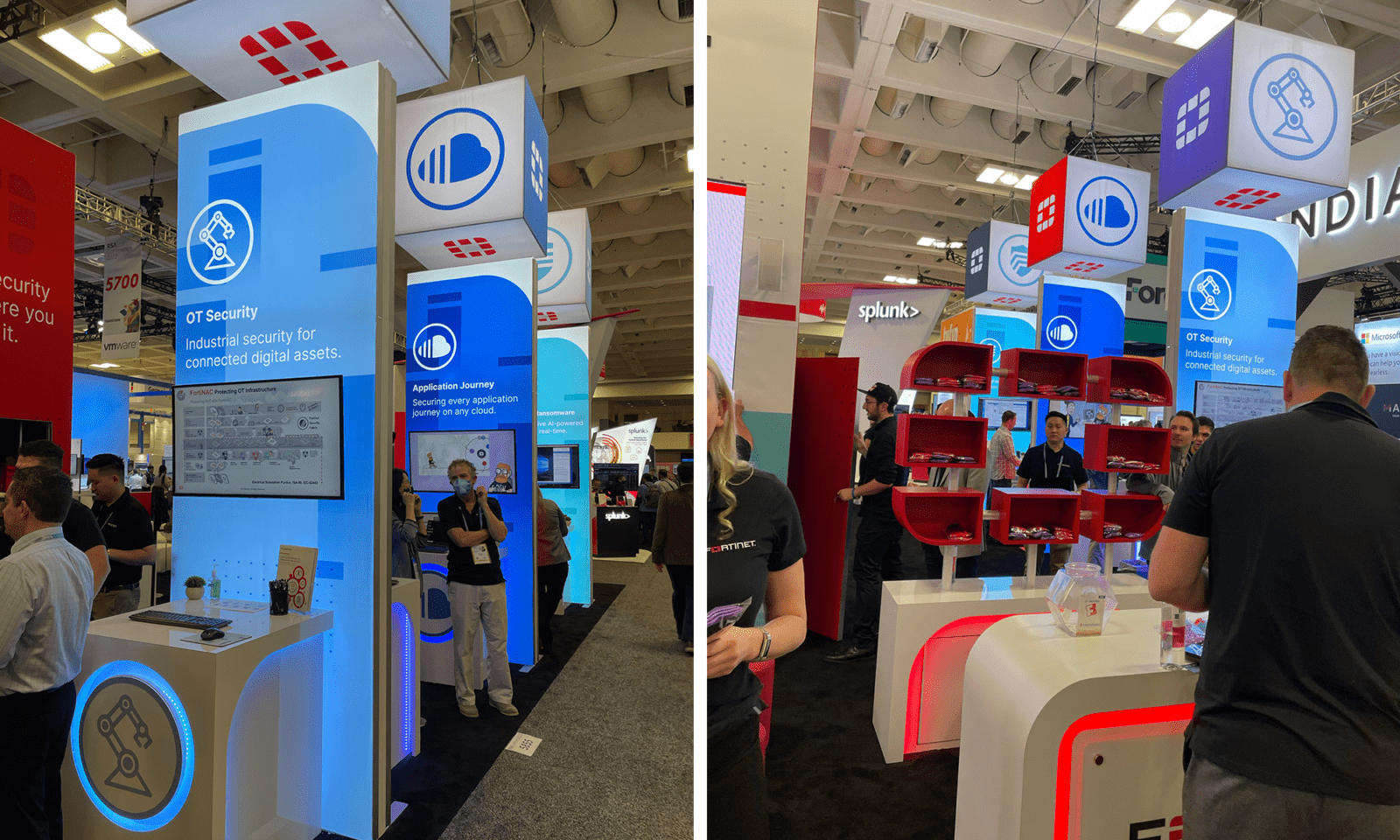 Fortinet
While Fortinet's booth wasn't as flashy as some of the others at RSA 2022, we liked their usage of iconography at their demo stations. It was clean, consistent, and memorable. 
Keysight Technologies
Keysight Technologies booth featured unique shapes paired with glowing edgelights for a clean and modern look.
Best Experiences
Gimmicks are everywhere at a show like RSA, but that doesn't mean they don't work. Here are some of our favorite fun and unexpected experiences we saw on the floor.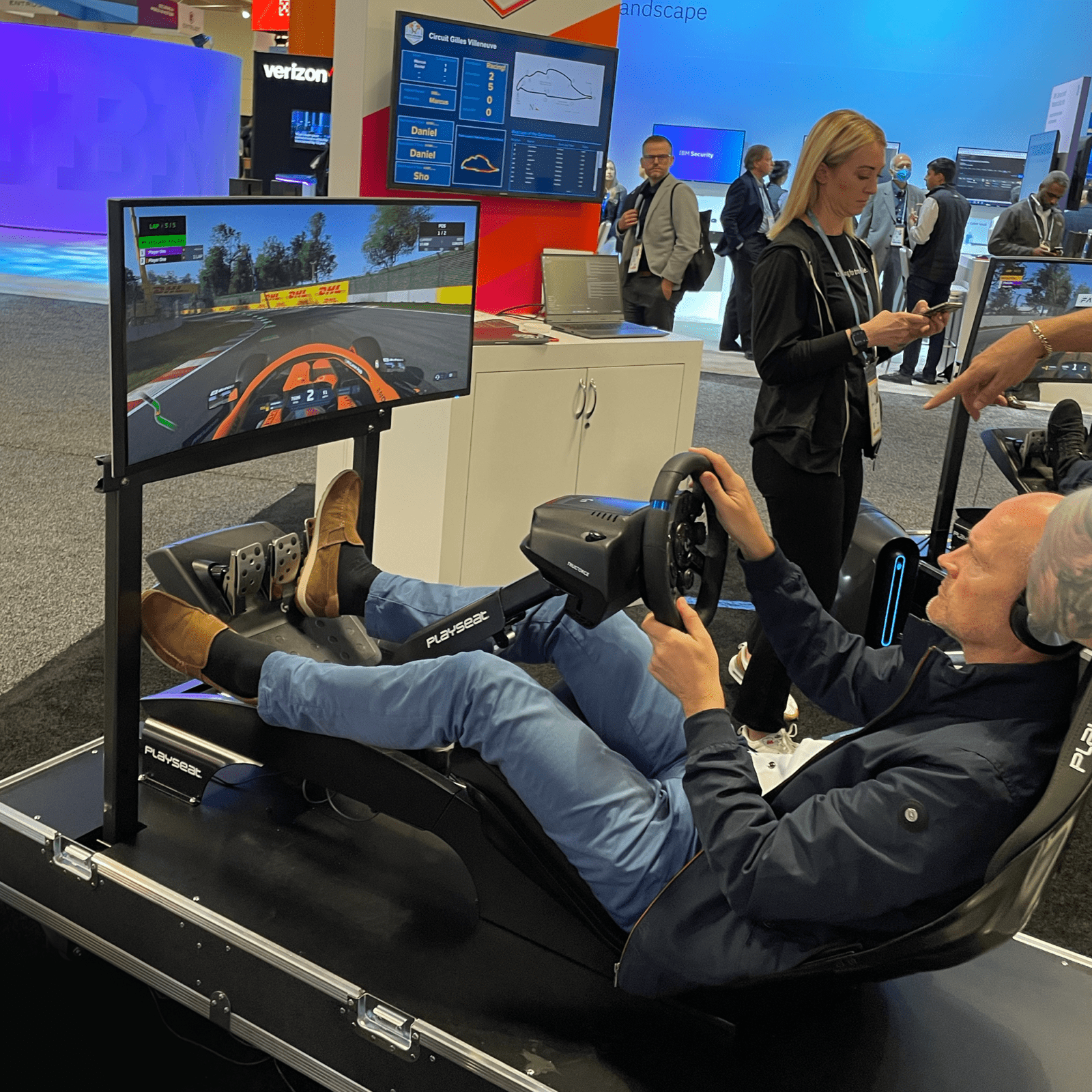 Splunk
Splunk's driving simulator was packed the entire show. While gimmicks often feel completely random, we liked the way this one tied into what Splunk actually does – data-driven decisionmaking.
Orca Security
Orca Security went big with fun and flash. Their retro arcade featured classics like Pac-Man and Donkey Kong as well as a claw machine with branded prizes.

VMware
VMware also had an interactive driving simulation game, this one focused on stopping threats as fast as possible.