For a number of reasons it may not be the best time for a new trade show exhibit build. You may feel your existing properties are looking worn or additional parts and pieces may have clouded your message over the years. This is a problem many companies face and they wonder how they can reinvent their trade show exhibits. We put together a list of cost effective ways to keep your exhibit fresh with your annual budget in mind.
1. The Power of Graphics
According to Trade Show News Network, 81% of attendees have purchasing power at trade shows. Considering that four out of five people could potentially be a buyer, you'll want your exhibit to give off the right message to every single attendee.
Many trade show exhibits work off a starter pack of a big hanging sign and paragraphs on a wall. Consider moving away from a traditional circle sign and finding a more dynamic, noticeable shape. Keep in mind the lines of sight with your branding – make sure that customers will still see your message from low level in addition to the high up logos.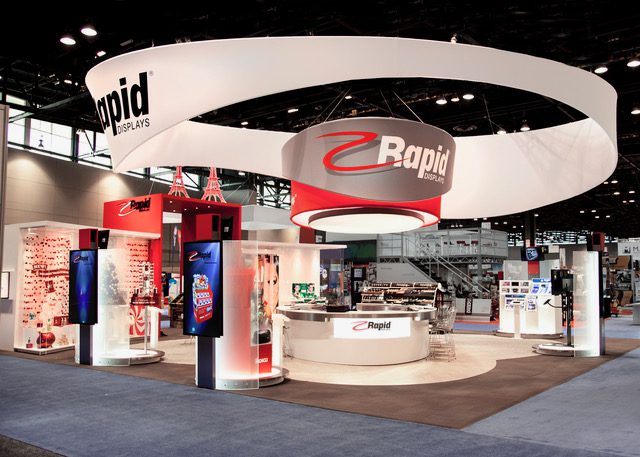 2. Stay Modern With Your Furniture
Rental furniture can be a good way to outfit your booth without the long-term commitment of buying furniture. However, finding the right rental partner can be tedious. Be sure to look for a partner that offers customizable rental offerings so you have the option of changing your booth's look.
However, if you have the means to own your furniture, there are budget alternatives to high fashion brands – and they don't have to be IKEA. Getting inspiration on social media such as Instagram and Pinterest can be a good way to find your booth's next look. We've even put together a Pinterest board with links to some of our favorite pieces.
3

. Light Up Your Booth

We think lighting is one of the most vital aspects of a trade show exhibit. If your booth is not lit properly, not only will attendees not be able to even see the components your team has worked so hard on, but people can be deterred from even entering. Poor lighting can contribute to an atmosphere of cold, closed, or crowded even if the booth is none of these things. A quality lighting package, however, can make your exhibit look like an oasis in the center of the show floor.

Because lighting has a high up front cost, it's often the first thing struck from the budget. What many trade show managers don't understand is that improper use of lighting – or no lighting at all – is a detriment to the other aspects of the booth that you've spent money on. Use well-placed lighting to wash a wall in color or paint the mood that will properly convey your message. Cutting the house lights and softening the light in your trade show display contrasts with the florescent glare of the trade show hall.
Custom lit displays create enough contrast with 2D signage to draw visitors over if the display is lit properly with clean LED lights. Most will think to backlight signage – but be creative with your lighting. It'll be more dynamic, and it might be a little more affordable, too.
4. Create an Experience
Participation serves to make the experience more memorable. If you can make your product or service interactive, people will leave with a greater sense of brand awareness. Experiences don't need to be done through expensive touch screens and displays – with the right staffers, even a small exhibit can create a memorable experience. Not only will you generate interest, but they will get a better understanding of your brand's message. If you do have the space in your budget, touch tables are a great way to display any type business offering and can often times tell a deeper product story than graphics.
You can see some of the creativity that inspires us on our Pinterest page. Check out more of what we are creating on our instagram feed or see our completed work here.