"It's big, interactive, impactful, inviting, and fun!" A satisfied attendee in the MHS exhibit at MODEX 2020 excitedly summarized her MHS experience. The metrics showed that she wasn't alone — the exhibit had a 500% increase in traffic and generated almost 6 times the number of leads from MHS's previous show (Promat 2019). So how did they do it?
With 2020 being MHS's first time exhibiting at MODEX, the company wanted to make its presence known—both as a leader in the industry and physically on the show floor. The company's objectives were to increase brand awareness and to educate attendees on the newly defined "pillars" that encapsulate MHS's disciplines. 
To achieve these goals, EDE teamed up with our AV partner Stamm Technologies to create several experiential technology activations. These activations made MHS a must-see on the show floor and educated attendees on MHS's core business functions they have deemed their "pillars."
Putting on a Show in the Air will Drive Traffic from Near and Far
When attendees think back on MHS's presence at MODEX, they think first of the massive overhead kinetic LED sculpture. 120 LED rods changed from red to white (MHS's brand colors) and shifted into shapes representing the MHS brand and warehouse-related symbols. This kinetic sculpture created an attention-grabbing centerpiece visible from all areas of the hall and acted as a beacon that drew curious attendees towards the space.
Once attendees entered the space, the bright LED lights provided a stark contrast to the rest of the mostly black exhibit, creating a dynamic energy in the exhibit.
Leave Lasting Memories with Educational Tech Experiences 
With so much information to share with attendees, MHS strategically developed unique technology solutions for each of their six pillars of business. These tech experiences increased engagement and education among attendees and led to increased dwell time. Here's a recap of the technology used: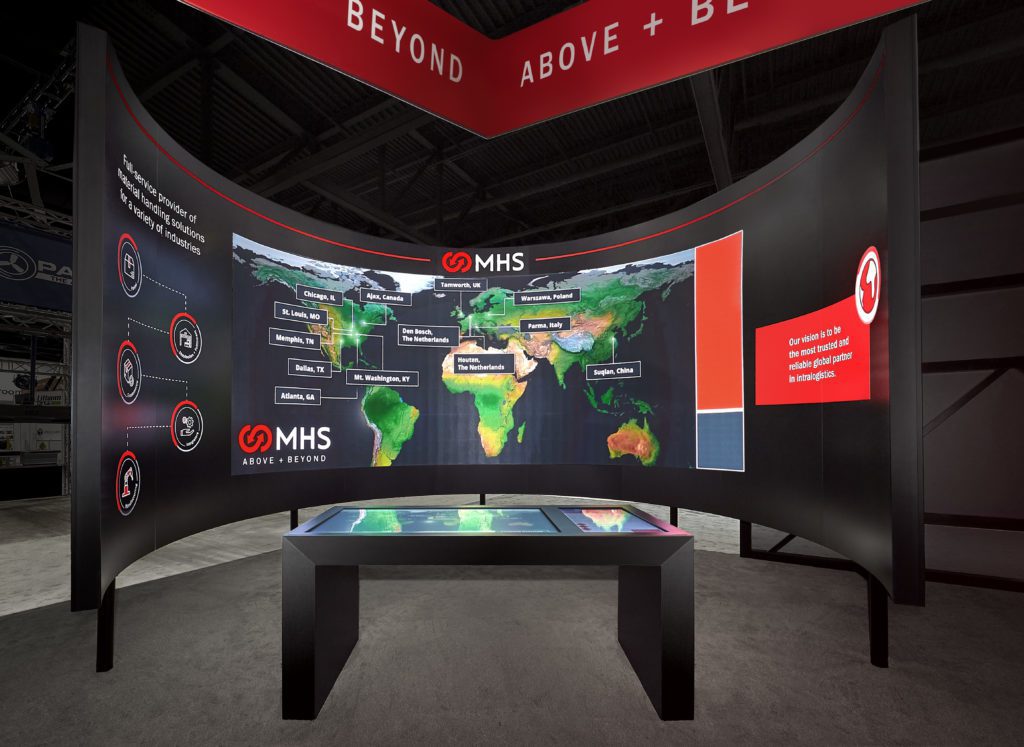 All the Places You'll Go: In the MHS Global pillar area, an interactive LED wall displayed a map of MHS locations around the world. Attendees engaged with a 55" touchscreen table to select a location, which triggered a video on the LED wall. The webpage and contact information for that location then popped up on a 32" monitor, also embedded in the table.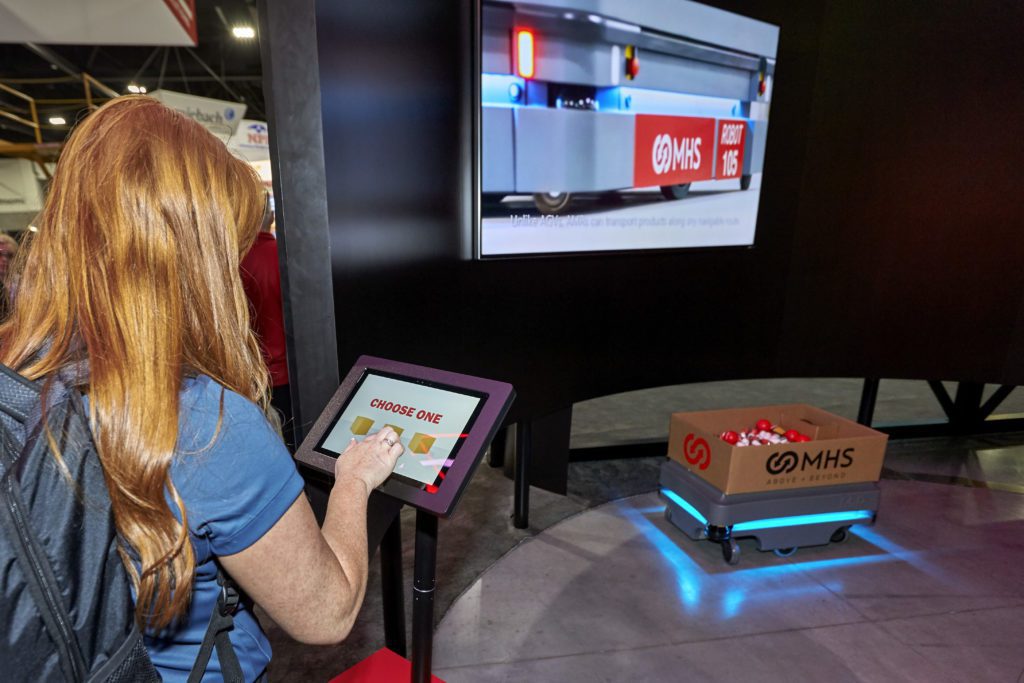 Using a Street Hustler's Game to Show a Robot's Tricks: In the Research & Development pillar, attendees played this custom game at one of four stations. The MHS logo was "hidden" in one of three boxes and then shuffled around. If attendees chose the correct box, one of MHS's AMR robots wheeled out to the attendee to deliver a branded prize. This engagement showcased the efficiency of the AMR robot and incorporated giveaways in a more meaningful way.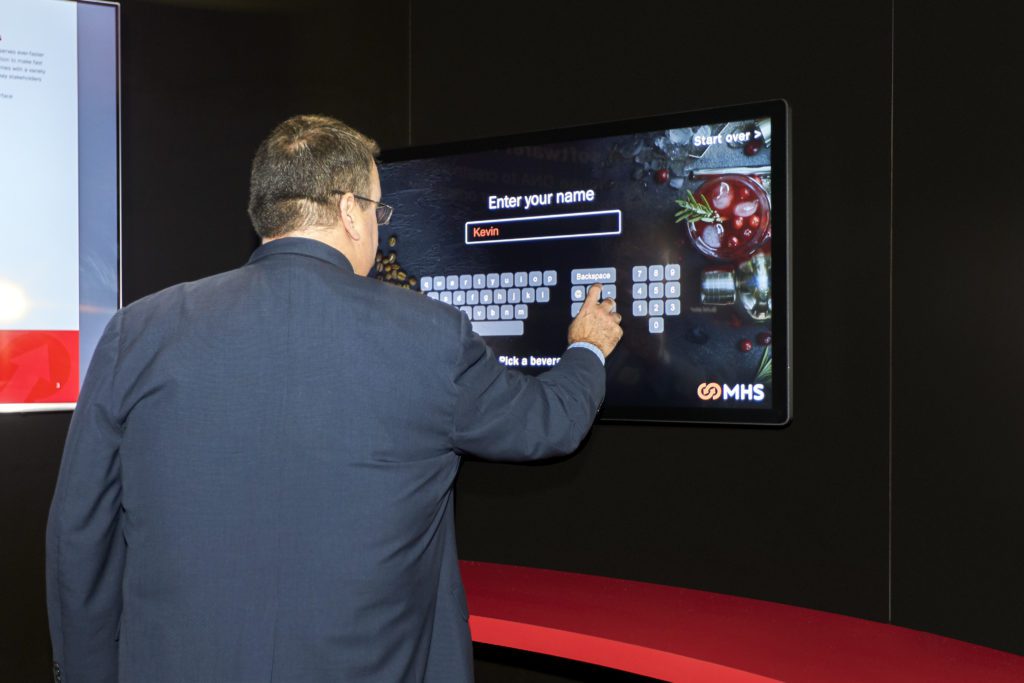 Come for the Drinks and Leave with a Strong Connection: What better way to show off how MHS can customize their software & controls than tying it to a custom beverage for every attendee! Attendees created coffee drinks throughout the day and cocktails during happy hour. Monitors prompted attendees to enter their name and then took them through the steps of beverage customization. Once ordered, the drink ticket was sent to a printer at the bar to be prepared by a barista or bartender. 
The experiential technology in the remaining three pillar areas included: 
A wall of monitors played content in sync and highlighted MHS's Lifecycle Performance Services 
Three touchscreen kiosks with large displays showcased Distribution & Fulfillment 
Transparent monitors, controlled by an iPad, featured New Products
Check out the recap video of this show-stopping exhibit here. How can you incorporate experiential technology into your next event to make it as memorable as this MHS experience? We'd love to brainstorm with you! Contact us at menashej@edecorp.com to set up a call with our team of experiential marketing experts.