The US Open is one of the most highly-anticipated sports events each year, with more than 775,000 attendees over the two-week event in 2022.
The competition brings an energy to NYC that is unique from any other sporting event in the city. From the moment you step foot onto the grounds, you are immersed in a vibrant atmosphere filled with sponsors and fans.
Last year's attendees included the likes of Kendall Jenner, Lin Manuel Miranda, and our very own SVP of Sales and Marketing, Jay Menashe. While there, Jay took some time to explore the experiences on site. While most of the experiences were small stands focused on brand presence, American Express really went above and beyond. Here's what Jay had to say about the Amex Fan Experience at the US Open.
The Perks
Credit card companies are all about perks – and the Amex Fan Experience was no different. They offered $20 off of $100 (when you pay with your Amex, of course) at areas throughout the event, including their lounge, merch shop, and even some of the premium suites. They also offered complimentary bag check and exclusive spaces for Amex cardholders only – more on that later.
The Experience
The Amex Fan Experience was easily one of the best events at the US Open. There was branded signage everywhere, so it was easy to locate and recognize. And, once you were inside the space, there was a little something for everyone, reflecting the diverse crowds the Open brings.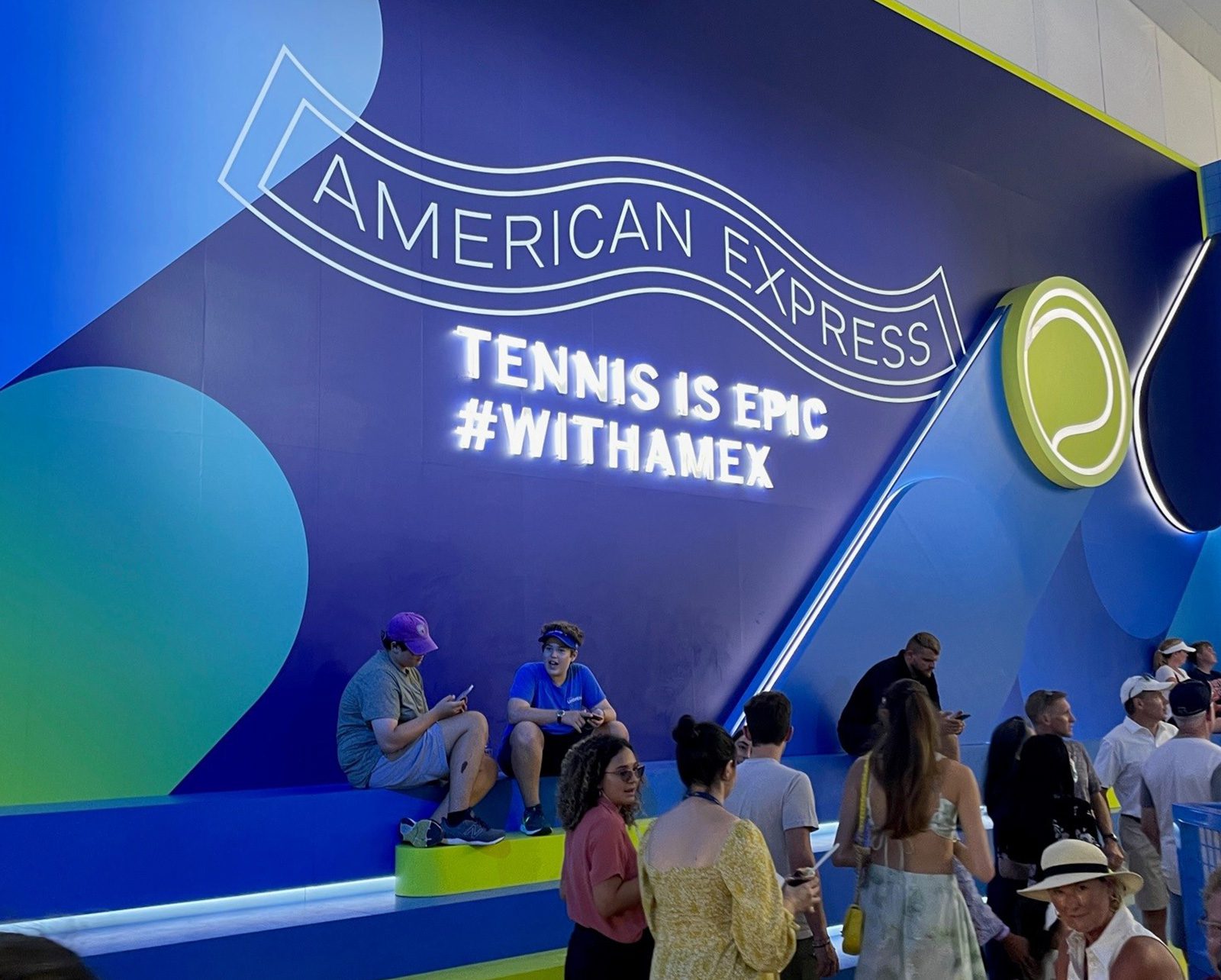 The Lounge Area
When you first enter the space, you're greeted by a lounge area with stadium-style seating. We loved the neon sign, and it made for a great photo op even for those who weren't planning to walk through the whole experience.
Glow Tennis
Across from the entrance and lounge area were four courts of glow tennis. The games were powered by Microsoft Kinect, with glowing balls of light instead of actual tennis balls. It was a huge crowd pleaser, as proven by the long line that lasted all day. We loved the inclusion of an experience that got you up and moving to reflect the athletic nature of the event.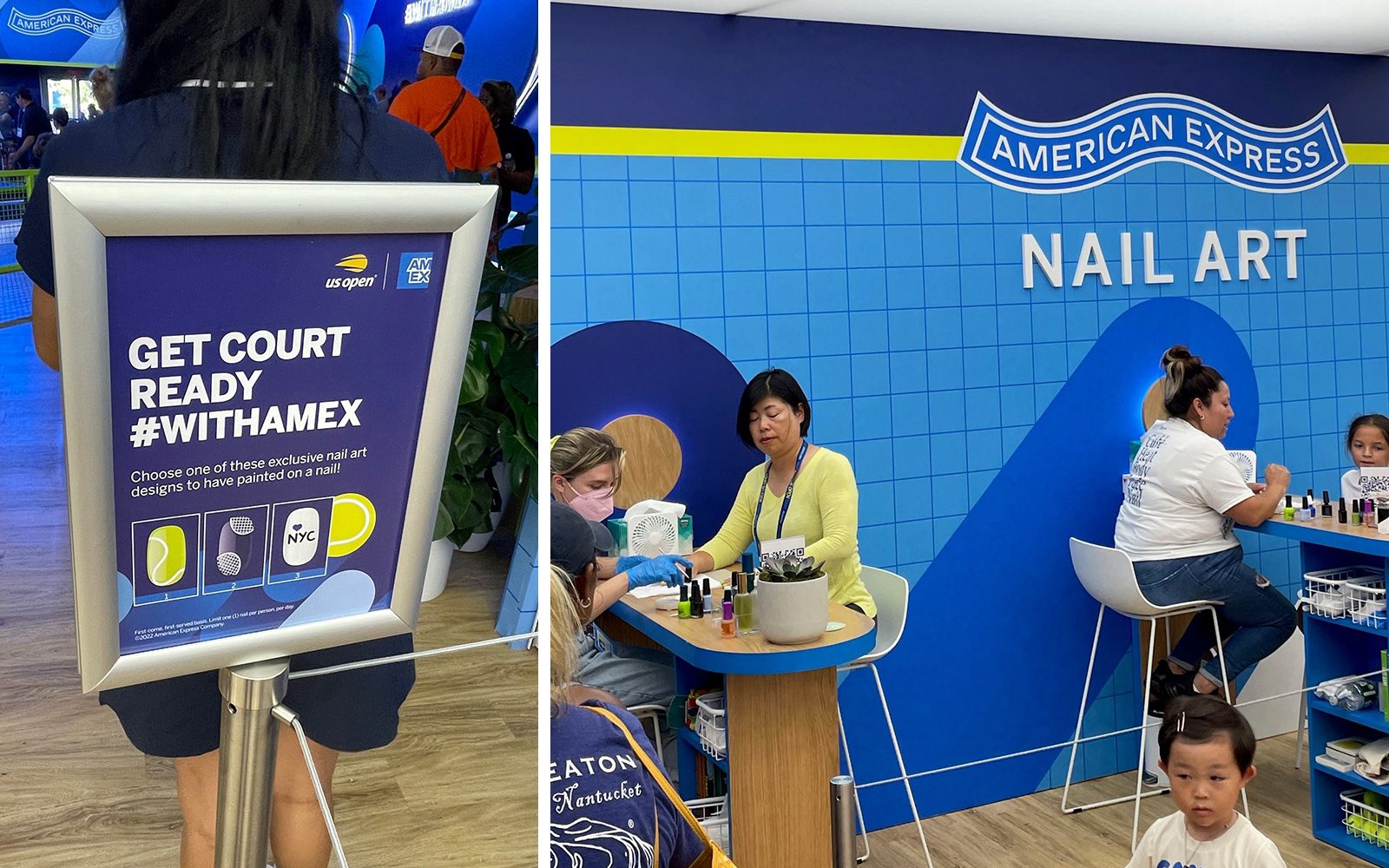 Nail Art Station
With hundreds of celebrities in attendance, fashion and style are a huge part of the US Open. The Amex Fan Experience offered an area where you could get your nails "court ready" with custom tennis-themed nail art.
Exclusive Merch Shop
Upstairs, there was an exclusive experience for personal and business Amex card holders. After filling out your information and showing your card, you were able to enter the upper deck and the merch shop. The shop had all sorts of swag from custom polo shirts to huge toy tennis balls – truly something for everyone to enjoy.
Food & Drinks
Also on the upper deck was Amex's "You've Been Served" drink and snack bar. Here they served the official drink of the US Open, the Honey Deuce, featuring Grey Goose vodka, lemonade, Chambord, and honeydew melon. We loved the design of this space, especially the painted trophies behind the counter.
Photo Ops
The entire Amex Fan Experience was incredibly Instagrammable. In addition to the overall design aesthetic, there were photo op areas throughout the space.
Postcards
There was also a space where you could write a postcard (with pre-paid postage) to family or friends. This was one of the simplest and most cost-effective activities, but it was a great addition to the experience.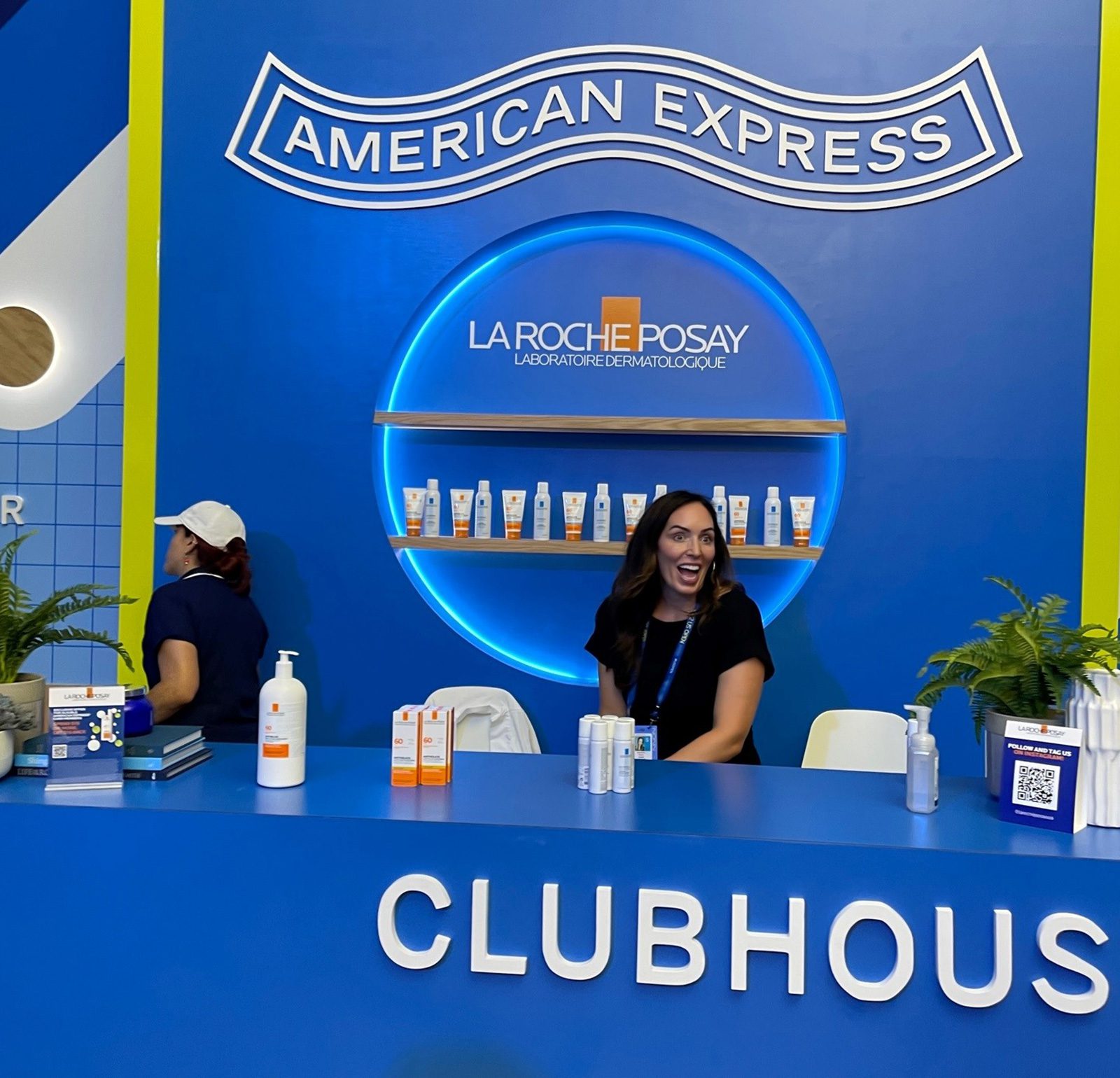 Free Samples
Amex even got their partners involved in the Fan Experience. La Roche Posay offered free sunscreen samples, which were much-needed at an outdoor event like the US Open.
Connect Four
For the kids (and the inner child in all of us), there were games of Connect Four featuring jumbo tennis balls.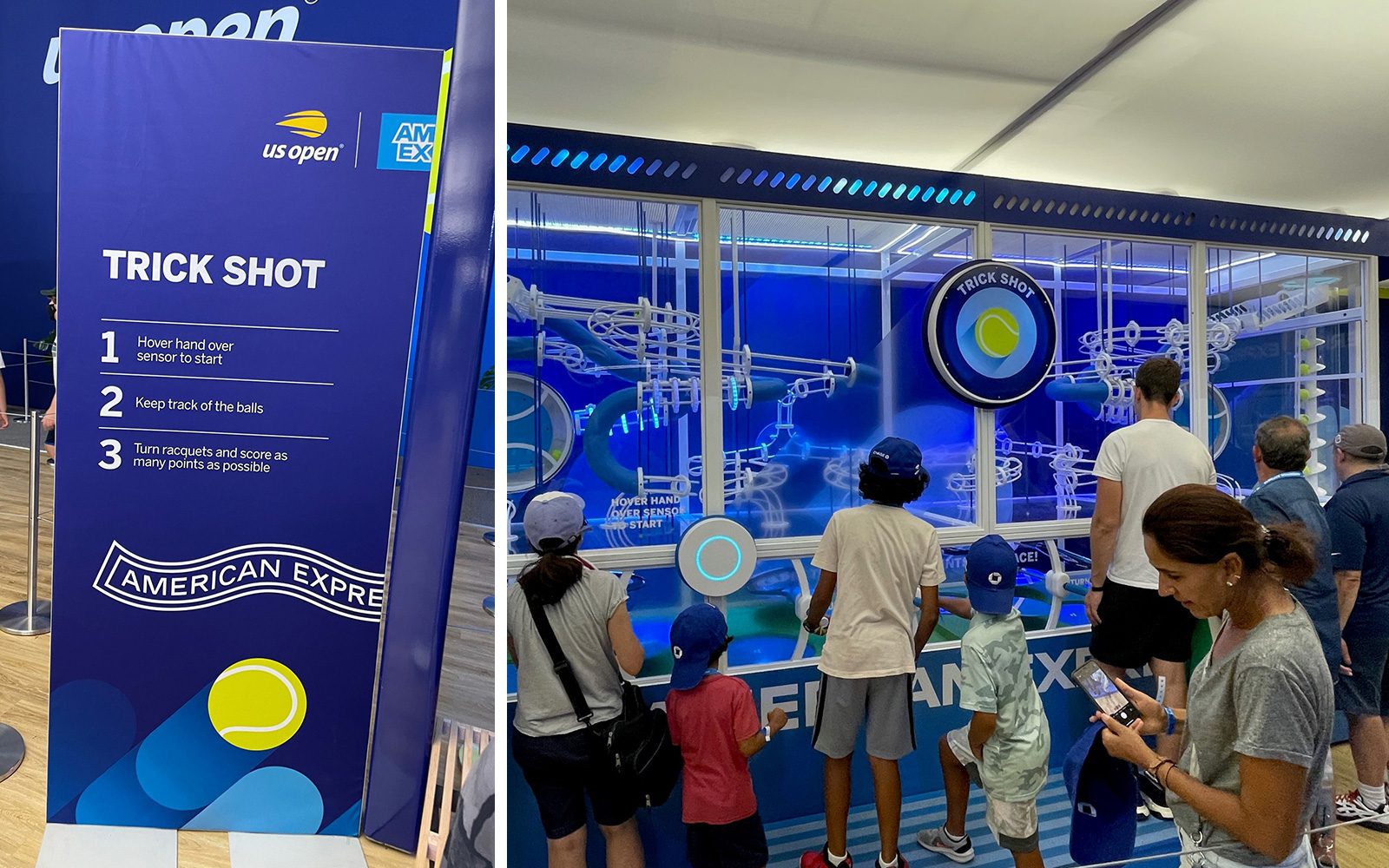 Trick Shot Game
Finally, they had a trick shot game. As the balls approached, you could turn your racquet to score points and win! This was a fun game for kids and adults alike to test their skills after watching a match. The only disappointment was that it didn't seem to actually track any scores.
What We Loved About the Amex Experience
Overall, the Amex Fan Experience was a blast. It was a great way to get out of the heat, take a break from the competition, and have fun. We loved that there was an activity for every age and every interest. And, the design of the space was top-notch and super memorable.
Did the Experience "Work?"
One of the things we often discuss at EDE is how we can make experiences like these "worth it" for clients. Sure, they're fun and create buzz, but are they actually worth the money? Do they enable tracking for conversions or ROI? Do they actually drive sales or interest?
American Express likely spent several million dollars designing and building their Fan Experience. But will the people in attendance really opt to open an Amex card because of it?
Maybe.
While it would be nearly impossible to track card signups back to this event, the experience did a few things well:
It reinforced the client-brand relationship.

Most people don't

love

their credit card provider, but offering fun perks like these is a great way to show customer appreciation and increase brand loyalty and preference.

It was a good match for their potential customers.

In particular, the event appealed to young people who may be looking to open their first credit card and who don't yet have loyalty to another brand. This experience may have made them wonder what other perks they could get with Amex.

It felt exclusive.

Presenting your Amex card to get to the upper level felt exciting. And, it reinforced the power and freedom that Amex wants consumers to associate with carrying their card.

It collected customer data.

In addition to showing your card, you also had to fill out some personal information. While it's unlikely to offset their investment significantly, customer data is worth its weight in gold in the financial world.
So you're probably wondering; will Jay return to the US Open for 2023? We asked him that very thing and here was his response:
Absolutely! Sponsorship activations at the event are fun every year, and I can't wait to see how the sponsors bring their brands to life in 2023. The activations provide a fun opportunity to connect with fellow fans and sponsors, fostering a sense of community that all companies strive to achieve. But let's be real honest, I'm most excited about the Honey Deuce Cocktail. 😊