The big question we keep hearing is "will in-person trade shows make a comeback post-pandemic?" If you ask our team of experiential marketing experts, our answer is 100% yes; in-person trade shows will return.
We may not know when live events will return, and we don't necessarily know what they will look like when they do. But we do know that the value of face-to-face marketing can't be replaced. This two-part piece will focus first on the benefits of in-person trade shows that can't be replicated virtually. In Part 2, we'll explore some of the ways live events may look different in the future—and what you can do to be prepared.
Why In-Person Trade Shows Will Return
Virtual trade shows are an effective solution for the time being, but we are optimists when it comes to the future of in-person trade shows. We believe in enabling attendees to physically experience and compare offerings, the focus that in-person events bring to your brand, the ability to move customers to act by appealing to their senses and emotions, and the power of face-to-face connections.
Physically Experience and Compare Offerings
Trade shows allow attendees to compare their buying options. Whether you are selling a product or a solution, giving attendees the ability to see, feel, and experience your offerings in person is extremely valuable. Your attendees will feel more confident in their purchase decisions and may even make those decisions more quickly.
In-person events also give you the opportunity to check out your competition and stay in-the-know in your industry. If someone is launching a new product at a trade show, you'll be able to experience it first-hand and then develop your response strategy in a much timelier manner.
Focus on Your Brand
When exhibiting at an in-person trade show, exhibitors face the challenge of capturing attendees' attention within a matter of seconds. When that attention is captured, engaging in valuable discussions can often hold it for an effective amount of time.
Virtual events, on the other hand, hold the constant risk of your attendee's attention being taken away by a multitude of other distractions. You may initially capture your customer's attention but then lose it quickly due to an incoming email, a dog barking, or to the TV that is on in the background. With in-person events, the focus is more likely to be on your brand than on outside noise.
Create Memorable Sensory Experiences
According to research, there is a connection between sensory experiences and emotion, and between emotion and motivation to act (Journal of Psychiatry, 2015). Ultimately, engaging all five of your customer's senses can move them more quickly to action. Virtual environments have sensory limitations, but live events can appeal to sight, smell, taste, touch, and sound.
One of our favorite oldie-but-goodie examples of an effective sensory experience is the exhibit we worked on with our client Muzak (now Mood Media). Muzak provides background music solutions for waiting rooms, elevators, and more. The product taps into the sense of sound, but our solution incorporated other sensory elements to maximize memorability.
When attendees first walked up to the exhibit on day 1, Muzak reps posed the question, "What do roses sound like?" Attendees then pushed aside a ball chain curtain to enter the space. This element both appealed to the sense of touch and created an intimate environment. Upon entering, attendees first noticed the large visual feature of the exhibit: a circular wall with hundreds of roses displayed. The scent of roses then wafted into attendees' noses as one of Muzak's more whimsical solutions entered their ears. The experience answered the question "What do roses sound like?" in an immersive way.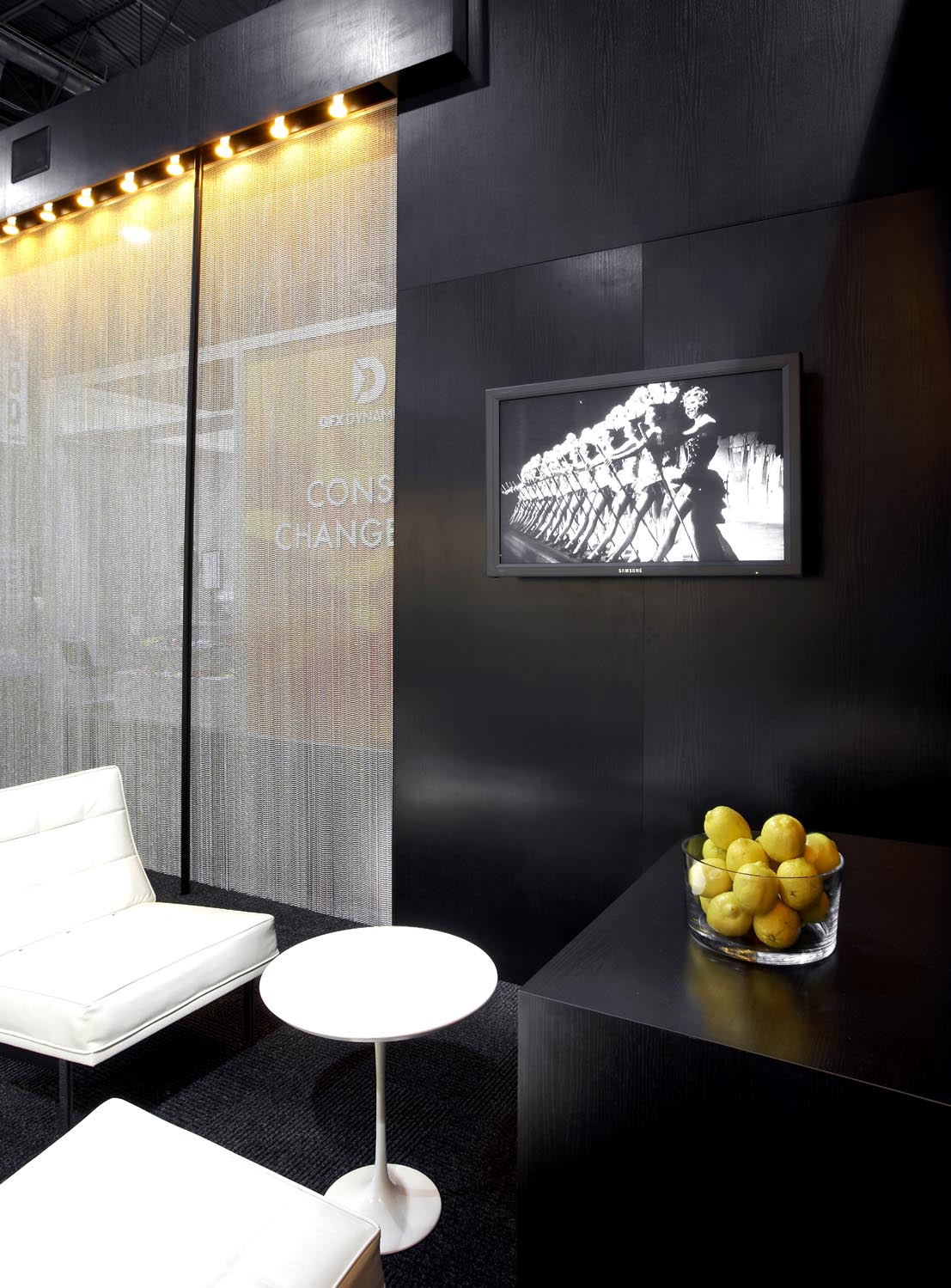 The question changed for each of the following two days, swapping out roses for martinis and 8-balls. This led to many attendees re-visiting the space to check out the completely new sensory experience. This exhibit won a best of show award and was effective and memorable in a way that a virtual experience could never replicate.
Create Stronger Connections Through Face-to-Face
Both warmth and trust affect purchase intention, so quickly establishing those feelings in-person is of huge benefit to exhibitors. Handshakes may be a thing of the past, but looking someone in the eye as you talk generates far more warmth and trust than talking to someone on your computer screen.
Being in the same physical space as your customer also gives you a chance to pick up on body language. A large portion of communication effectiveness is determined by nonverbal cues. Interpreting the nonverbal cues of your customer/prospect can help you to navigate the conversation more productively.
So, Yes, In-Person Trade Shows Will Return!
And we're not the only ones who think so. 96% of event professionals don't believe that virtual events will replace in-person events, and 97% of B2B marketers believe that in-person events have a major impact on achieving business outcomes (Bizzabo, 2019). And we believe that the budgets for live events will return as well. A 2018 survey found 50% of companies were allocating over 21% of their marketing budgets towards events, a 39% increase over 2017 (Bizzabo, 2019). Live events were important prior to the pandemic and will continue to be important after.
All that said, in-person trade shows will definitely look different in the future. What are some of the differences you are anticipating? We'd love to hear from you and incorporate your thoughts into our Part 2 of this piece. Send us your thoughts to couplands@edecorp.com or drop a comment on our social channels.