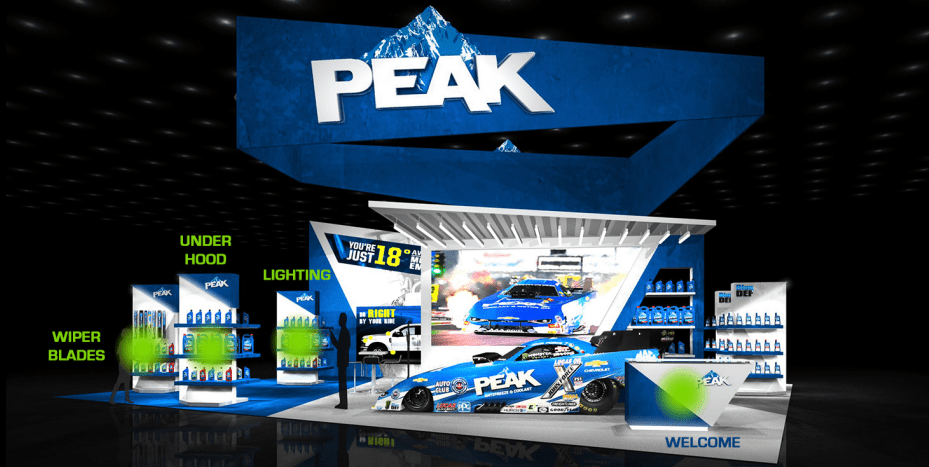 Due to COVID-19, event marketers have pivoted their 2020 marketing strategies and begun incorporating virtual trade shows. There is no doubt that we all miss the face-to-face interaction that trade shows offered us. But as we've seen virtual experiences take flight, we've learned that they can be just as impactful as an in-person show.
We know that the shift to virtual can be daunting. That's why we've compiled what we think are some of the most crucial elements of planning a virtual trade show.
1. Set Goals
This first one may sound like a no-brainer, but the catch here is to set goals with virtual in mind. Example: when setting an attendance goal, you can likely set a higher goal than you would with a live event. This is because your reach will be much wider without limitations such as travel and budgets.
Establishing goals right off the bat is crucial. These goals will drive every choice you make when planning your event: from the email invites you send, to the content you create, to the format you choose for your event. Which leads us to…
2. Choose the Right Format
The available formats for virtual trade shows vary in complexity, and the one you choose will depend largely on your goals and your budget. The three main categories of virtual formats that we have seen are what we have coined as static, dynamic, and immersive.
Static: The static virtual environment is created using rendered views of your exhibit. Touchable hotspots bring to life your brand and exhibit by triggering content such as a fly-through introduction of the space (a narration of the critical ideas being presented as well as a general guide for navigation of the exhibit), videos, games, live chats, downloadable PDFs, and more.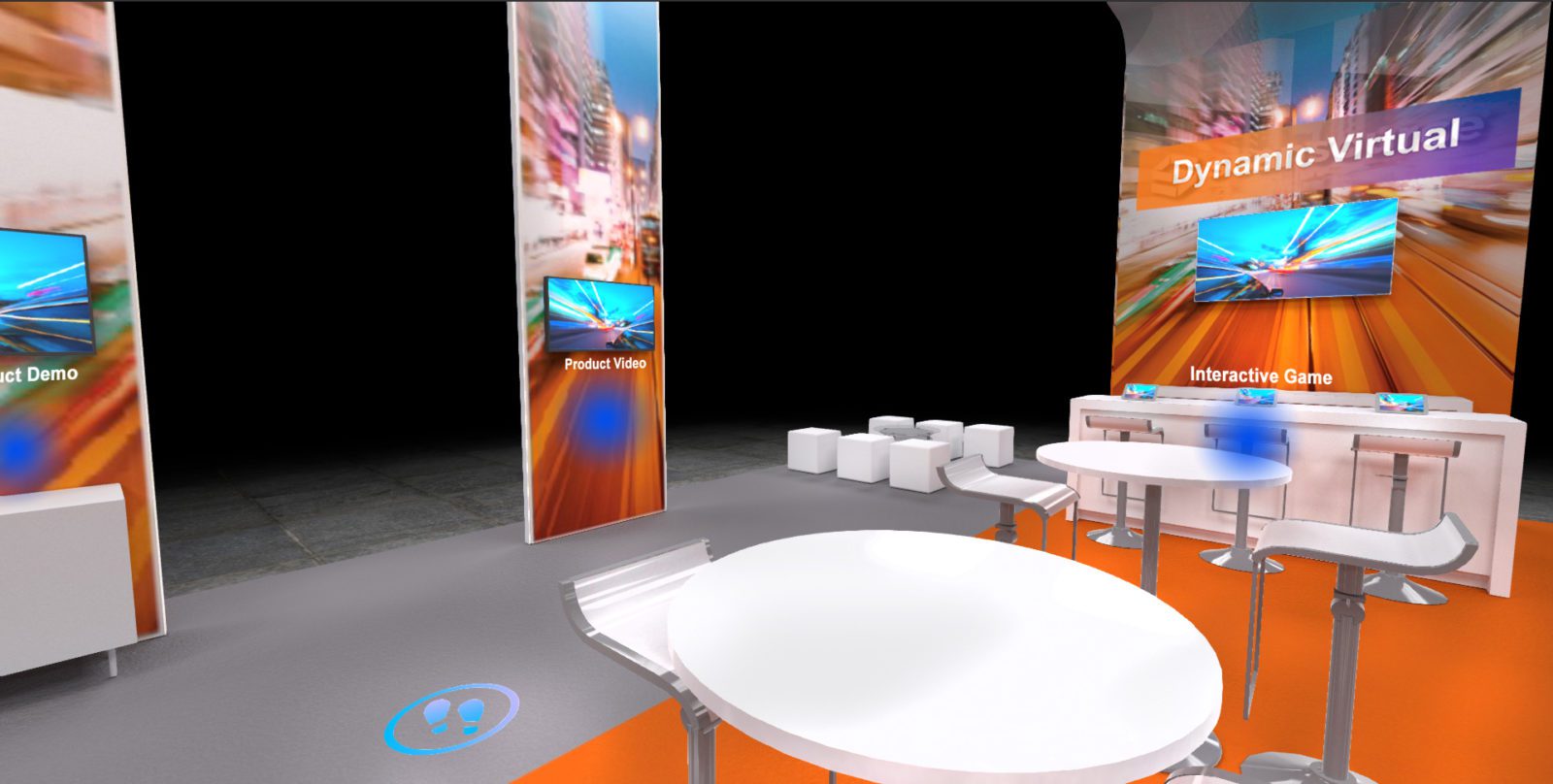 Dynamic: A dynamic virtual environment turns a 3D model of your exhibit into a fully navigational space. Picture Google Maps street view, but exhibit-style. Attendees guide themselves throughout the space and interact with the same sorts of hotspots mentioned above—and trigger video content by simply approaching a monitor.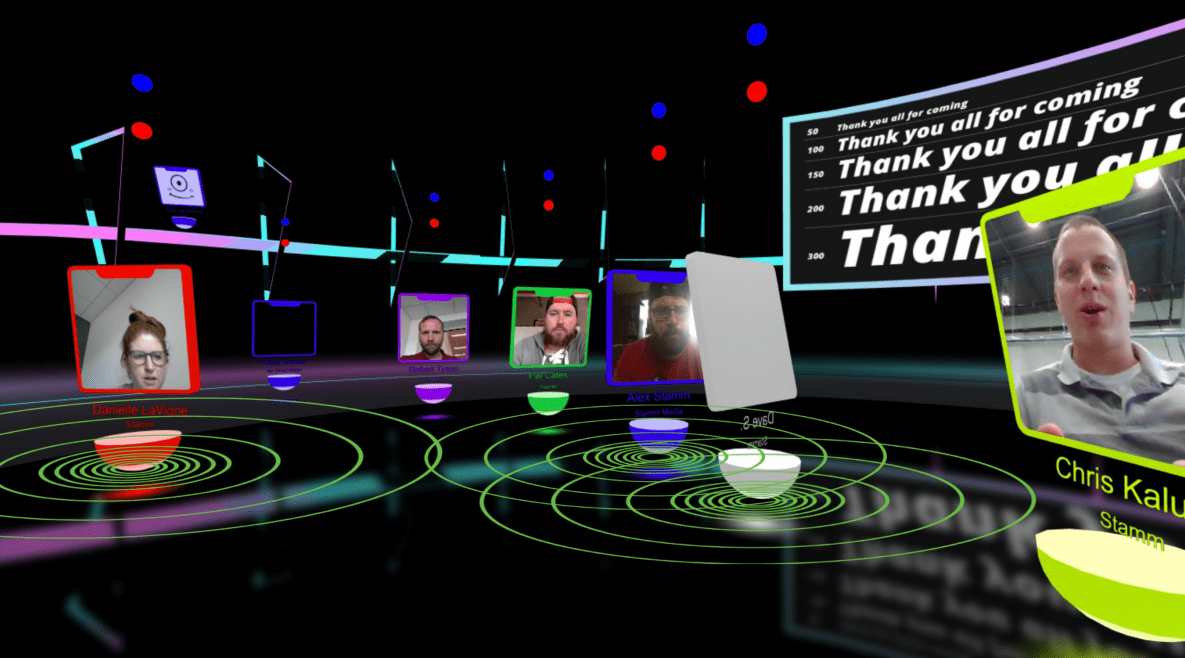 Immersive: EDE's immersive environment offering takes the same fully navigational space mentioned above and adds a more personal layer of interactivity—video avatars of each attendee and company representative in attendance.
Attendees navigate their avatars freely throughout the space, interacting with hotspots and talking to reps. The circles below each avatar in the example above showcase a sound proximity feature, allowing avatars that are in close contact to hear each other. Avatars can be silenced by a lead presenter for event-wide presentations or demos.
This immersive option also allows attendees to access breakout rooms and other environments from the main space for private meetings or specific product areas. Just think: in a virtual world, your attendee can "step through" a door of your exhibit and enter an environment that enables them to see your product in its actual setting, such as a doctor's office or a construction site.
3. Create Valuable Content
The exhibit itself isn't the only element that needs to be designed; you'll also need to consider the content that attendees will interact with while exploring your space. Higher quality content increases the likelihood that attendees will engage with your brand for a longer period of time.
And the more time the attendee spends positively engaging with your brand, the more likely they are to buy from you.
4. Promote Your Event to Your Target Audience
Promote it and they will come! You are investing a lot of resources into making this virtual event happen, so make sure to also invest time into promoting it. A useful tool to consider is a microsite, which houses all the registration and scheduling for your event—and the event itself.
This branded site also allows you to collect tons of data, from attendee information to the duration of each visit. This information will then help your team to tailor their post-event follow-up.
5. Add a Personal Touch
Just because you can't shake hands with attendees doesn't mean you can't add a human touch to your virtual experience. Reinforce brand awareness and excite your attendees by shipping them a branded giveaway box prior to the event. There are many options of contents to include: get your product directly into the attendee's hand, generate brand positivity by including a t-shirt or water bottle, and show that you care for your guests during this time with a branded face mask or hand sanitizer.
Virtual trade shows are here to stay for the foreseeable future. Have questions or looking for assistance in executing your events? We're happy to help. Contact couplands@edecorp.com to get in touch with our team of event experts!