Las Vegas has long been a magnet for trade shows, and something is happening there that has piqued the interest of exhibitors everywhere. In this blog, we're exploring some of the new technologies coming into play for trade show exhibits with Dave Stamm of Stamm Media, a leading nationwide provider of AV technology and custom interactive media to the trade show, corporate event, and permanent installation industries.
Video Spheres
Video spheres have been around for some time, but they hadn't taken hold until the massive MSG Sphere on the Vegas strip first winked its huge eyeball. Now everybody is taking notice! While the MSG Sphere is certainly unique, what really makes it cool is that they spent a lot of energy creating amazing content for it. Spheres are eye-catchers (no pun intended), and we think we will start to see a lot of interest in video spheres going forward. 
While not on the scale of the MSG display, spheres are available in different sizes and can be either suspended or mounted on a pedestal. "You would want to think of the use case for it, but it could be something like telling the story of where in the world your company is located or what areas you serve," Dave says. "And while you couldn't do touch with a sphere, you could have a touchscreen kiosk in front of it where you pick an element and use the sphere as a canvas to tell the story." Bottom line: if you create an exciting element like the MSG Sphere, it's going to pull people from everywhere.
3D Video Content
Ready for 3D video content like you see in Times Square? Everybody wants something to grab eyes in the aisles, and 3D video is fulfilling the need for something WOW! We first saw this at Arab Health and now we're seeing it at trade shows everywhere!
3D content is in some ways the new version of projection mapping. Immersive mapping can get pretty complicated with all the projectors to rig, but 3D is an easier way. Granted, 3D content isn't the cheapest to make, so you will need some budget for it. 
A related product is called the floating diamond. It includes nine LED tiles per side, which gives a full six sides of video sitting on a ground support. You wouldn't have to make it 3D content; it could be 2D content on each side, but you can do this floating cube without suspending it.
LED Shelving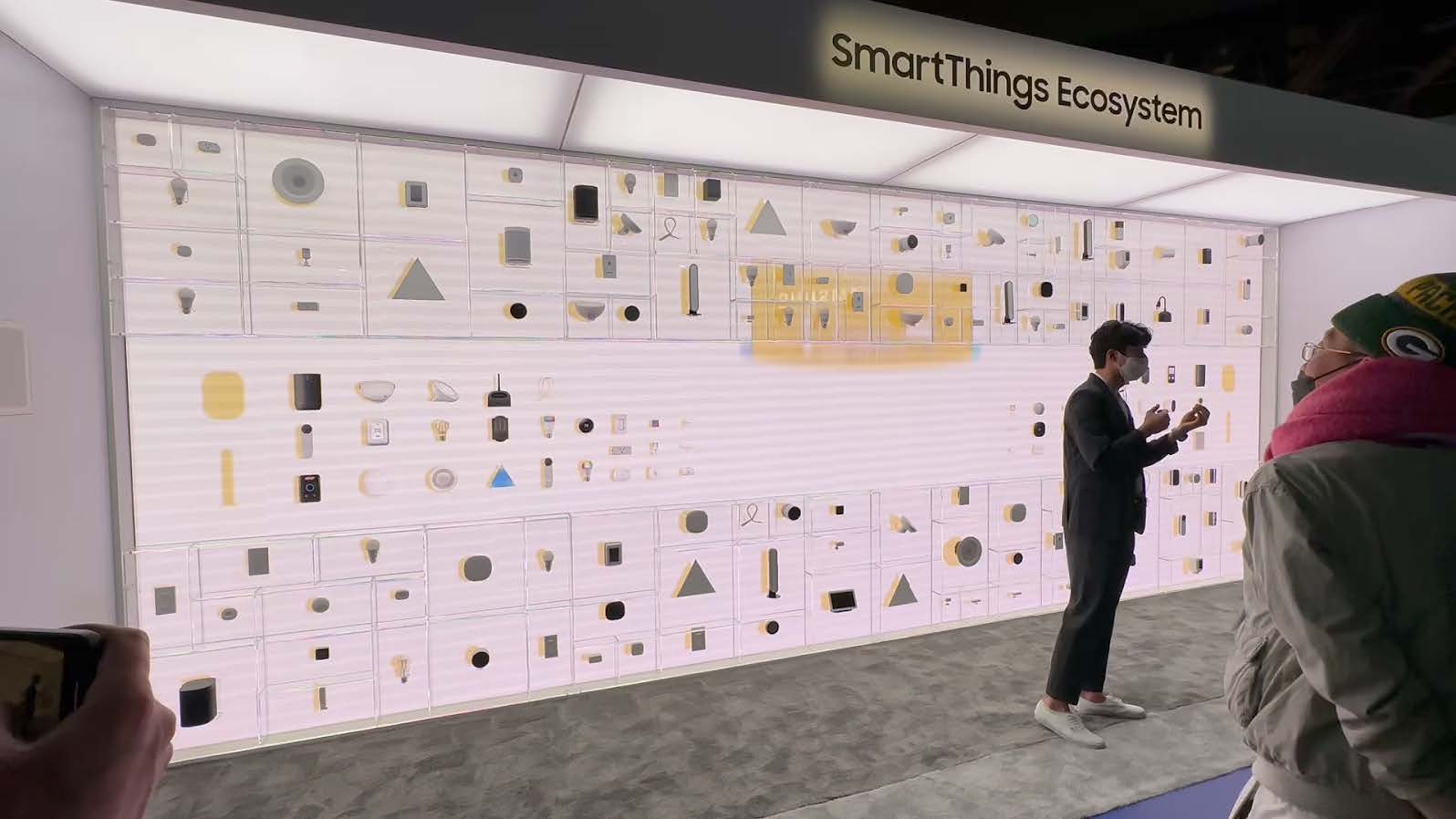 If you've ever wished for a way to light up your product offerings in a way that would grab attendees' attention, consider that wish granted! Shelves that easily connect to an LED wall provide a great way to show your products and most can hold a sizeable amount of weight. 
"So that's kinda fun, right?" Jay says. "I can see that coming into play immediately for some of our food and beverage clients." 
Adding RFID or motion sensors can allow interactivity with booth visitors such as triggering content whenever the product is moved. 
Art Morph
A new product we saw at Infocom 23 that we think will be popular is called Art Morph. Art Morph is a specialized lower resolution LED product where you place an artistic cover on an LED wall and the content plays behind it. It's almost like you have an LED wall coming from behind an art wall. Being able to bring an artistic piece that comes to life with video animation in the background creates a great surprise and delight moment! 
Digital Twins
As you know, we are big fans of bringing less equipment to shows. Digital twins are creating a way for companies to show their wares without the time and expense of transporting large pieces. With a digital representation of a machine, booth visitors can pick what they want to learn about and the system will bring that machine up on the LED wall in the form that it needs.        
The beauty of digital twins is that you build them once and afterwards use them for different use cases. Variants can be created that'll run on an iPad or Surface tablet or something the sales team can take into the field. And you can split the content budget across events and other applications. 
Tunnels 
Tunnels have been around for awhile, available with square or curved walls in various depths and can be great for booths, corporate meetings, and other events. They could be passive, active, or with a video loop. You could even have a touchscreen mounted on the surface to control the content within. 
Immersive Spaces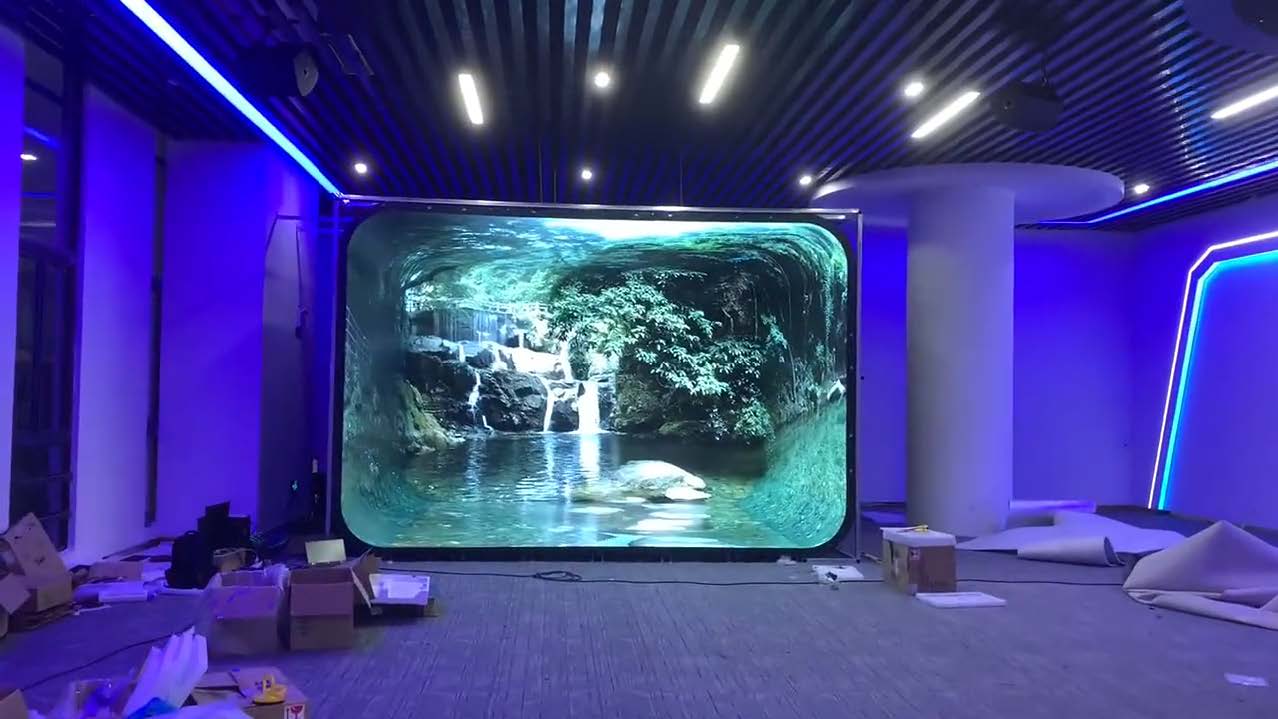 Everybody wants an immersive experience. With new flexible LED products, you can create some interesting immersive spaces in curves, squares, or whatever the space might be. Where before you needed a VR headset for this kind of experience, now an individual or group can experience what's happening without touching a headset. This is a wow factor from the back and it makes people walk up and say "what is that??" 
We could see this take the place of a conference room to show a new solution, for example. Similar to how cybersecurity experiences are done at the RSA Conference, it would put a visitor within the machine to see how it works. You could take a construction person and show them how your machine operates in Dubai or New York City. Or a medical equipment company could put someone directly into a hospital setting for an immersive demonstration. That would be a memorable experience you wouldn't forget! 
"We created an experience for the US Army where you walked into a room with three-sided video walls and a video floor that simulates jumping out of an airplane," says Dave. "Upon entering, participants are strapped into a harness which lifted them horizontally in the jump room as if they were floating in the sky." 
Parametric LED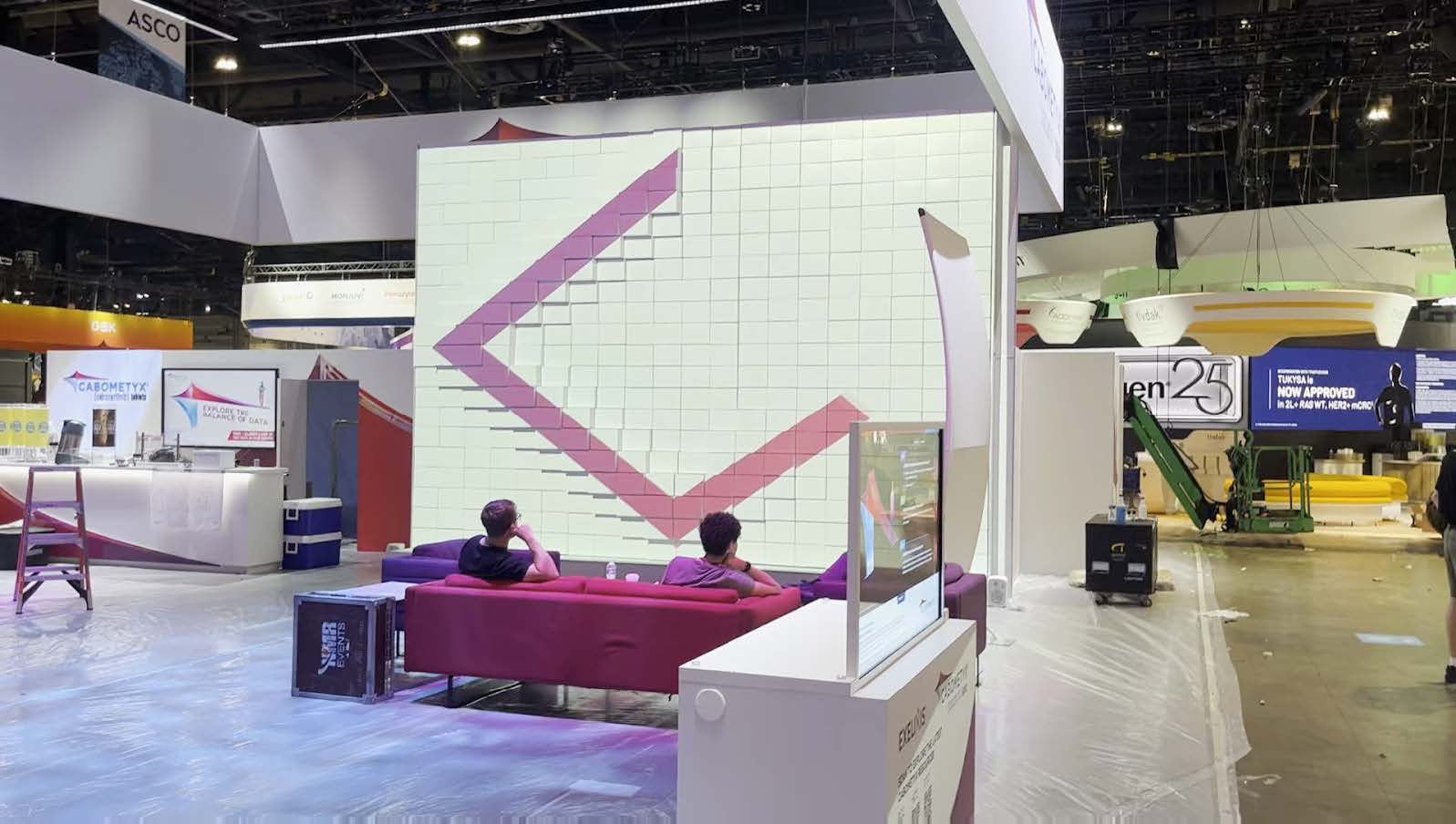 This is brand new but we think it's going to show up quite a bit. Parametric LED looks like an optical illusion, but is actually an LED on a motor. It works by moving the LED tiles forward and back. In the past, you'd have had a story playing on a loop, which is hard to get people to engage with. So by moving the tiles with synchronized content that uses that movement, you can build interest and engagement. For example in health care, where the information is not exciting, the movement adds a bit of intrigue and dynamism to an otherwise dry presentation. 
Touch LED
Every technology gets better, and that's certainly the case with LED. "Our home TVs went from HD to 4K to AK and LED is doing the same with resolutions down to 1.25 without needing a big LED wall," Dave says. "The beauty of that is what you can put in a tighter space, like medical imaging at really high resolution. The other side of it is that we can take a 4K image and display in a much smaller area. While 1.25 will be a fairly expensive item for the first two years, it will become mainstream as more companies pick up on it." 
Pixel size has been driving this. The technology has been stuck at 2.5 and 2.0 for years because the pixels are so small and break so easily. You could get high resolution in a permanent install, but rentals are constantly being put up and taken down, which beats up the product. New technologies now harden the pixels so they don't get damaged and that's helping us move to high resolution imaging in smaller areas. 
Transparent LED Doors
Transparent LED doors are a new product entering the market. These moving doors can use triggers such as facial recognition, RFID, or motion sensing to open and these will be available later this year. 
Multi-Shape LED
We started with circular-shaped LEDs and that evolved into spheres. What's next? Large hexagonal-shaped LEDs with 2.5 resolution as big as five feet in diameter.
Gamification
You know we're big fans of gamification, and are happy to see a single player golf game come to market. This one is sort of like a Top Golf game that can be branded, such as using the leader board to display client messaging. A multiplayer version will launch this fall. Other game options include everyone's favorite, Cornhole, and Maze, which is similar to PacMan.
"I love gamification at events!" Jay says. "And when you can brand it and make it resonate beyond just a game, it always makes it more impactful."  
What's really exciting us going forward is the blend of engagement with wow factor. "I'm really interested to see how some of these products can be used for both," Dave says. "Like, how do we take a sphere and make something more than just eye-catching, but actually an engagement piece? How do we take an immersive room and present these stories that would be difficult to tell if you weren't using the video backdrop?"
Where will technology take the trade show industry in the next few years? We don't have a crystal ball, but we're pretty excited to think of the possibilities! To paraphrase a favorite time-traveling doctor of ours, the future is whatever you make it, so make it a good one!
Take a tour of the new tech discussed here and more: New Trade Show Technologies
EDE is paving the way for new technologies in the trade show industry. Get in touch to learn more today.