Our team attended the Radiology Conference & Annual Meeting (better known as RSNA 2022) to check out hundreds of healthcare companies – and their exhibits. Luckily for us, the show was right in our own backyard at McCormick Place in the great city of Chicago, IL. Here's what you missed at RSNA 2022!
Annalise.ai
First up is Annalise.ai, a medical imaging AI company based out of Australia. We loved their hanging sign, especially the way it mirrors the shape of their logo. But even better than the design was the placement. The sign juts into the aisle so you can see it clearly, no matter where you're approaching from. And, all of their lighting from the hanging sign to the world map was on point.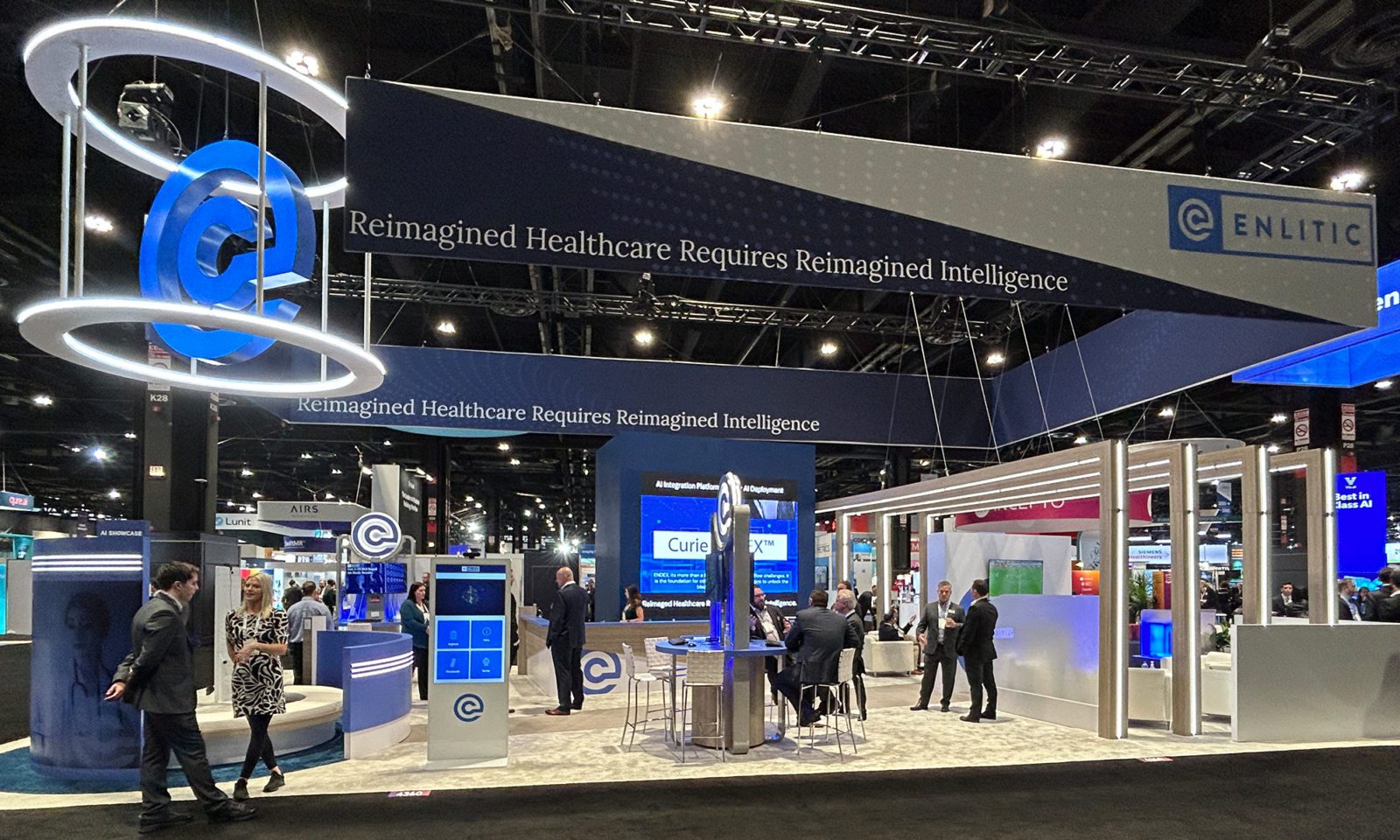 Enlitic
Enlitic's space featured another awesome hanging sign featuring their spinning logo. The movement really drew your eye in and made you curious about the space.
We also loved the way they broke their booth into several meeting spaces. Whether you wanted a private area to talk business or a seat on the couch for more comfortable conversation, there was space for you.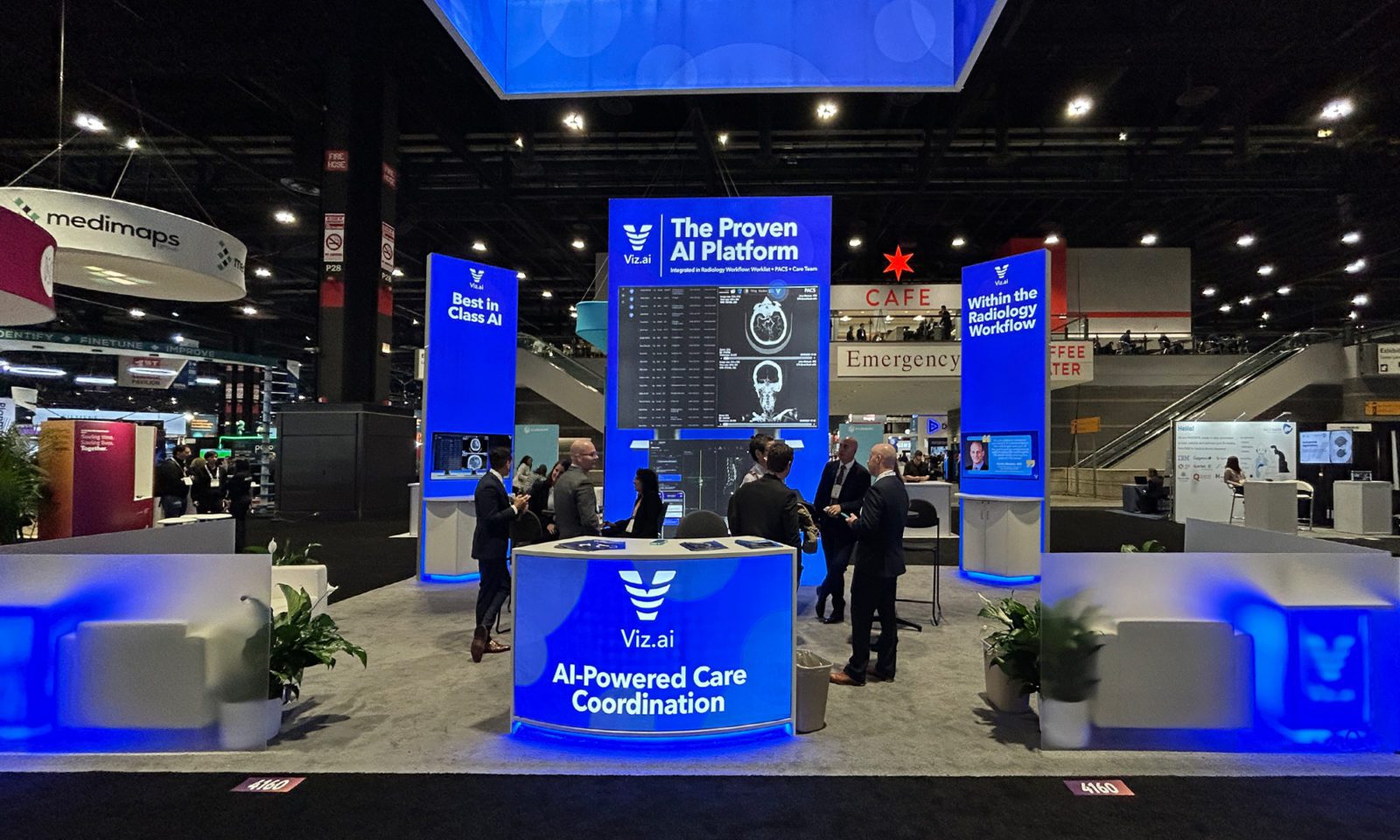 Viz.ai
Viz.ai didn't have a massive footprint at RSNA 2022, but they made good use of the space they had. We loved the internal lighting they used throughout the booth. And, their front-and-center monitor showed off their product beautifully.
Between the alluring blue glow and the happy hour, it's no surprise Viz.ai's booth was jam-packed the entire show.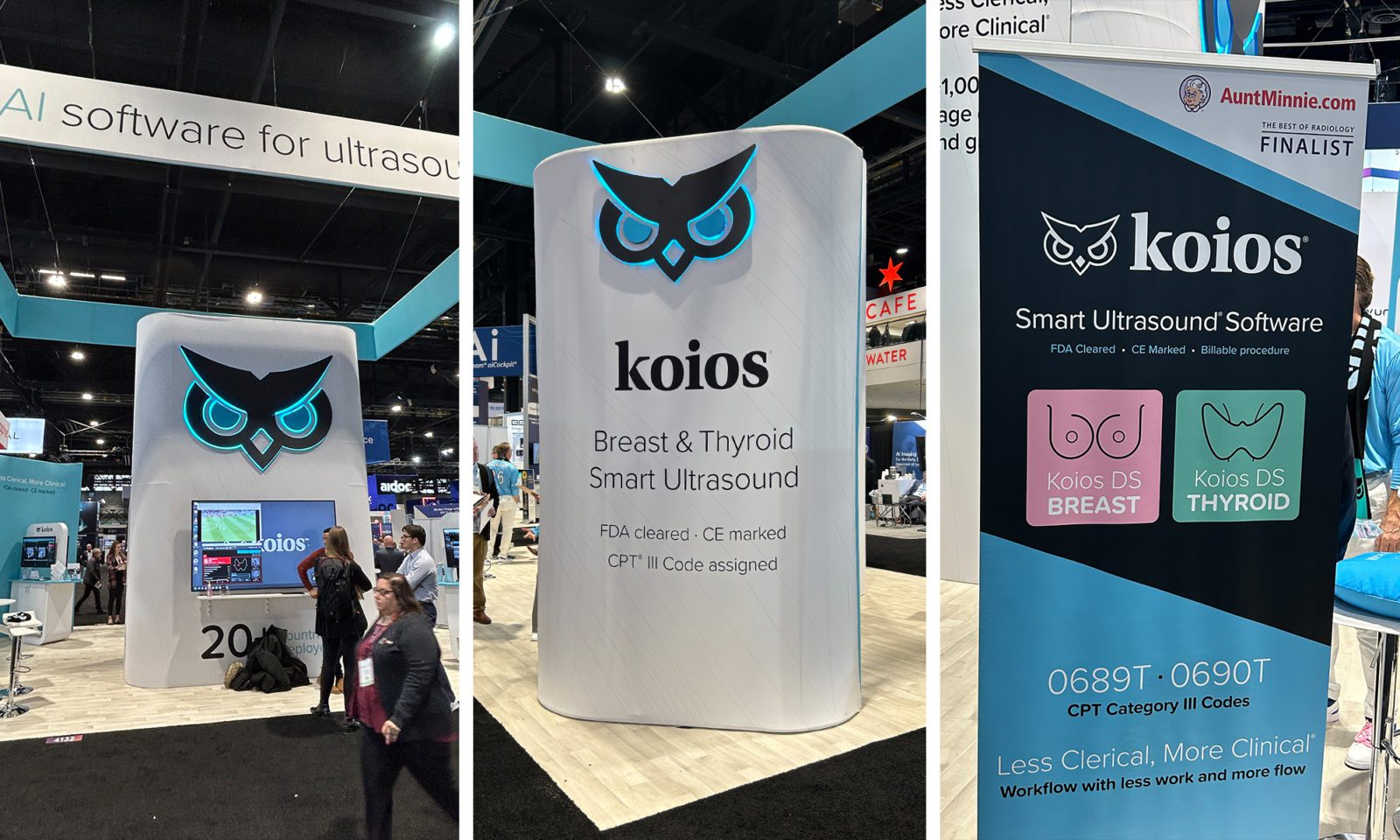 Koios
The Koios Medical booth showcased their smart ultrasound technology with clean and concise graphics. However, their custom-lit logos were truly the star of the show.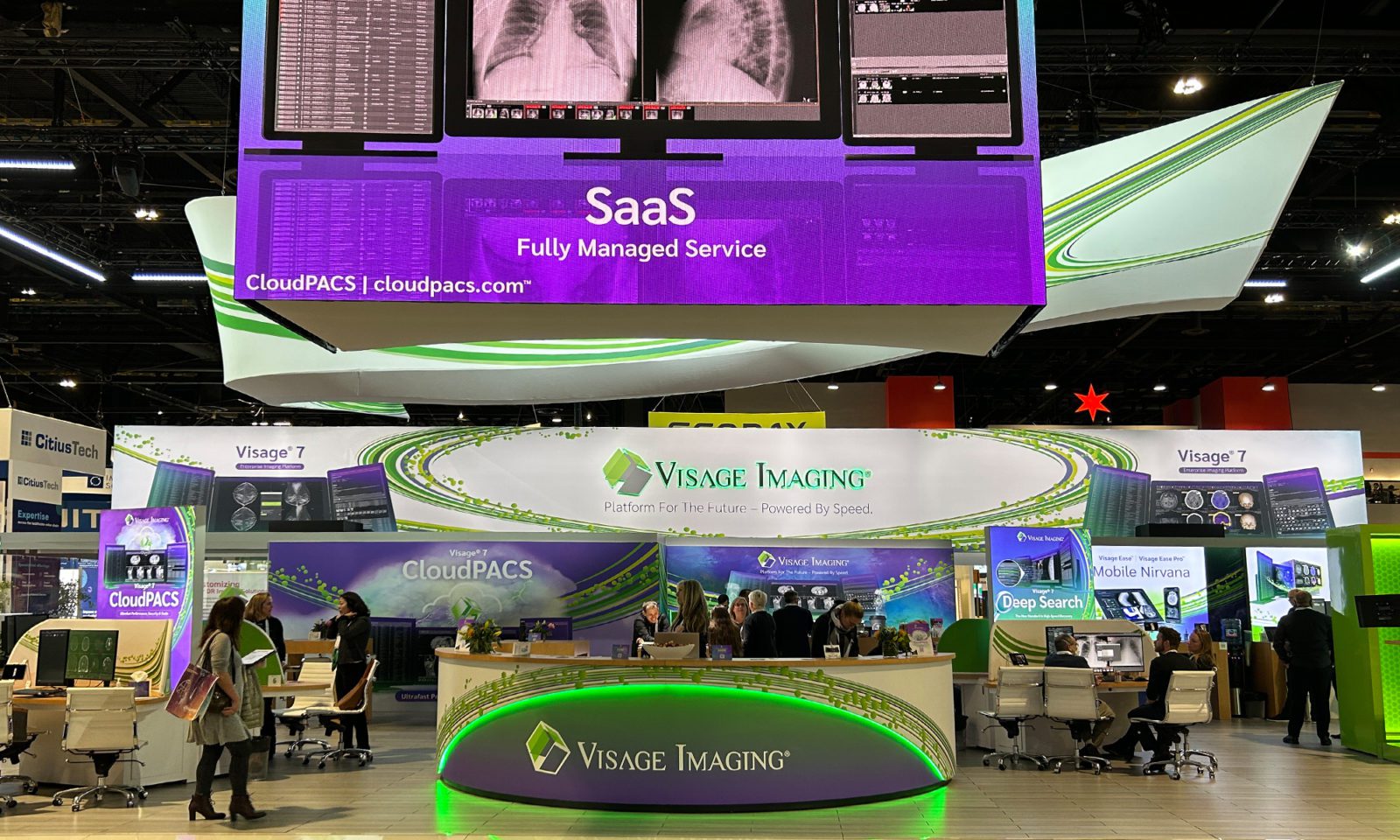 Visage Imaging
We absolutely loved the reception desk over at the Visage Imaging booth. The green glow really drew you into the primary touchpoints within their space.
They also had a really neat theater area with a bright green floor. It was a fun way to pull the color through the entire booth while contrasting with the rest of the space.
Shimadzu
Shimadzu's booth had a massive footprint with tons of open space. Their space was a bit more traditional than some of the others on the floor, but it highlighted the features of their products.
Bracco
Bracco had a spacious booth with a number of nice details. We loved the unique shape of the curved LED screen on their main structure. The whole space was bright and inviting.
We also loved their use of hologram fans to create a mesmerizing display behind their reception desk.
Mint Medical
Mint Medical's booth featured a super unique structure as its focal point. The roof was actually a static graphic, but the lighting was so on point that it almost appeared to be moving.
We also liked that their reception desk design complemented the shape of the main structure.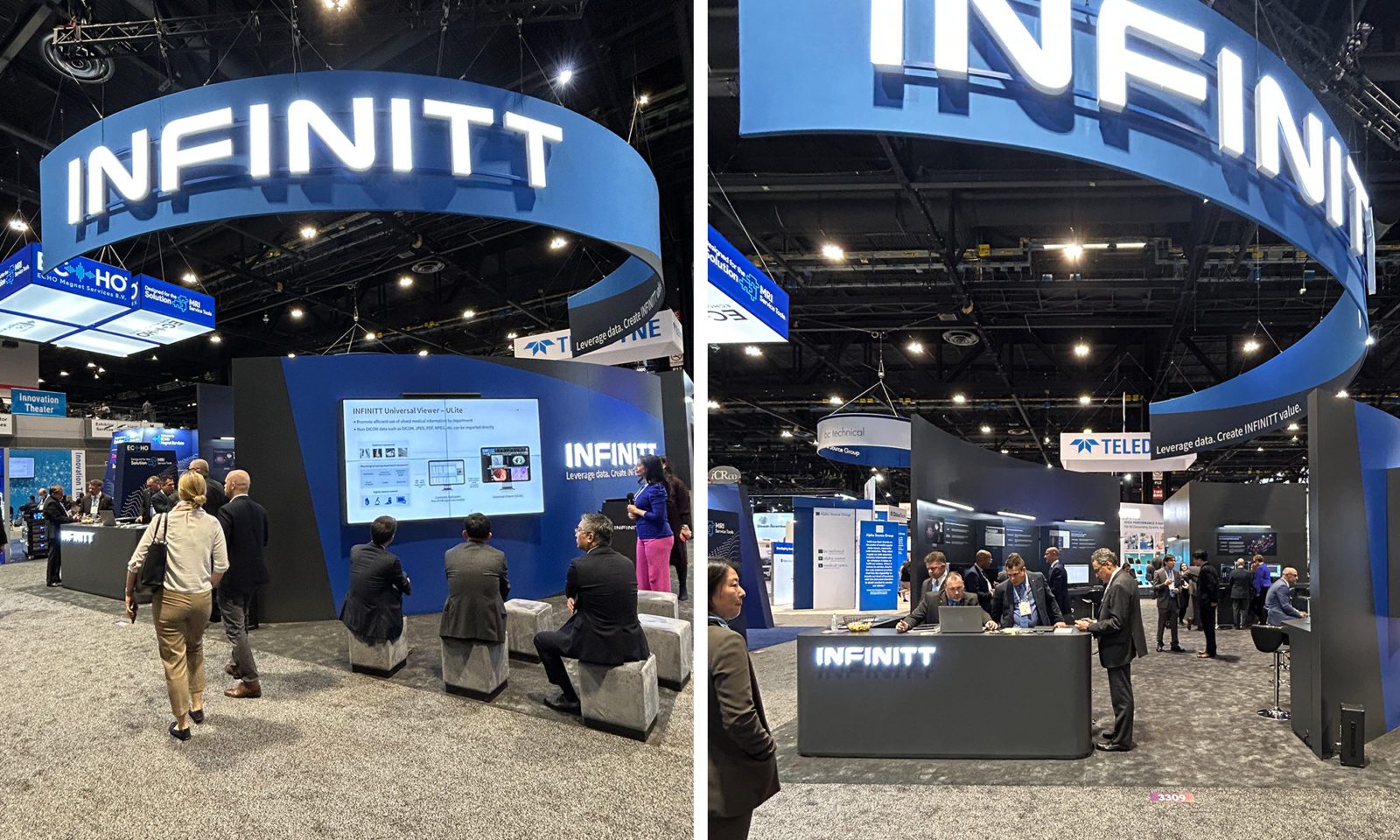 INFINITT
The star of the show at INFINITT's booth was their massive curved hanging sign. In addition to featuring their name in 3D letters on the front, they made good use of the space on the back of the sign as well.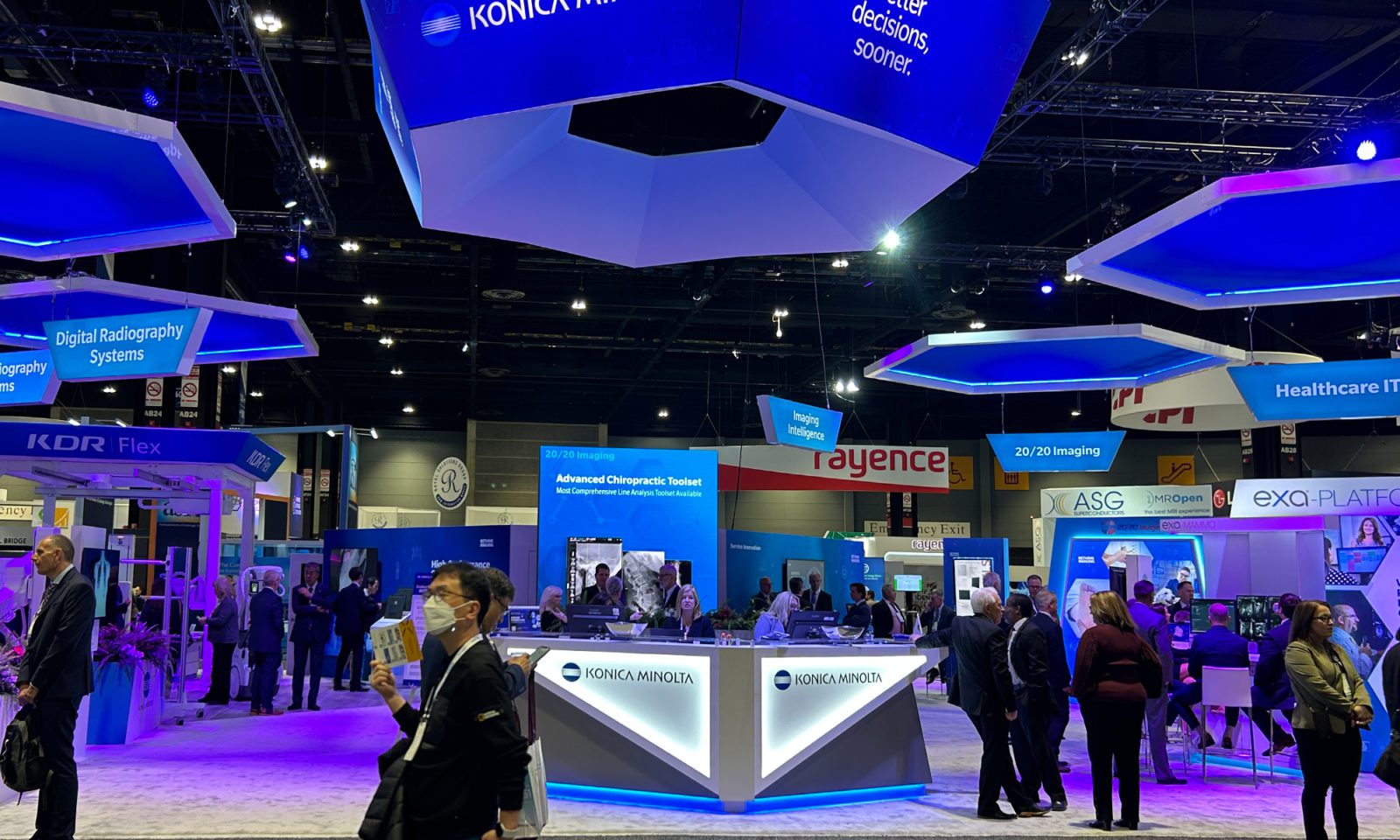 Konica Minolta
Konica Minolta offered an incredible example of how to separate and designate spaces without a ton of walls or barriers. Their hanging structures formed a number of different areas to explore and interact with their products while navigating through the space with ease.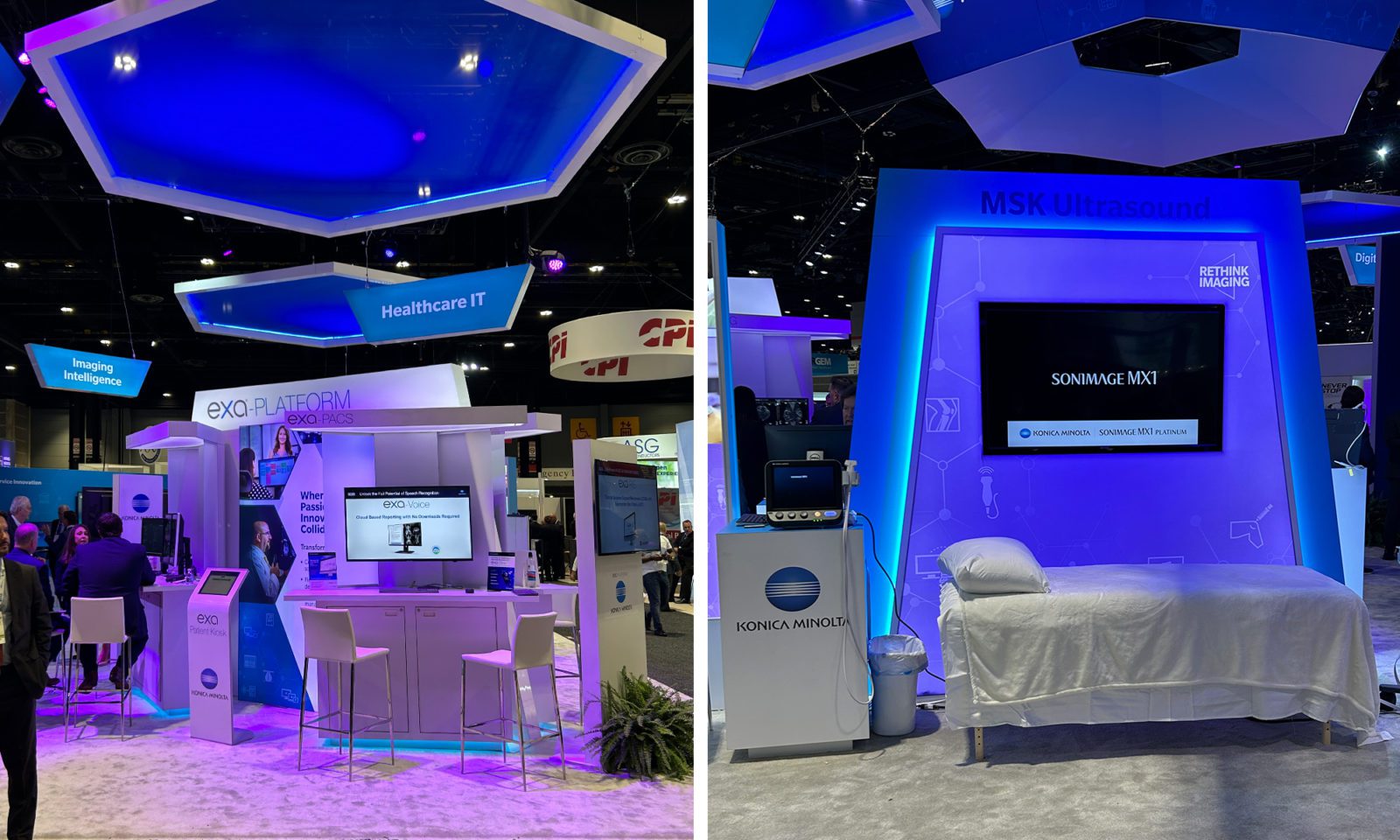 We especially liked their use of blue and purple LEDs to create a cozy and intriguing vibe on the trade show floor.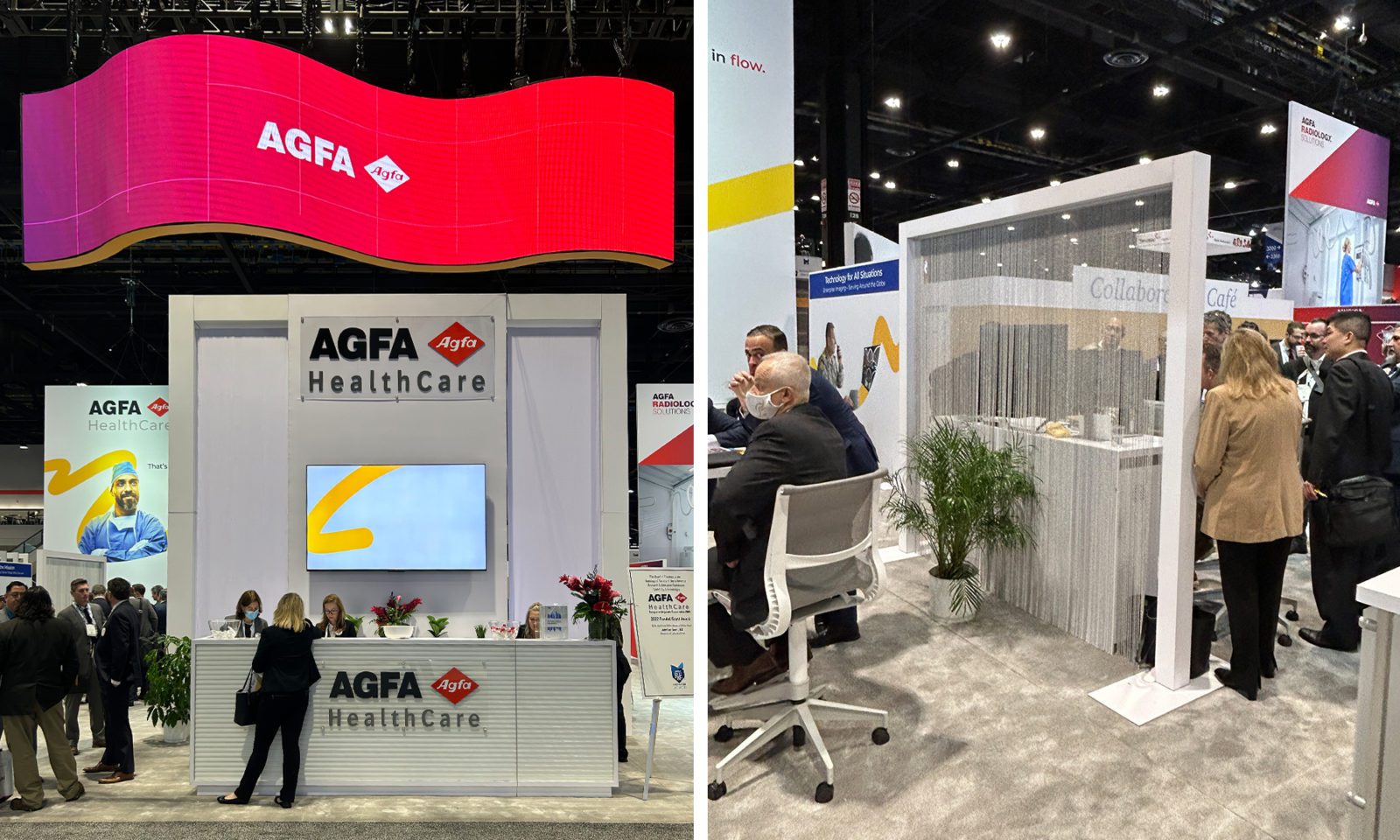 Agfa HealthCare
Agfa HealthCare had a straightforward but well-thought-out space at RSNA 2022. Their use of a chainmail-style divider was particularly unique and not something we had seen before as part of a trade show booth.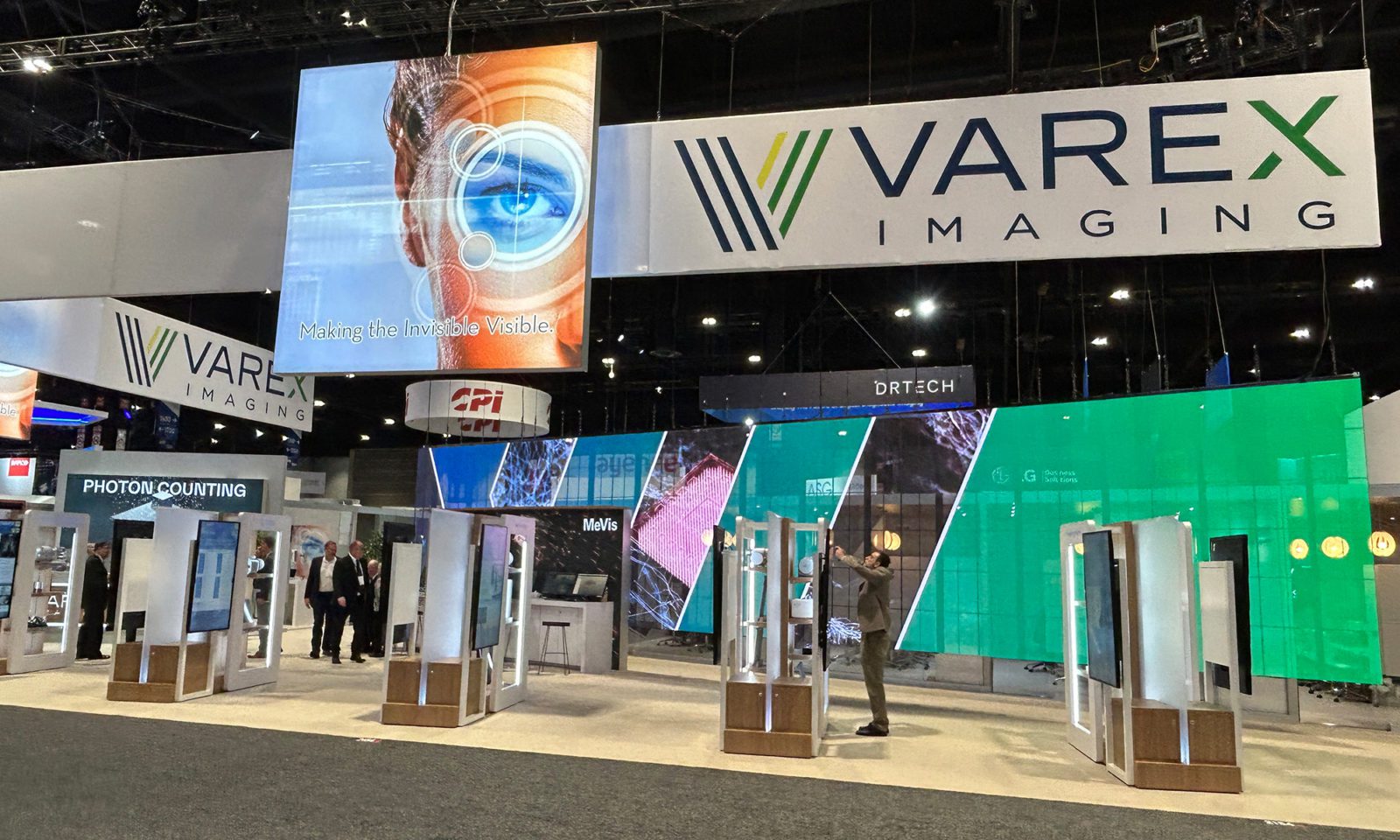 Varex Imaging
Varex Imaging's booth featured a ton of awesome tech, including translucent LEDs and a video wall. We especially liked the way the content was slowed down so you could actually take it. The graphics were clean, informative, and engaging.
Varex's attention to detail wasn't missed by us – from the reception desk lighting to the numbered conference rooms, the entire space was intentionally designed.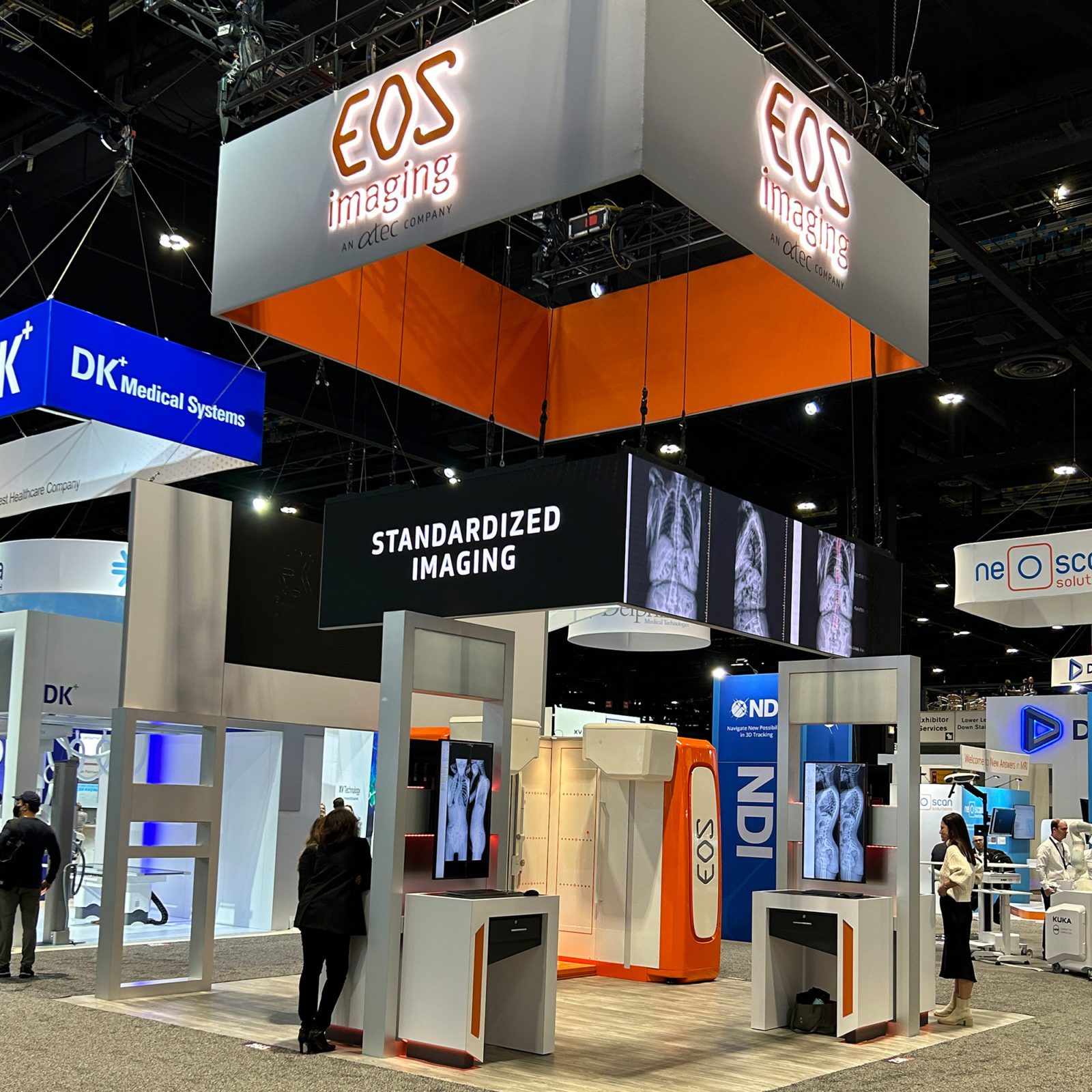 EOS Imaging
EOS Imaging's booth featured creative hanging signage and great lighting throughout. The space was on the smaller side, but still made a great impact.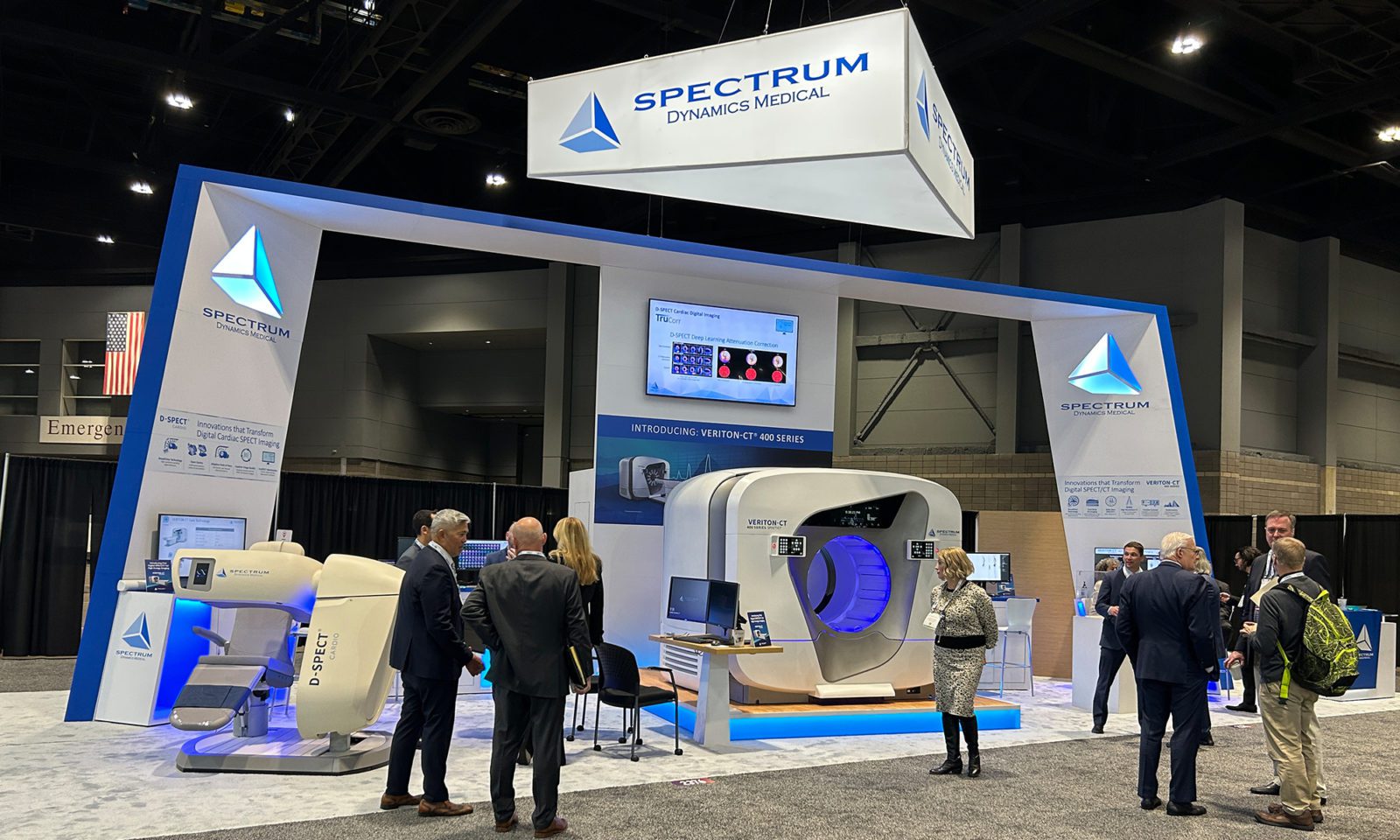 Spectrum Dynamics
We really liked the unique shape of the Spectrum Dynamics booth. It stood out on the floor and really drew you in.
CareRay Digital Medical
In a sea of blue and white, we liked CareRay Digital Medical's green, glowing booth. We expect bright green to be a big trade show design trend for 2023 and beyond.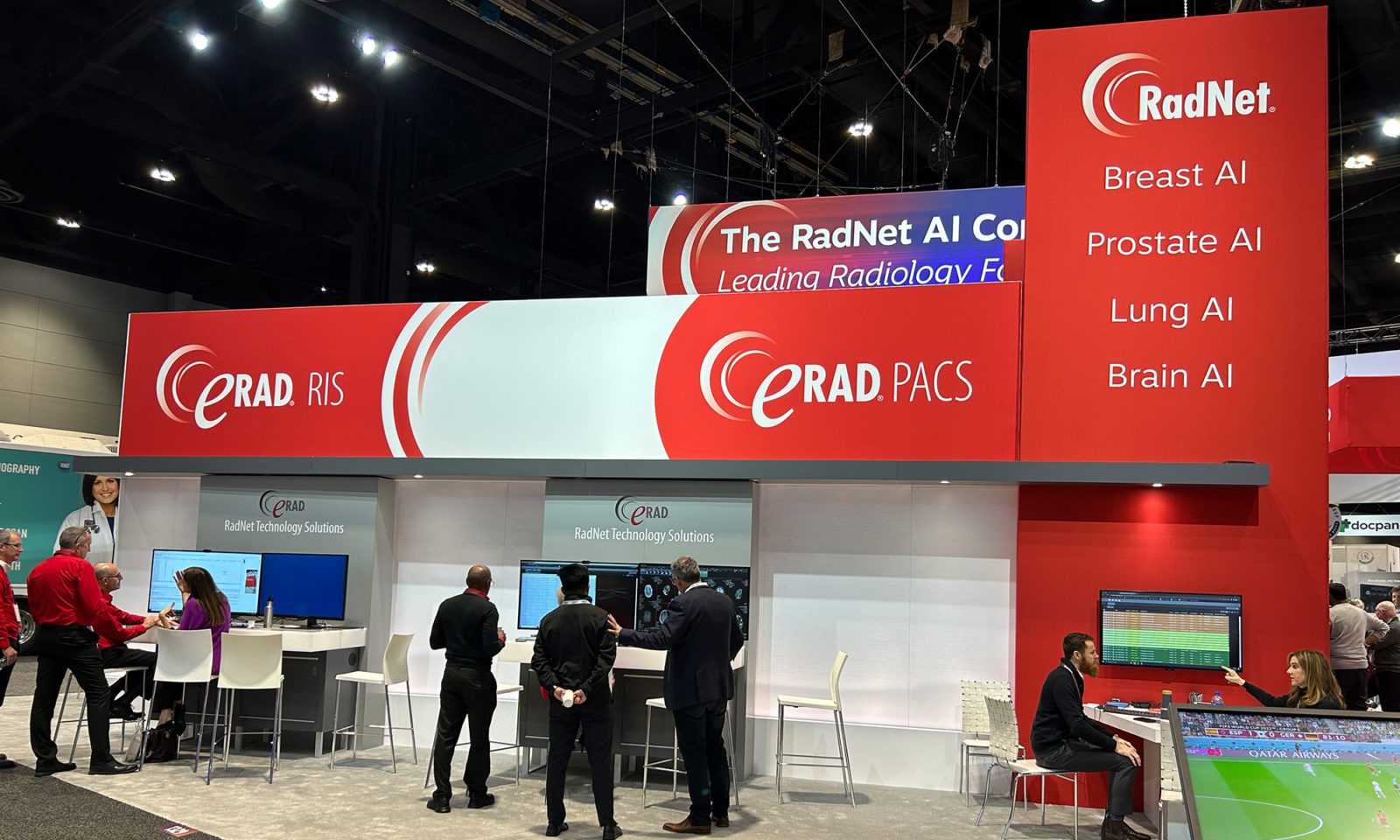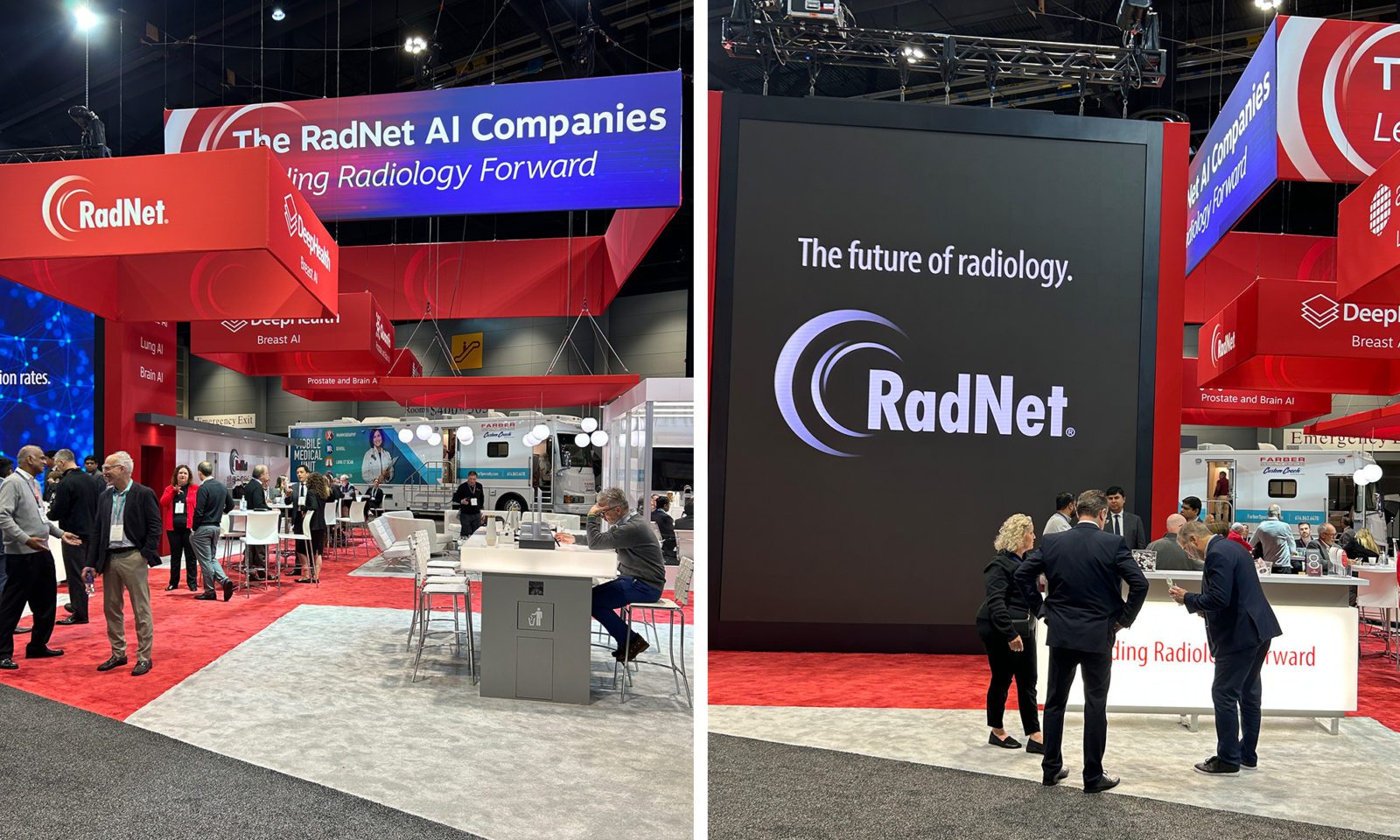 RadNet
RadNet's booth featured a number of hanging structures and signs. Their spot on their floor and their bright red and blue elements really helped them stand out among the other booths. We also loved their giant LED screen – and the fact that they were playing the World Cup. Attendees were flocking to their booth to watch from across the floor.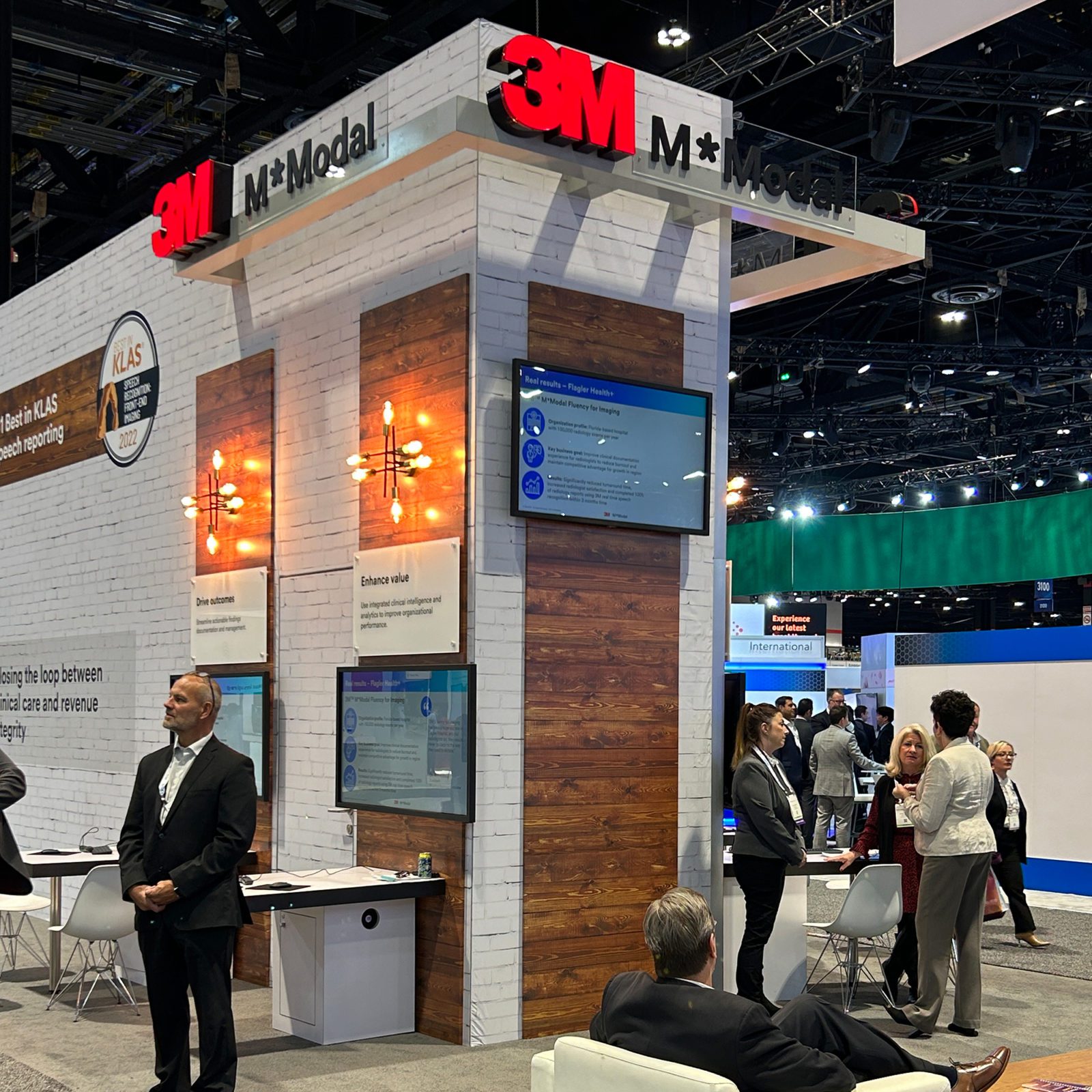 3M M*Modal
While many exhibitors have leaned into the trend of building a more homelike environment, 3M took a more rustic approach to the same idea. Brick, wood panels, and warm lighting all found their place within the booth. The result was unexpected, and it definitely stood out on the floor amongst the more corporate looking booths.
Del Medical
Del Medical's booth was very straightforward and no-nonsense. One thing we found particularly interesting was its linear design. While you could enter at any side, people flocked to the suggested entrance under the arch and moved through the space in one direction. People watching (whether at your own booth or at a competitor's) can tell you a lot about how booth design impacts results.
Merative
We really loved the vibe over at Merative's (formerly IBM Watson Health) booth. From their unique color scheme to their minimalist hanging sign, everything worked together to make a great impression.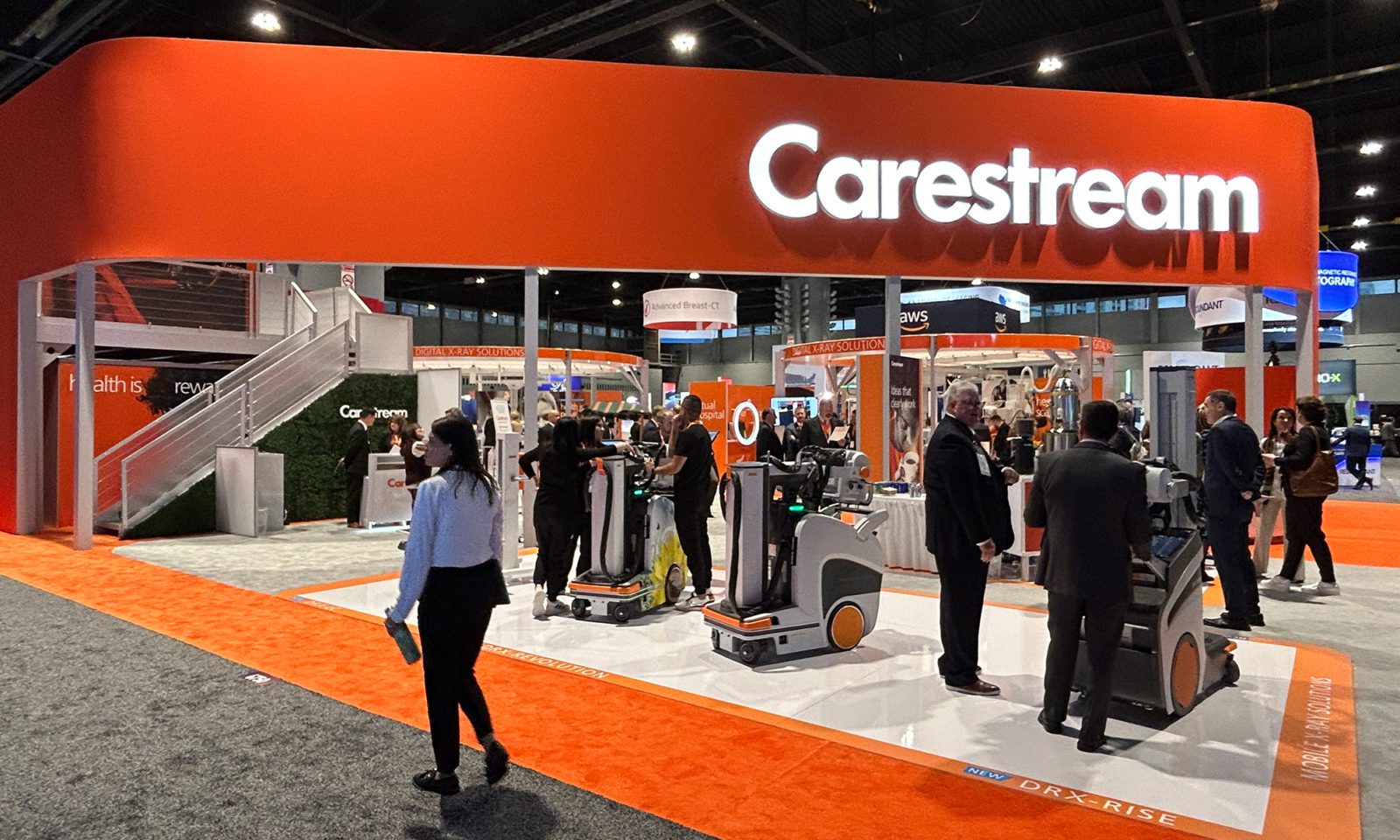 Carestream
Carestream didn't have the best location, but they made up for it with a bright orange booth you just can't miss. Their booth was framed by a clean structure with a gorgeous, glowing, channel-lit logo.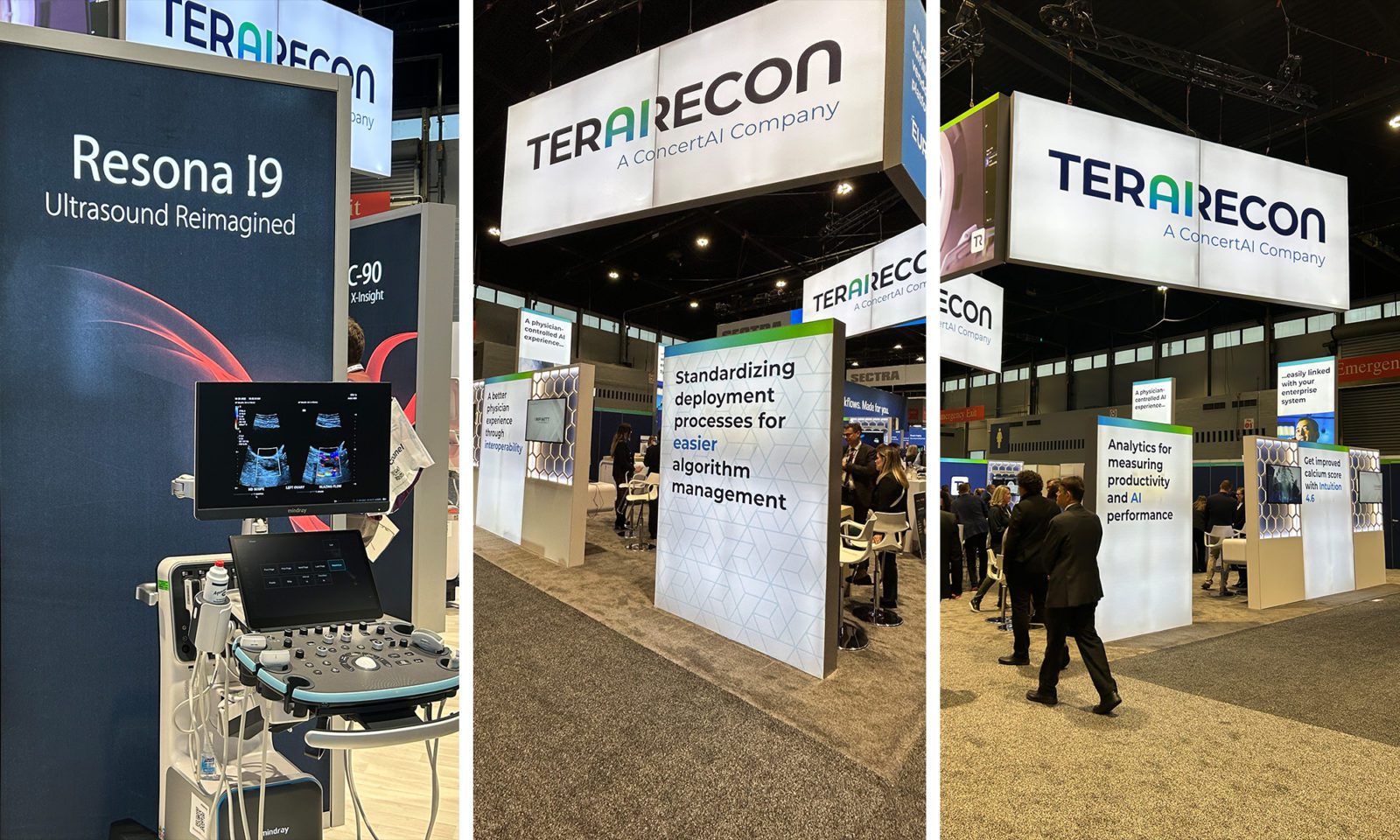 TeraRecon
We loved the placement of TeraRecon's hanging sign. It jutted out into the aisle perfectly to grab your attention and draw you in.
Canon
There were so many interesting details at the Canon booth that made it one of our favorite exhibits at the show, from the unique light fixtures to the virtual reception desk. Every corner had interactive demos and creative ways to engage with the brand and learn about their products.
Two standout design features we were particularly wowed by were the immersive LED tunnel and LED fan hologram.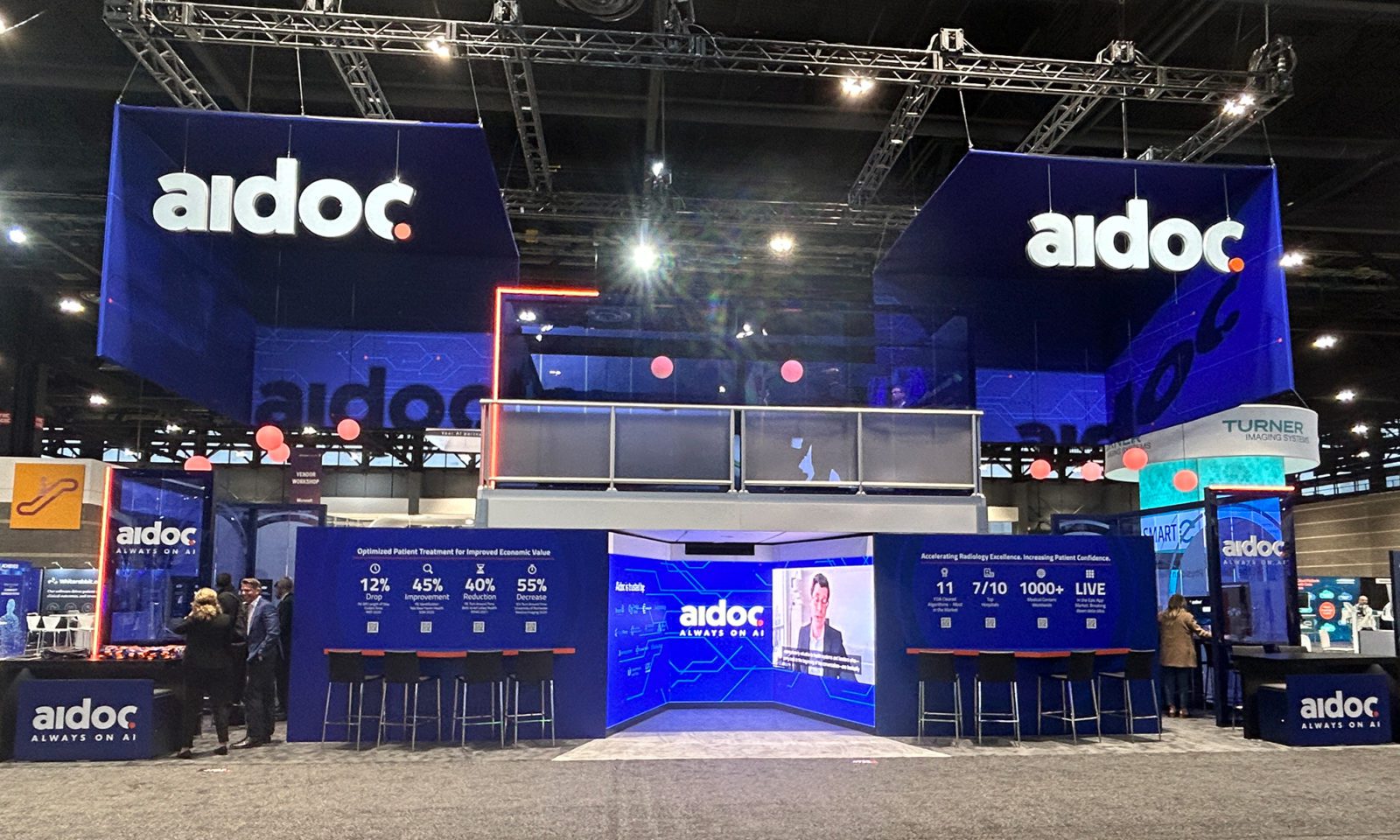 Aidoc
We might be a little biased (since we designed it) but we think Aidoc's exhibit was one of the absolute best at RSNA 2022. One of our favorite unexpected touches was the shadows from the hanging logos – a perfect example of things coming together just right at showtime.
In fact, Aidoc booked so many meetings that we had to build additional meeting areas on the fly during the design phase. We added a triangular counter and even converted the reception area to have a pull-out bench for extra seating. Next year we'll be expanding the exhibit's footprint significantly to make room for even more!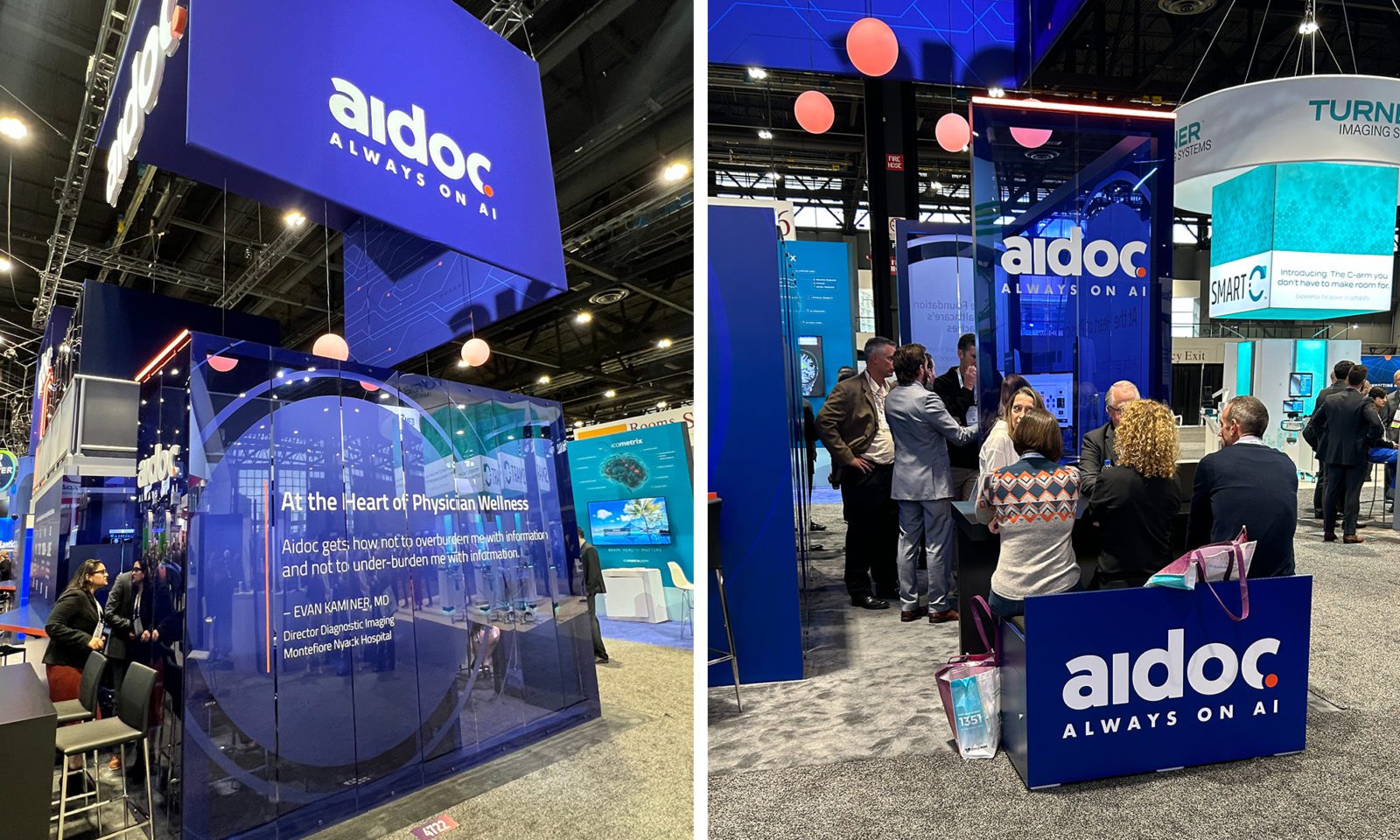 Even the parts we weren't responsible for, like Aidoc's friendly and approachable team, were right on target. We're so proud of both teams for the attention to detail put into this exhibit that made it such a success!
Check out even more of the Aidoc exhibit in our case study!
GE Healthcare
GE Healthcare made a huge splash at RSNA 2022 with a massive booth full of bright lights and next-gen technology.
Two of our favorite elements were the translucent LED structures and the LED floor. The outside of the translucent LEDs columns showed videos, while the insides housed an interactive game. Meanwhile, the LED floor paired beautifully with a video wall and tablets full of interactive content.
Hologic
We really liked Hologic's hanging sign and the architecture of their main structure. Bright LEDs drew you into their colorful space and the structure created natural pathways for attendees.
Siemens
Siemens Healthineers' booth was the epitome of German design. Very sleek, very simple, and very on-brand.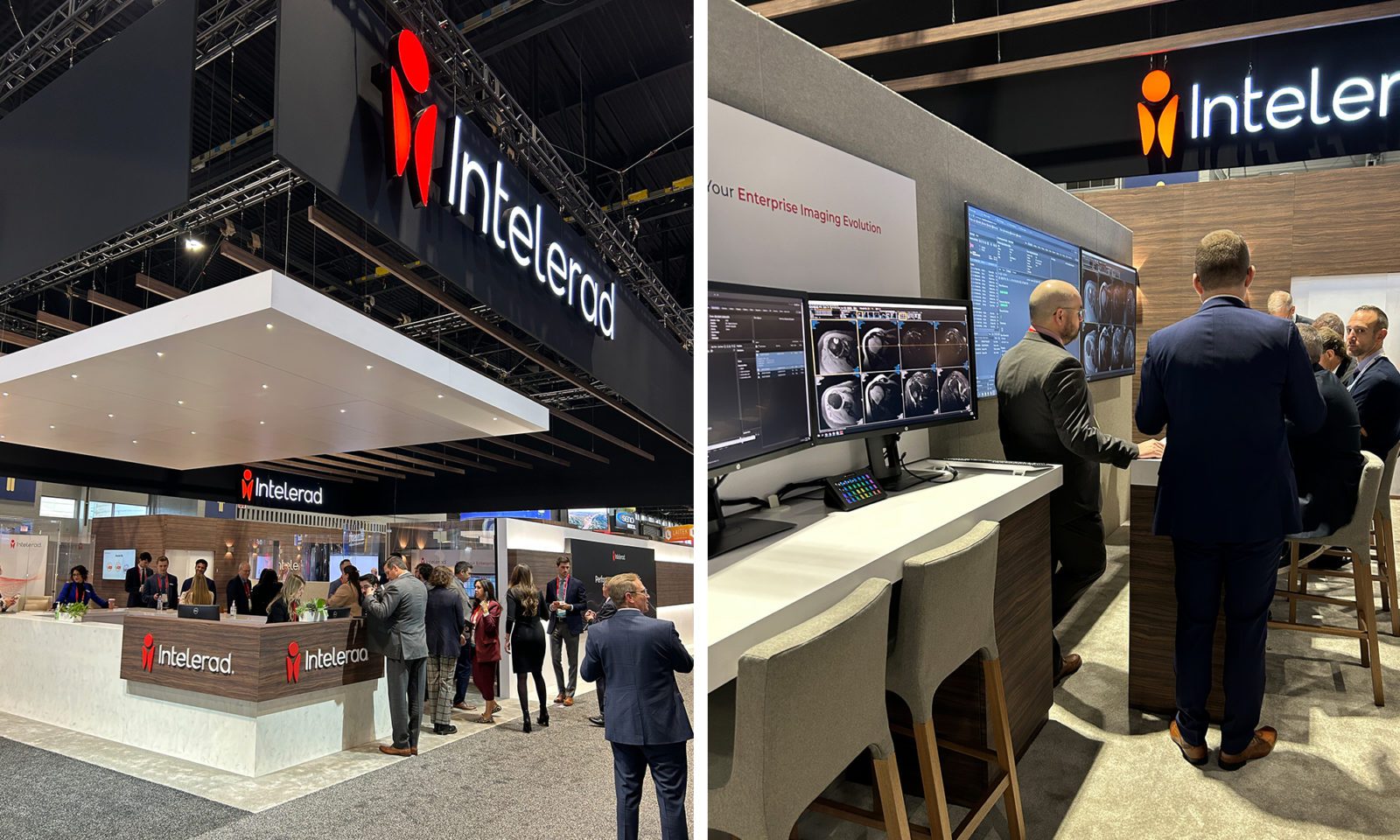 Intelerad
It's no shock we were big fans of Intelerad's exhibit – another EDE design and build at RSNA 2022. Its huge footprint featured 12 demo/meeting spaces, a 20-person theater, 4 conversation nooks, and 2 executive rooms. Our design team thought of everything – even lowering the lighting in the demo area to mimic radiologists' working environments.
One thing we knew would be extremely important was soundproofing to make the space a quiet place to get away from the noise of the trade show floor. Our soundproofing efforts were a huge success and allowed for meaningful conversations to take place throughout the space.
Looking for more firsthand accounts from the trade show floor? Check out all of our Industry Insights in our knowledge hub.