Informa Tech's
Black Hat USA 2023
may not be the largest cybersecurity technology show around, but it's full of lighting, full of LEDs, full of color, and packs a lot of punch into the space, The event, held at Mandalay Bay Convention Center in Las Vegas, displayed the offerings of more than 370 exhibitors to over 19,700 in-person visitors, including security professionals from 127 countries.
The EDE team was walking the floor from Day One, so let's explore some of the booths and something interesting that caught our attention at this year's show.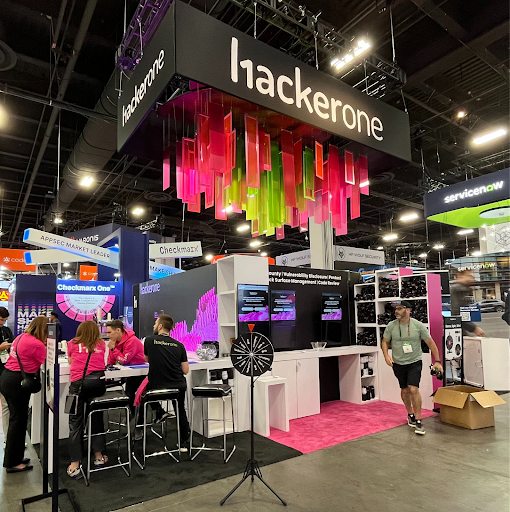 We weren't familiar with HackerOne before Black Hat but were immediately drawn to their booth. The ceiling treatment is eye-catching, and we loved the way they carried this piece of the design throughout the booth. They had a nice-sized LED wall which wasn't overdone and did a good job with the scrolling content. Around the corner was a little divider where you walk in and it's actually a conference room. It's a super functional and great use of space.
We're big fans of interactive experiences and HackerOne didn't disappoint with their create-your-own LED pin. After completing the pin, visitors could upload a photo of themselves wearing the pin to Twitter, tag HackerOne, and be entered into a drawing to win $500. That's a great example of gathering information through engagement. The booth was full of ottomans and featured a hospitality section which included an espresso station. Their whole booth looks like it's on wheels, like it moves. Making it easy to rearrange the space for the best possible flow.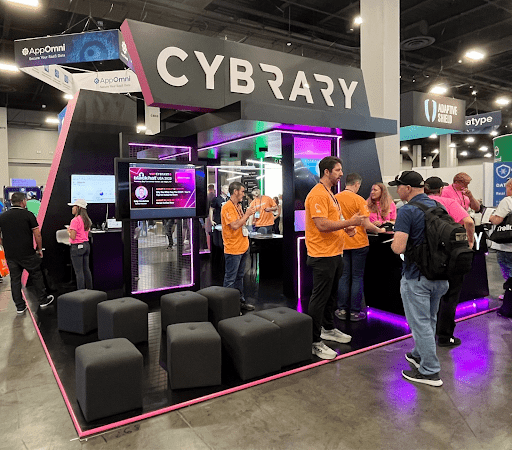 Cybrary did a beautiful job with its booth and did so without the usual rigged signage. Which is smart, because no rigging=no rigging fees. They had a nice presence at a decent height, but if you were looking for them up among most exhibitors' air space, you weren't going to see them.
They made great use of colors, especially black, and the raised floor with the pink border along with a lighted reception desk made a great impression. Their conference area was impressive, with light fixtures you could put in your home. While they didn't have lights in the sky, they did in the booth. This went well with the rest of the booth, and they had a fun feature for displaying content that worked for their space.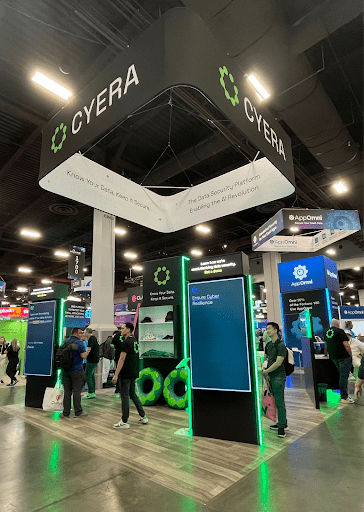 Cyera had a new booth at the show and it looked better than ever. They incorporated some great lighting, even though we'd like to see them have some lighting up high. The front of the booth was a large LED screen which really drew attention and made for a great presentation.
Cyera was a standout with their swag! They featured inner tubes, t-shirts, and small bucket hats with their green bug logo all over them.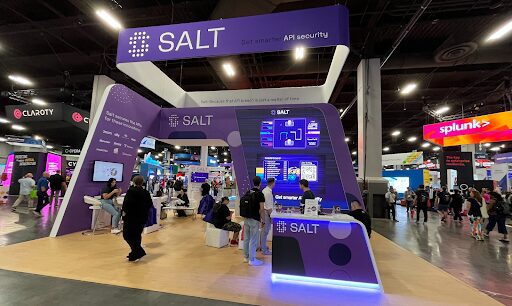 Salt Technology Group had a really nice booth this year, and we really liked the architecture. Their exhibit featured a curved corner and they did a good job of carrying that throughout the design. This represents some serious thought about their display, because anything that's rounded or curved, as opposed to a straight line, costs more. They did a great job with lighting and booth flow due to the open nature of the design. The big wall also made their presence feel bigger than it was.
Securonix is one of our favorite booths and they continued to upgrade their exhibit from RSA to Black Hat. They did a good job of lighting up their brand and combining that with LED strip lighting, which we love. They had an entire LED wall where they did their presentations, but what really caught our eye was their semi-private conference room. Their use of what appeared to be purple-printed plexi with LED strip lights was a really nice touch.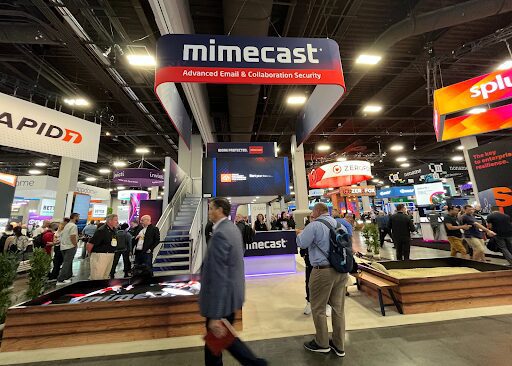 We really admired Mimecast's use of a double-deck exhibit. This is another example of putting serious money into an exhibit because building up takes an exponential amount of money to accomplish. And while the overall booth was attractive, we feel some of their money might have been better spent on putting up more lighting and dimensional letters to draw attention from attendees.
We always talk with our clients about how their booth experiences tie back to their brand. If you're going to do something interactive, make it something that will help your visitors remember your brand.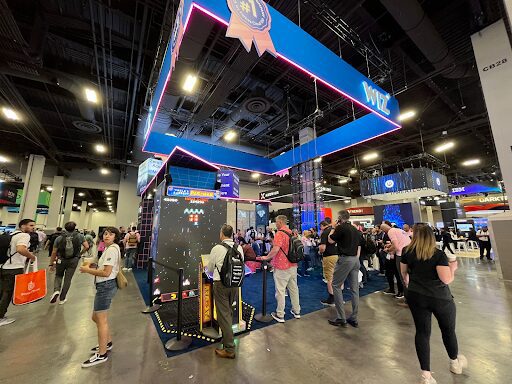 You may remember that Wiz blew us away with their RSA activities back in April. The company went all out with their Wizard of Oz theme that included Dorothy, Toto, a host of characters, AND a yellow brick road through the booth! And at Black Hat, their display was completely different.
Wiz's exhibit looked great and they joined the trend of the show toward using LED strip lighting all over the place. It's really eye-catching. They also led with the second biggest trend, which is the use of translucent LEDs, right behind the reception area.
The booth was always packed and they offered a huge Pac-Man game that had an almost continuous line of players.
Sysdig has leveled up their exhibit each time we've seen them. From RSA to Black Hat they added some nice touches, including a translucent wall with some really great content, which is where some companies fall short. They've really upped their lighting including the use of LED strip lighting, and added lighting in the interior, above and below all their stations, and at the reception counter.
Kandji knocks it out of the park with their very specific messaging. When you read their content, you know exactly what they do. Their exhibit is unique in that it presents more like a retail space, sort of like an Apple store. It's a space that makes you want to go sit inside, a place that people want to come into and engage, which is what every booth should do.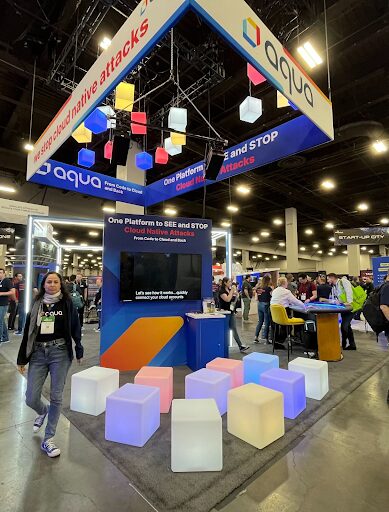 Aqua showed another unique exhibit. We love the way they lit everything from the cubes in the air to their ottomans. But our favorite feature in this booth was their use of aluminum extrusion with LED strip lighting. It created some boundaries for their space and differentiated what was happening in different parts of the booth.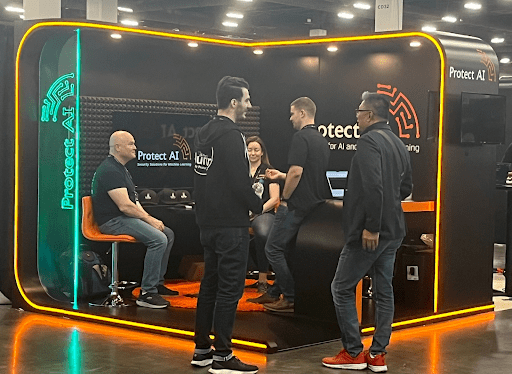 Protect AI did a great job of presenting in an unusually small space. Again, what attracted us to their booth was their effective use of lighting, lighting, lighting. Did we mention we are big fans of lighting?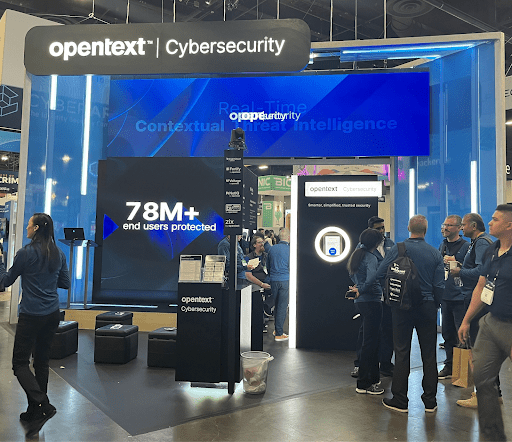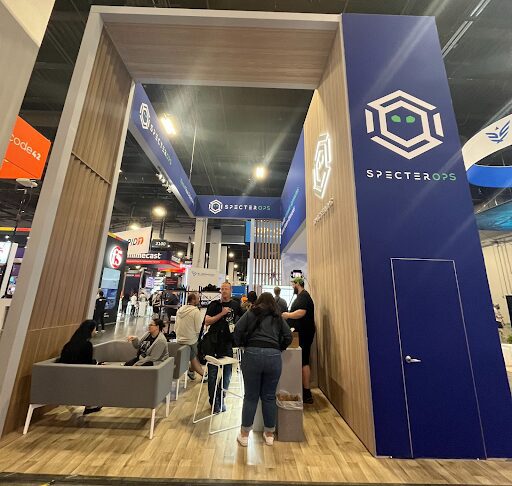 We've combined OpenText and SpecterOps to introduce an important trend we're seeing. With the expense of putting up a hanging sign increasing exponentially, many exhibitors are embracing the sort of up-and-over design you see in both these booths. This display option allows companies to get their name up high without paying the high cost of rigging a sign from the ceiling. Going forward we expect to see a lot more of this design choice.
SpecterOps also reflects another trend we've noticed over the last couple of years; the use of natural wood and wooden slats to create a welcoming space.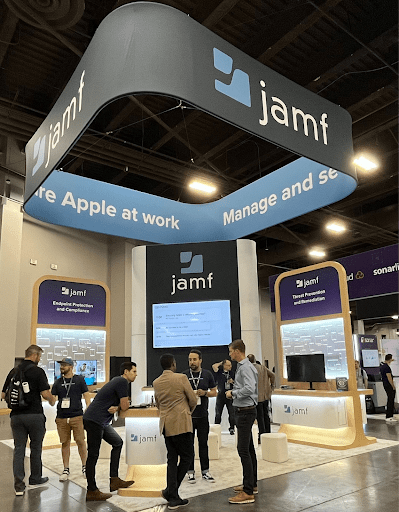 JAMF is another example of a great use of natural wood in very custom shapes. We liked their demo stations, especially the graphic treatment, along with the smaller reception desk up on the hot corner.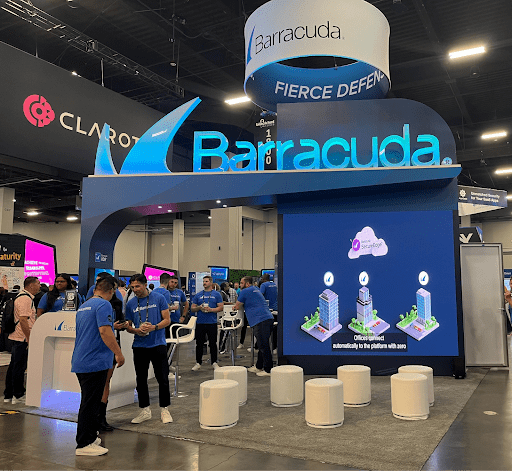 Barracuda brought an up-and-over design to their space. This allowed them to showcase their brand up high without rigging anything. This is another example of the trend toward avoiding the growing expense of rigging without sacrificing your brand presence.
Entrust is an interesting case, in that they used the up-and-over along with a hanging sign. They had a nice reception counter that didn't go all the way to the floor, which contributed to visual attraction.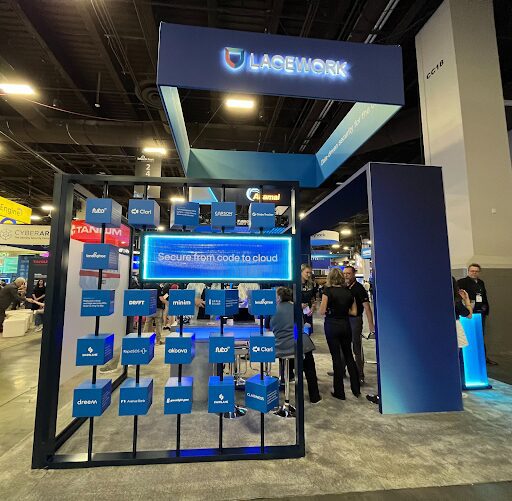 We really liked Lacework's use of a small grid with loads of information about their particular products.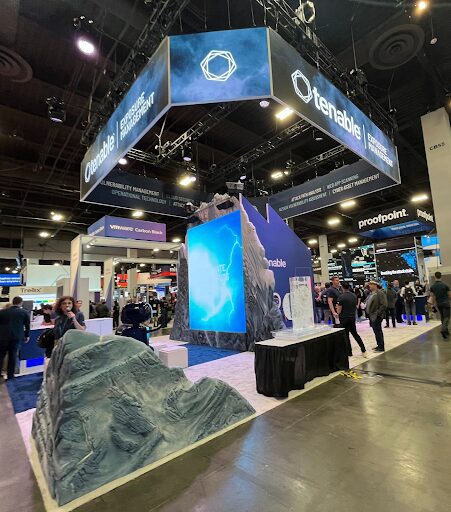 Tenable shows how LED content can change your look instantaneously. If you compare the two pictures, you can get an idea of how flexible LED can be and we hope this inspires you as you consider your next show.
The photo we're using of Akamai's booth doesn't do it justice. Why? Because all of the LED content you see is moving! It's really visually exciting and makes for a beautiful booth.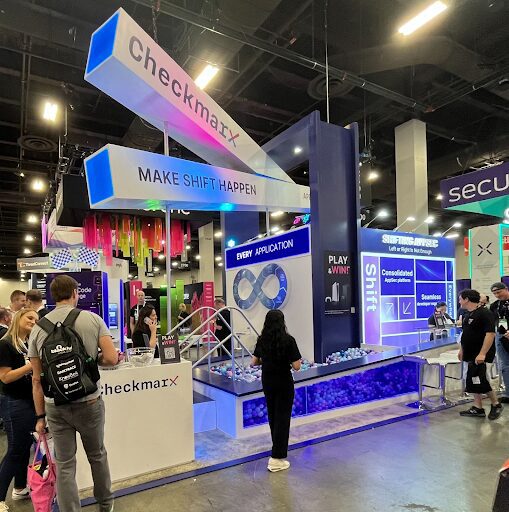 The Checkmarx booth had some interesting things going on which made for a nice display. They had great messaging and their booth experience was excellent with good lighting and a ball pit.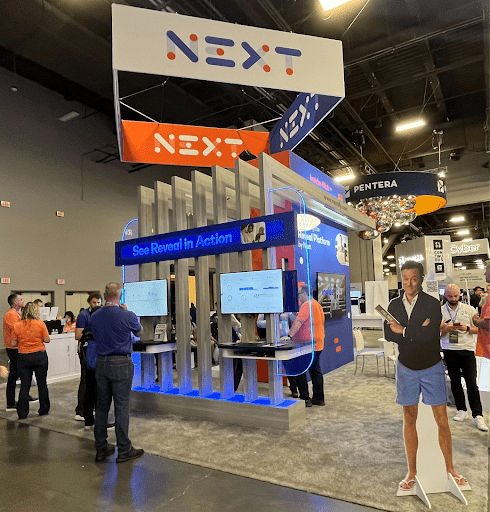 If you needed a break from big, bright, and shiny at Black Hat, Next Security was there for you. We loved their architecture, and with their use of natural wood and slats, they really stood out because not a lot of people do anything natural.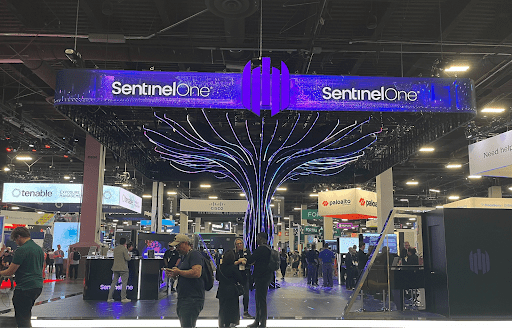 SentinelOne's tree is the focus of one of the most spectacular exhibits we've ever seen. With moving lighting throughout the tree and a raised LED floor, we might be tempted to call this one a show-stopper. Kudos SentinelOne – what's next?
Are you making authentic connections with your target market at every show? Productive connections require strategic planning and execution from start to finish. Contact MenasheJ@edecorp.com to talk about how we help with that.