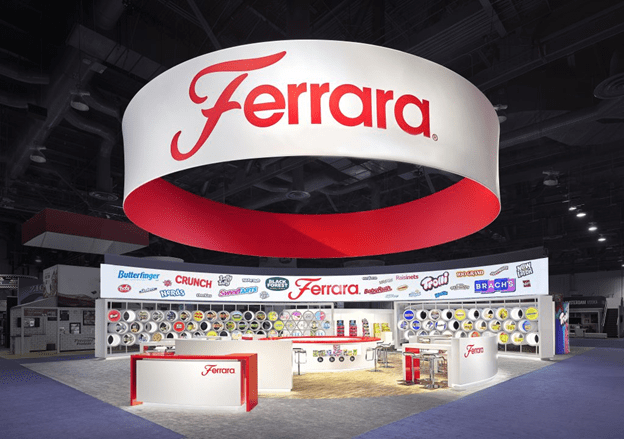 The Client
Ferrara Candy Company shares "a delight in every bite" by bringing consumers brands like Trolli, Laffy Taffy, Nerds, Keebler, and Famous Amos. Their diverse portfolio of candy and confection brands has made them a leader in the industry since 1908.
The Challenge
Ferrara's 100+ year journey through the candy industry has been driven by innovation. They wanted to create an exhibit that would help upgrade their brand perception and prove their continued status as an innovator.
The Experience
We designed Ferrara a 50' x 100' exhibit for the Sweets & Snacks Expo that was truly top of the line. It includes a 70' curved header, a 40' curved interactive wall, and even holograms that show off product packaging and store displays. We also utilized translucent LED screens to highlight their latest candy innovation – Nerds Gummy Clusters. The screens brought visitors into the space and provided a natural conversation starter for Ferrara representatives.
Our goal was to use technology and alluring product displays to highlight Ferrara's latest innovations. The show-stopping exhibit proved to buyers that their candy drives results and that they remain the top innovator in the industry.
While it was not our first time exhibiting at Sweets & Snacks, it was the first time the trade show was in Indianapolis. When we arrived, we found unexpected power requirements and a massive generator in the booth space.
Our team quickly got to work to come up with a solution that removed the eyesore generator and brought in sufficient power from another location. Surprises happen all the time at trade shows – but having a great team behind your exhibit makes all the difference!
The Team
This was our first in-person trade show since March 2020 but that didn't hold our team back in the slightest. We'd like to shout out three team members for their exceptional contributions:
Greg Tivadar was the vision behind the creative and content for all of the screens in the exhibit. His designs truly set this exhibit apart!
Shannon Dunne, our Director of Account Management ensured that all the moving parts and pieces came together on time on budget. Thanks to her, there were no surprises on the trade show floor – well, none that were visible to the public anyway!
Our team member Jacob Cooper completed his first project as an Onsite Supervisor. He was energetic and engaged, and asked great questions to help him improve with each show.
The Results
Ferrara ended up winning "best in show" for the best booth design at the Sweets & Snacks Expo. They also won "most innovative new product" for their Nerds Gummy Clusters. Not every trade show offers formal recognitions, but winning awards like these makes all of our hard work worth it!