At the beginning of each year, our design team is tasked with putting together our annual list of trends for the upcoming year.  We use our experience in addition to design trends in architecture, graphic design and fashion to create this report. Check out what will influence exhibit design in 2019.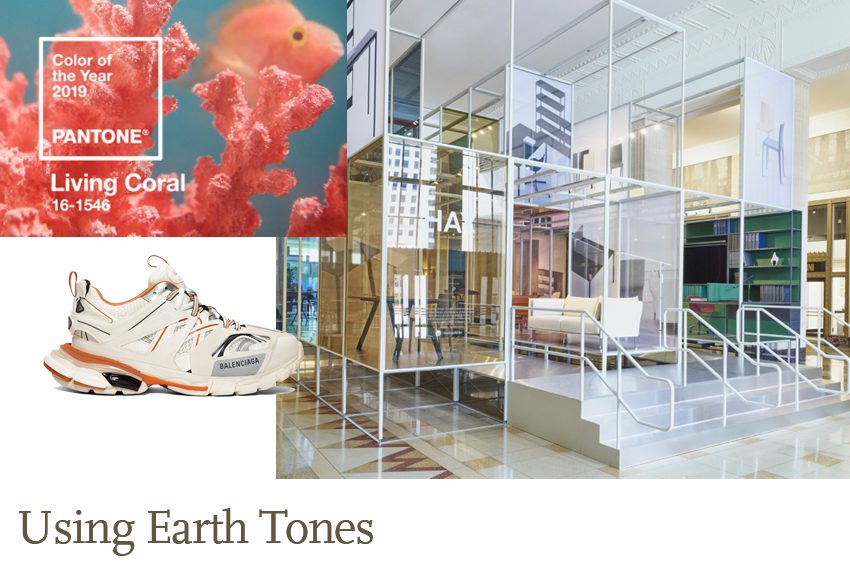 The world of exhibit design in 2019 is finally starting to shift from white and white and white into warm tones.  Earth and jewel tones popped up quite frequently in showrooms for Herman Miller and Knoll at Neocon, while footwear trends are moving toward hiking and warm tones for 2019.   Continuing that trend is Pantone, which selected 16-1546 Living Coral as its color of the year, a soft orange with a slight pink undertone that compliments the earth tone trend.
To pick up on some of those elements, check out the following materials to incorporate into your exhibit design vocabulary for 2019.
Brown leather
Wooden furniture
Cork surfaces
Jewel tones
Non-geometric designs
Houseplants as decorations
Movement attracts the eyes. Combine that with unique data sets and a story to tell, and you have an exhibit that utilizes the fleeting moments of attention to bring attendees into your space.
The use of visuals that are more than surface deep has seen a huge boost in the effectiveness of these high cost video walls, and it also puts the data in front of attendees to start conversations.   In a world of analytics and proven results, data is key to attracting millennial buyers.
The overarching exhibit design trend in 2019 is simple: Make people feel at home and they'll want to stick around.  You can still maintain your brand's message without sticking purely to hard vinyl surfaces and plain white seats. Although modernity used to imply stark black and white, earth tones and soft textures are taking over.
Use of softer textures welcome people into brand spaces and make the connection between brand and consumer more personal. Instead of inviting attendees to your sales booth, you can invite them into your brand's home for a cup of coffee.  Here are some ways to make your exhibit feel a little more comfortable.
Woven textures, quilts, and visible stitching to give objects a handmade look
Pastels, earth tones, and jewel tones that are easy on the eyes
Surfaces covered in fabric, felt, and cork to look softer
Soft couches and warmly-lit lounge areas

Working in conjunction with the idea of earth tones and home away from home is the resurgence of mid-century modern in design.   We've seen it for years in furniture, in room designs, but now we are seeing it in graphic design, special palettes and overall tone.
The use of subtle jewel tones and variances with warmth and graphic tone creates a different feel to a space.  In an era of white and modern, the soft feel of midcentury modern design feels different and fresh.   Be on the lookout for Art Deco, which has seen a unlikely growth in logo design, popularity and exhibit design.
Want to hear more about our exhibit design insights and how we can improve your trade show program? Get in touch.