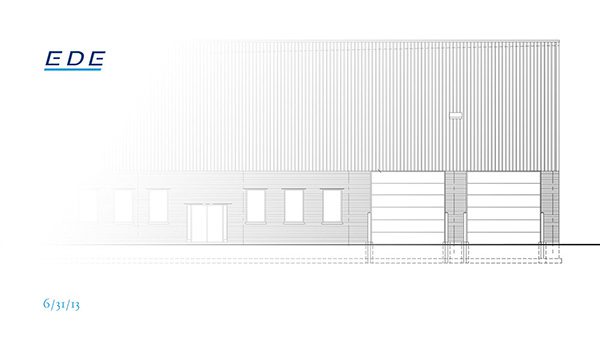 On the drive down 74th street, visitors to EDE often question what is going on with the lot next door.  Our answer has always been that it is the location of our future growth.  Well the time has finally come; EDE's facilities are expanding, with the completion date scheduled for November of 2013.
The new building will be built with a focus on warehousing, and as such we are implementing increased energy efficiency and logistical management to keep overhead costs down.  Along with the new warehousing space, the space will be used to increase our exhibit preview abilities.  The new building will be 100' wide x 370' long x 30' tall, all without internal supports meaning exhibits of any size can be easily previewed with greater flexibility.
What of the old space?  The fabrication/woodworking shops will get an upgrade in size as well by expanding into the old warehouse.  As more and more projects come in, the extra room will be even more appreciated.
The new space is only a portion of the tangible growth.  Since the beginning of the year, we have also added to our team with the hiring of new sales, account management, carpenters and marketing staff members.  We would not have the need to expand if it weren't for our clients, both new and continued. Thank you for driving our business to this point.
Check back for periodic updates on the expansion and photos of the progress.