At the beginning of the new year, our team hit the floor in Las Vegas at the Consumer Electronics Show (more commonly known as CES 2023) to see all of the latest and greatest products and technologies on the market. With over 3,200 exhibitors, there were some truly incredible exhibits to explore. Here are a handful of our favorite booths, demos, and more from CES 2023.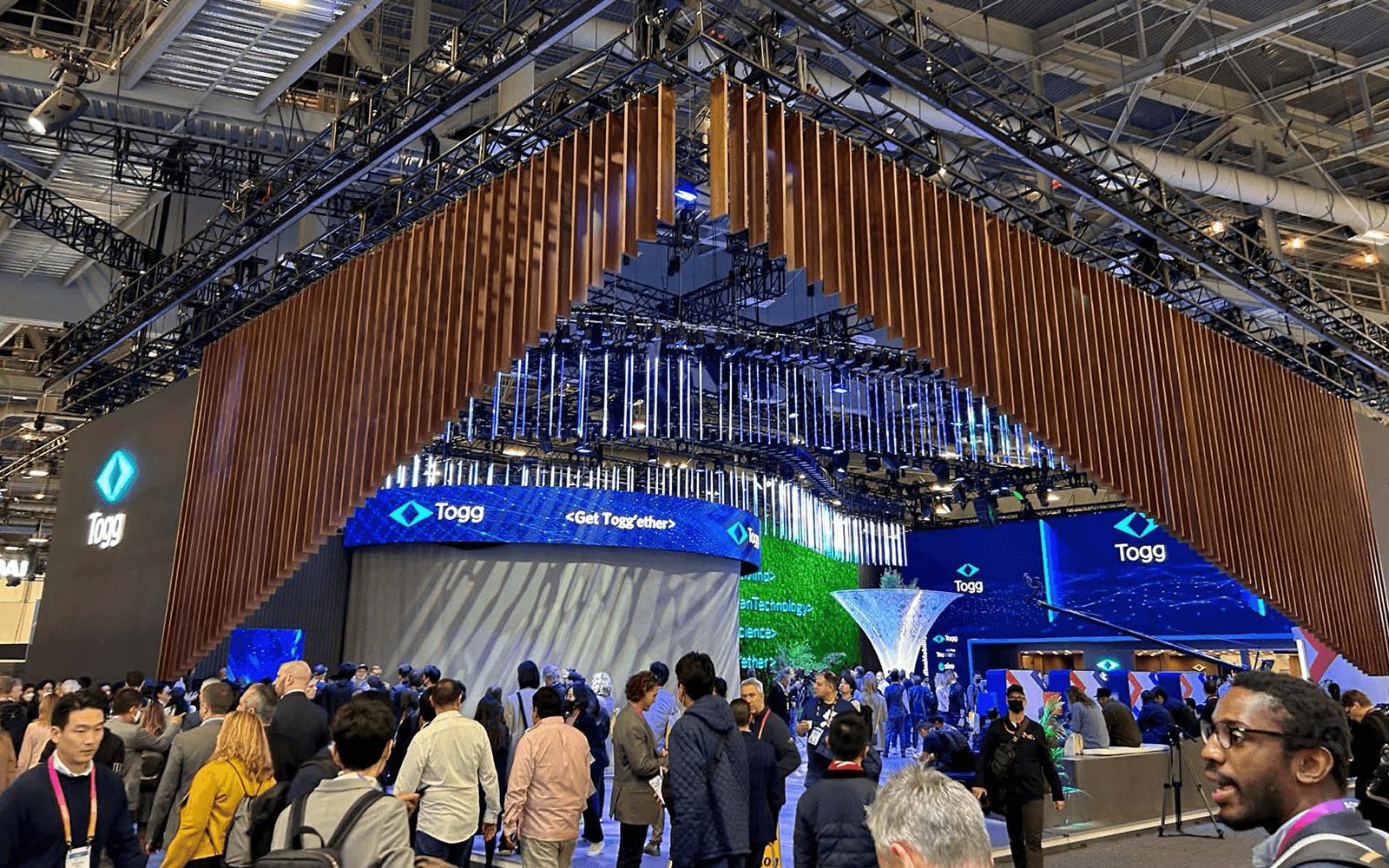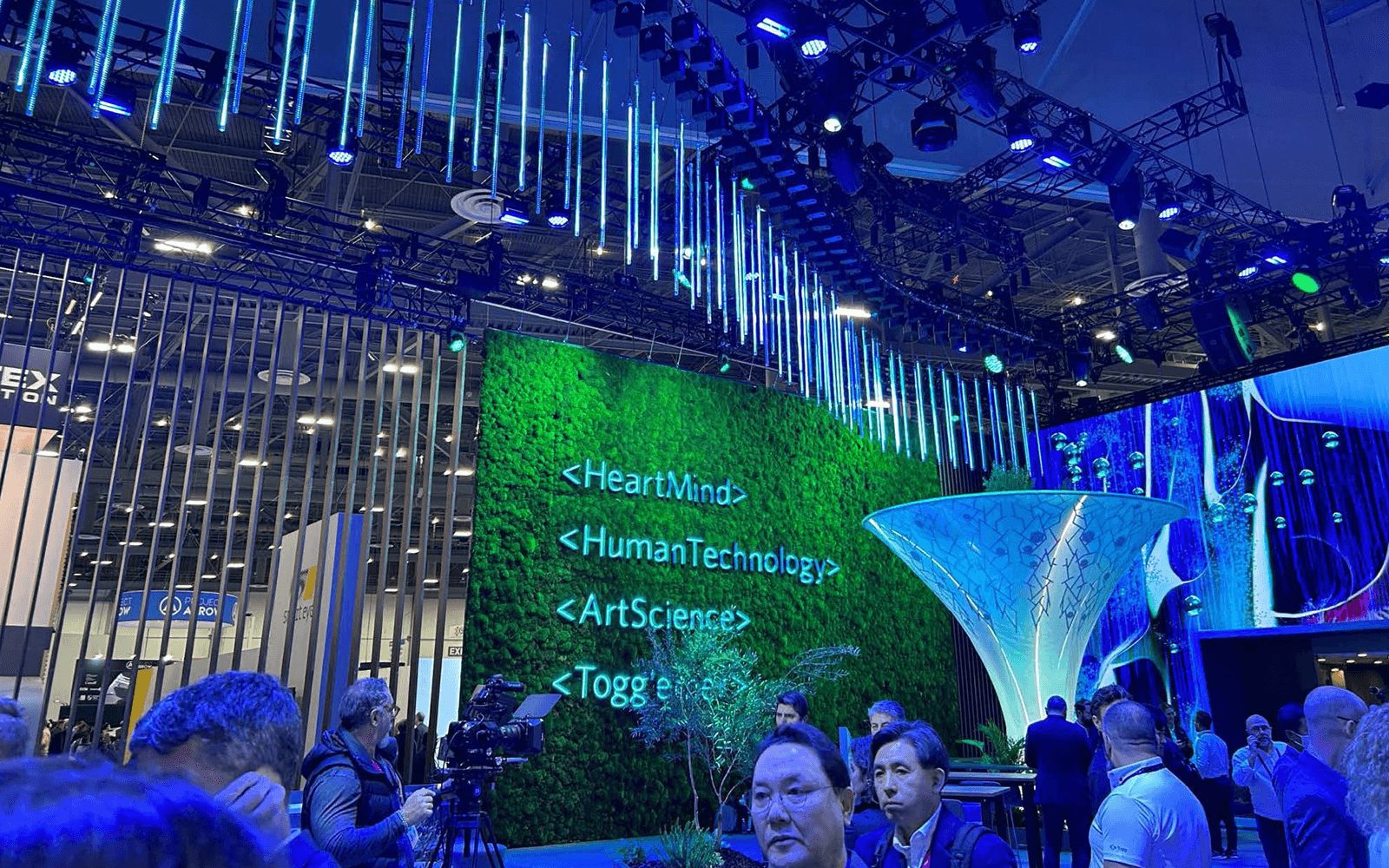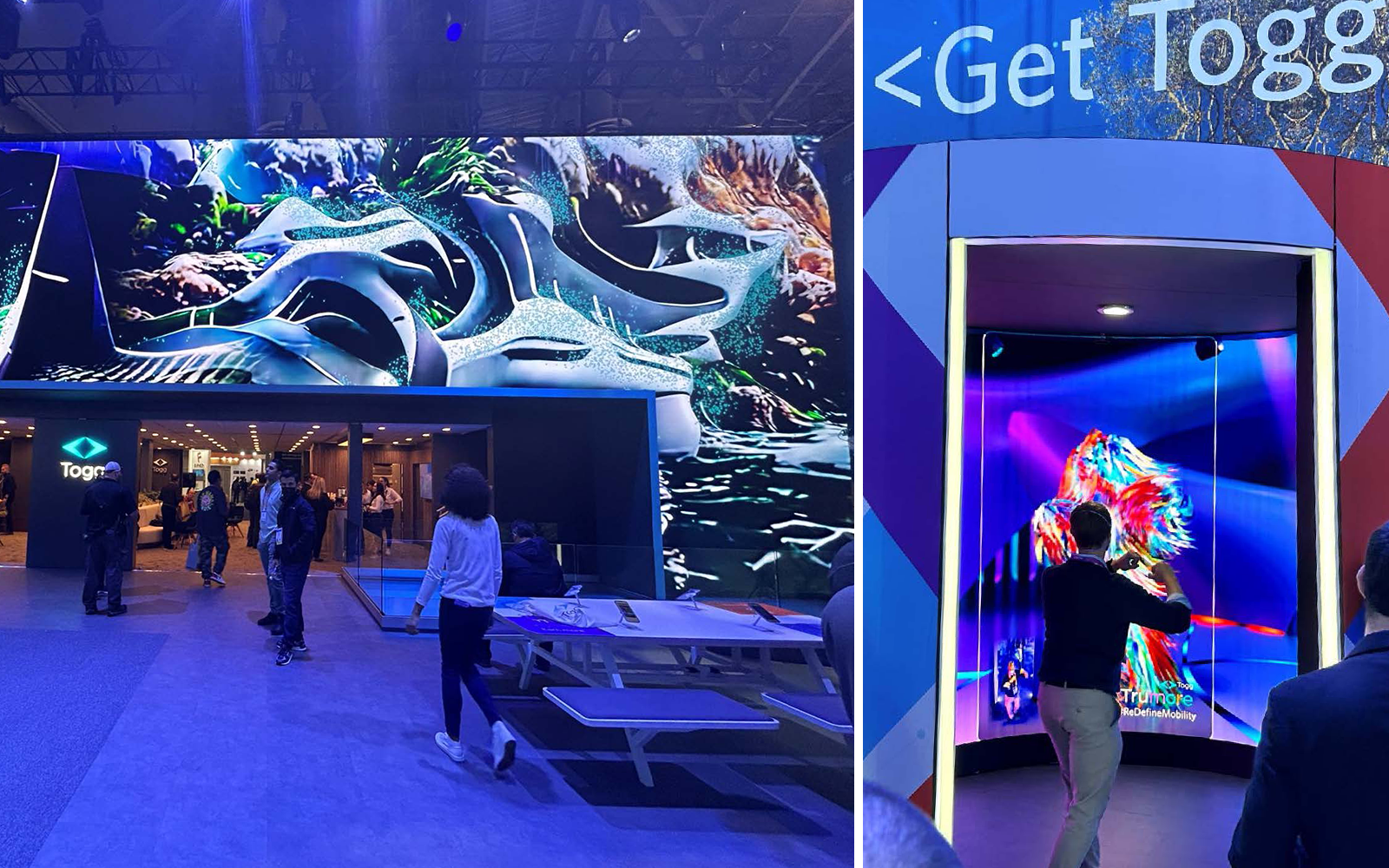 Togg
Togg's booth was huge and visually stunning. The entrance featured wood paneling on a moving rig that almost "danced" as you approached.
They also had a large LED wall that led to their private meeting area and coffee bar. Togg is a Turkish company and we loved the tie-in of them serving Turkish coffee as a fun and memorable touch.
As you moved deeper into the booth, you were greeted by an immersive experience. One side of the hallway featured a massive LED wall while the other side was covered with mirrors – a super smart solution for a space like this.
Togg's booth also featured a digital twin experience where you could choose an animal or character and have it mimic your dance moves. We predicted we'd see more tech like this in 2023, and it's so cool to see experiences like these hitting the floor.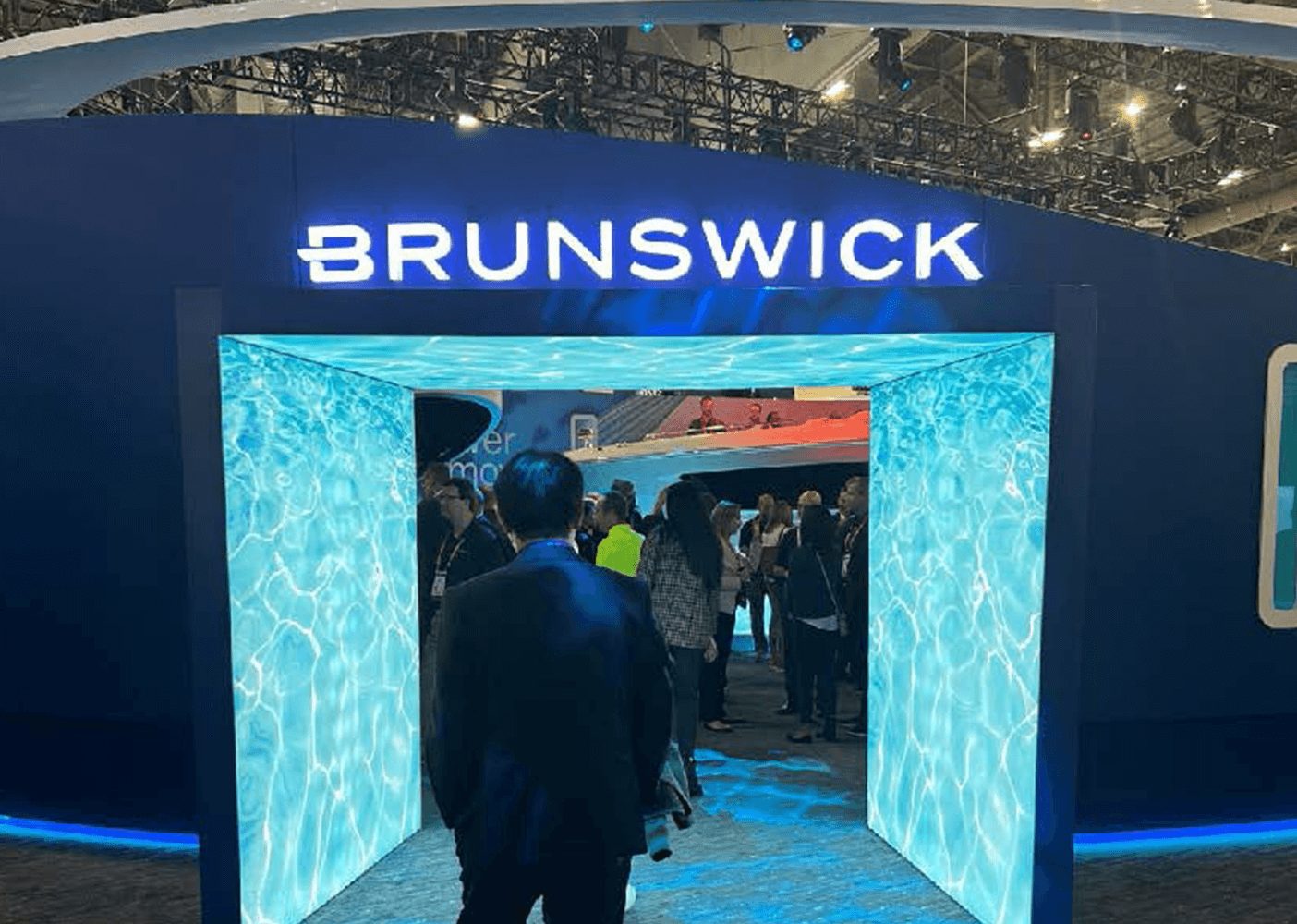 Brunswick
Brunswick's exhibit also featured an alluring entrance, with a water-themed LED tunnel and floor projections. We liked all of their tie-ins to the marine industry, including the layout of their space. With a single entrance and exit and only porthole-style windows to the rest of the floor, it almost felt like you were on a ship.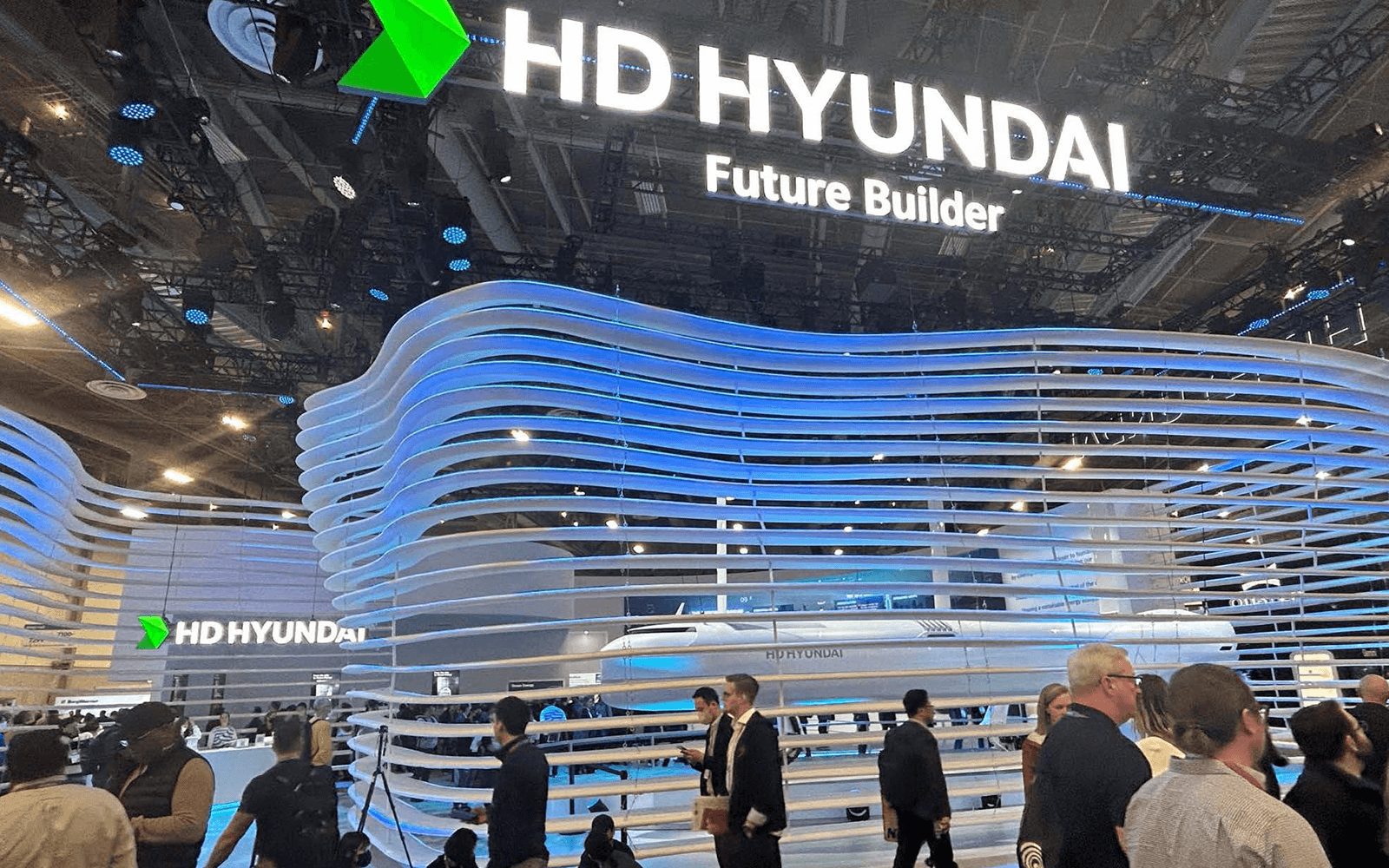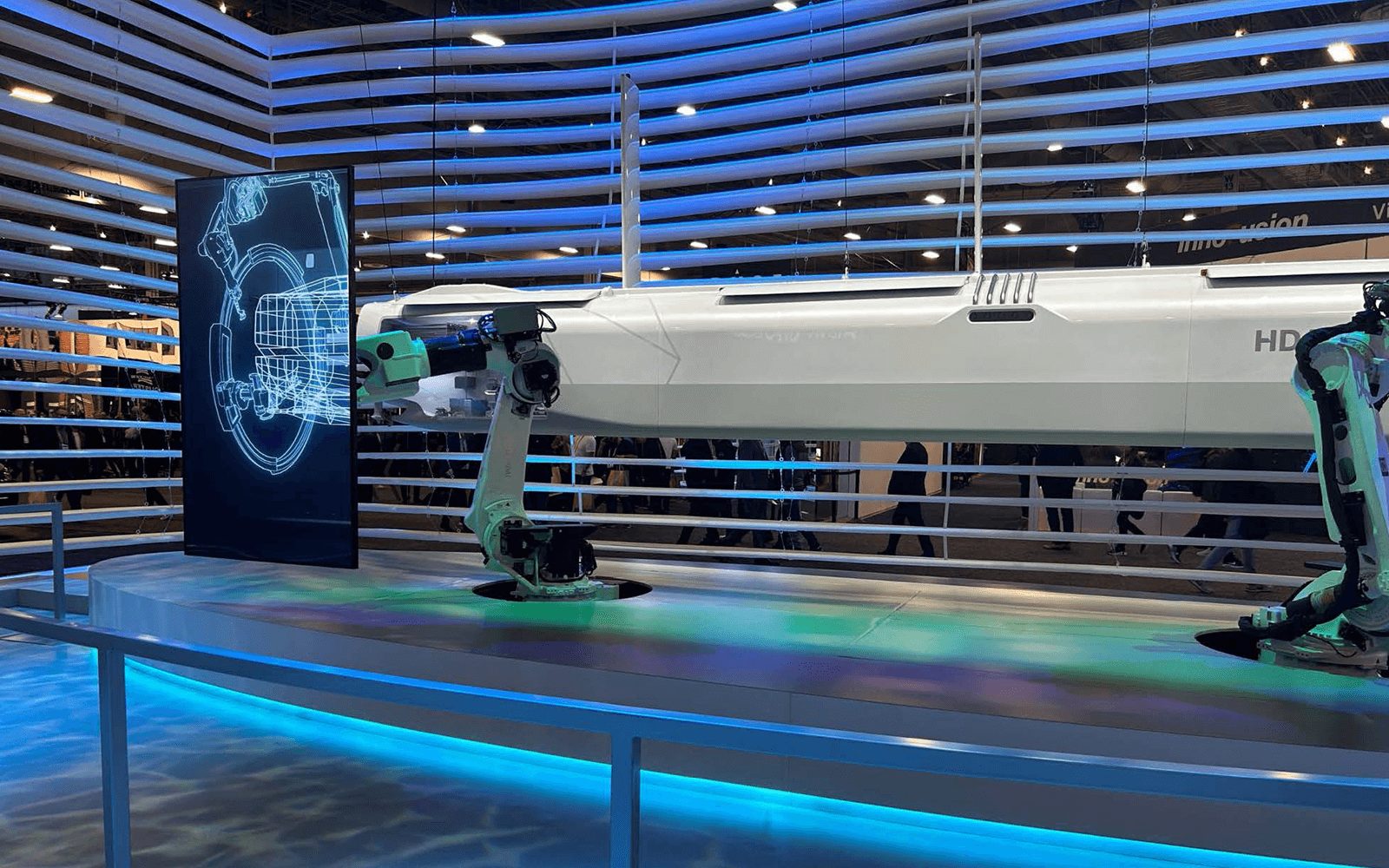 HD Hyundai
The exterior of HD Hyundai's exhibit was spectacular. It let you see inside the booth just enough to pique your interest and draw you in. And, with their eye-catching, channel-lit sign hanging overhead, you simply couldn't miss their space.
Within the exhibit, we loved their product demo. It used a pair of robotic arms to show their products in a dynamic way.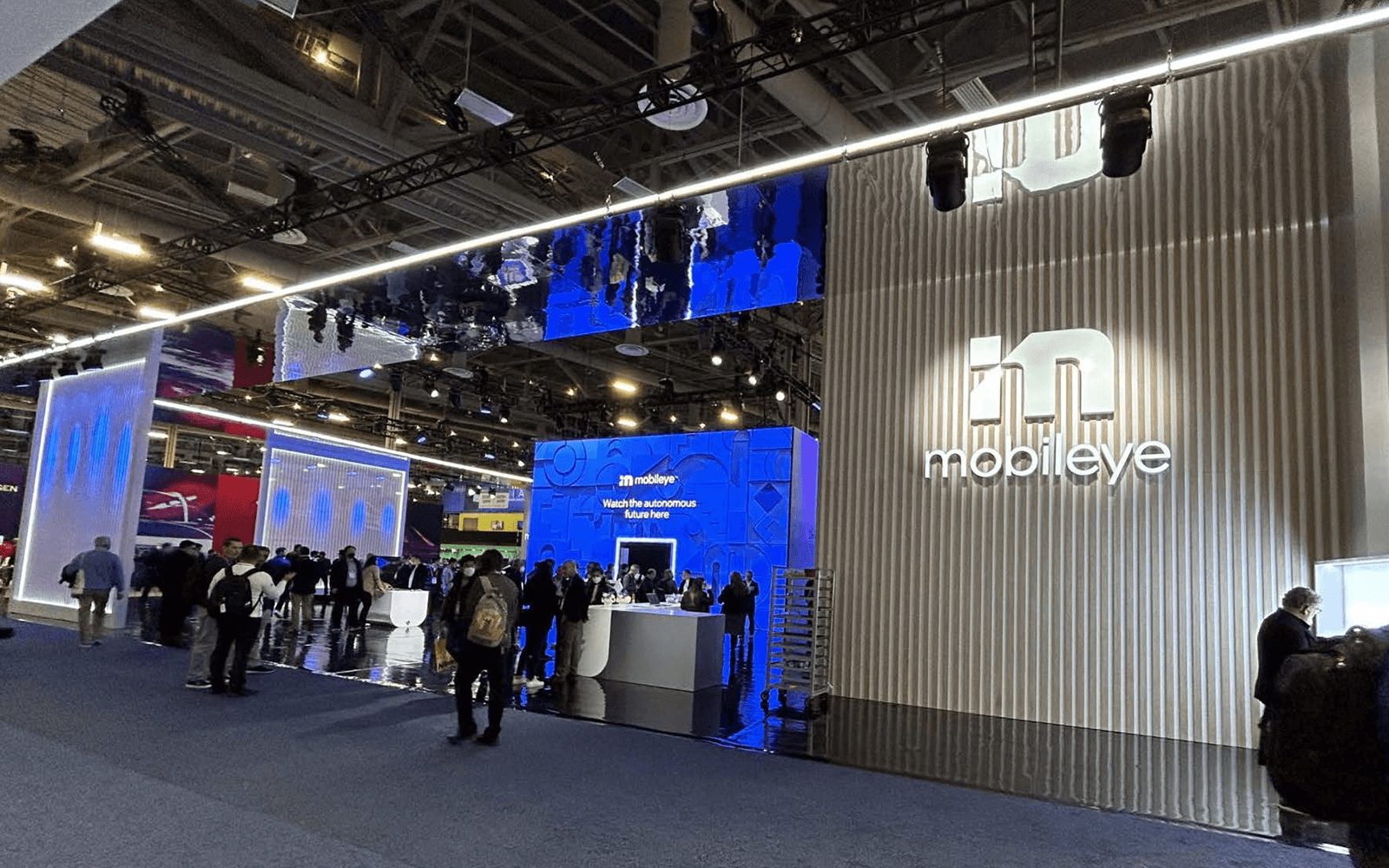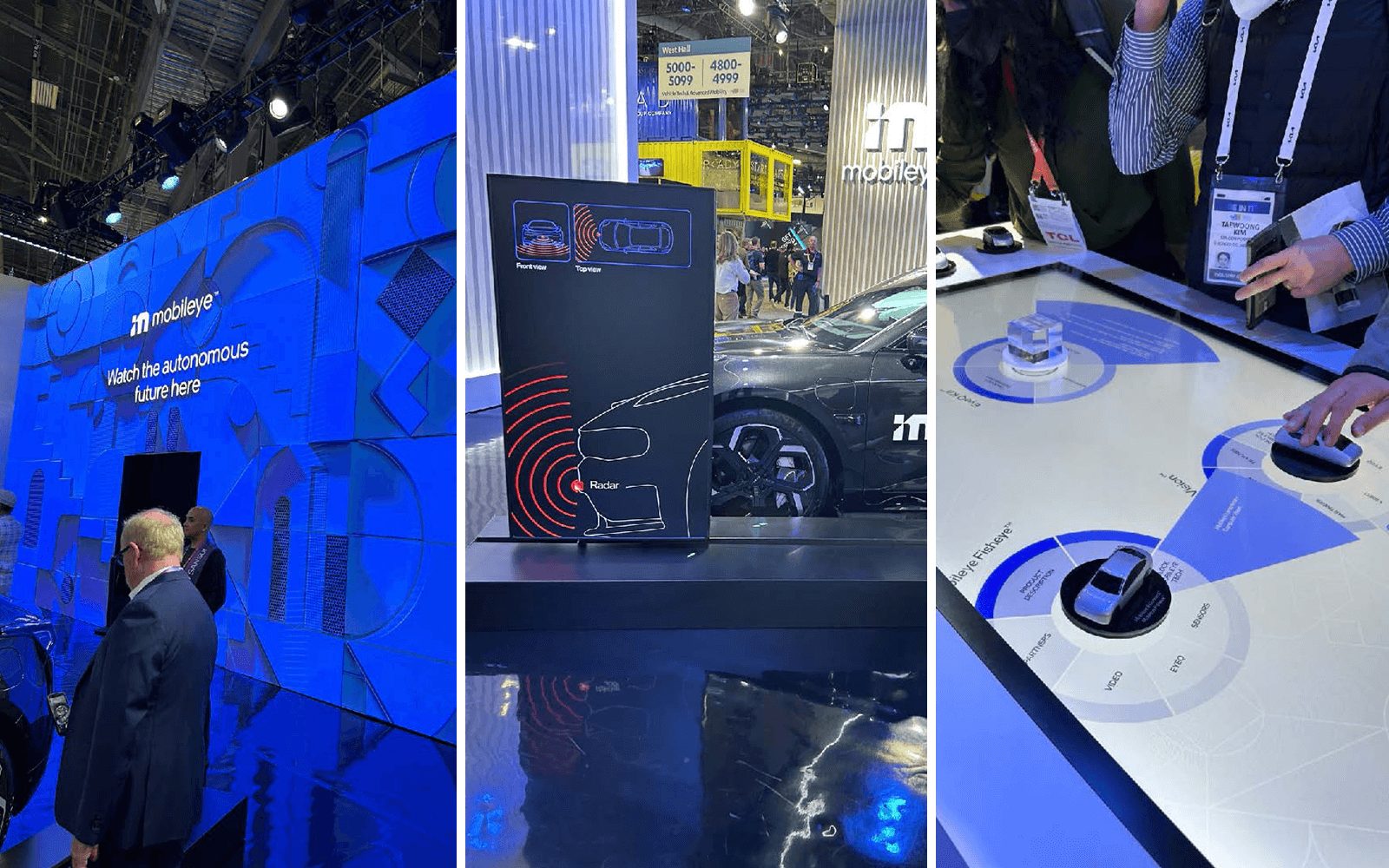 Mobileye
Speaking of awesome product demos, Mobileye was one of the best when it came to showing off products in unique ways.
First up was a demo featuring a screen on a moving track. As the screen moved in front of the vehicle, it showed all of Mobileye's safety sensors within the car – almost like an X-ray.
Next was a more hands-on demo featuring small model cars on an interactive touch screen. You could place the cars on the screen and move them around to access information and videos about each product. You could opt to have a representative walk you through the information or explore independently at your own pace.
We also loved the exterior and entrance to their space. It featured a mirrored ceiling, wooden slats, and several LED walls playing tons of dynamic content.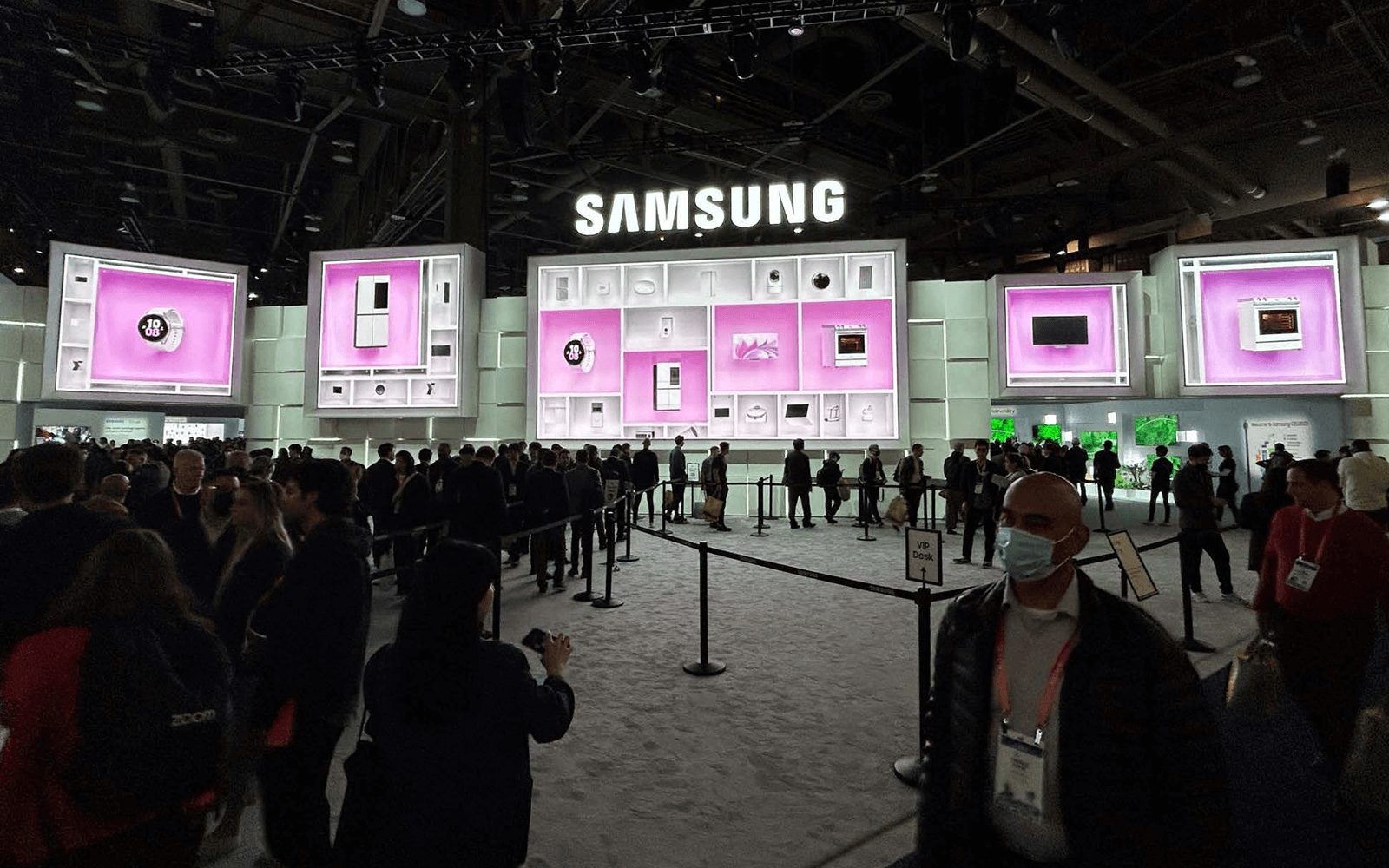 Samsung
We often try to focus on some of the lesser-known companies in these reviews, but we just couldn't help ourselves with this one. The entrance to the Samsung booth was too cool not to share. And as you can see from the very long lines wrapped around it, it was a huge hit at CES 2023.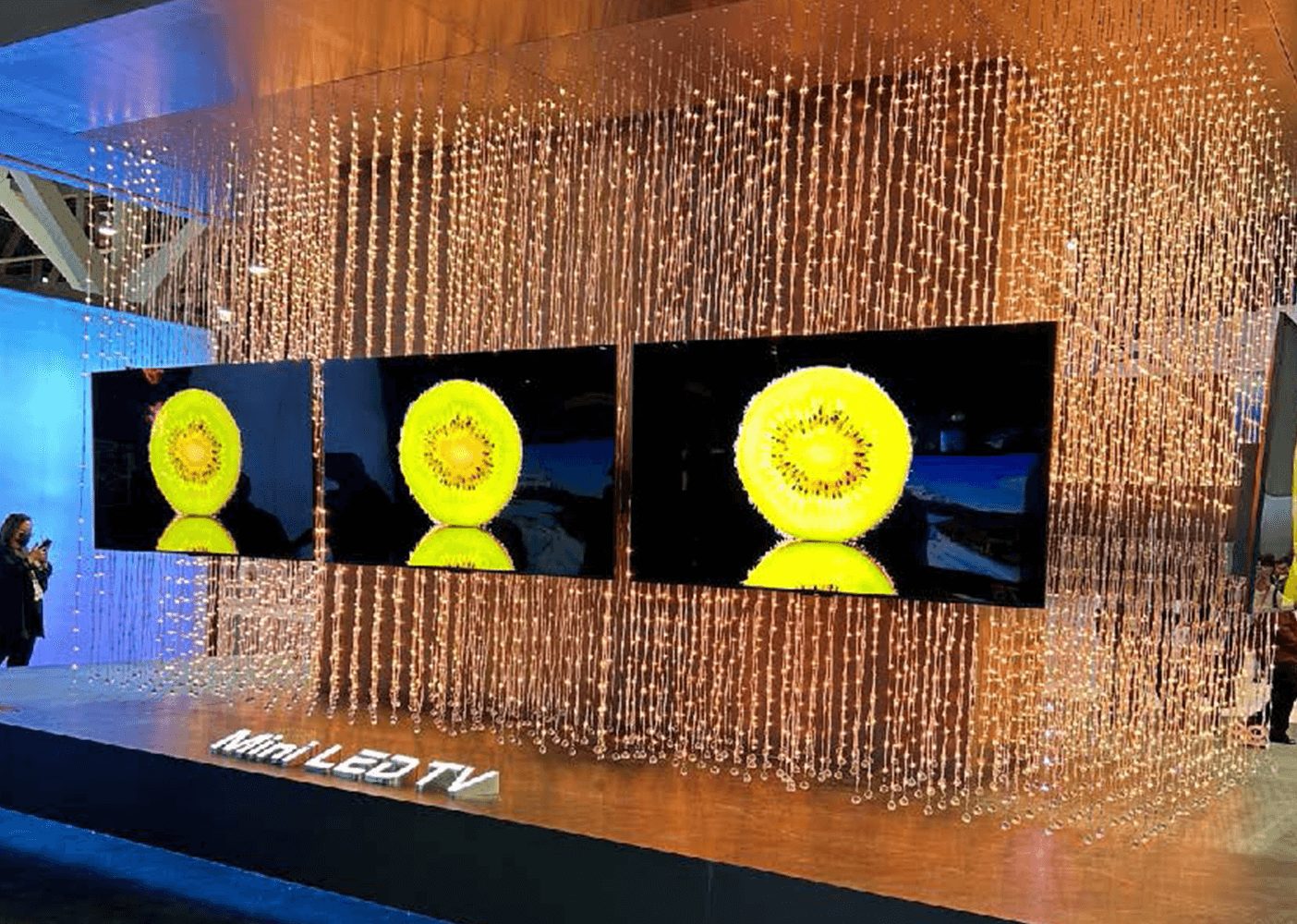 Hisense
We loved this space at the Hisense booth showcasing their mini LED TVs. The lighting was just beautiful.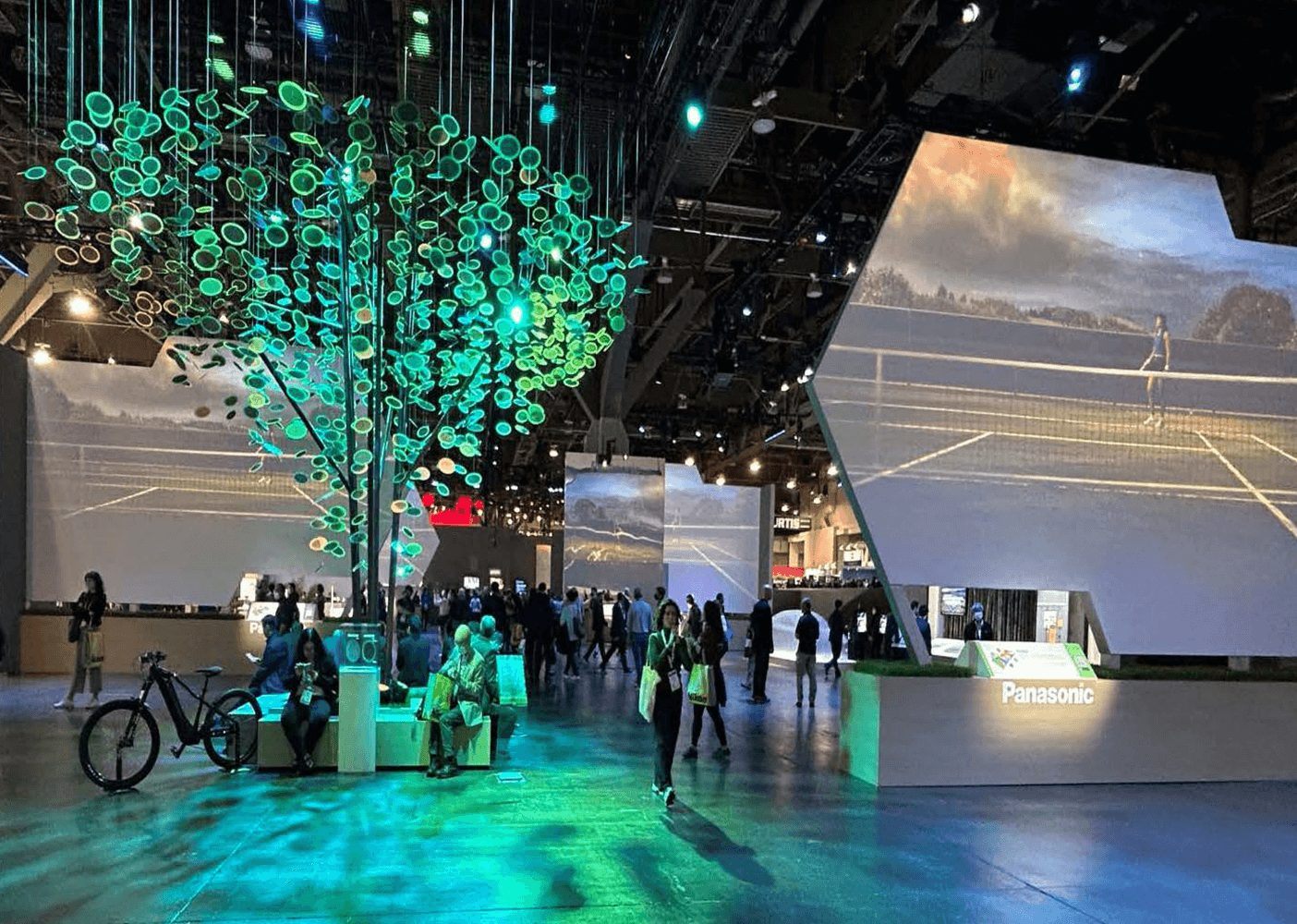 Panasonic
The Panasonic exhibit featured a tree-like structure made from lit discs suspended from the ceiling. It drew people in (including us) to come check out the space and see what they had to offer.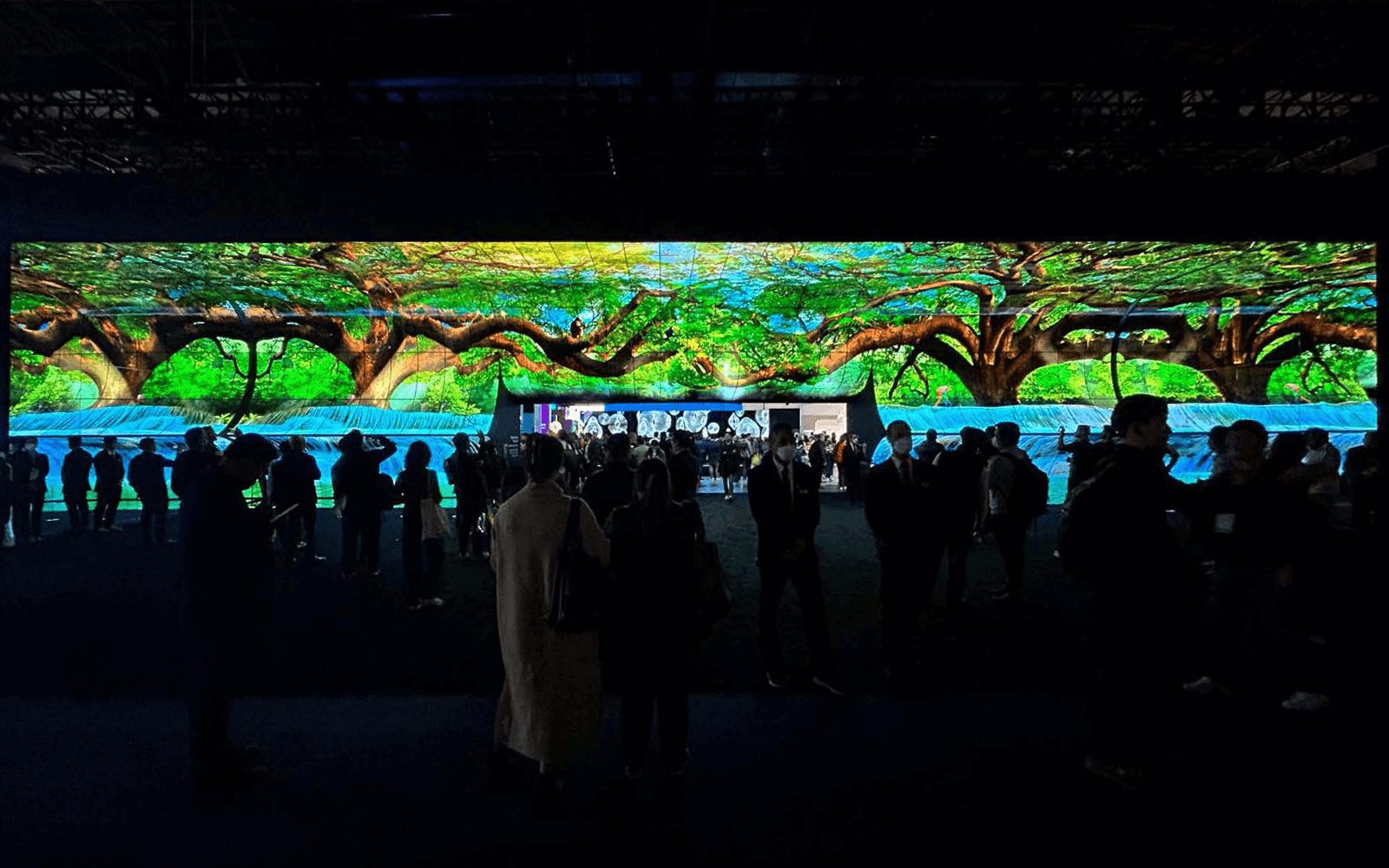 LG
The exterior of the massive LG booth was covered in curved LED monitors showing all sorts of gorgeous scenes. The content built for the display was incredibly immersive and felt very real. Amidst the hustle and bustle of the floor it was nice to just stop, watch, and enjoy.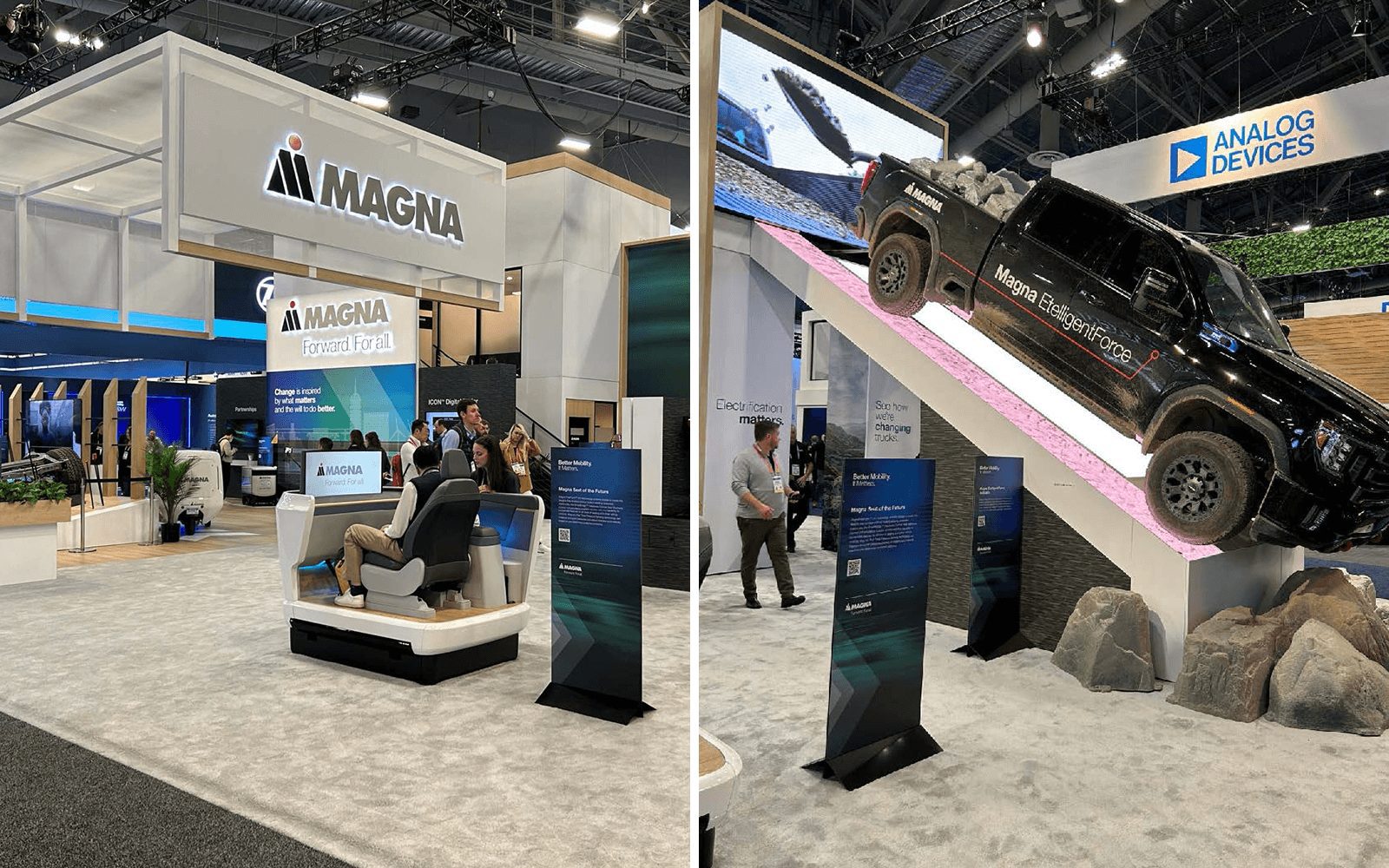 Magna
Magna's booth may not have been the largest on the floor, but it sure made its presence known. Their hanging structures, massive truck, and the sheer magnitude of their design made their exhibit hard to miss. The design was clean, simple, and memorable – we loved it!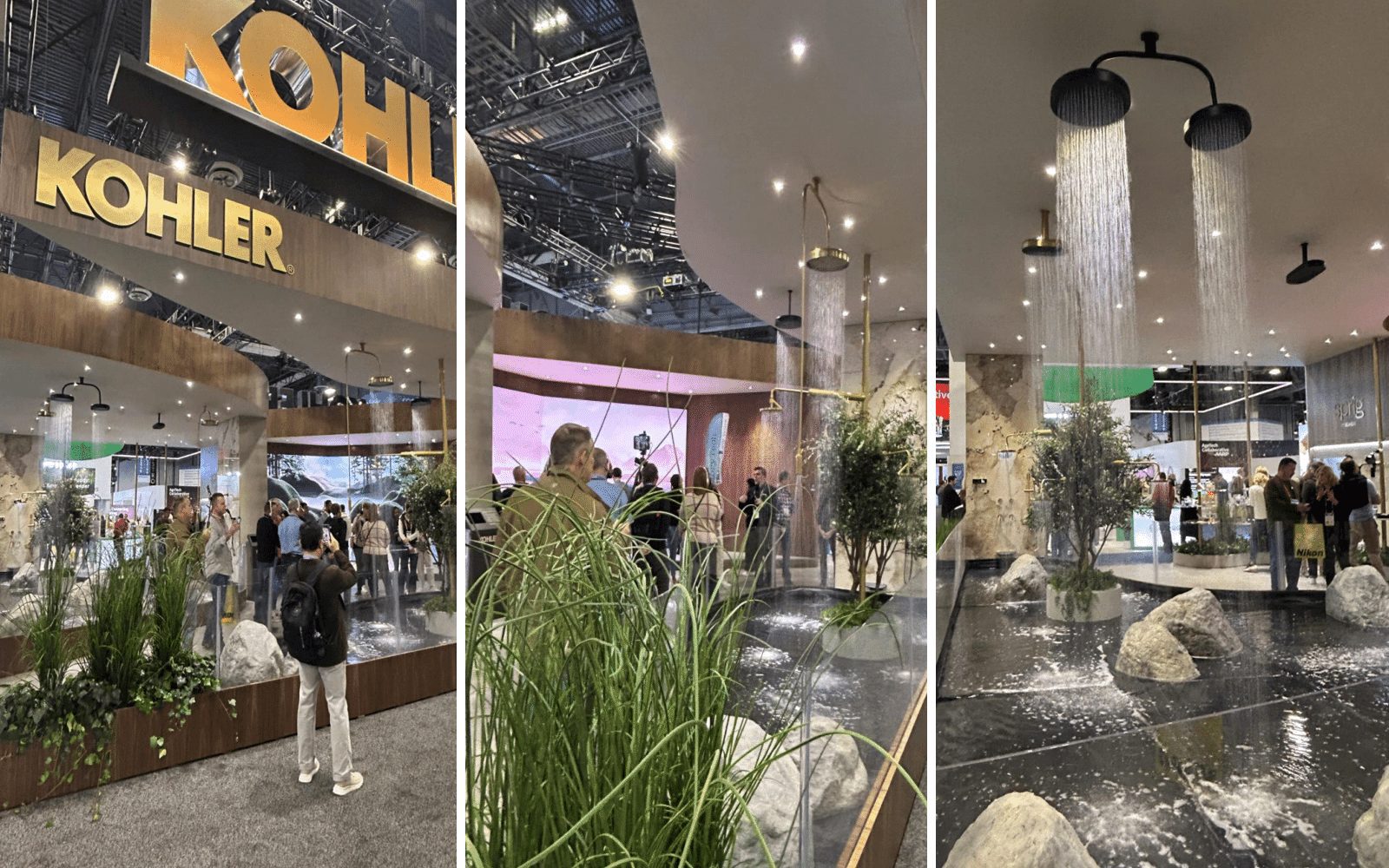 Kohler
Kohler's booth truly felt like an oasis in the middle of the show floor. It was a feast for the senses, from the sound of rainfall to the serene imagery to the spa-like smell. We really loved how Kohler flipped the script on the commotion of the show floor and offered a calm experience in contrast with the outside world.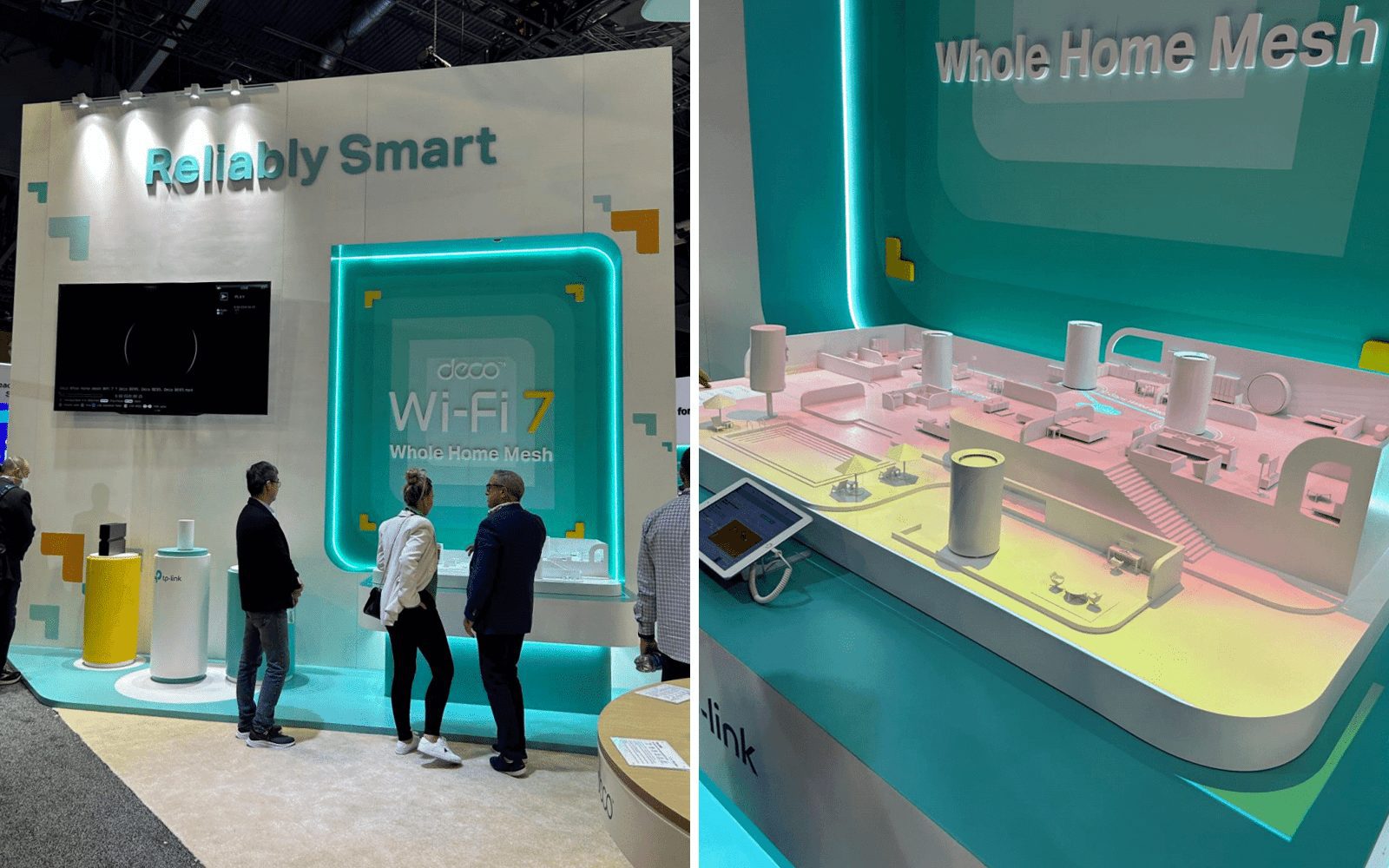 TP Link
TP Link's demo did a great job at showing how their mesh system works throughout your home. It featured a model home that lit up as you walked through each step to show how each piece of their technology works. So much more engaging than reading off a screen!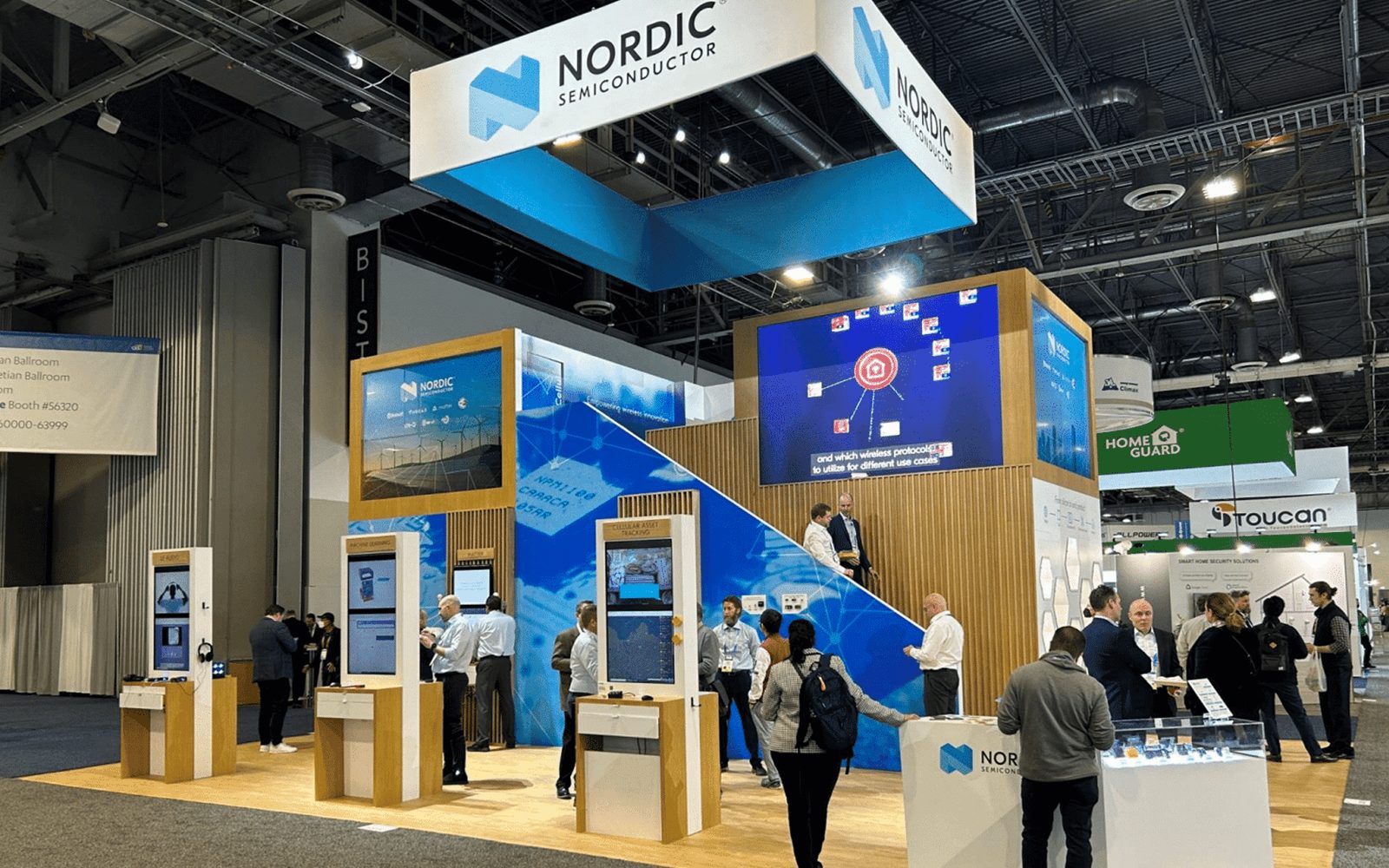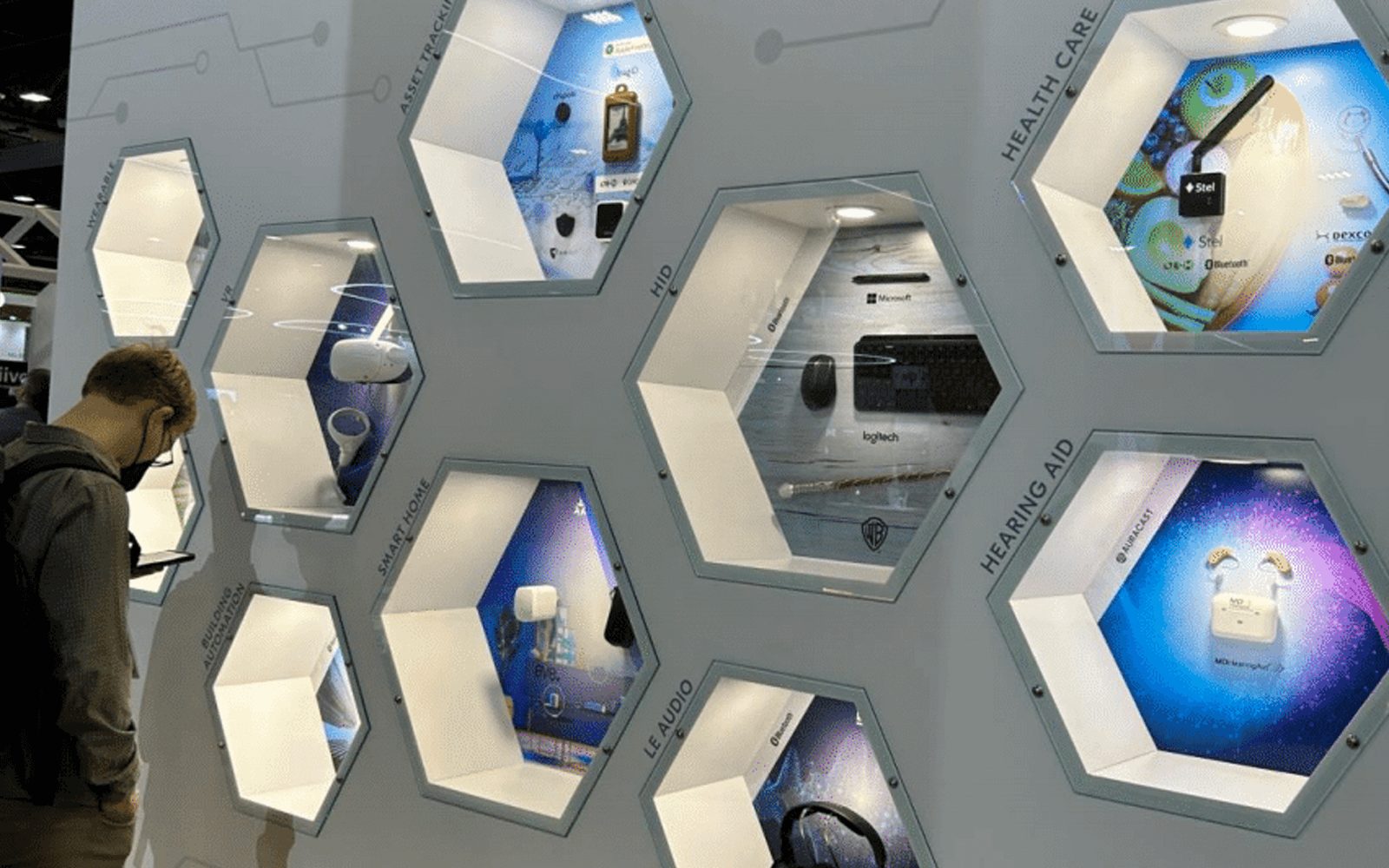 Nordic Semiconductor
Nordic Semiconductor's exhibit was nicely laid out and very visually appealing. We especially loved the upper level deck and the stairs leading up to it – a smart use of space and great graphics, too! They also had a product wall that showcased not only their products, but their applications in context as well.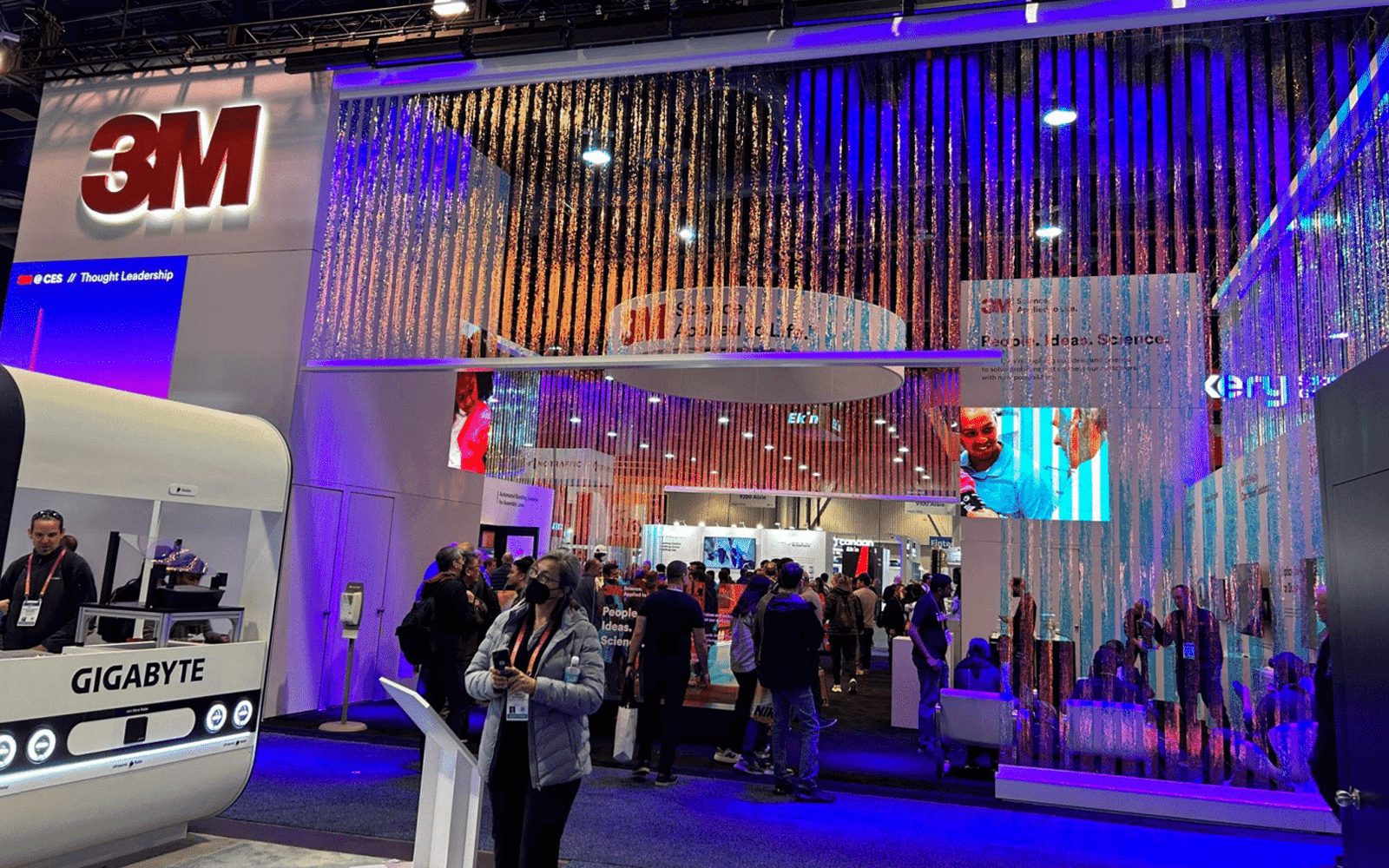 3M
The exterior of 3M's booth was a nice departure from their normal, more understated style. We loved seeing a more flashy exhibit from them at CES 2023.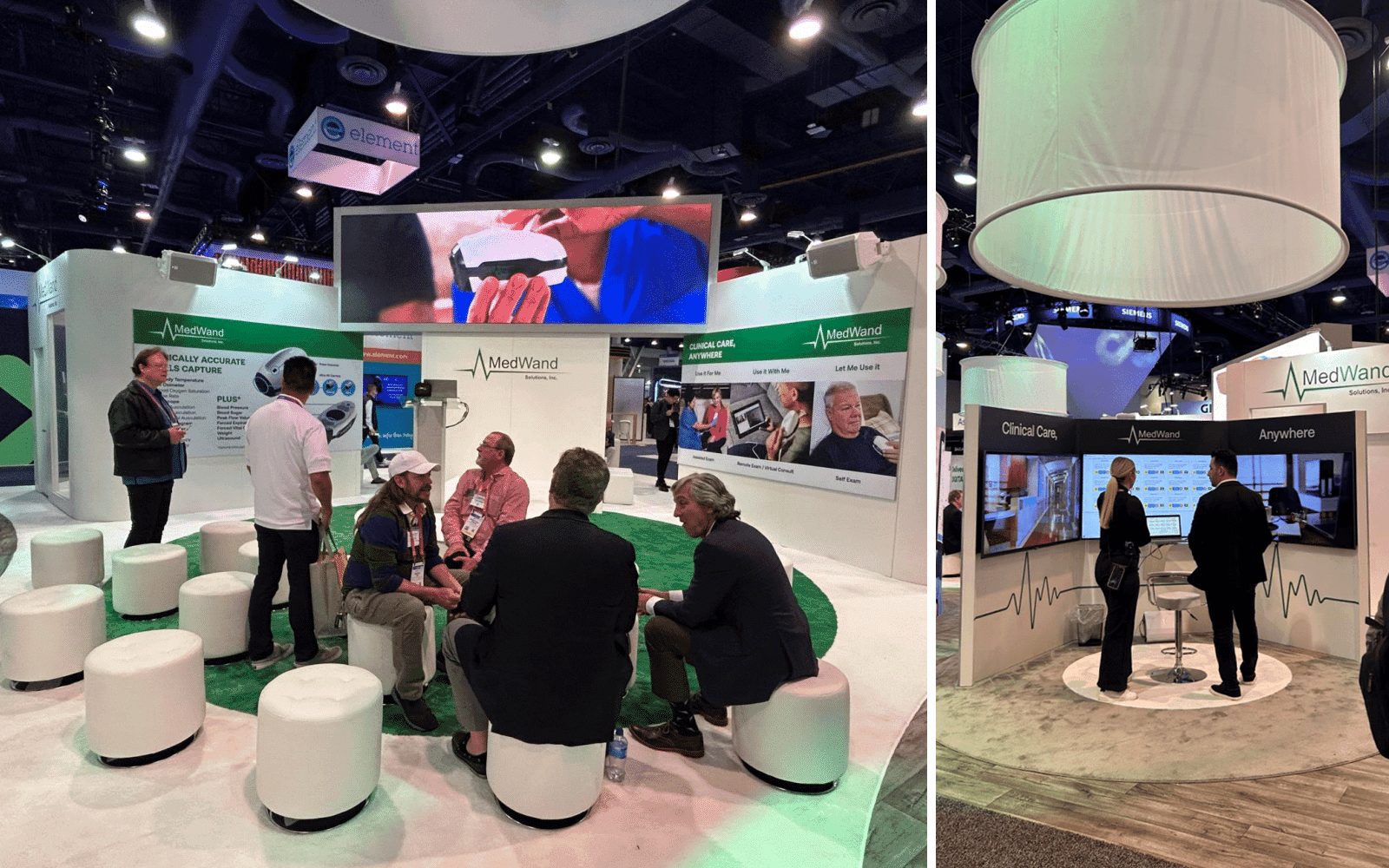 MedWand
As we predicted in our 2023 trade show design trends blog, we saw lots of exhibits with hanging structures at the show. MedWand used hanging domes to help attendees navigate to the different areas of their space.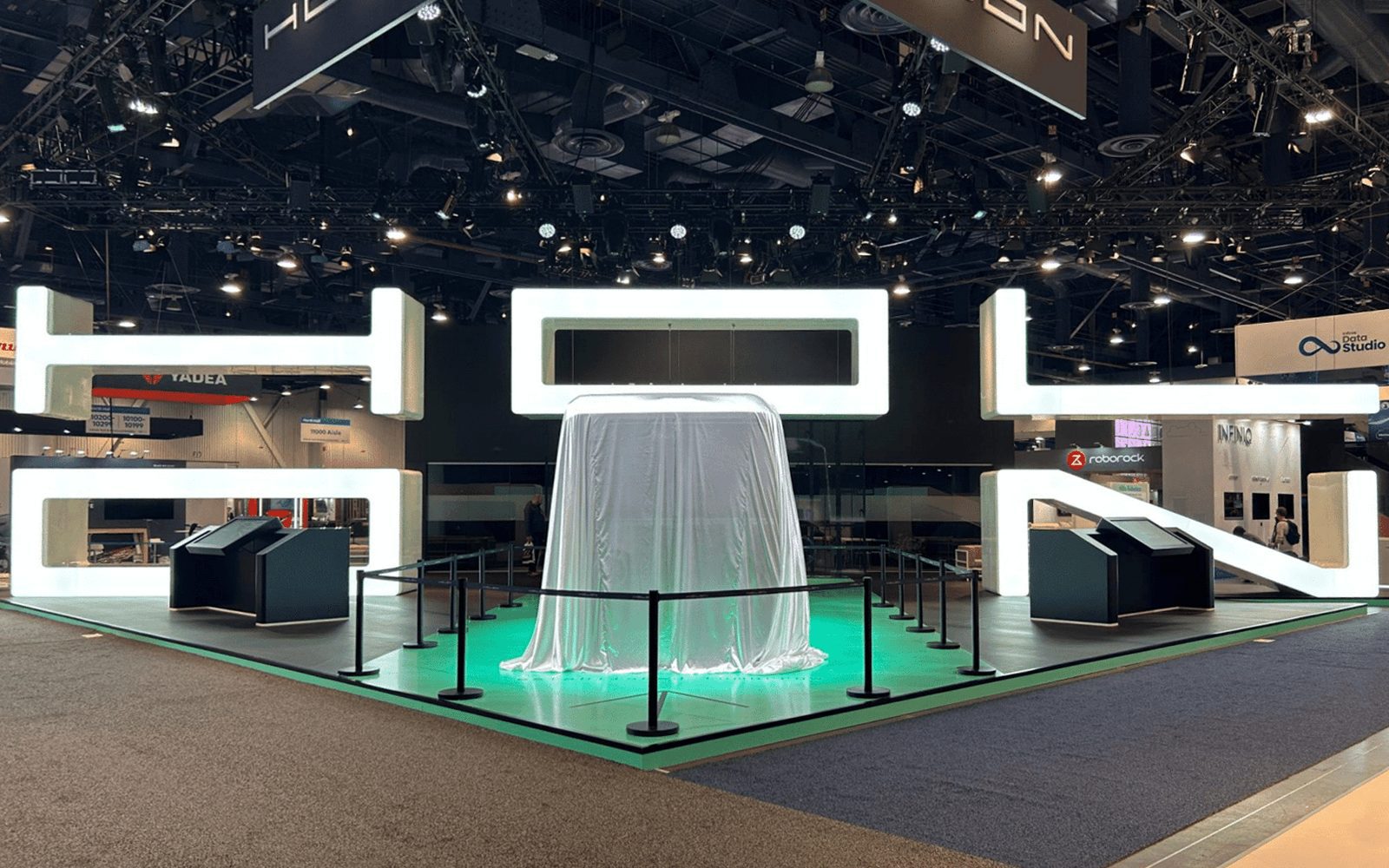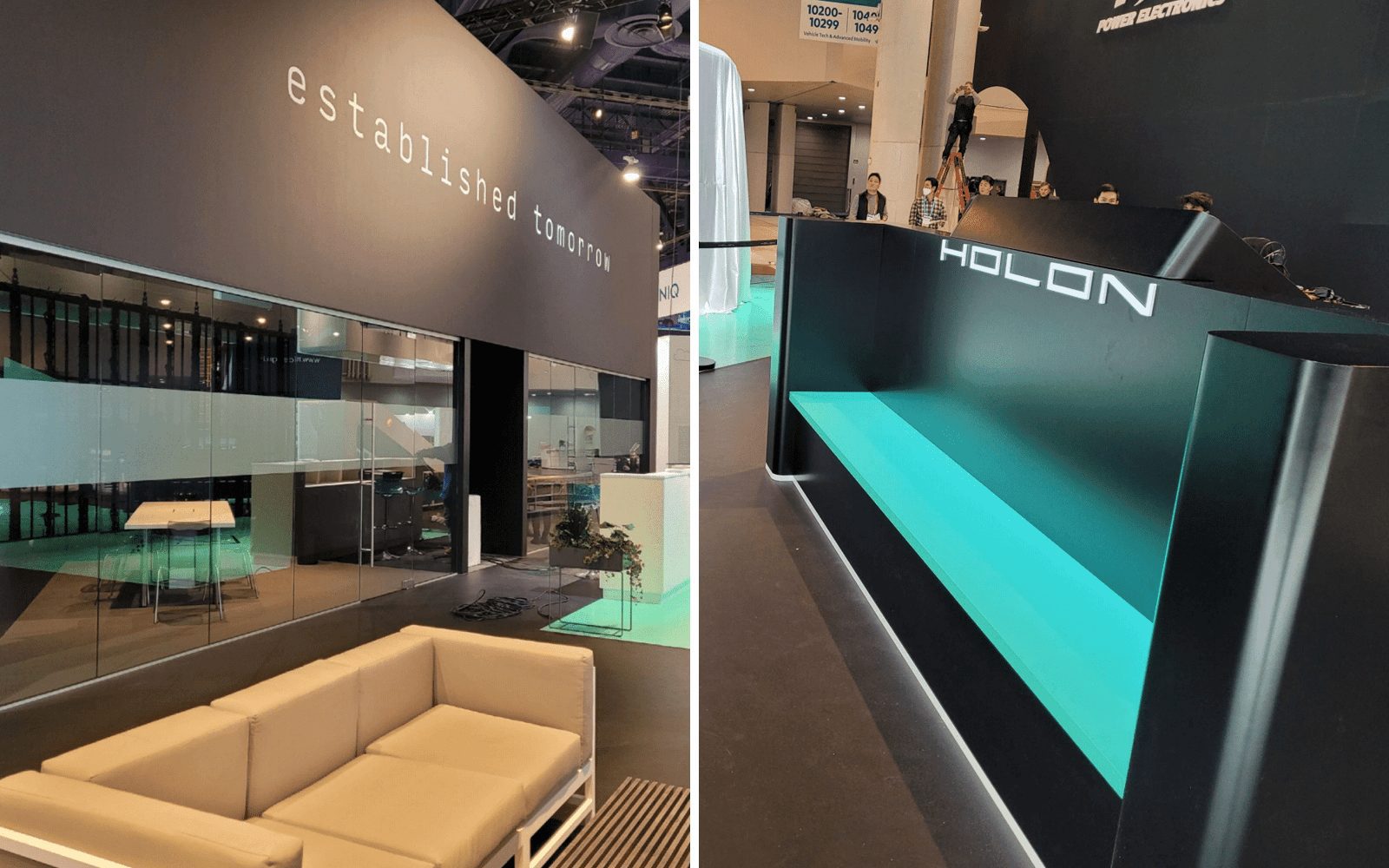 HOLON
We're proud to have partnered with Jack Morton to produce this incredible exhibit for HOLON, who unveiled their new Mover on the first day of CES 2023. There are so many touches throughout the booth that we truly love, like the counters designed to mimic the letter "H" from above and the angle of the letter "N" from the side.
The massive letters were a total showstopper and gave the booth a great sense of scale. Behind them was a huge translucent LED, lit benches and additional seating. The whole exhibit was lit beautifully, and we're so happy we got to bring it to life!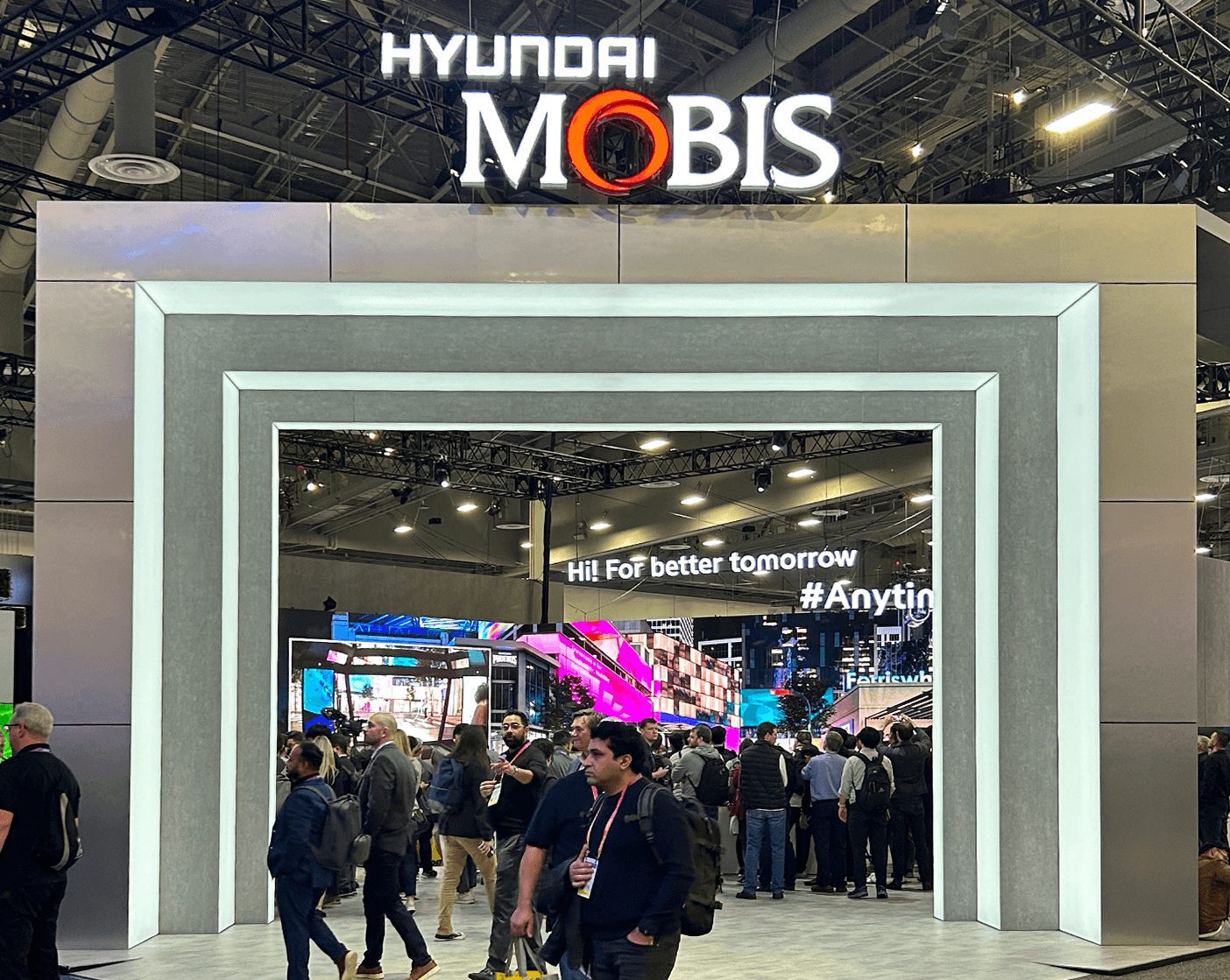 Hyundai Mobis
Hyundai Mobis' people mover was a huge highlight of the show. We especially liked the grand entrance to their exhibit at CES 2023.
Mercedes
Mercedes' booth was visually stunning. The whole space was full of mirrors whose reflections created kaleidoscope-like effects on the structures. Unfortunately, it was really difficult to photograph and video accurately. What can we say – you just had to be there!
Robosen
And finally, we'll close this review out with a product demo that was just straight-up awesome. Robosen's exhibit featured an army of transformer-style robots that can be programmed to do just about anything. It's products like these that make us look forward to CES every year!