Our team attended the American Association for Clinical Chemistry Annual Scientific Meeting and Clinical Lab Expo (or AACC for short) at the end of July. We were particularly excited because this year's show was held at McCormick Place in our home city of Chicago.
On the whole, we thought AACC 2022 was phenomenal, with a number of exhibitors really stepping it up with their booths. Here are some of the hottest design trends we saw as well as our favorite booths from the event.
Trade Show Exhibit Trends at AACC 2022
At every show, there are trends and themes repeated across the floor. Some of the major trends we saw at AACC included:
Color

– Medical shows like AACC are often dominated by blue and white. We were pleasantly surprised to see so many colorful exhibits at the show this year!

Curves

– It seemed like nearly every exhibit focused its architecture on curves. While it's an effective way of making sterile medical brands approachable, it no longer stands out the way it once did.

Natural Elements

– Just like with curves, we saw tons of warm wood tones, plants, and other natural elements.

Lighting

– We saw so many booths that clearly understand the value of great lighting. From edge lighting to light boxes to LEDs, there were tons of well-lit exhibits.
EDE's Favorite Sponsorship
Sponsorship on the trade show floor can be tough. With signs and advertisements everywhere competing for your attention, it's difficult to stand out and be memorable. Only one advertiser stood out to us above the rest at the AACC trade show.
Sysmex
Sysmex's sponsorship on the main stairs was genius. It was vibrant, colorful, and in the perfect location. Nearly every attendee walks up these stairs, and even those who don't are greeted by them upon entering the hall. The location, the execution, and the creative were all top notch.
EDE's Favorite Exhibits
Sebia
Sebia's exhibit is a perfect example of nearly all the trends we mentioned. While curves and wood tones were popular on the floor at AACC 2022, the gorgeous architectural details of this booth really set it apart. The architecture was complemented by great lighting, clean graphics, and striking, blue acrylic panels.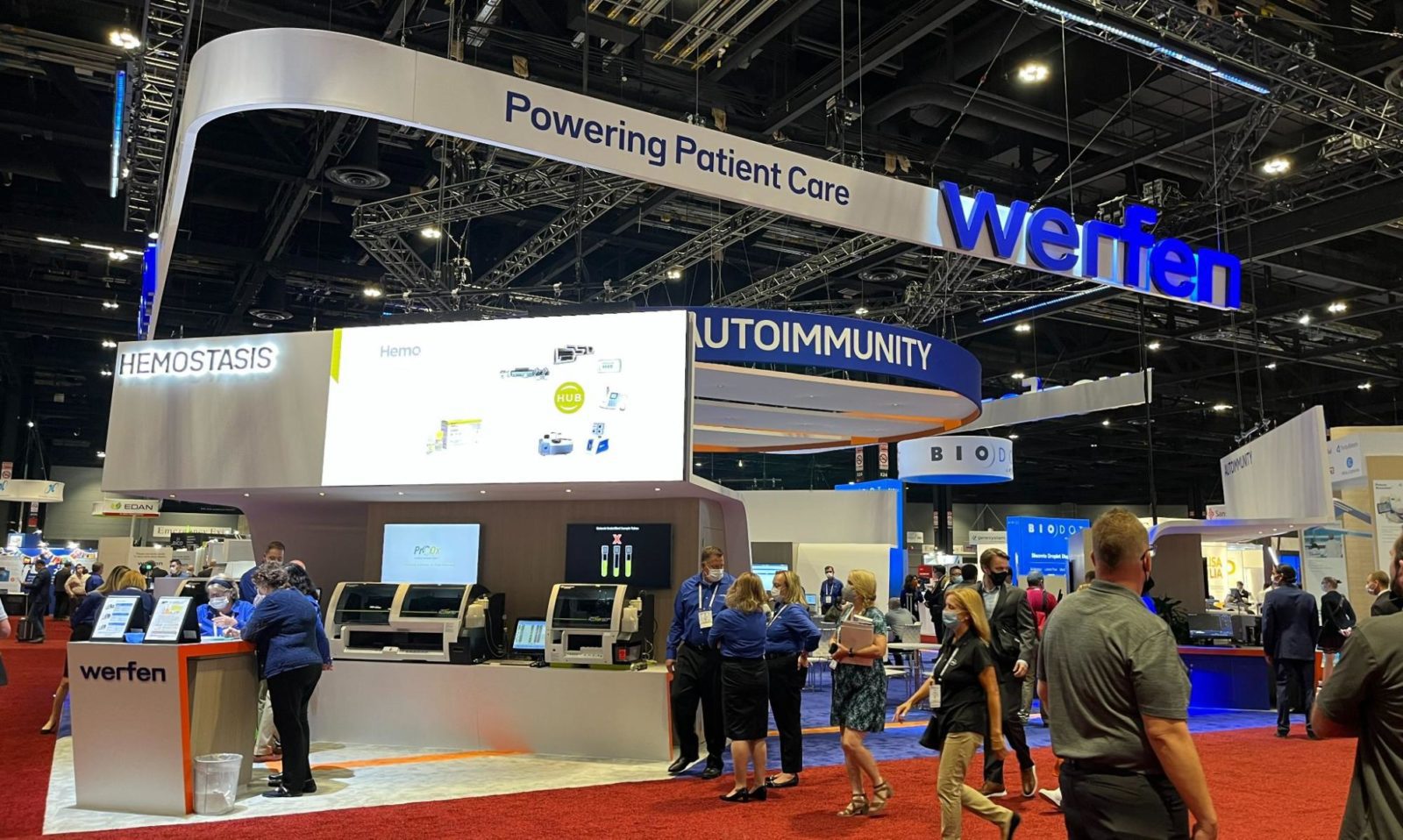 Werfen
Werfen's exhibit features the same curves we saw across the floor, but it was more about strength than softness. The well-lit logo sign and circular hanging structure really drew us into this booth.
Werfen is a great example of how to use color appropriately. While many medical companies have blue-focused brands, Werfen made their booth visually dynamic with a bright, royal blue paired with a deep orange.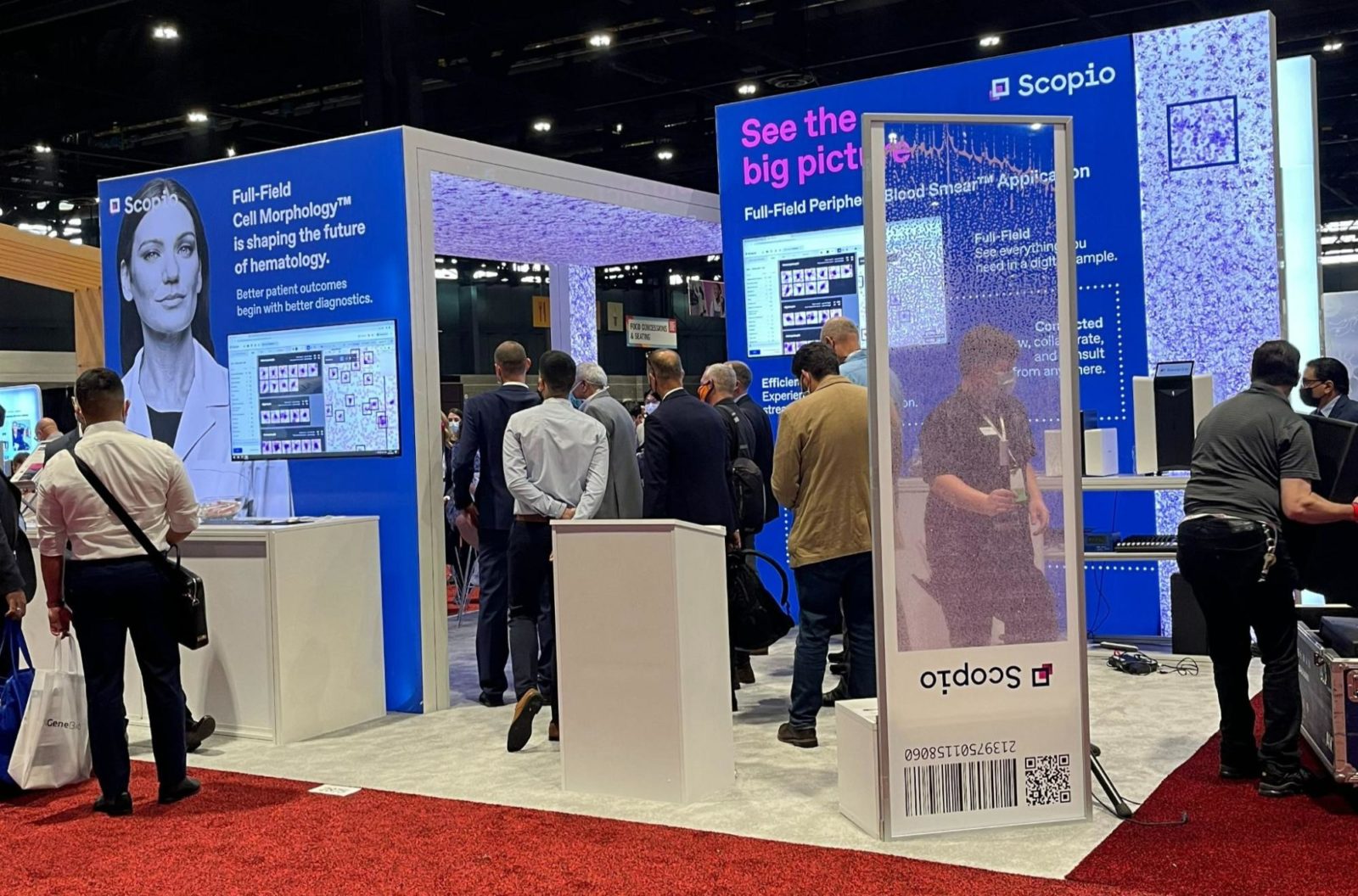 Scopio
Scopio's booth was on the smaller side, but they maximized their impact with lighting that drew you in. We especially liked their moving projections that gave you a firsthand look through the microscope.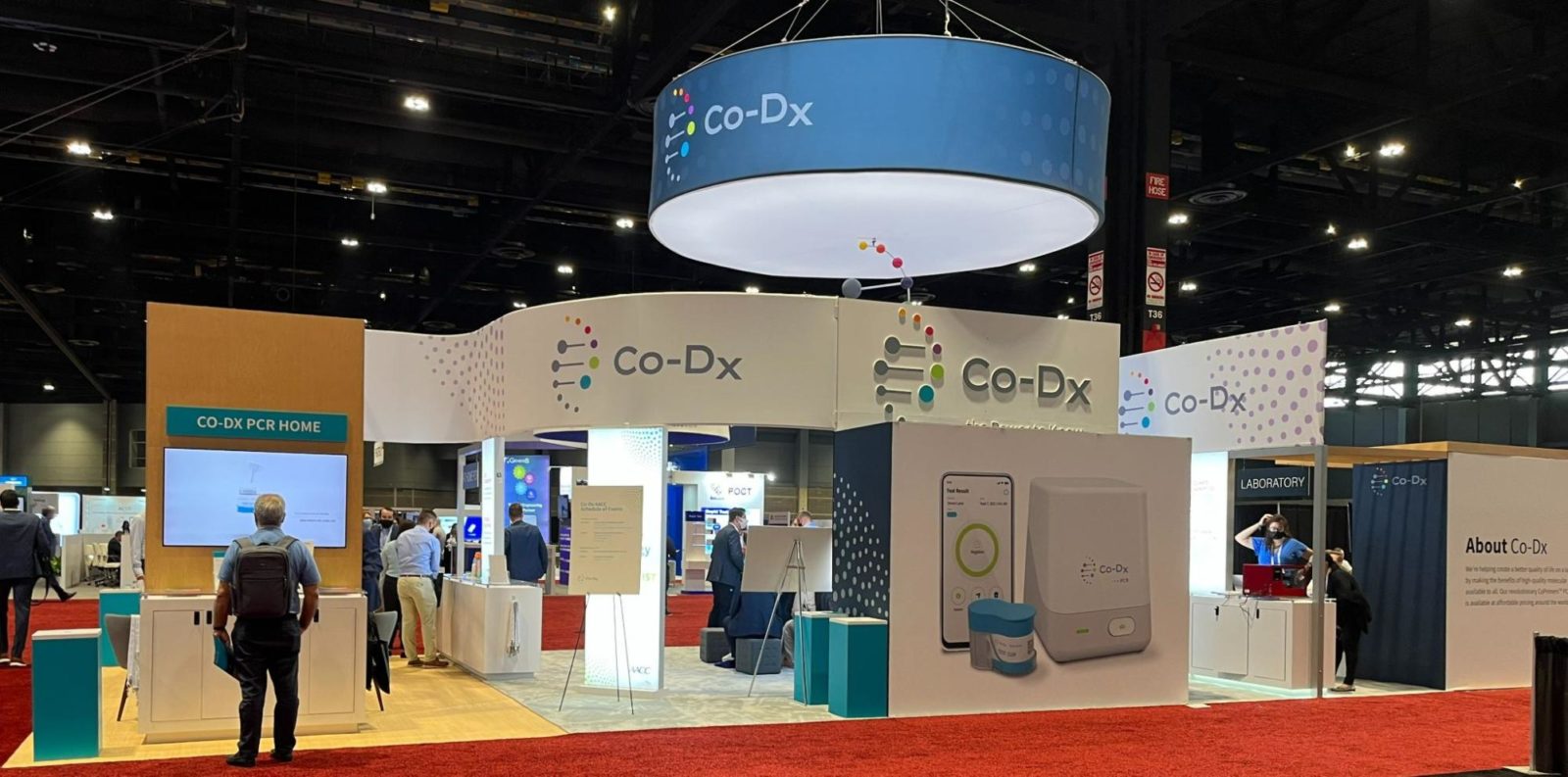 Co-Diagnostics
At the Co-Diagnostics booth, we saw the signature wood slats that we've seen on nearly every trade show floor this year. That being said, we really liked their use of them to create a welcoming space for conversation.
The hanging DNA strand from their logo was the star of the show – but we would have loved to see it shine even more with some lighting or movement.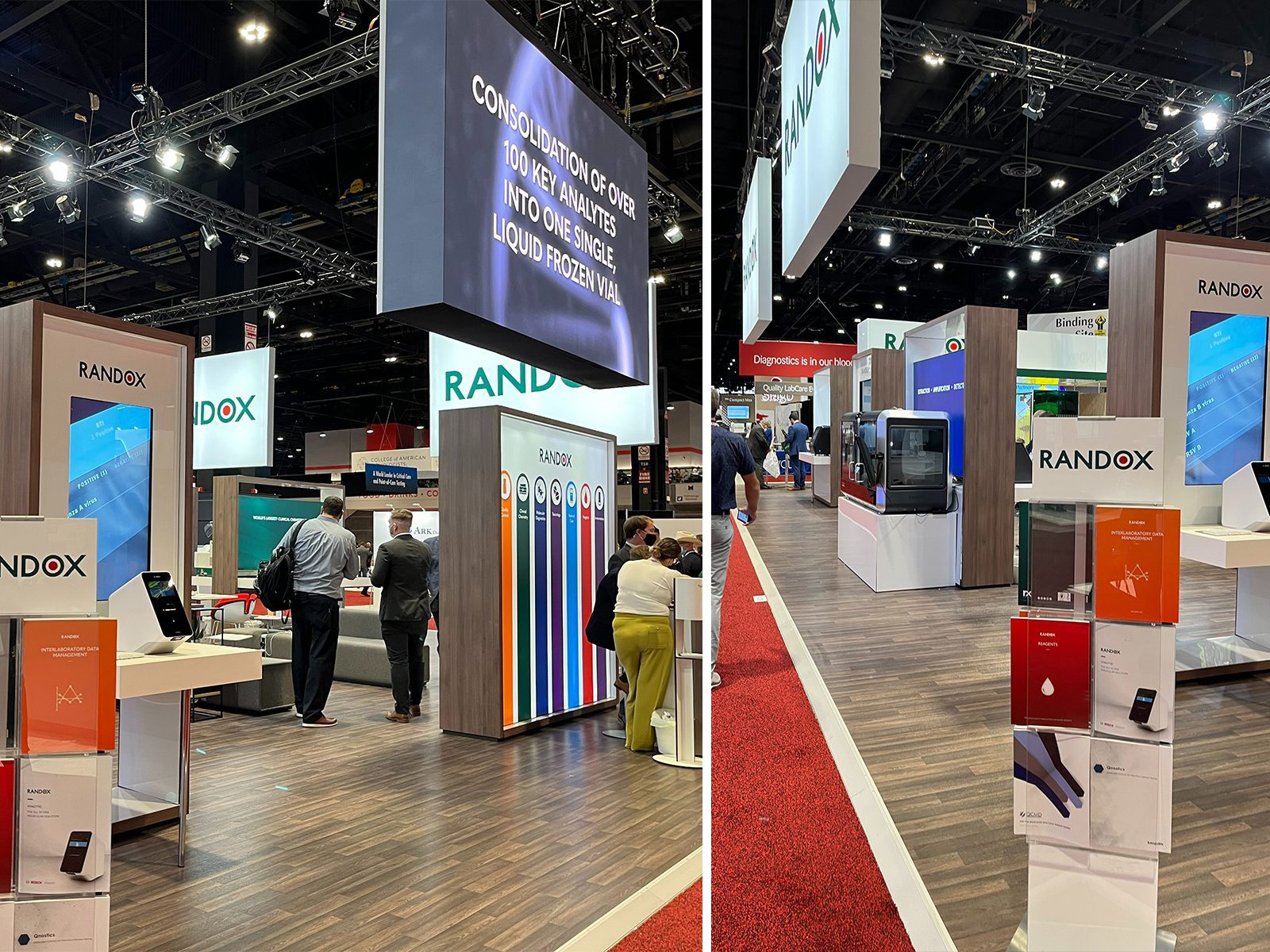 Randox
We loved the European-style, high-gloss exterior of the Randox exhibit at AACC 2022. It featured a gorgeous conference room, plenty of color, and perfectly-hung lightbox signage. You could spot the booth from across the floor, and the open feel of the space made you want to stick around and check out all of the neat demos. We also were a huge fan of their flooring, which warmed the exhibit up nicely.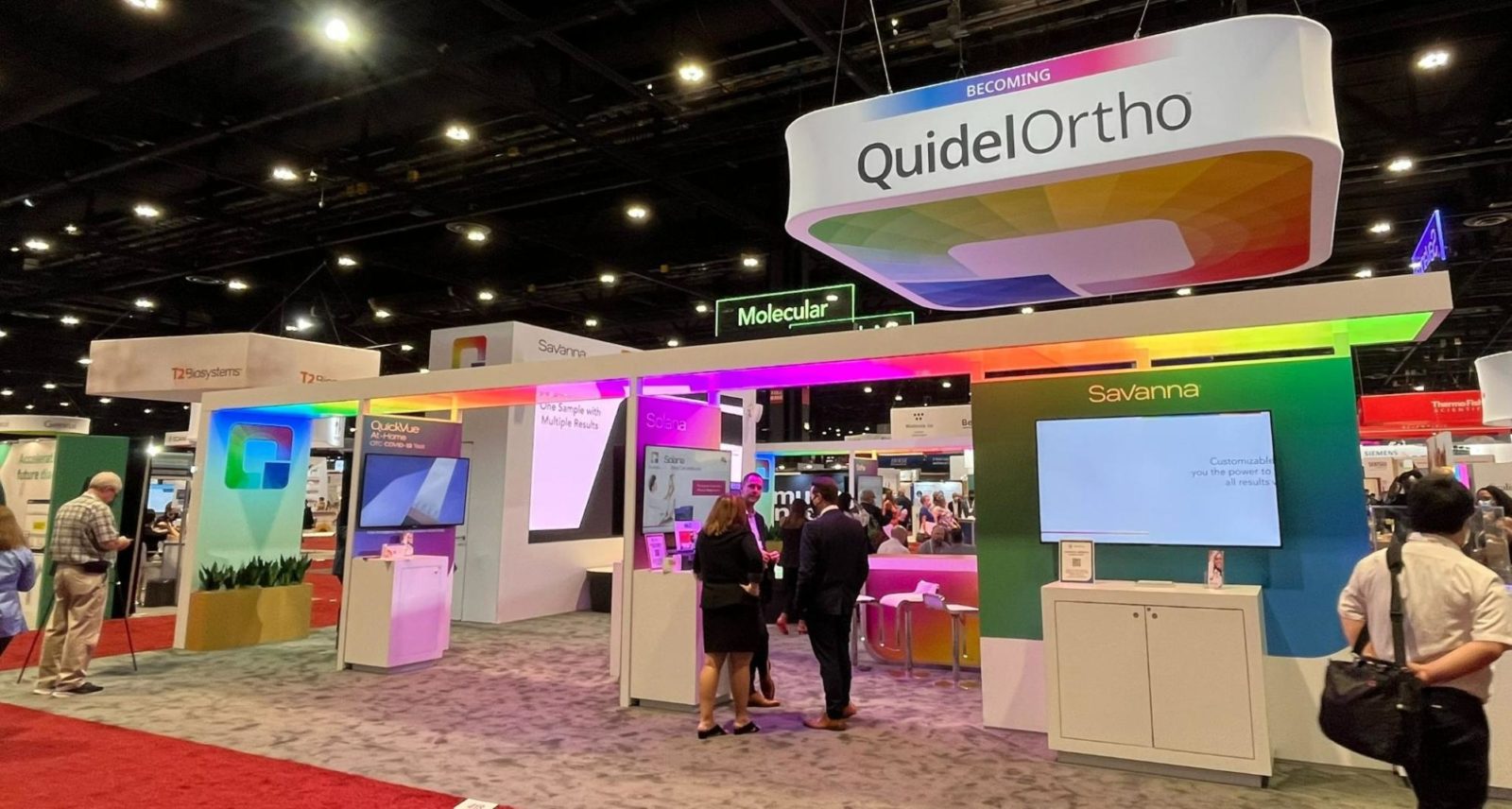 QuidelOrtho
Simply put, the QuidelOrtho exhibit was stunning. The bright colors were vibrant and eye-catching, but the exciting visuals were backed up with real substance, like engaging demo stations and private conversation areas. From the edge-lit acrylic callouts to the gorgeous graphics, every detail was on point.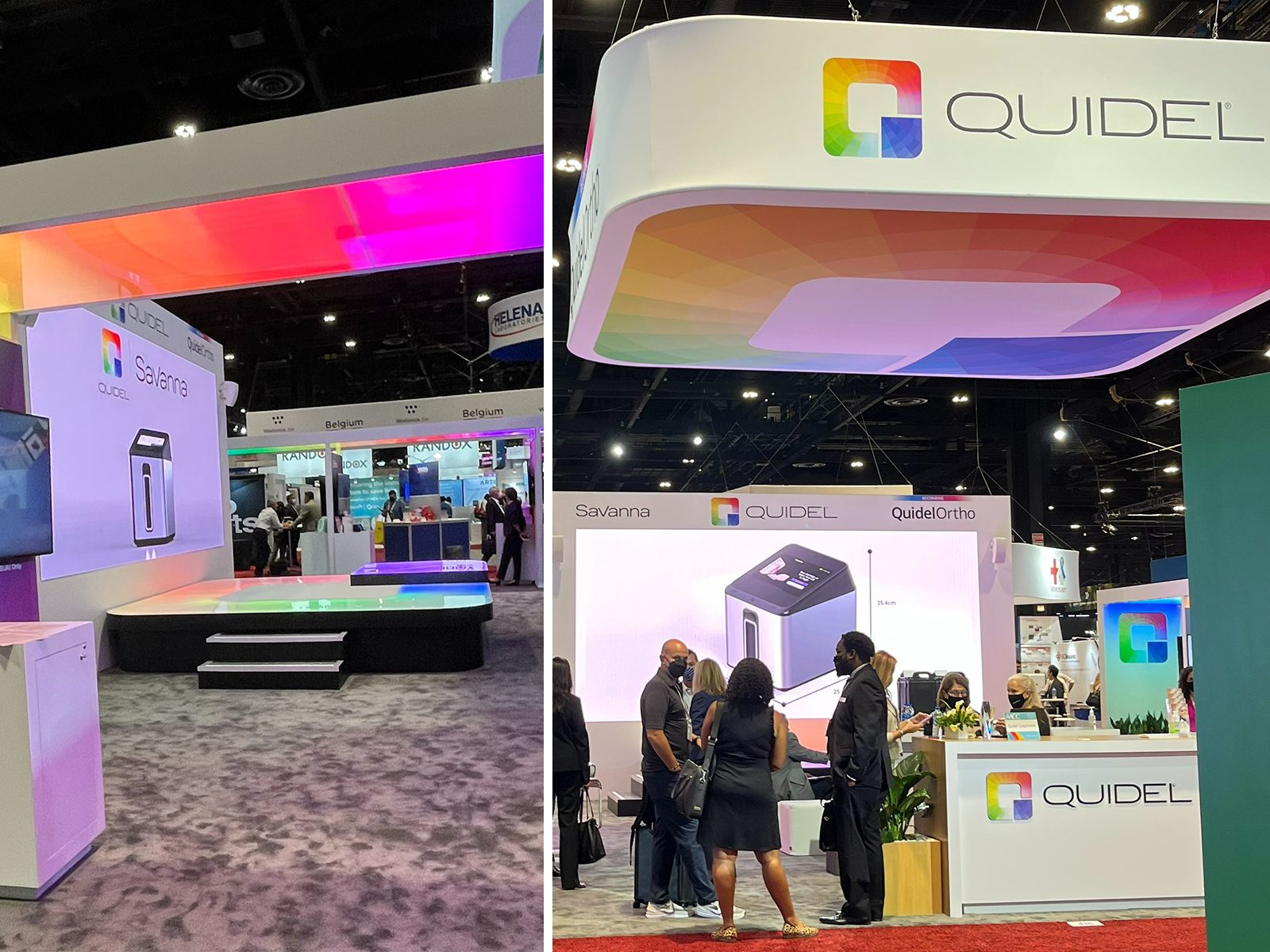 We especially loved the theater area with its polished white flooring. The height of the stage meant you could be drawn in by the speaker from well outside the space. And, to top it all off, their booth was staffed with some of the friendliest people we spoke to all week long.
Stago
We really liked the way Stago broke the status quo at the AACC show by positioning their booth diagonally toward the corner of their space. Their exhibit featured two reception areas, natural wood accents, and neat semi-circle hanging signs. The space was simple but very nicely done.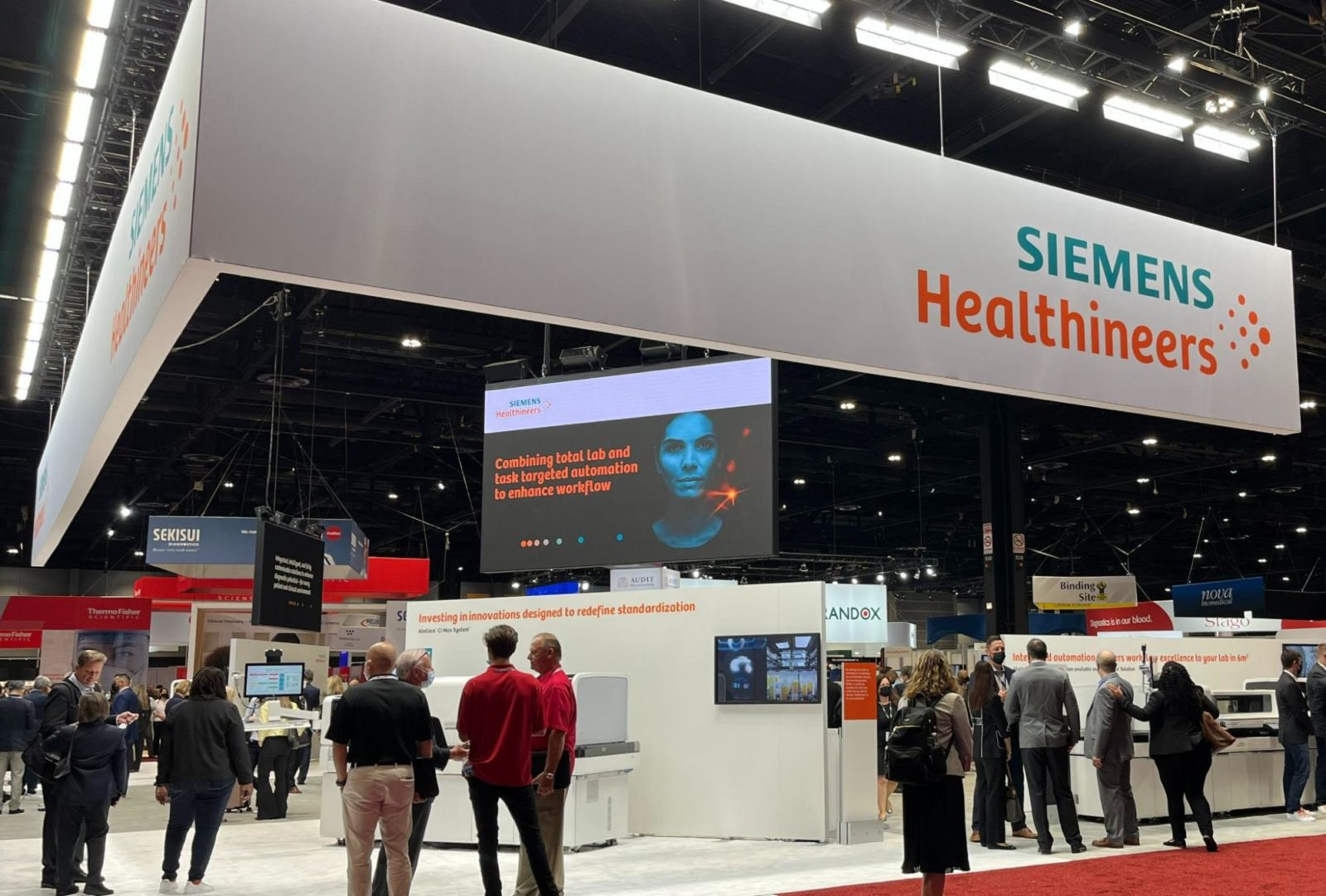 Siemens Healthineers
Siemens Healthineers had a great position front and center in the hall. The exhibit was well-lit with LEDs hung high above their huge hanging sign. We also really liked their use of monitors in their demos to create engaging experiences for the attendees.
However, we would have loved to see them utilize their sign to share more than just their logo – especially on the interior of the sign. Hanging a massive structure like theirs is expensive, so you want to get your money's worth!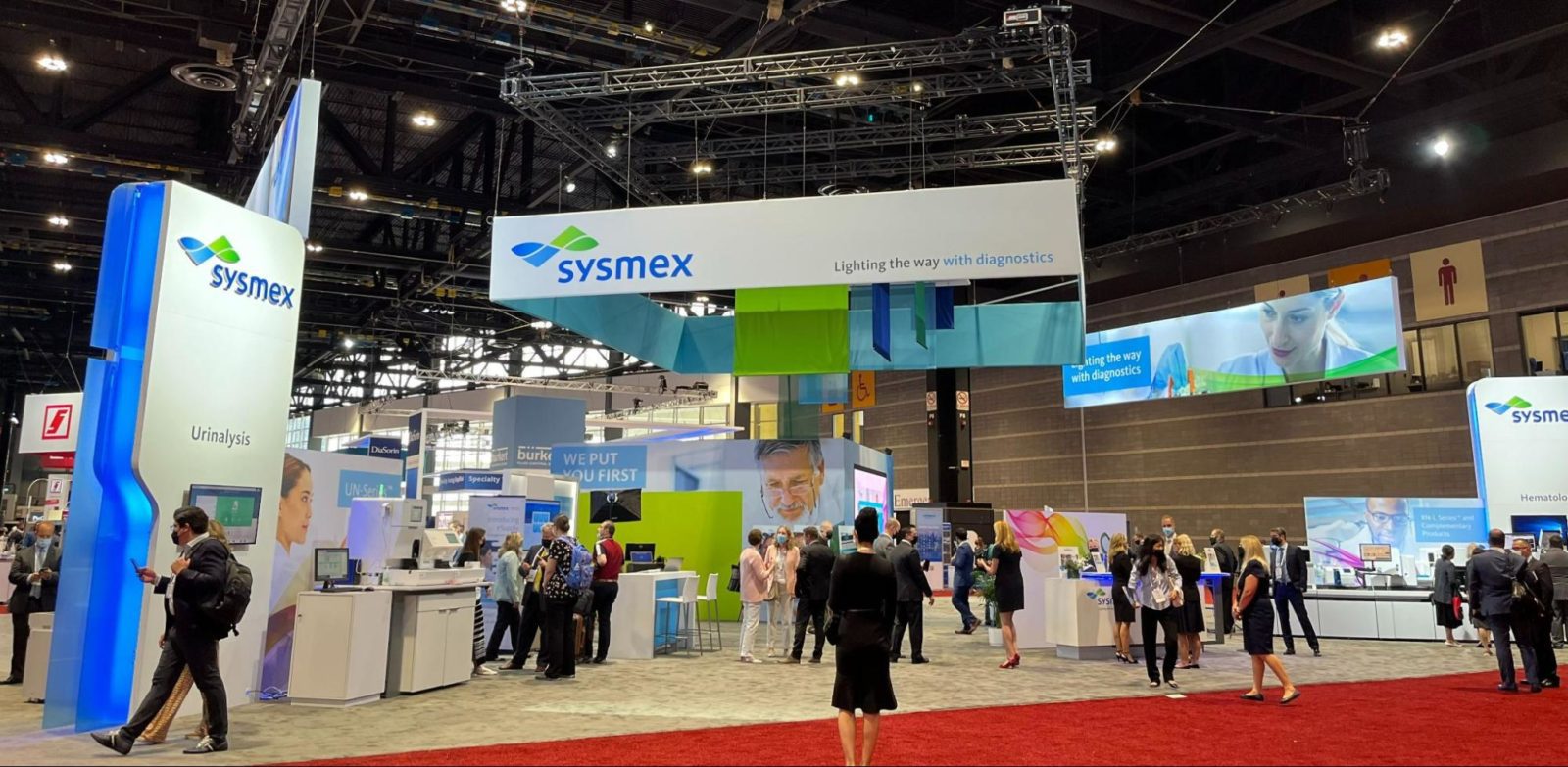 Sysmex
Sysmex debuted a brand new booth at AACC 2022, and it really made a splash. We loved their use of colored acrylic throughout the booth paired with great lifestyle graphics. Alongside the colorful sponsorship on the front stairs, Sysmex was unstoppable.
DiaSorin
DiaSorin's exhibit was a perfect example of how to make a statement with a hanging sign. Their sign featured moving lights that drew you in, and the beautiful details throughout the booth sealed the deal. Their demo stations featured edge lighting, kicker LEDs, and well-placed monitors for a low-cost but high-impact experience. While DiaSorin's booth utilized the classic blue and white medical color palette, it's far from boring.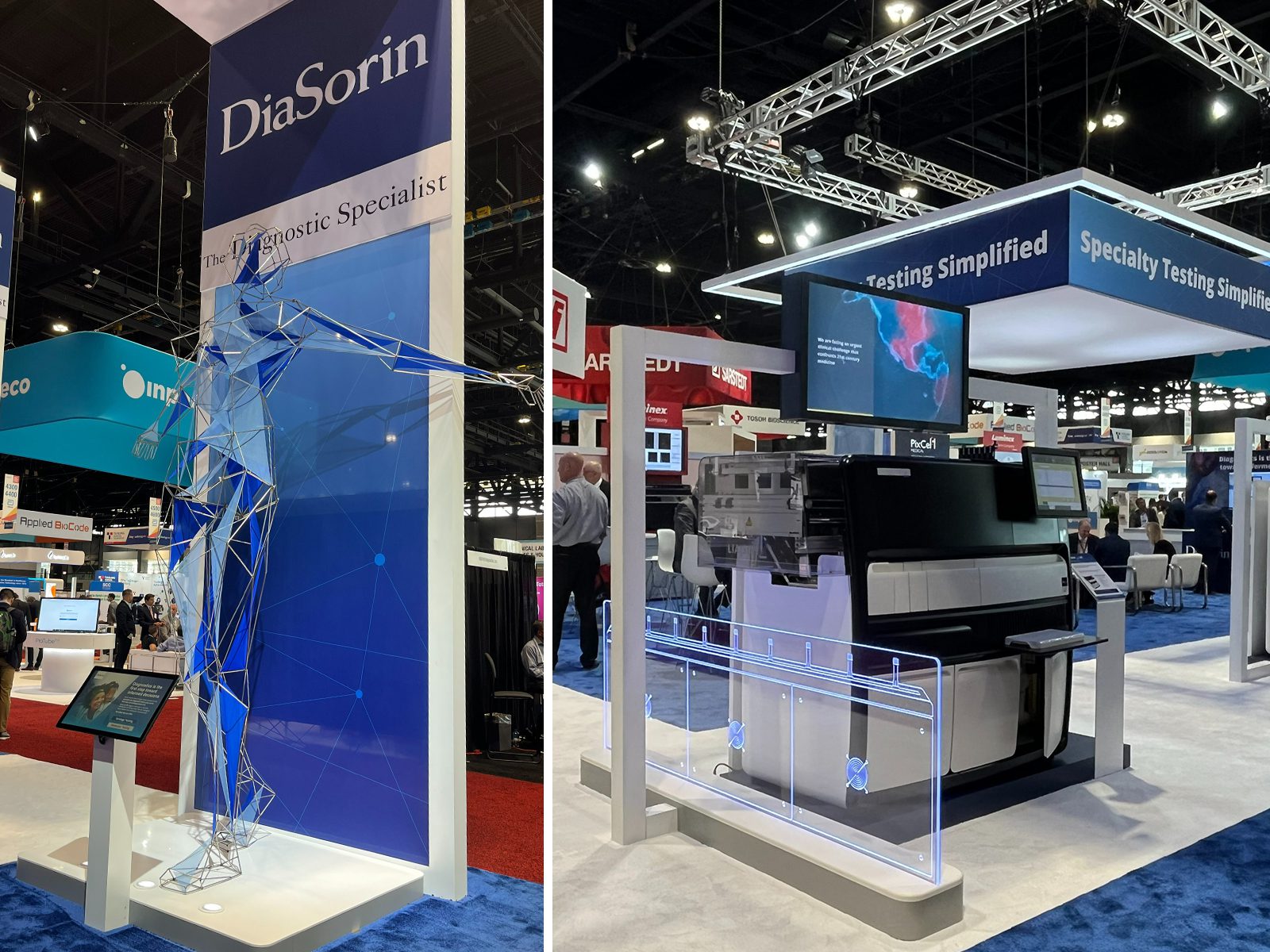 We were especially enamored by the gorgeous statue that highlighted their focus on diagnostics. We hope they'll have it installed at their headquarters to get a little extra value from their trade show program!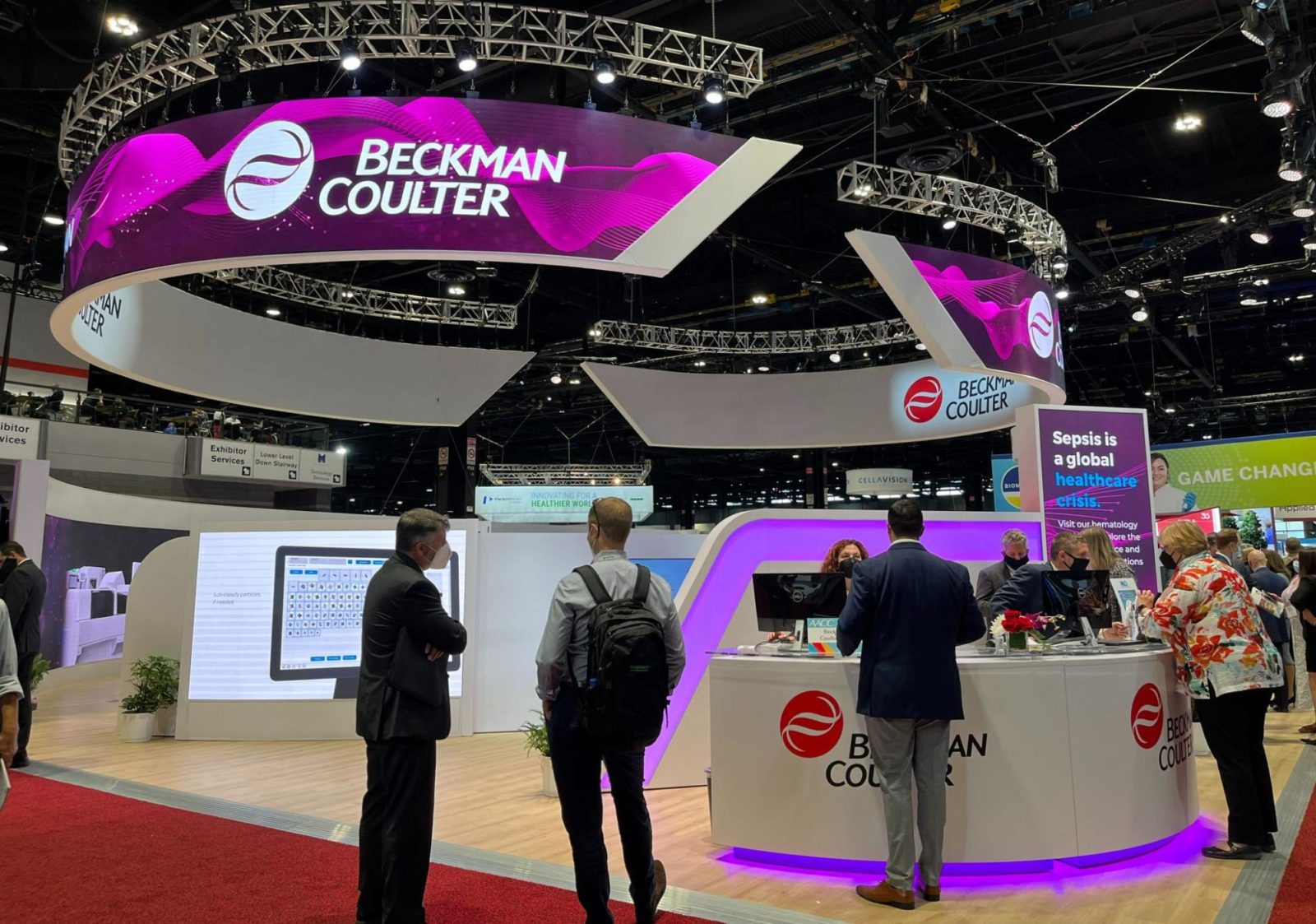 Beckman Coulter
Beckman Coulter absolutely crushed it at AACC 2022. Their vibrant pink and purple exhibit stood out front and center in the hall. Their eye-catching hanging sign displayed different messaging throughout the day, including a countdown timer to new product launches throughout the show.
Once you were inside the booth, you were greeted with a cafe area, a row of beautiful frosted acrylic conference rooms, and LED lighting everywhere. Beckman Coulter really showed how to be seen on the floor – and how to back it up with quality experiences.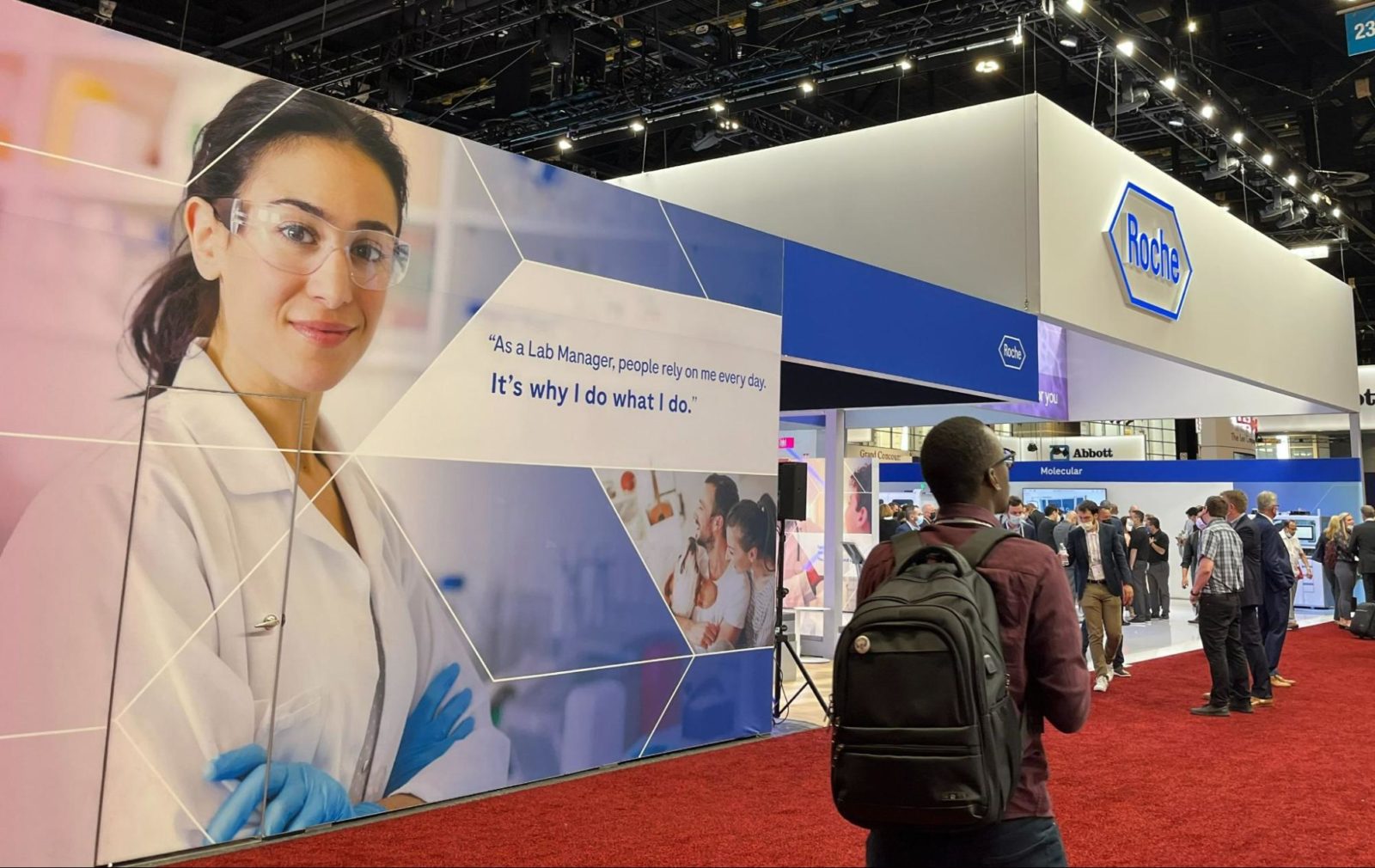 Roche
Roche had a huge booth full of really nice lifestyle graphics and plenty of LED lighting. We really liked the layout of their booth and how they framed the entrance with lighting to create movement and visual interest.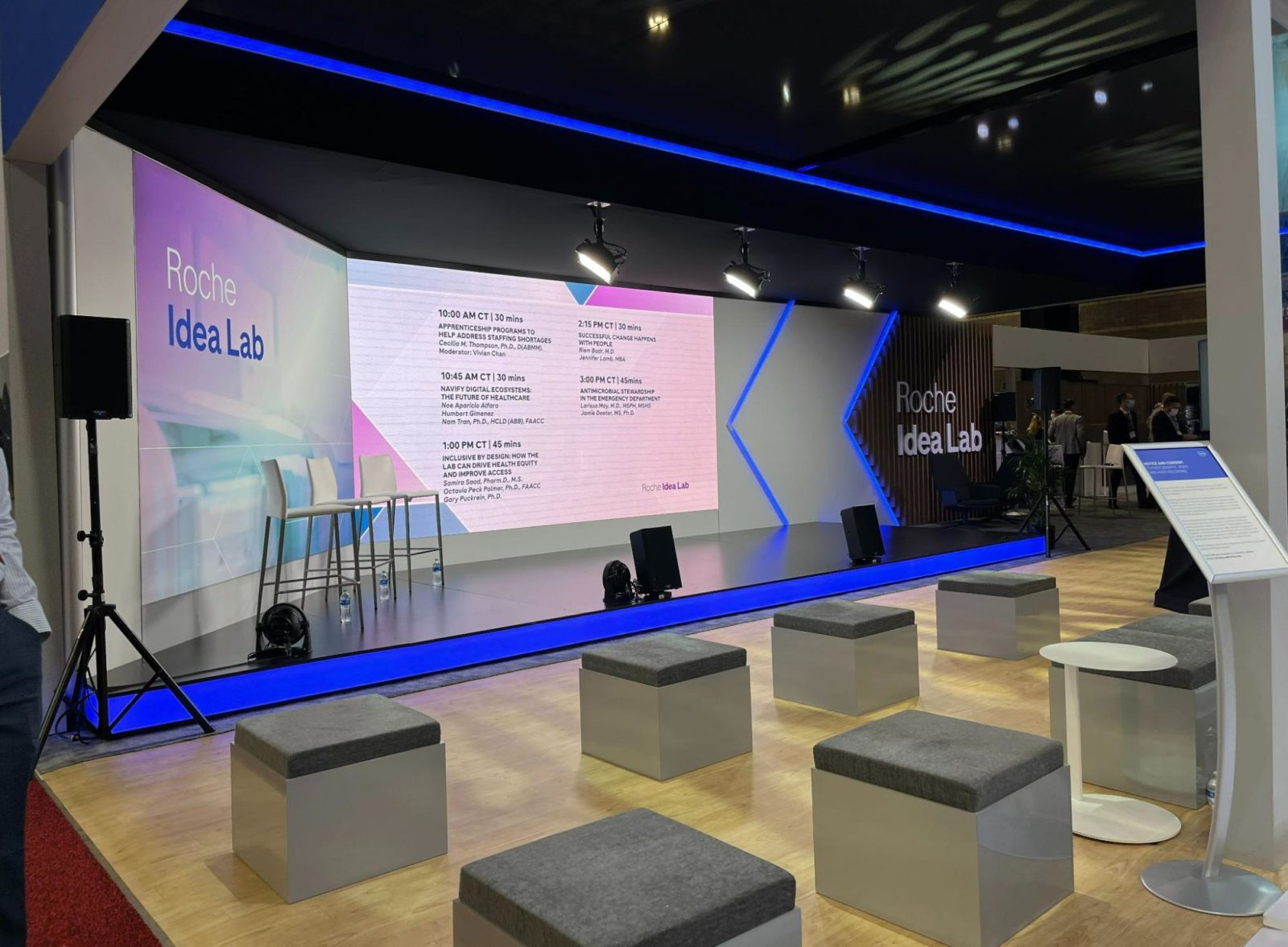 On the interior of the booth was their sleek Idea Lab. Their team filmed interviews with thought leaders throughout the week to create tons of post-show content and improve their return on investment.
Bio-Rad
Next we stopped by the Bio-Rad booth, where we had a great conversation with their friendly staff. We liked the natural elements, lighting, and logo signage throughout the exhibit.
Our one suggestion? We would have loved to see a wood-look vinyl floor instead of carpet to accent the wood tones throughout the booth.
Tosoh
We absolutely loved Tosoh's demo stations, which were separated by huge lightboxes with great imagery. They were super simple but looked great. We hope in future years that they'll light up their hanging sign to match their vibrant light boxes.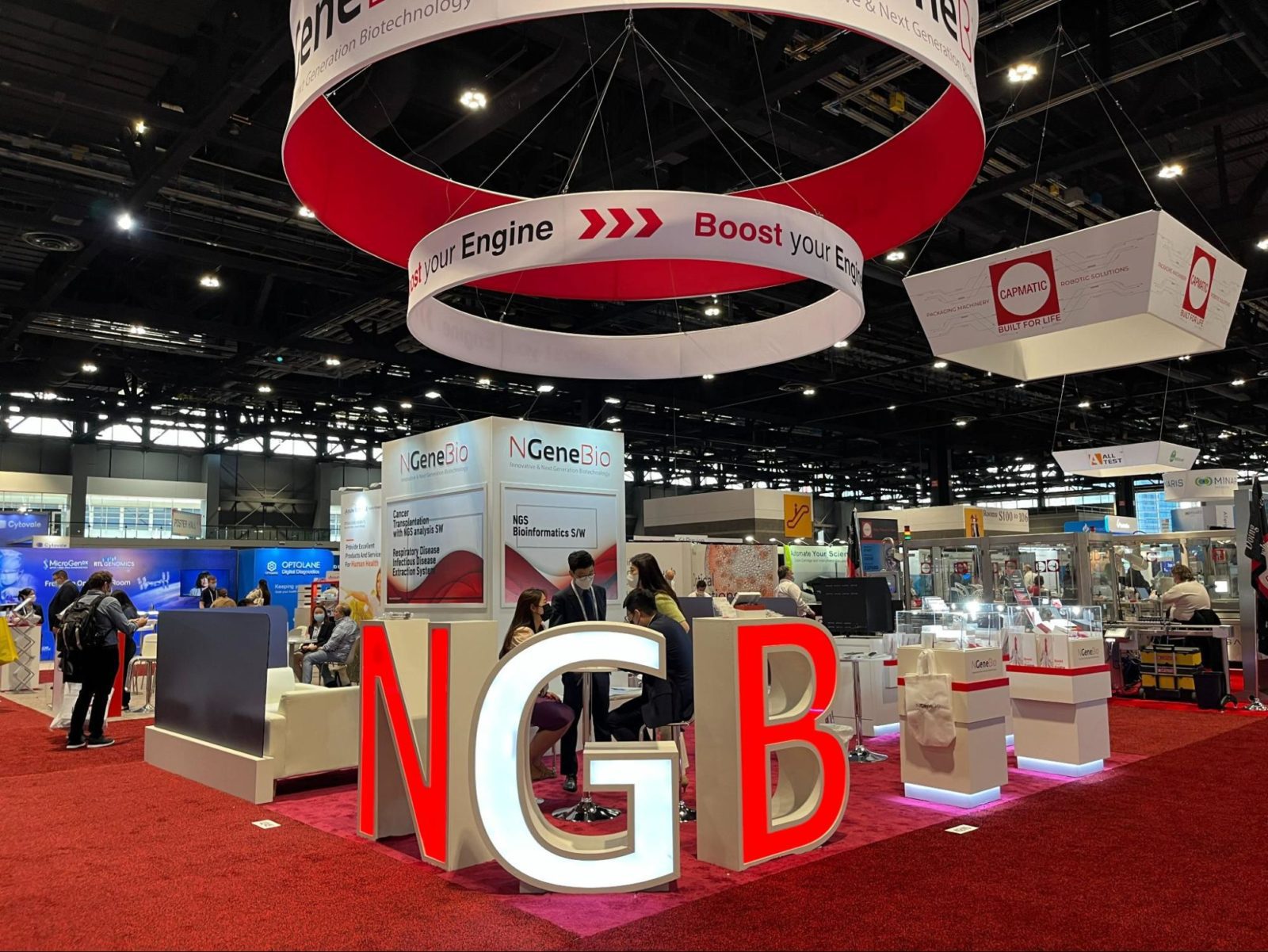 NGeneBio
NGeneBio had a really nice presence at the AACC show. Their concentric signs were simple and straightforward but effective. Our favorite part of the booth was the oversized letters that created a cozy niche on the corner of their space.
PBM
PBM exhibited a small but interesting booth at the AACC trade show. Like a few of the others, they turned their booth on an angle toward the corner. We really liked their curved canopy that created a comfortable, cafe-style niche.
SteriPack
SteriPack had a simple, but effective exhibit at the show. We liked the lightboxes that framed the main tower with clean graphics. The seating area created a comfortable and welcoming presence on the floor.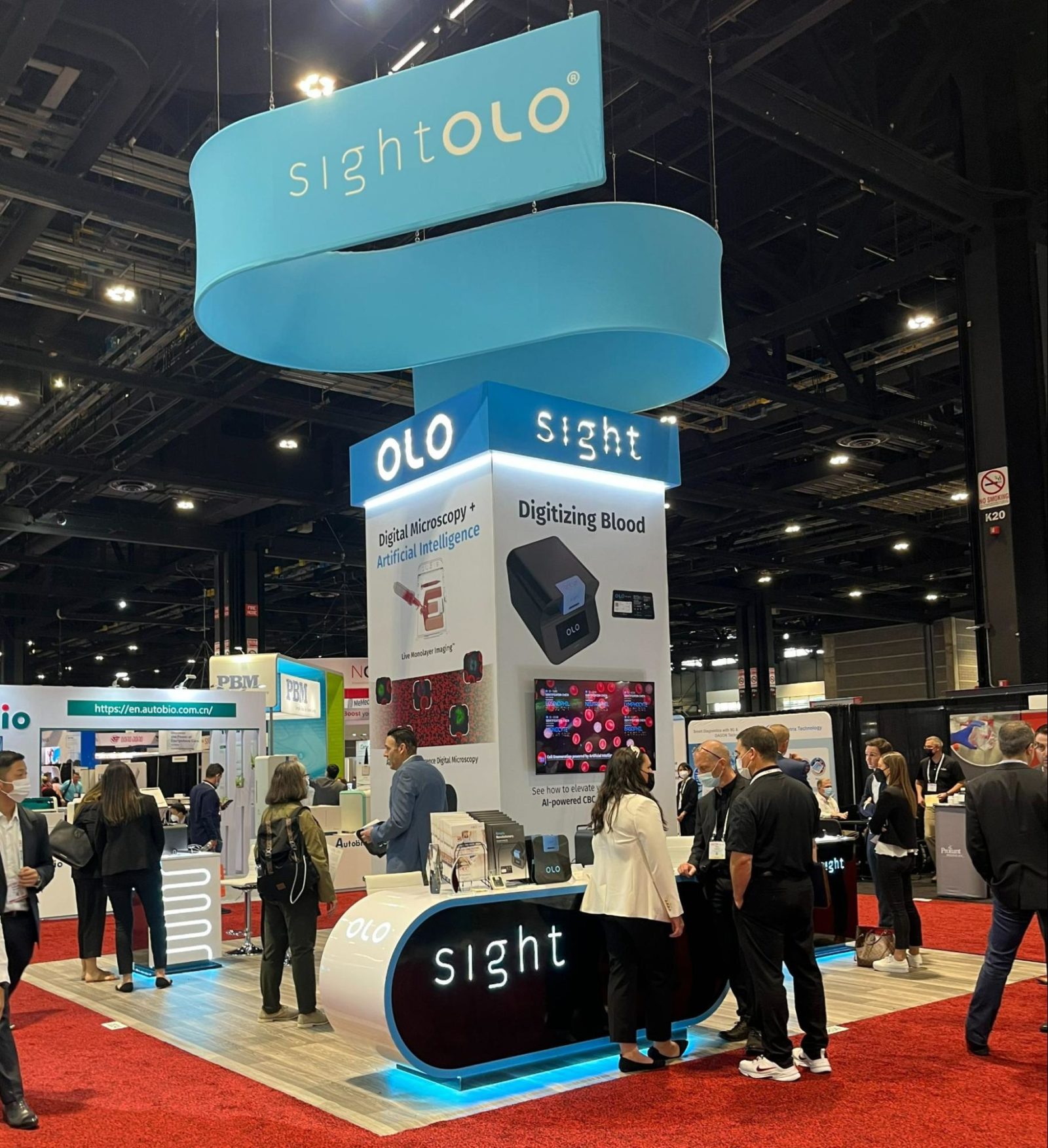 Sight OLO
We really loved Sight OLO's s-shaped hanging sign that framed their entire booth. Both the design and execution were on point and super unique. We also liked their pill-shaped counter, which made a great first impression.
In the future, we'd love to see an update of their graphics to match the striking look of the rest of their exhibit elements.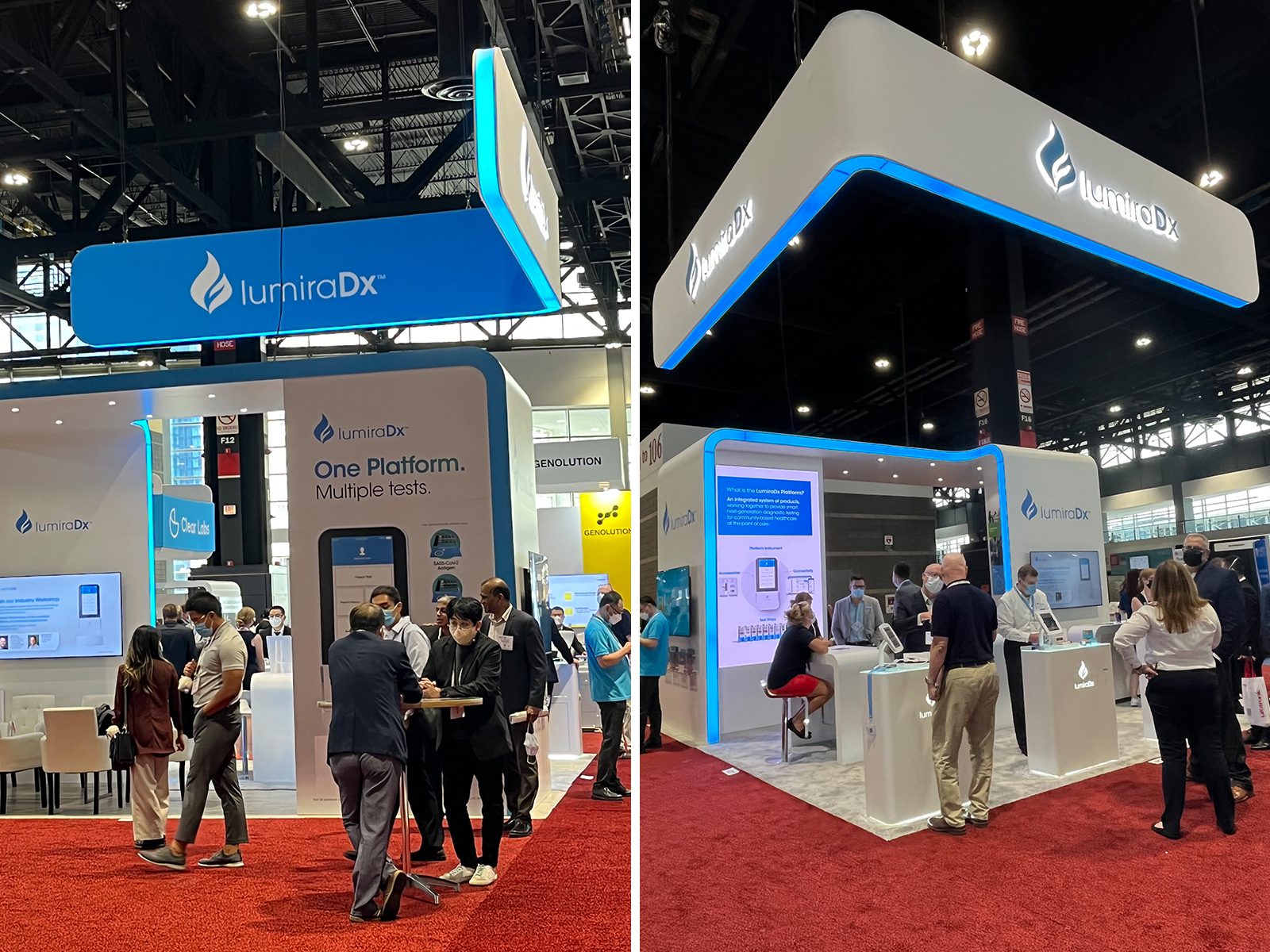 lumiraDX
lumiraDx had a clean, modern presence at AACC 2022. Their space featured nice lifestyle graphics, strong messaging, and well-lit demo stations.
One of our favorite elements was their edge lighting, which slowly transitioned between their brand colors while corresponding monitors displayed different messaging. It was visually impactful without being too flashy or jarring.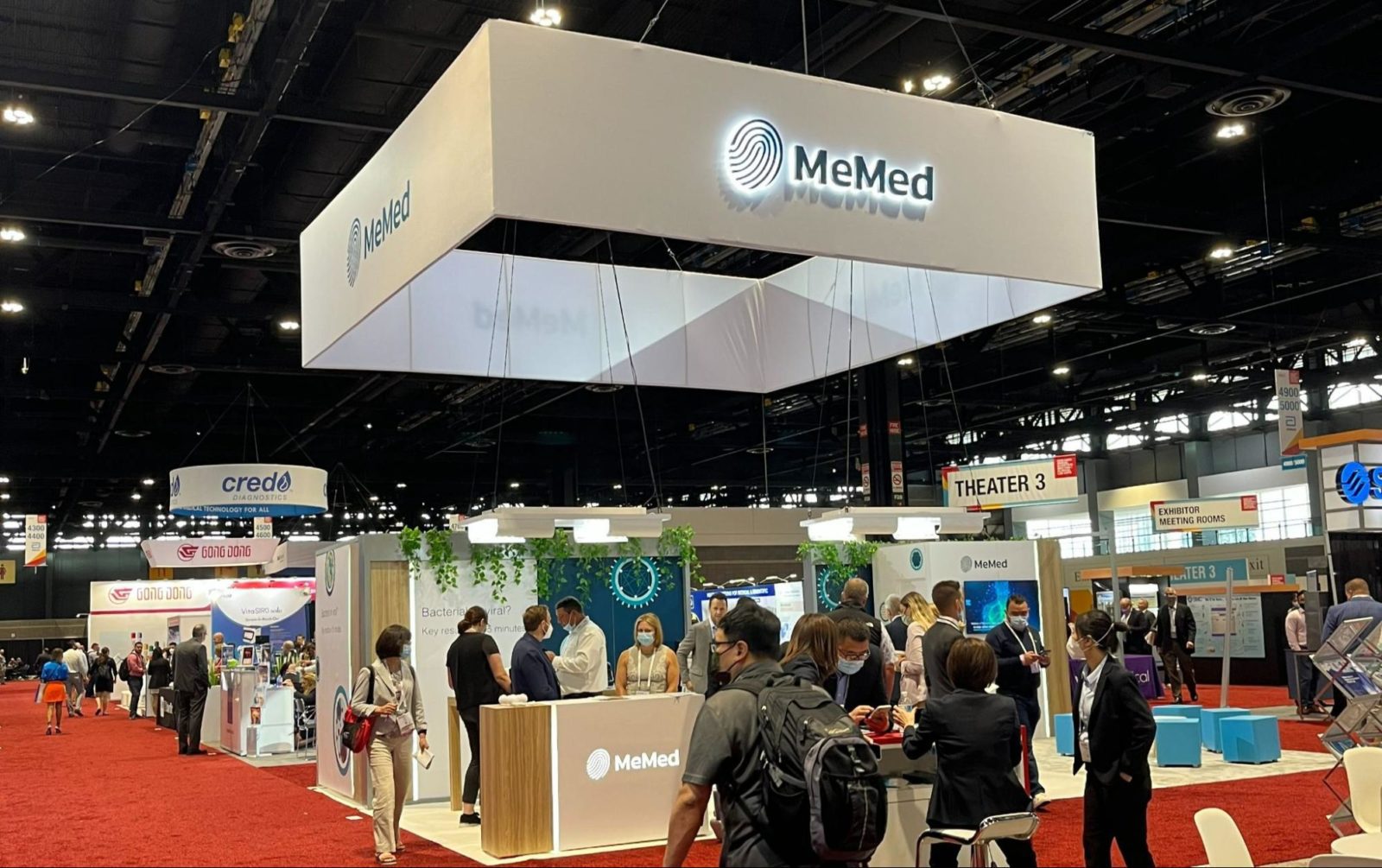 MeMed
MeMed's hanging sign is a great example of how to make your logo pop. We loved their logo lighting, lighted reception desk, and the natural elements throughout the space.
Our one suggestion would be to opt for a ground-supported lighting to avoid all of the wires distracting from their awesome sign.
Looking to level up your trade show exhibit and stand out on the floor? We'd love to chat!
Contact us
to see how we can transform your trade show presence.