ProMat 2023 in Chicago was the largest in ProMat history, and that means the highest number of exhibitors matched by the highest number of attendees ever. On the second day, you couldn't walk down any aisleway without bumping into people. Truly demonstrating the strength of trade shows by the numbers! 
There was more heavy technology showcased along with a lot of companies showing off full solutions. Seeing companies bringing less large machinery to show and showing off the software that runs the robots and machines is on the uptick. Pushing the show toward a more sophisticated vibe and we're really seeing an evolution in the quality of the exhibits.
We saw some great things from more than 1,000 manufacturing and supply chain solution providers. Here's a look at trends we identified and some of our favorite booths.
Trade Show Exhibit Trends at ProMat 2023
Raised Flooring – More robots on the floor means more to hide. Raised flooring was in evidence at ProMat, as exhibitors wanted to hide the cabling required to make robots work. While this is the standard across Europe, it does affect accessibility and increases costs for exhibitors. 
Barriers – Companies exhibiting their hardware need to keep it separated while in operation. We saw a lot of companies doing a great job with attractive and effective barriers.
Multiple Spaces and Split Aisles – There were many companies that purchased dual locations across the aisles rather than one big space. This trend is growing and allows better flow control through exhibits. With ProMat charging for material handling based on your square footage, it likely meant a lower bill than companies with a single massive space. 
Large Channel-Lit Signs – ProMat 2023 was filled with big, beautiful hanging channel-lit signs, and LED lighting was everywhere. 
LED Walls – Huge translucent LED walls are attention-grabbers for exhibits and they were packing attendees in at ProMat. 
Less Machinery – While there were more robots on display, there was also a noticeable trend toward companies reducing their number and using other methods to communicate value. 
EDE's Top 12 Exhibitors
Fortna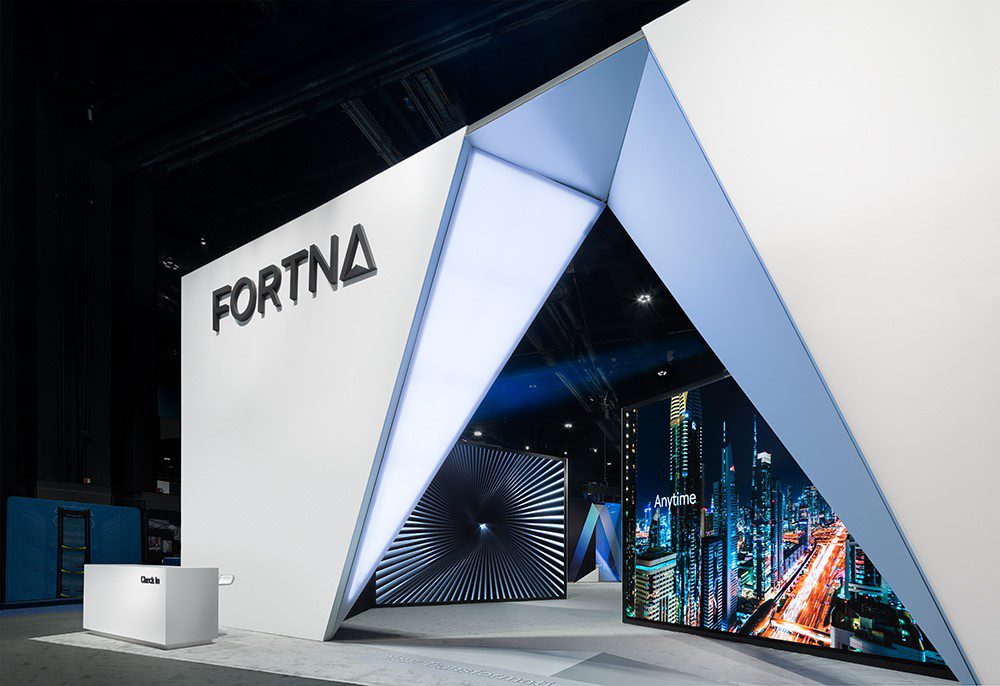 Fortna's booth with their translucent LED was the diamond on the floor and everybody was going to see it. Their booth really presents their brand well and is second to none. Executives were talking about how wonderfully the booth speaks to them. They incorporated meeting rooms throughout the space, not just the speakeasy, so they were accessible to everybody and not just VIPs. They stepped up in such a big way as to how they tell their story and engage with people. They've obviously given some thought to changing from old school ways of communicating to asking how do we help attendees experience this in a real way without bringing in massive machines.
EDE brings a cutting edge approach to shows typically known for their large machines. Fortna didn't have a single machine in this space. It may be hard to eliminate robots entirely, and might be important for lesser known companies so people can see their machines working and not just be talking on spec.
Vanderlande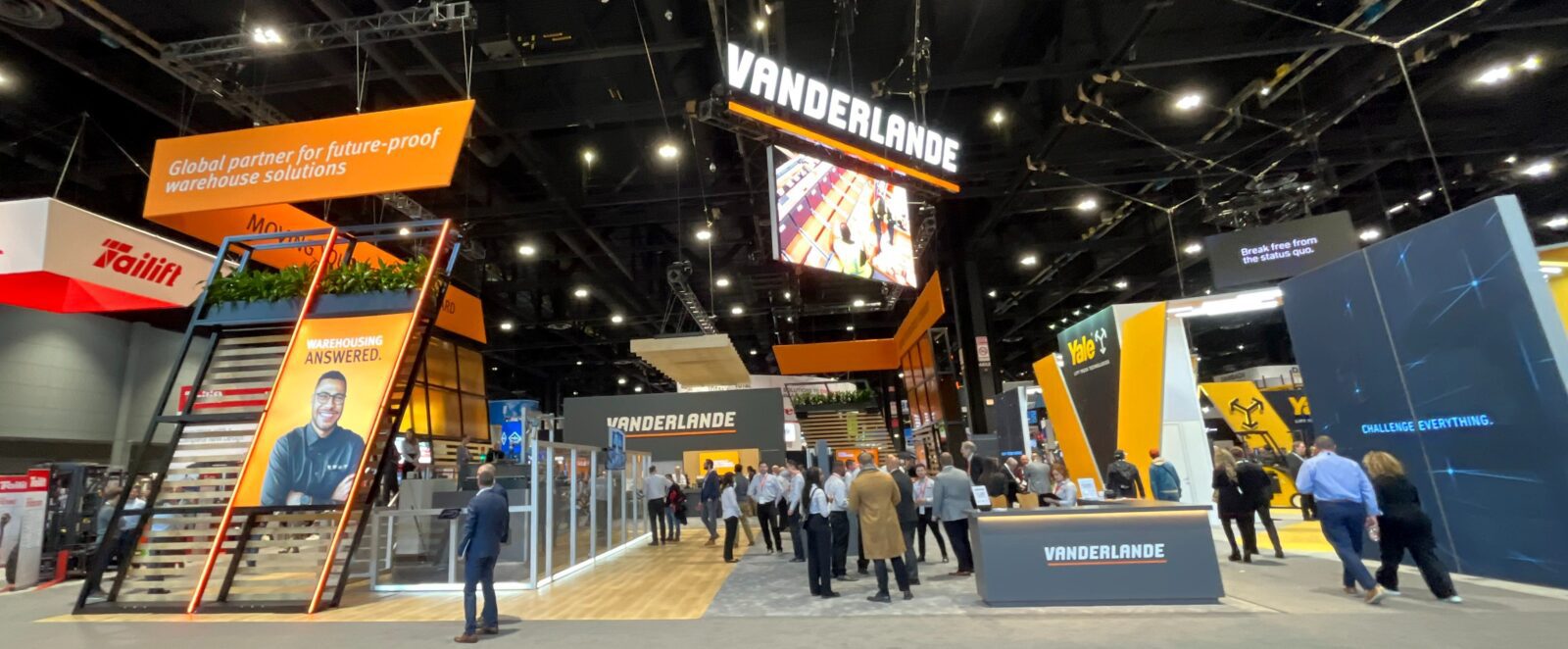 Vanderlande was a favorite at ProMat 2023. The space was really inviting with a strong flow through the middle that made you want to walk through. It was visually interesting to see their use of an angled channel-lit sign and reception desk, which was really smart. Their space was well planned with good examples of natural elements. 
Yale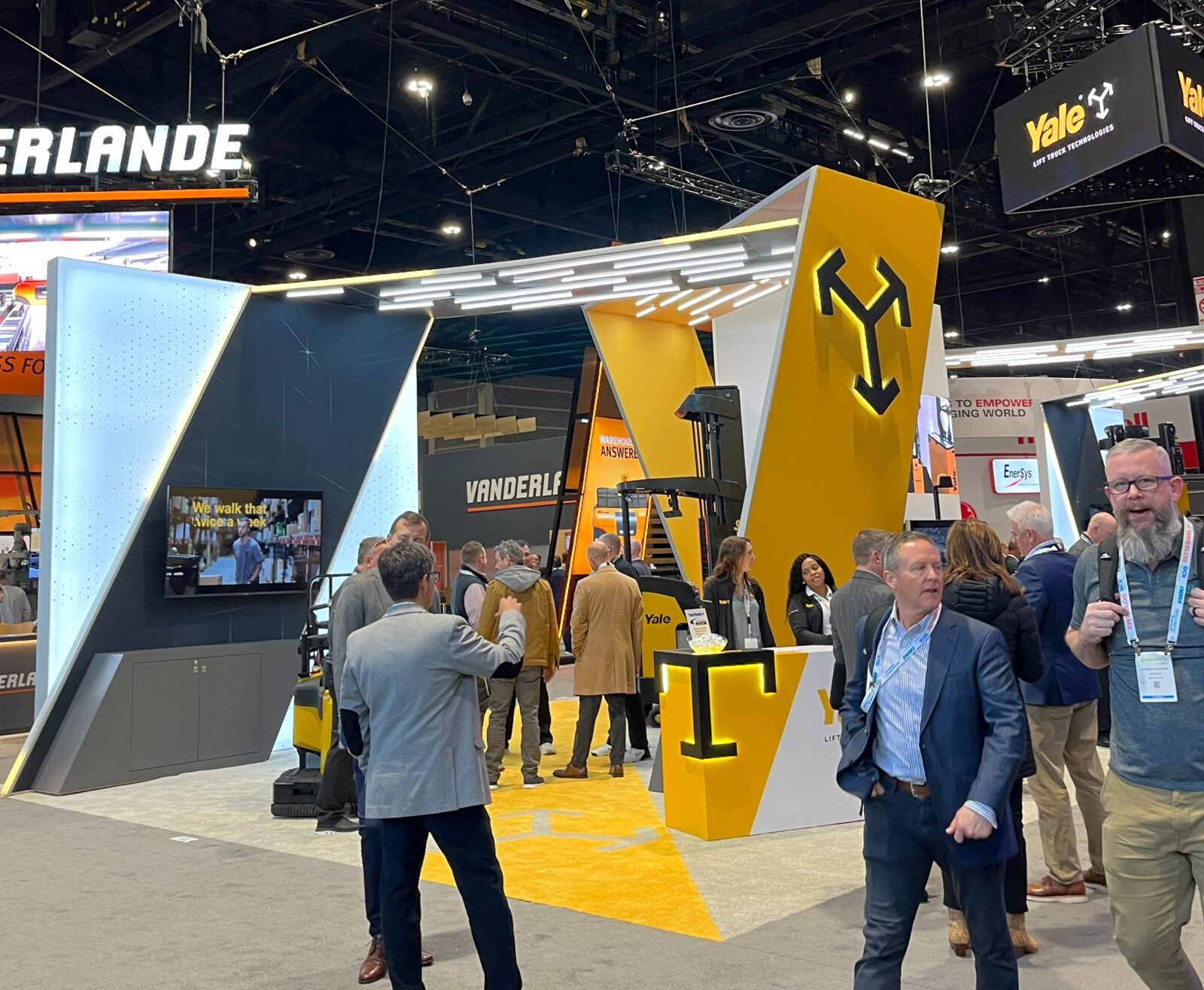 Yale is a great example of a company that purchased dual spaces. They were located across the aisle from each other. The use of visually interesting slanted architecture and their yellow brand color tied both spaces together well. We loved their lights and ceiling treatment. 
Raymond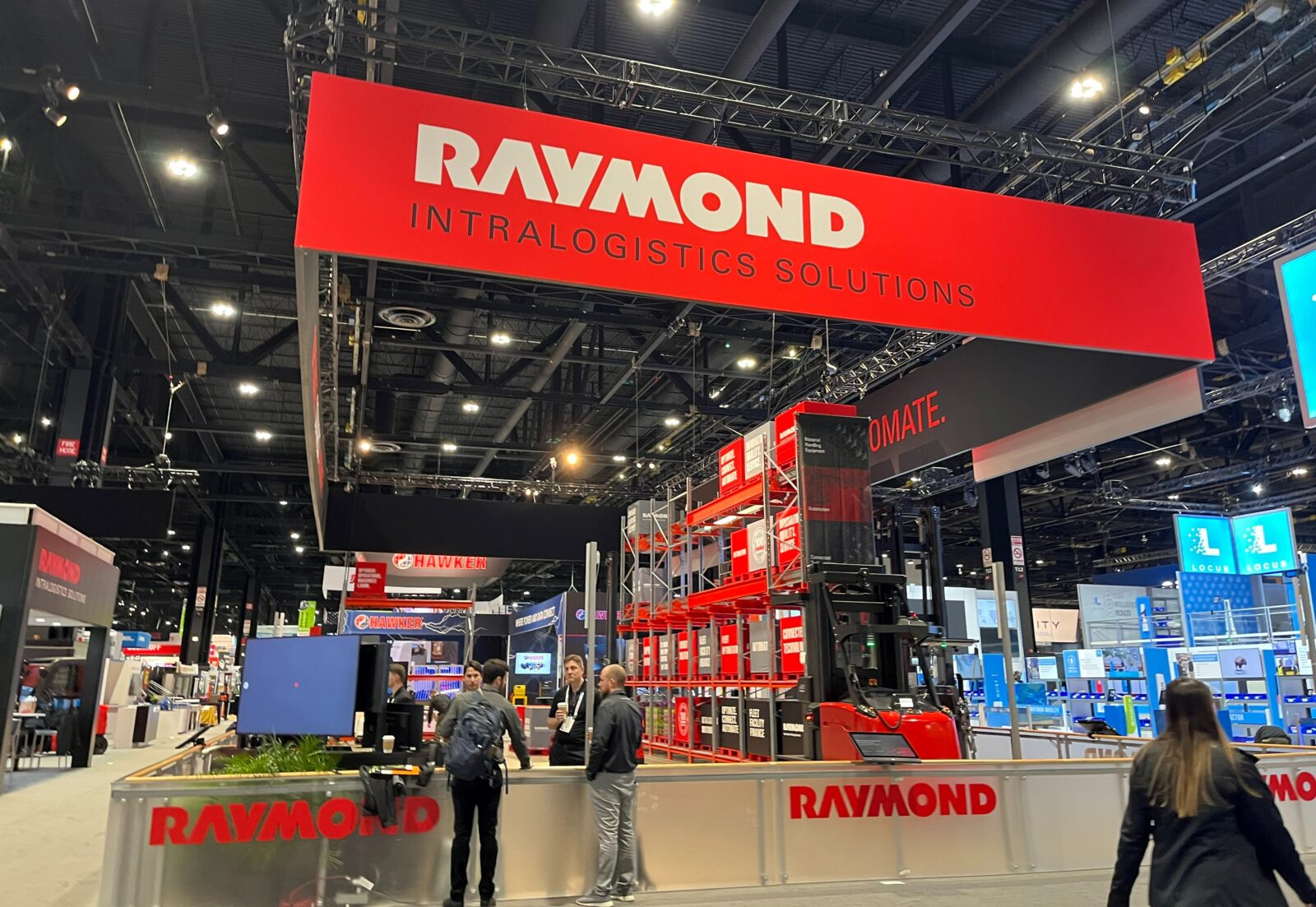 Raymond was another company using dual spaces separated by an aisle. With a double deck exhibit on one side and their robotics on the other, it was easy for attendees to see their product on one side and then talk about it on the other. The double deck also gave a nice vantage point to see the robotics in action. 
Doosan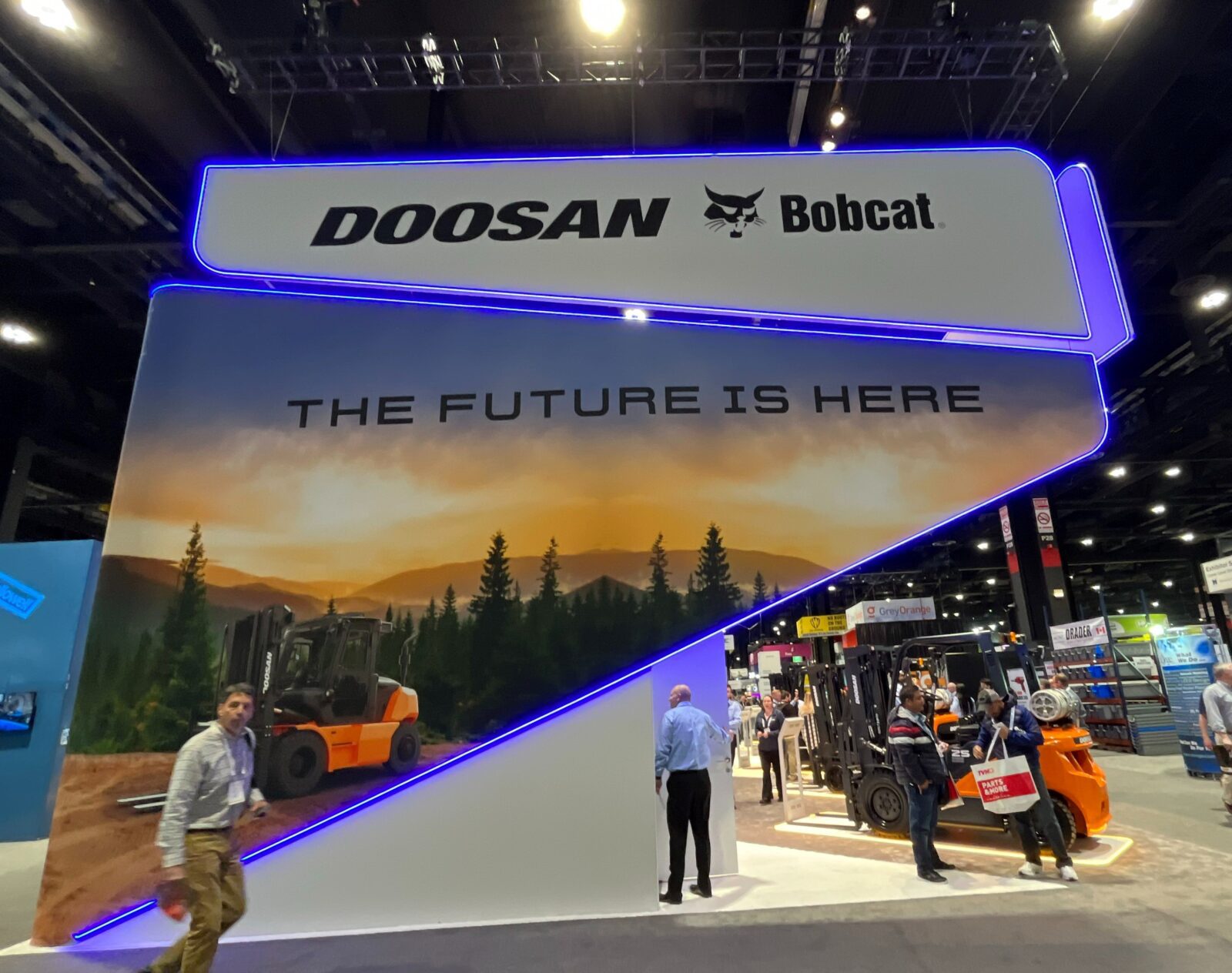 Doosan had a good use of LED strip lighting in their booth and we liked the architectural interest. One thing that caught our attention was their sign. They used only a huge lifestyle graphic without a lot of text. We like the way they only used the company name and the featured product on their sign.
Addverb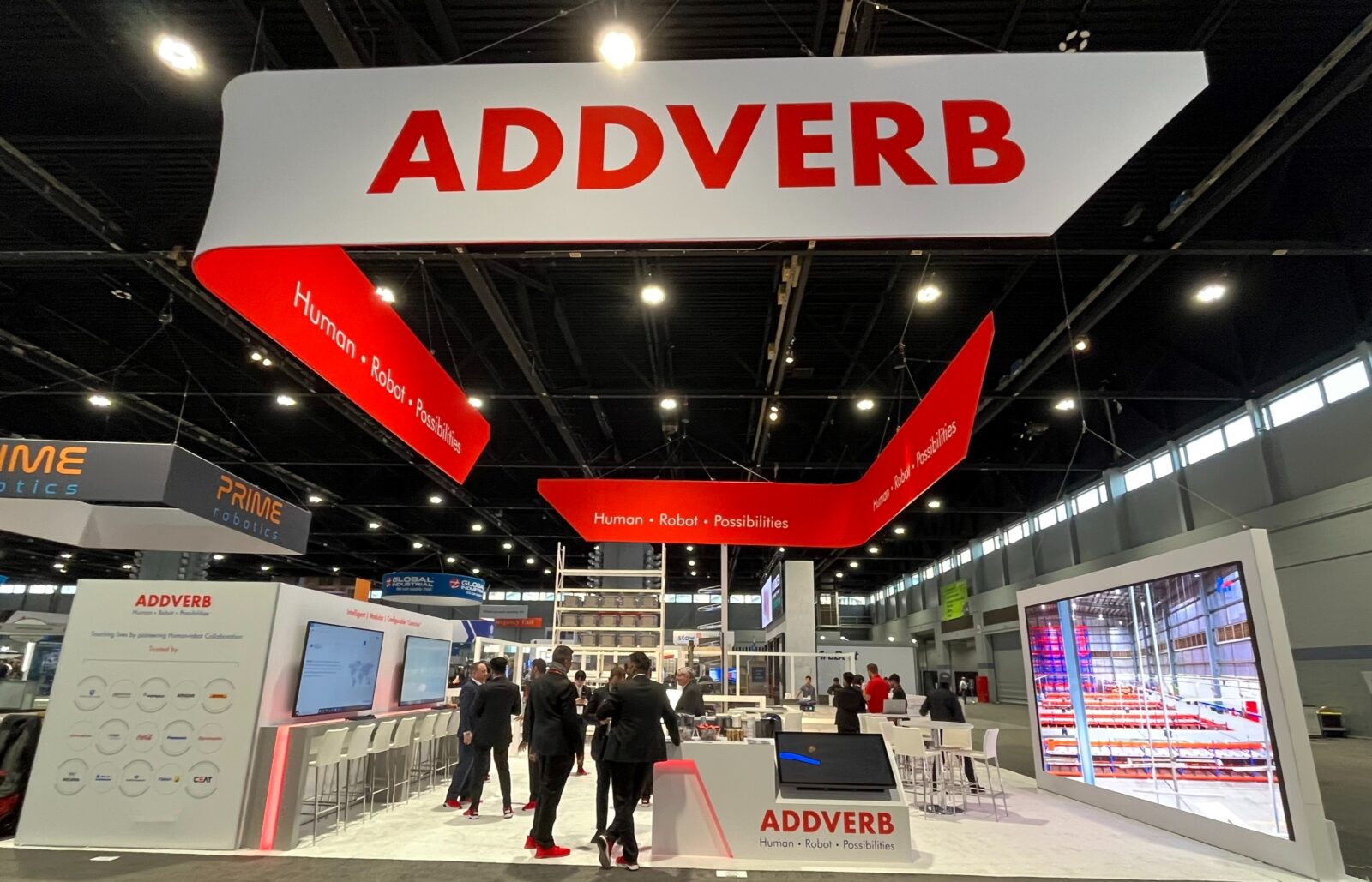 Addverb's booth had a beautiful LED wall that was a really nice presence. Even though they were at the back of the hall, you could see their gorgeous hanging sign from about twenty feet in.
Bastian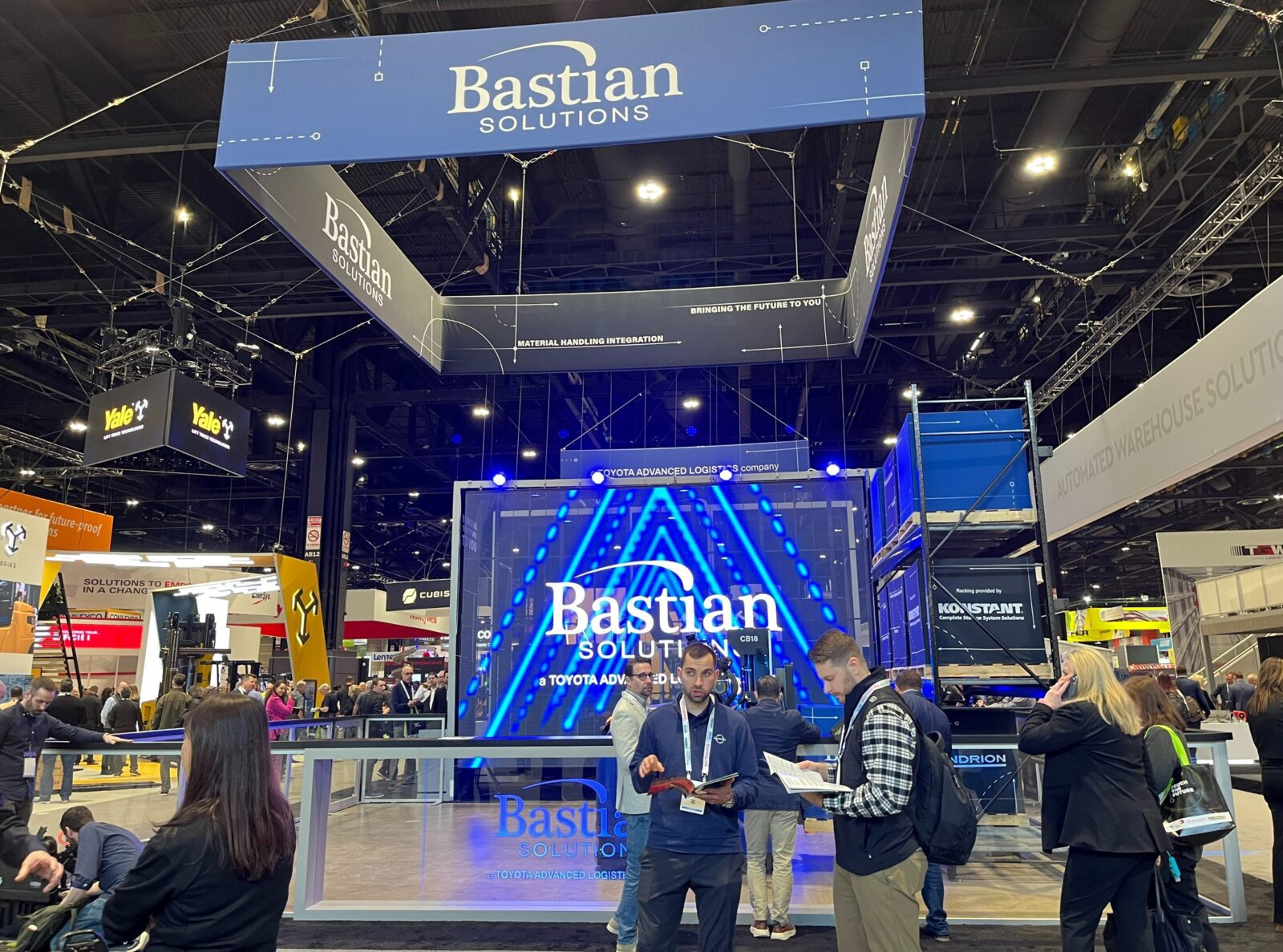 Bastian had the wow factor down with their use of a huge, translucent LED wall. They also had a good handle on their brand hierarchy, using the brand name in multiple places throughout the booth. 
Dexterity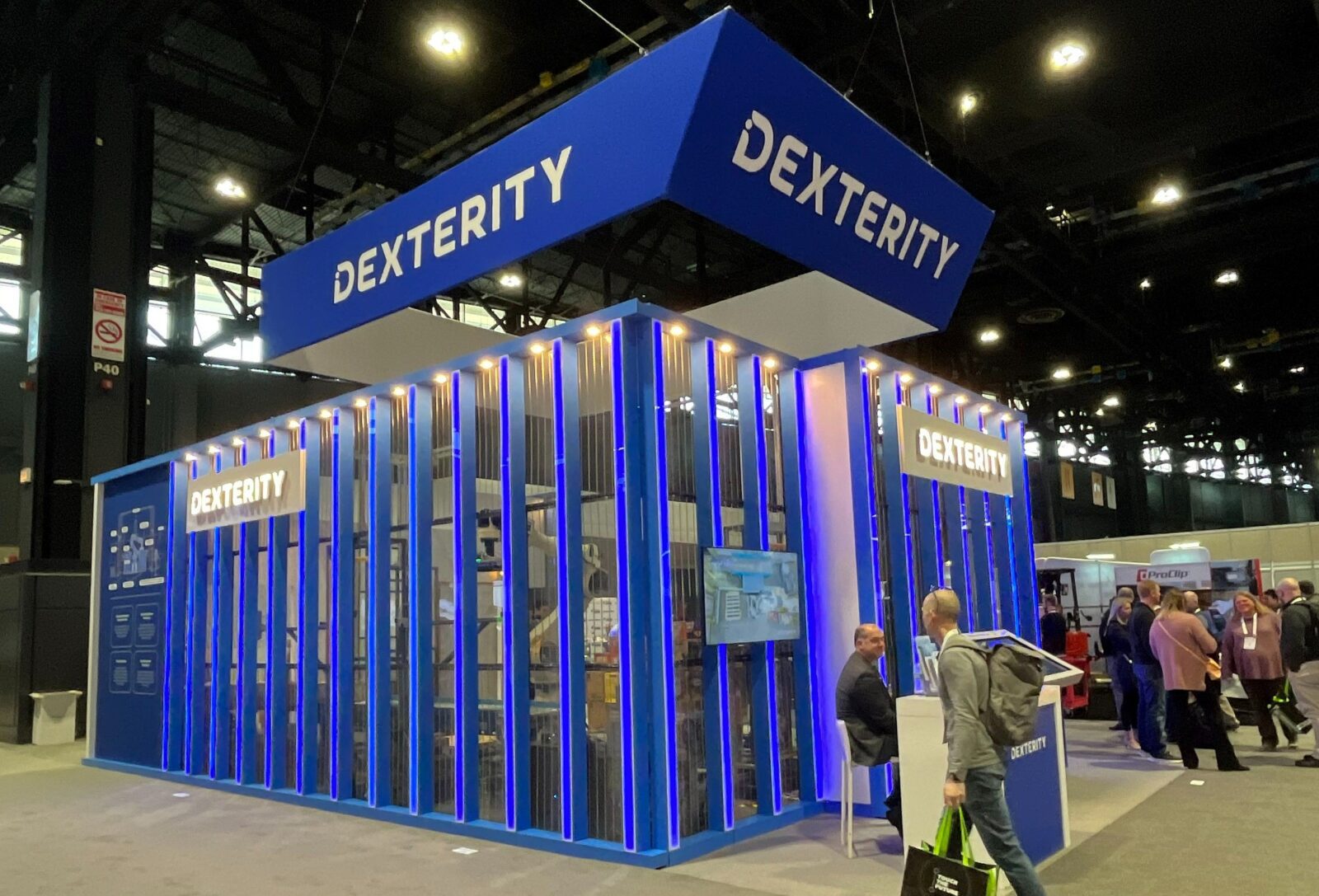 Dexterity's exterior was visually interesting with lots of LED lighting and a touch screen monitor on the front corner. And while the exterior was eye-catching, it also drew you in to view the interior space that was completely filled with their machinery. 
StoroPack 
StoroPack's hanging sign was dynamic. You could see it glowing from everywhere in the hall. They didn't stop there, though; there was also downlighting under the toe kick with detail lighting under the counter portion. They didn't overdo the lighting, but you definitely noticed it. StoroPack was one of the few booths to utilize a raised floor. Theirs was covered with tile and did a nice job of hiding cabling and other machinery items. 
TGW 
TGW had an appealing look set off by glowing red LED strips that were also tied into the hanging sign. As you look at the booth, you really see how critical it is to turn the reception desk on an angle based on the hot aisle in the front. Not only does it just look better, it helps with the flow into the booth. 
Knapp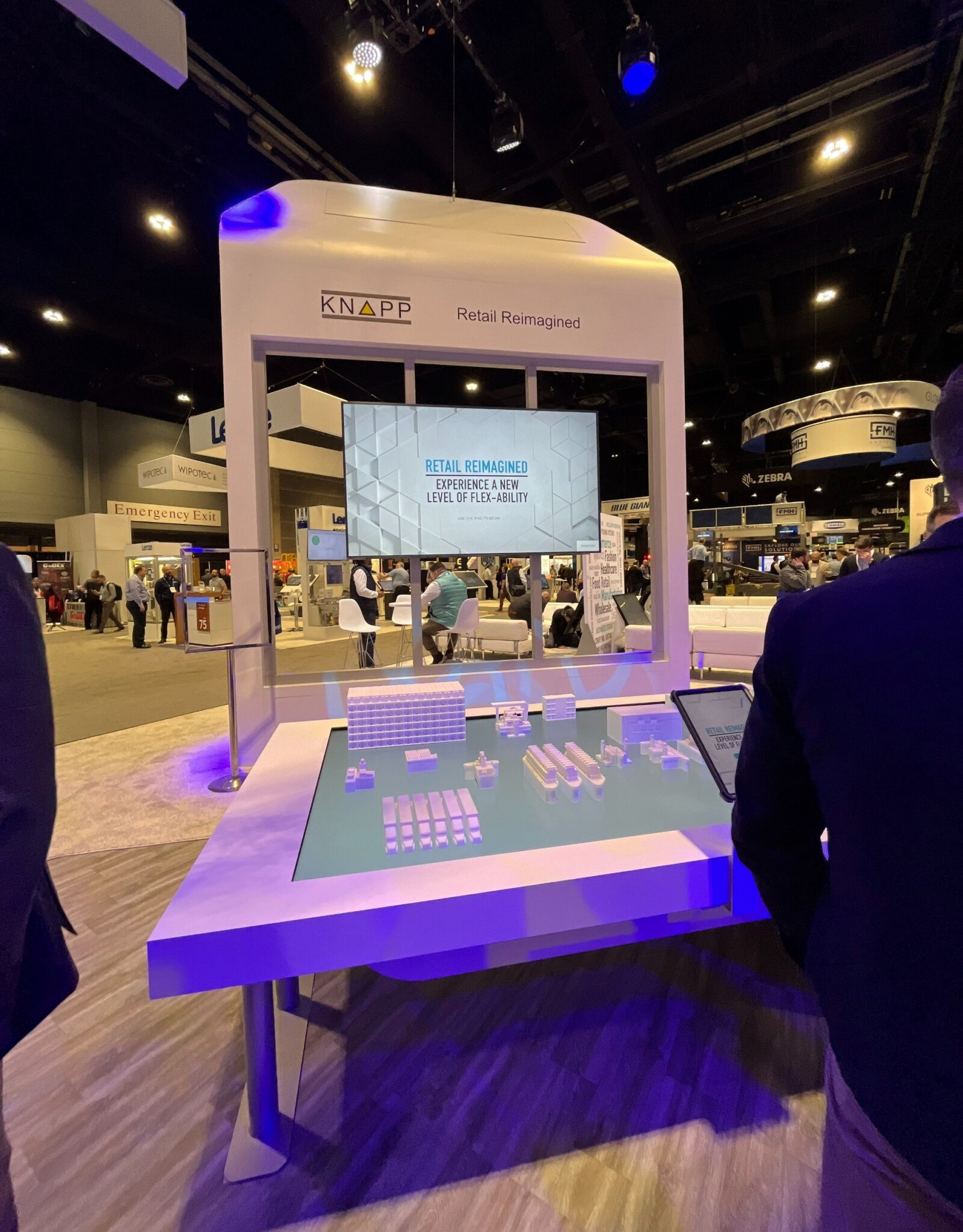 Knapp is a phenomenal example of being on the cutting edge of companies that don't have machines on the floor. Their booth featured massive columns on each corner that arch over and feature stories about their product line. In the middle of the booth, there's an amazing custom table that lights up and shows a demonstration sort of like a diorama. As the representative is telling a story, the table can light up different areas to talk about and tell how the portions function. This is not something new for them; they've had these 5 years so they're way ahead of the game. 
Fives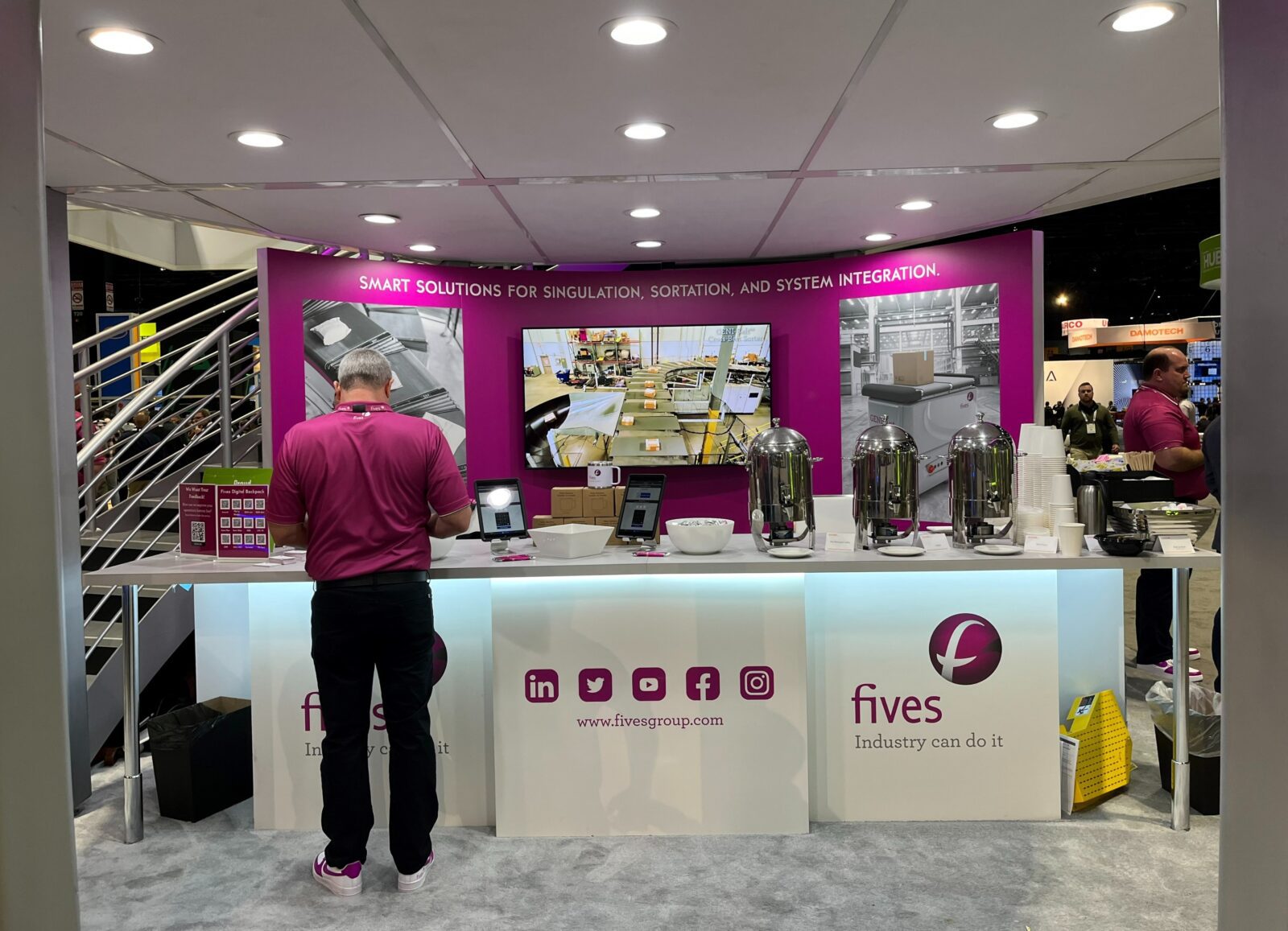 We want to send a special shout out to Fives (pronounced: feeves). The energy from the booth staff was amazing and their social media coverage of the show was fantastic. With matching tennis shoes and a distinctive brand color, Allison Myers, the marketing and communications manager at Fives, and her team do a fantastic job. 
Does your booth talk to attendees in ways they want to hear? Reach out today to learn how EDE helps make lasting impressions.